This was our list of top Flippa alternatives. Let's look at some of these options in detail below.
01

. Empire Flippers

Empire Flippers is an excellent marketplace where you can find and buy businesses and websites. It has a clean, easy-to-use interface that makes it very simple to search for the perfect website.

Founded in 2013, Empire Flippers started its journey by selling its own business. Now, it has made progress as one of the best-curated marketplaces to buy and sell online business. So far, it has managed to sell over $200 million worth of trades.

Quite impressive, right?

It has also earned The Inc. 5000 Award for the fastest-growing company in America four years in a row.

Empire Flippers is a company that buys and sells Amazon affiliate businesses, affiliate websites, e-commerce businesses, and a variety of other online businesses.

How Does Empire Flippers Work?

Empire Flippers have a near-90 percent success rate. It ensures that companies have a strong, profitable six-month track record of over $500 before they are listed. The company also shares its Google Analytics reports and financial statements to establish credibility.

Besides, the measures for selling and purchasing the website are already considerably shortened.

The only major drawback is that it is considered a bit expensive by first-time sellers. Besides, a 5% deposit might be an obstacle for some buyers.

Overall, it deserved to be on the top of our Flippa alternatives rankings.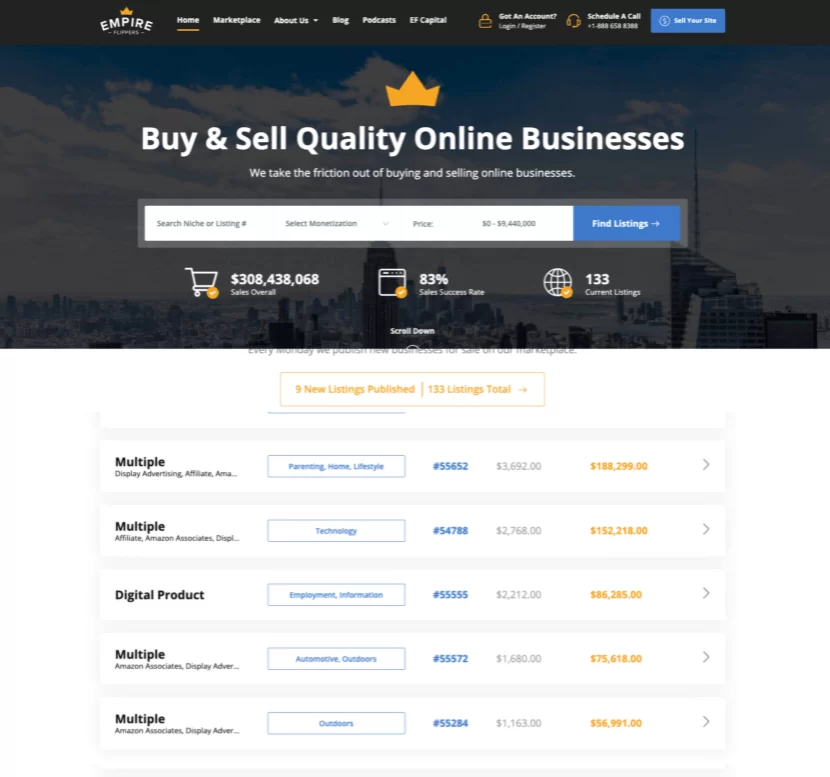 02

. Exchange Marketplaces

Exchange Marketplaces, like Flippa, offer a marketplace to Shopify store owners who want to provide their websites to interested buyers. One of the reasons to establish this marketplace was to capitalize on Shopify's popularity.

The platform allows you to buy ready-to-use profitable Shopify stores or drop-shipping businesses across a wide range of niches. Every day, it lists hundreds of websites on the platform and their much-needed information such as traffic and revenue data.

How Does Exchange Marketplaces Work?

Exchange Marketplaces has done pretty well in providing a good range of stores for buyer's selection. Stores are divided into categories such as businesses that offer support after the sale, handpicked businesses, businesses with experienced entrepreneurs, and much more. The migration and transaction process management also builds credibility for this decent-looking marketplace.

The only limitation we had with this marketplace is that it offers services only for Shopify stores.
03

. FE International

If you're looking for a well-established broker for online businesses, FE International is the one that should come to your mind. Founded in 2010, it has grown exponentially. It has already built its offices on three continents and has hosted its conference successfully.

FE International is an award-winning M&A advisor and has already received awards such as The Inc. 5000 award and Deal Maker of the Year from the IBBA.

With a sales success rate of over 90%, FE International provides its services to sell SaaS, content, and e-commerce businesses. It deals in businesses with mid-market valuation, i.e., less than $1 million.

How Does FE International Work?

FE International has maintained the standards due to its high success rate. The main reason behind this success rate is its undertaking to verify and re-verify all the information provided by both parties. To build their confidence even more, they ensure that the seller compiles to its after-sale services.

The only major drawback of this marketplace is that it allows low-rate sites to get posed.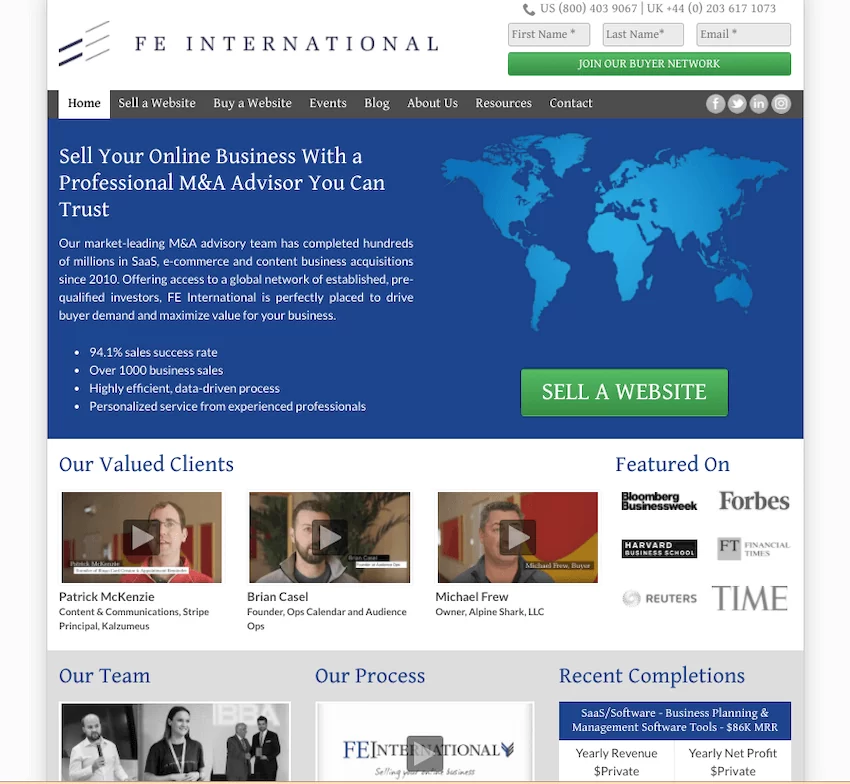 04

. Investors Club

Investors Club is like a new kid in the town who makes quite a name for himself.

It helps owners and affiliate marketers sell their online businesses.

Andrej, the founder of Investors Club, established the platform in 2020 after being dissatisfied with the traditional broker model. He built a forum where sellers are handled fairly, and buyers are given sufficient time to consider their options.

What makes this marketplace unique is that it is a members-only marketplace. It doesn't you've to pay anything to become a member. You'll only have to showcase a minimum of $10,000 proof of funds. There's also a VIP upgrade at $59 per month to access all the features of this marketplace.

How Does the Investors Club Work?

While other marketplaces charge a hefty amount of 15%-20% in commissions, Investors Club commissions are capped at 5%. Their team ensures that buyers have a good reputation and required funds to spend through its membership entry.

The biggest advantage of using this platform is, if you're not able to sell your site in 45 days, the platform will pay for your time invested.

If your site's valuation is in the millions, we won't advise you to this marketplace.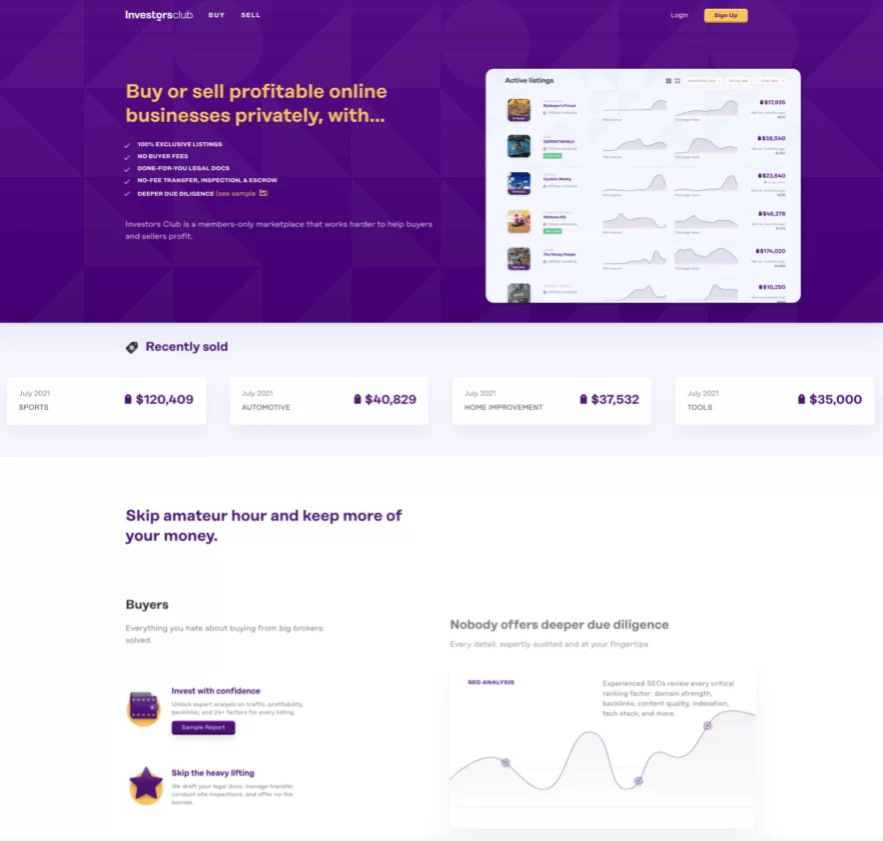 05

. Sedo

With over 19 years of experience and a customer base of over 2 million, Sedo is considered one of the best online business marketplaces. Since it has managed to sell in over 150 countries, you won't face the problem of speaking in their language.

Sedo isn't the marketplace where you can buy and sell websites. Instead, it's a platform where you can buy, sell, and even park domains. It's the perfect alternative for Flippa's domain services.

With the most significant market share in the used-domain market, Sedo helps you get your desired domain name.

How Does Sedo Work?

The "Buy Now" option given to the sellers enables them to sell their domain three times faster. It also hosts your domain when you try to sell it without any cost.

Although there is no upfront cost, the commission or broker service cost starts at 10%. This flat cut is a massive chunk of your profits.