Let's have a look at the best Dropbox alternatives in detail.
Sync is one of the best DropBox alternatives because, in addition to being a file storage platform, it is a document collaboration platform too. It allows the team to stay connected in the cloud safely and securely.
All the files stored here are accessible from anywhere and anytime. You can use the platform not only to connect with the internal teams but also with external partners, clients and customers.
Also, you can create a centralized folder on the platform that further smoothens the sharing and collaborating process. Sync also enables the users to work on the security of such folders by allowing its user to manage the permissions.
The USP of Sync is that it allows its user to custom-brand the client file with the logo of the company on full display. In other words, you can send and receive the files super-professionally on Sync.
It takes care of the security of users through privacy protection features, enterprise-grade infrastructure and security certifications.
Top Features
5 GB of free storage
Secure sharing and collaborations
Custom-branded client file exchange
Price: Sync offers a completely free plan for individual users with upto 5 GB of storage. If you need more resources, you will have to upgrade to a paid plan that starts at $8 per month for individuals and $6 per month for teams.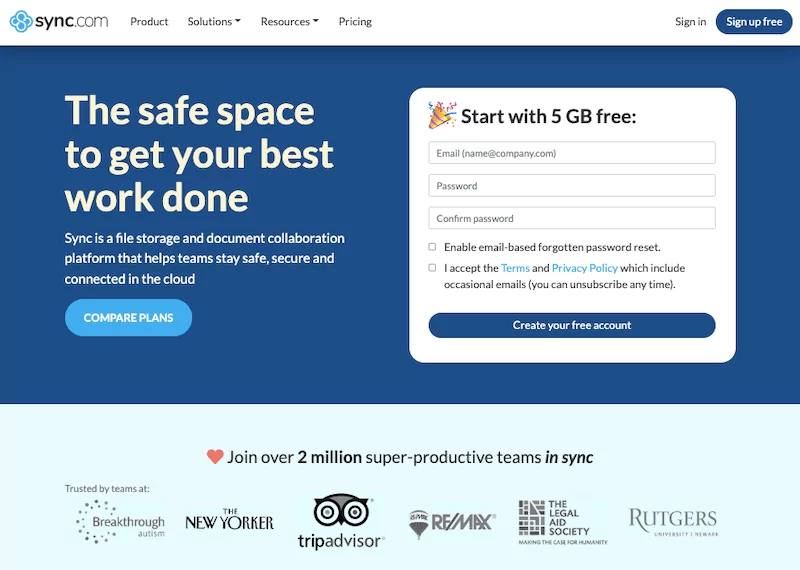 If you are pretty serious about the privacy of your files, then Internext Drive is the best fit for you. The platform is known for its best-in-class security and privacy.
Many prominent brands, including Forbes, TechCrunch, and VentureBeat, are its users. Therefore, you can relax because your files are in good hands.
Internext Drive encrypts all the files you upload on it even before leaving your device. Also, the platform is 100% open-source; therefore, you can go through its code on GitHub and increase your confidence regarding its transparency.
What makes Internext Drive truly unique is that it fragments the files the user uploads while encrypting them and then distributes them across its data centers worldwide. As a result, a single server never holds the complete file!
Top Features
10 GB of free storage
Zero-knowledge encryption
File accessibility from all device
Price: The Internext pricing package starts at €0.89/month which will offer you 20 GB of storage. It also offers a completely free plan that will offer you 10 GB of storage.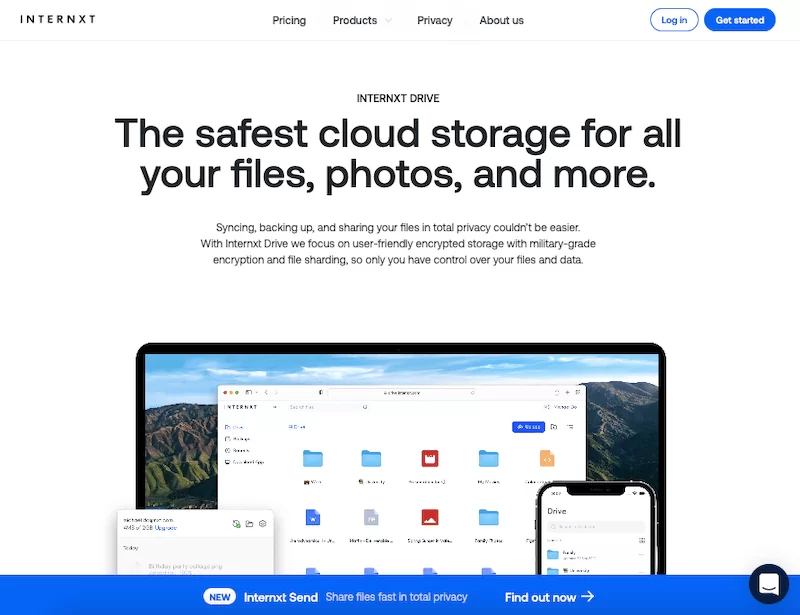 Creating a list of DropBox alternatives is impossible without including Google Drive. Google Drive is one of the most popular cloud storage options available in the market.
You can use Google Drive to:
Different files and folders from your computer, tablet and smartphone.
Google Drive comes with built-in protection against ransomware, malware and spam. If a file looks suspicious, the platform warns its user to remove it.
What makes Google Drive an extremely popular choice is its integration with Docs, Sheets, and Slide, which ensures that the team maintains its workflow while working on the cloud.
Also, AI technology and Google's search power the platform, which helps extract information at a fast speed.
Top Features
15 GB of free space
Supports Docs, Sheets, Slides and Forms content creation
Powered by Google's Search and AI technology
Price: Google Drive is free for personal use upto 15 GB of storage. For businesses, the paid plan starts at $12 per user per month.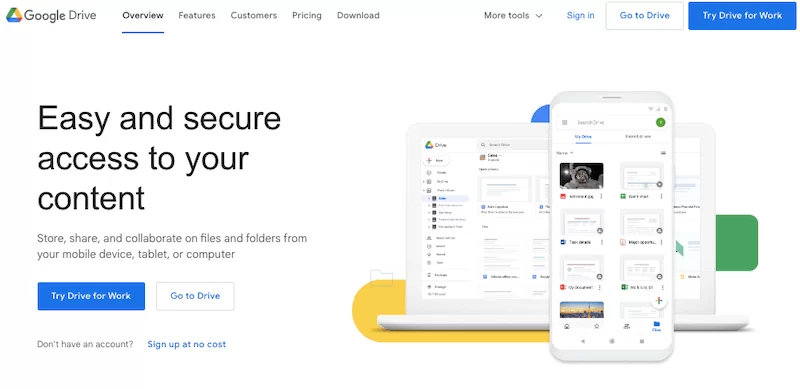 More than 16 million people across the globe use pCloud to meet their cloud storage requirements. After uploading files on pCloud, you can filter the file based on the following file formats:
Documents
Images
Audio
Video
Archives
What differentiates pCloud from other cloud storage options that its supports:
Unlimited file size
Unlimited upload and download speed
Also, it provides plenty of options to share files: folder invitations, shared links, file links, and direct links.
Let us now look at its security and encryption features. pCloud uses TLS/SSL encryption. Furthermore, the uploaded file is stored on at least three server locations and supports client-side encryption. Therefore, only you, as a user, will have the keys required for file decryption.
Interestingly, it provides its users to have both encrypted and non-encrypted folders.
Price: pCloud offers annual as well as lifetime packages to select from. If you go for the annual package, the price starts at $49.99 per year and the lifetime plan starts at $175 for lifetime.
Top Features
Filter for the file format
Unlimited capabilities in the context of file size and uploading and downloading speed
Client-side encryption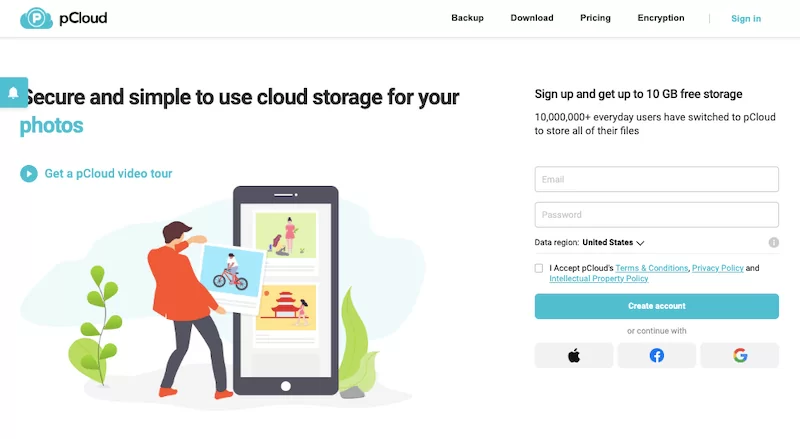 Offered by Microsoft, files uploaded on OneDrive can be accessed from anywhere and on any device. Also, while accessing the files, you can edit and share them too.
With OneDrive, you can work on the latest versions of Office apps like Word and Excel seamlessly.
Another platform feature is that it supports document scanning for mobile devices. You can use this feature for scanning receipts, documents, notes, business cards, and more.
The OneDrive Personal Vault is an additional feature that provides an extra layer of protection to all the important photos and files.
Top Features
5 GB of free storage
A personal vault that works with identity verification
Document scanning through phone
Icedrive uses its revolutionary drive mounting software that gives users the feeling of using a native OS. Also, this mounting software comes with cache control that reduces its used space. Additionally, it eliminates the need to sync.
Icedrive also houses extensive cloud storage apps for different platforms to ensure you can access Onedrive cloud storage when needed.
Also, the platform supports client-size and zero-knowledge encryption. It has a generous bandwidth to ensure its uninterrupted service. Another unique feature is share timeout which ensures that your file stays in a shared form for a set amount of time.
Top Features
10 GB of free cloud storage and 3 GB daily bandwidth
Client size and zero-knowledge encryption
Share timeout
Price: Icedrive offers you monthly, yearly and lifetime plan to select from and comes with extremely affordable plans. If you go for yearly plans, the price starts at $1.67 per month. The lifetime plan starts at $99 one-time price and you get 150 GB of storage.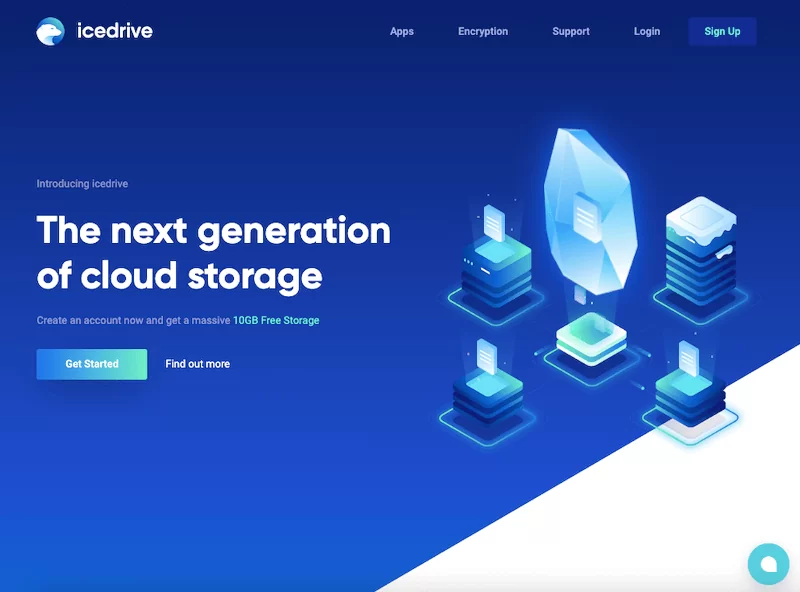 Mega supports end-to-end encryption for securing all your files. To be precise, it supports zero-knowledge encryption, a user-controlled end-to-end encryption form.
It ensures further security through:
Two-factor authentication
Link permissions
Anti-ransomware
Public source code
Also, to prevent the inaccessibility of your files due to any technical mishap, it works on a redundant array of independent CloudRAID data centers across several countries.
What makes this DropBox alternative unique is that it supports an end-to-end encrypted chatting platform which you can use to:
Exchange messages
Share files
Communicate via audio and video calls
Mega also supports a complete collaboration suite which is beneficial for sharing files, communicating with the team, and collaborating with the team members.
Top Features
20 GB of free storage space
Private and secure chat
Zero control encryption
Price: Mega offers you individual and business plans and you have multiple packages to select in each of those plans. The price for an individual plan starts at €4.99 per month.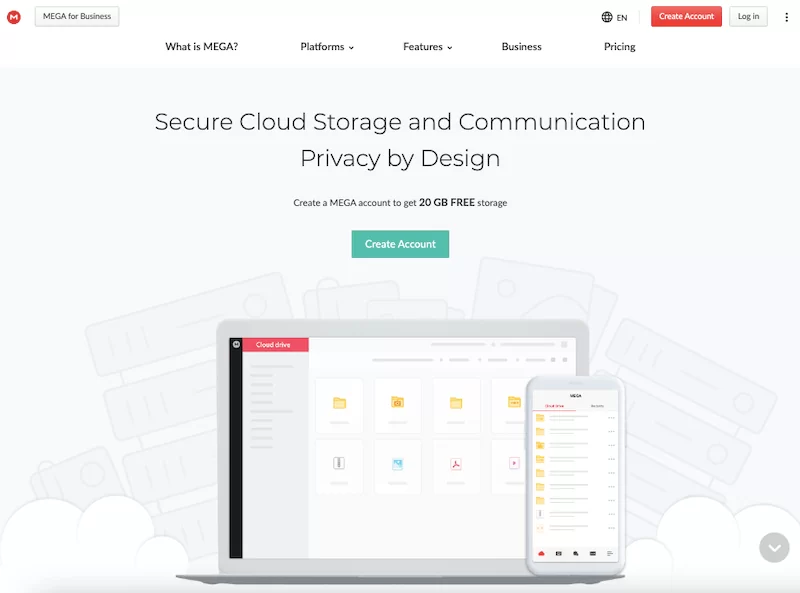 Trusted by organizations like Morgan Stanley and the U.S. Department of Air Force, Box is another good DropBox alternative with plenty of features besides essential cloud storage.
It ensures the security of your files with:
Zero-trust security controls with FIPS 140-2 certification and AES 256-bit encryption
Intelligent data leak prevention
Threat detection
Content lifecycle management
Also, it provides activity alerts for suspicious users. It also supports 1500+ integrations with popular tools like:
Google Workspace
Microsoft 365
Slack
Zoom
This integration allows you to engage in secure collaboration and bring everyone on the same page. Above all, it supports admin controls, allowing you to intelligently monitor how the content is shared and further accessed across the organization.
Top Features
10 GB of free storage with a 250 MB file upload limit
Two-factor authentication
Built-in integration with Google Workspace and Microsoft 365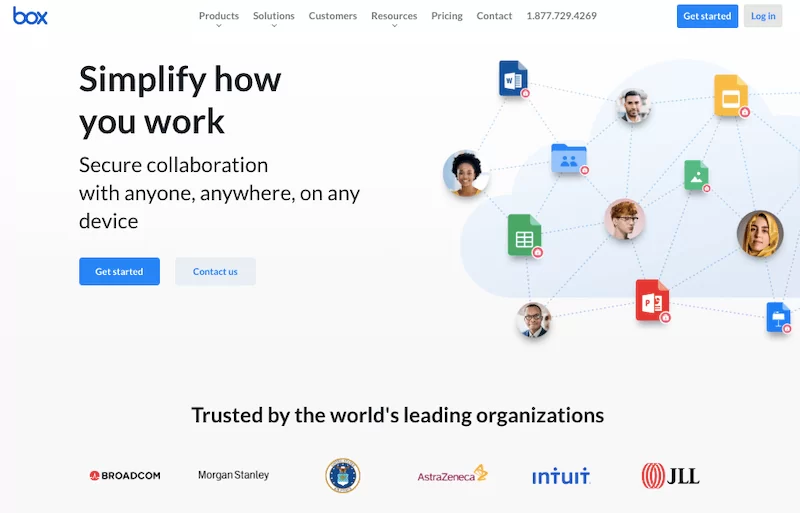 NordLocker is an easy-to-use but secure cloud storage option. You can use NordLocker to encrypt every single file of the computer. There is no limit to it!
Simply drag and drop the file on NordLocker, and the platform will automatically encrypt the file.
Additional features that ensure the security of the file on its cloud storage are:
Access control
Local and cloud lockers
Protection on shared computers
Automatic backup
Zero-knowledge architecture
Multi-factor authentication
State-of-art encryption
Its storage features include encryption for local files, file sync, automatic backup, and offloading of rarely used files.
Top Features
3 GB of free cloud storage
Unlimited end-to-end encryption
Zero-knowledge architecture
Price: You get 3 GB storage completely free on this platform. If you need more resources you can upgrade to a paid plan that starts at $7.99 per month and you get 2 TB of cloud storage.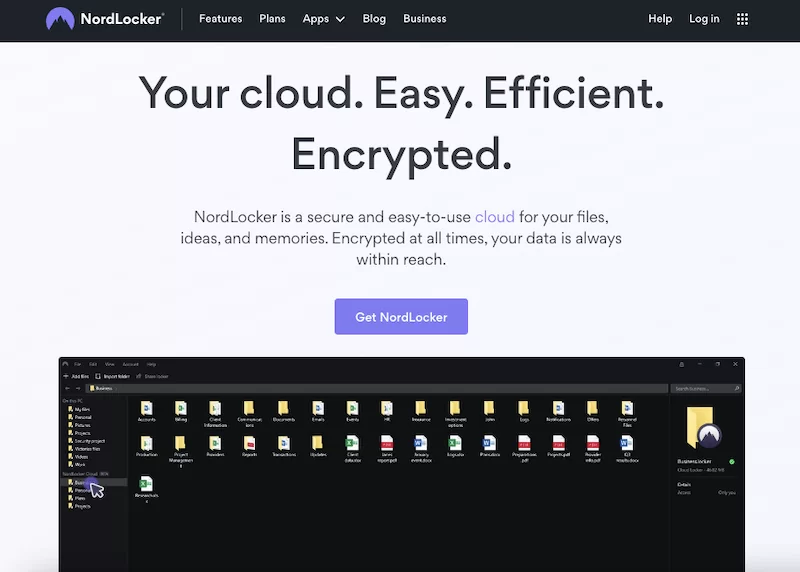 If you are a user of Apple devices, you might already be familiar with iCloud as it comes in-built into all Apple devices. You can easily filter the images stored on iCloud with object detection and face recognition features powered by machine learning.
Additionally, you can use it to store all types of files in one place and then access these files from all devices. Further, you can also organize the files with:
Folders
Renames
Color tags
Sharing files stored on iCloud is as easy as sharing a private link that provides direct access to the receiver. What makes iCloud different from other cloud storage options is that it automatically keeps apps like:
Mail
Calendar
Contacts
Reminders
Safari
Also, you can use the platform to collaborate with:
Pages
Numbers
Keynote
Notes
The platform supports automatic backup to ensure that you do not have to take the pain of manually updating anything. It also supports two-factor authentication to add an extra layer of protection.
Its only drawback is that iCloud is only suitable for iOS and macOS users.
Top Features
5 GB of free space
File organization
Automatic backups and two-factor authentication