Here are some of the top Discord alternatives in detail.
01

. TeamSpeak
Like Discord, TeamSpeak is also a closed-source VoIP app for voice communication. Typically, users use a microphone to communicate with users on a chat channel.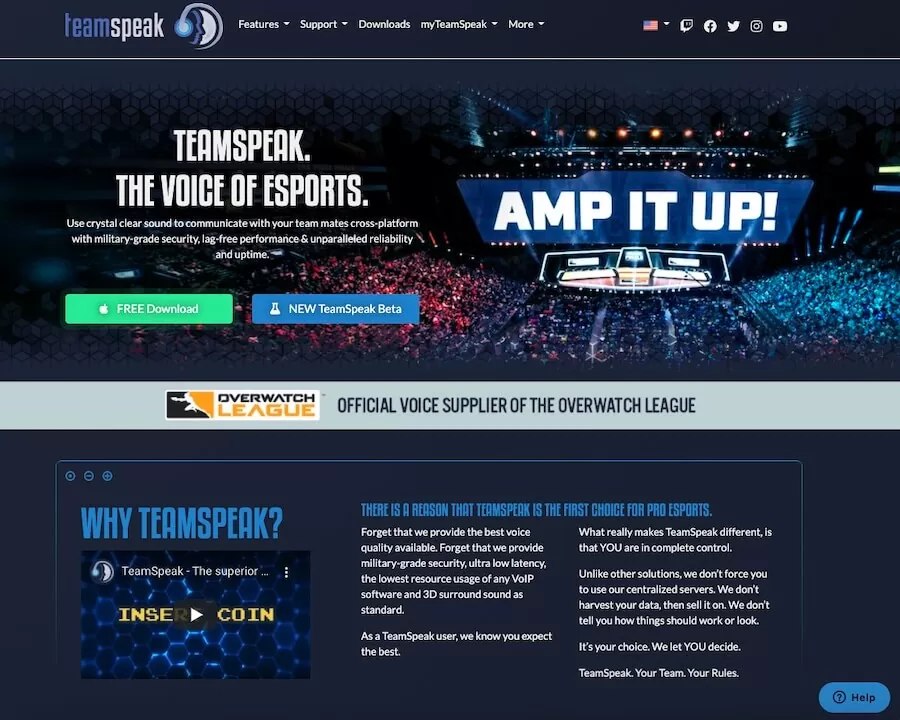 TeamSpeak is specifically created for the gaming community and business management. Gamers who play online multiplayer games can get a competitive advantage by communicating with fellow companions.
TeamSpeak offers military-grade encryption on their virtual servers. The voice quality is crystal-clear with automatic volume adjustment. The application offers you full control over the channel. If you own the server license, it is up to you who can talk, join, and
The TeamSpeak 3 Client server is completely free to use and 32 users can join simultaneously on that particular server. The slots can be extended with different TeamSpeak Gamer Licenses.
Features of TeamSpeak
Pricing:
02

. Chanty
Chanty is a collaborative communication application. With this app, you can quickly activate conversation actions such as audio & video calls and private & team text messages in a single place.
Chanty is not just only used in gaming but it is also used among college students and business purposes to boost productivity. The application also offers several task management features that can be used to manage your team members. You can also assign different tasks to each team member and track their progress.
Chanty also allows users to share content and large files on channels. Pin important messages and highlight members with @. The features of the app are exactly the same as Discord which makes it a perfect alternative.
Features of Chanty
Pricing
03

. Troop Messenger
Troop Messenger is an innovative communication and team collaboration platform. It is a SaaS-based application that offers two-way team communication for people to connect, talk, share, and discuss in a single place.
With Troop Messenger, you can easily add participants to initiate an audio or video group call. Each participant is allowed to share their screens on a video call. You can also share all kinds of files with private and group chats.
Troop Messenger allows seamless integration with many apps such as Dropbox, Google Drive, Mailtrim, and many more. They also offer 24/7 live chat support for technical assistance.
Features of Troop Messenger
Pricing
04

. Slack
Slack is a professional project management software. In terms of integrations, it is considered better than Discord and offers value-driven features. It is integrated with popular third-party software such as MailChimp, Google Drive, Trello, GitHub, and many others.
With Slack, you can create video and calls of decent quality. The free version allows you to create one-on-one calls while Pro & Business allows you to add up to 15 participants simultaneously. With Premium subscriptions, you can also share your screen with others.
To use Slack properly, you must create channels where you can add your team members for different projects. It is like a personal workspace where members can discuss important stuff and work on assigned tasks.
Features of Slack
Pricing
Also, don't miss our detailed Slack review and the top Slack Alternatives article.
05

. nTask
nTask is a powerful project management application that also offers a range of chat & communication features. The software gives you the capability to streamline team communication with task managing functionality.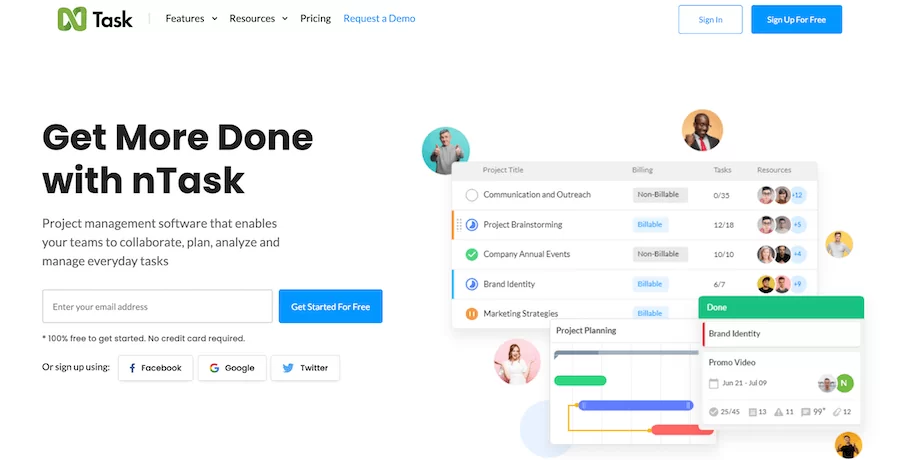 With nTask, you can create meeting links and send them to team members to join in. You can assign members on tasks and track the progress. If you need, you can record meetings and discussion points with the in-built recording feature.
You can also chat individually or in a group without any hassle. Share password-protected files and images with clients. nTask also offers the Kanban Board feature with premium subscriptions. You can enable it to increase your workflow.
Features of nTask
Pricing
Conclusion
These are our top picks as Discord alternatives. There is no doubt Discord is the ultimate live communication application but it is not that good for business purposes.
The above-mentioned applications offer a smoother workspace with task managing features which is good for business. All of them work perfectly on popular operating systems such as Windows, Mac, Linux, iOS, Android, and many others.