WP Quiz Pro is a feature-packed premium plugin for creating Quizzes on your WordPress website/blog. It comes with all the bells and whistles to create stunning and professional-looking quizzes which your audience will love.
Just take a look at all the features the plugin has to offer:
And much more.
With all these features, you will be able to create a huge variety of quizzes to thrill your audience and generate traffic for your website. Here is a detailed overview of all the different types of quizzes you will be able to create with the plugin.
Different Quiz Formats
After installing WP Quiz Pro, you will be greeted with an array of different quiz formats to implement on your WordPress website/blog. These include:
Facebook Quiz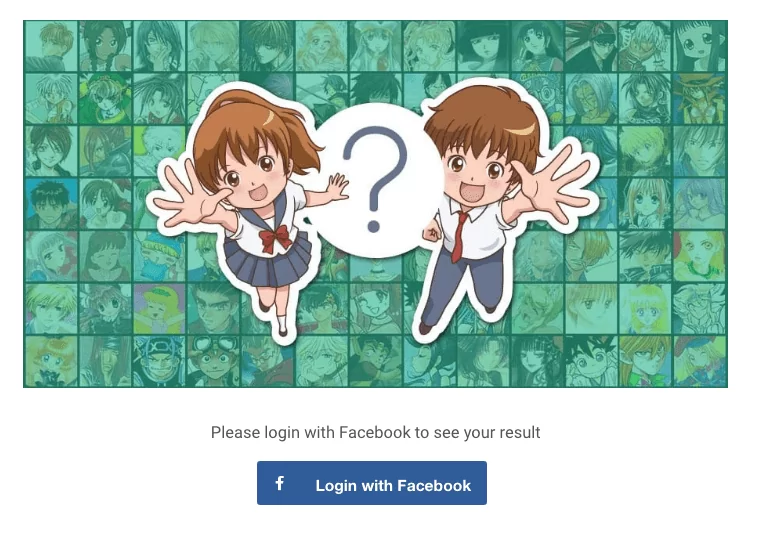 All of us have seen and played those "which movie character are you?" or "what does the future hold?" type of quizzes on Facebook. They offer an ingenious way to attract traffic to your website.
People see these type of quizzes to be fun. So not only are your creating entertainment value for your users but at the end, you can offer them an option to share the "result" with the friends.
This gives your users an engaging topic to talk about. All the while, you are getting free shares all around facebook from users wanting to know, "which of their friends secretly has a crush on you?"
Swiper Quizzes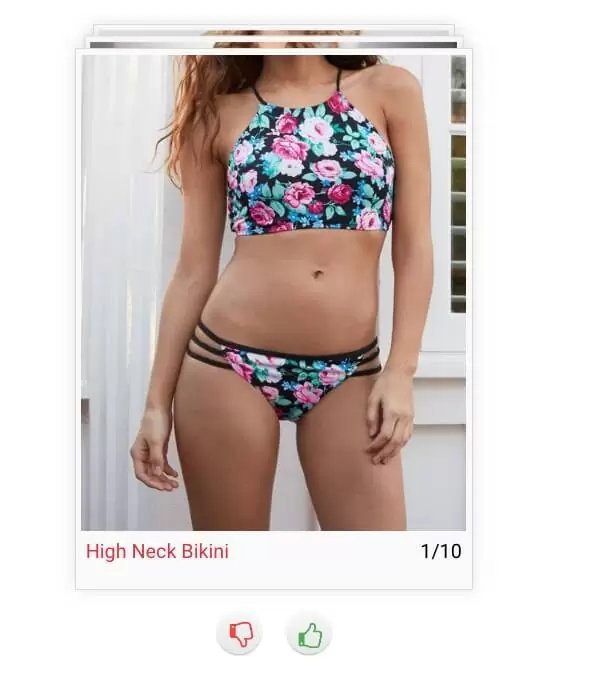 The swipe-left swipe-right format has worked wonders for Tinder. And with WP Quiz Pro, you can take those mechanics and apply them to your online quizzes. Simply create a collection of 20 (or any number) of "yes or no questions." Then configure swipe left for "yes" and swipe right for "no," and let your users take the full test.
In the end, show them a figure of how many the got right and ask them to challenge their friends by sharing it on social media. This is a solid strategy for creating viral social content.
However, it is worth noting that is format is more suited towards mobile phone users. The swipe gesture isn't particularly associated with users coming from a desktop.
Personality Quizzes
These type of quizzes are an all-time favorite amongst internet users. People want to know if their personality matches with their favorite character or actor/actress. Indulge their curiosity by creating these personality quizzes.
The plugin will allow you to create questions, coupled with a list of options for the user to choose. Depending on the answers they select, you can program particular result to show up for your readers.
You can choose to show these quizzes in a single page layout or a multi-page layout. You can also add a "subscribe to see the result" or "share to see the result" option at the end of the quiz.
It is all about flowcharts, and the plugin handles it extremely well.
Flip Card Quizzes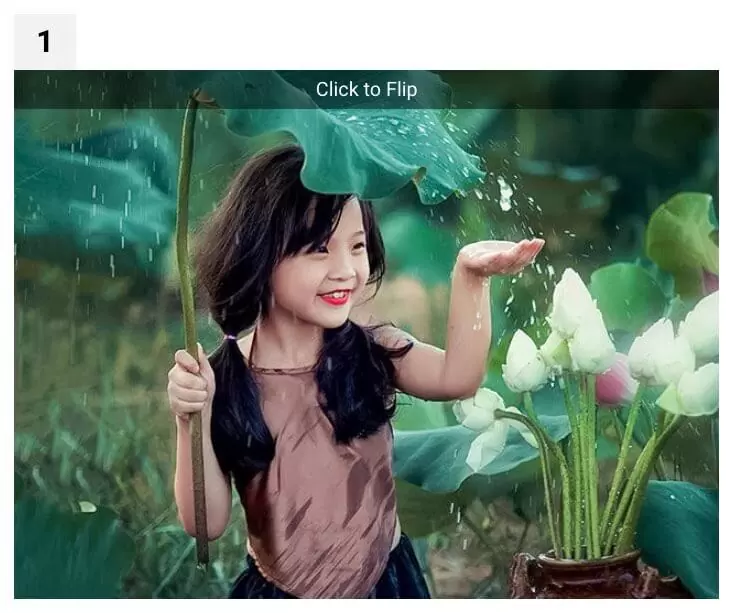 Let your audience test their knowledge with flip card quizzes. It mostly works with riddle based content. You showcase an image with a riddle or a question and ask the user to guess the answer.
To check if their guess was right or wrong, they can click on the image, which will flip it to show the actual answer.
Trivia Quizzes
You can create trivia quizzes where you ask your readers about everyday useless stuff and let them test their knowledge base. People tend to get competitive over such matters, and they will always ask their friends to take the test to compare results.
Much like the "personality quiz" type, here also you will get different formats to showcase your trivia questions.
The end result is that you are getting more traffic.
List Quiz Type
This is a new addition to the WP Quiz Pro plugin and it is a very effective content type to engage your users. In the list type of quiz content, you create a post and give options as the results, the users will vote and move the best option to the top of the page.
For example, you are managing a health-related website and you create content around the best ways to lose weight. So, you list ten different things as the ways to lose weight and ask the users to vote the most effective option.
The user can vote the option they think is the most effective and move it ahead in the ranking.
Advanced Statistics
All the stats of your quiz site will be at your fingertips. You can check how many users are participating in your quizzes. You can check the voting pattern on questions, the number of upvote and downvote.
Create a Paid Quiz Site
With the WP Quiz Pro plugin, you can create a paid version of your quiz site. The plugin comes with all the features that you will need to monetize your site.
It offers you a front-end login and register option so that your users can login and participate in the quizzes. You have the option to integrate Stripe or PayPal to receive payments from your users. You also have the option to select your currently.
So, it goes deep into the integration to make sure everything is taken care of.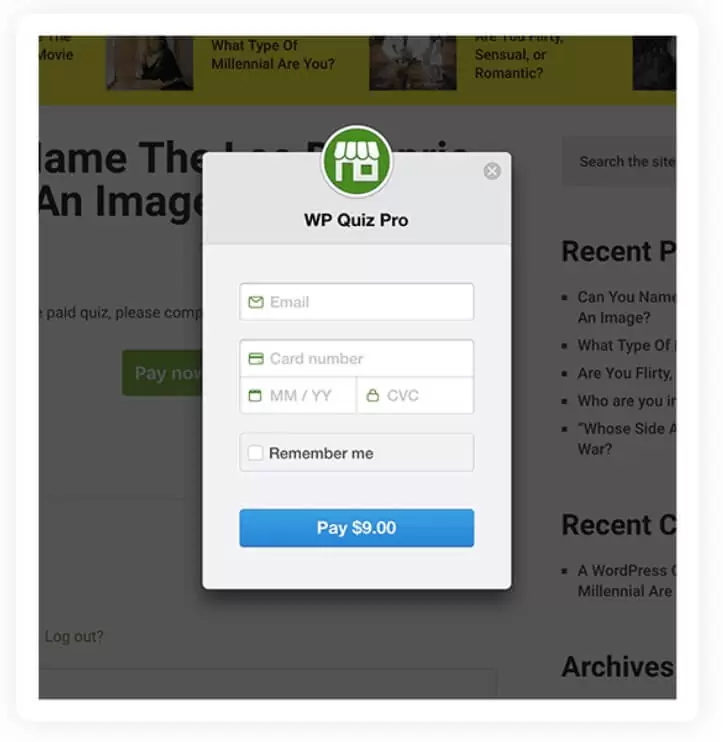 How to Get Started With WP Quiz Pro?
You can get started with the WP Quiz Pro plugin like any other WordPress plugin. Once you have downloaded the plugin from the MyThemeShop store, you can go to your WordPress dashboard >> Plugins >> Add New.
Upload the plugin Zip file and install it.
Once you activate the plugin, you will have the option WP Quiz Pro option in the WordPress dashboard to create new quizzes.
Select Quiz Type
If you are not going to use all the quiz types offered by the plugin, you can only activate the ones that you are going to use. All the quiz types are on by default, you can select and switch off the options that you don't intend to use.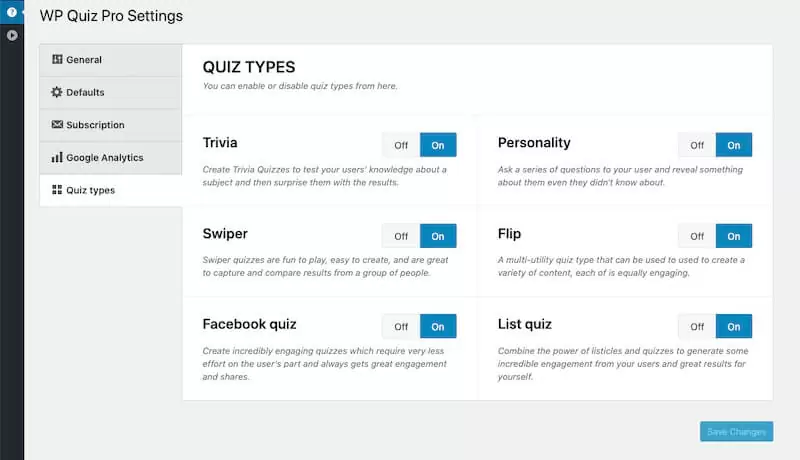 Increase Email Subscription
You will have an option to add the email subscription at the end of the quizes. You can use it to increase the email subscription for your quiz site.
The plugin offers you a number of email service provider options to integrate for your site such as mailChimp, AWeber, Getresponse, ConvertKit.