It is so easy to use. Even beginners and those who want to start from scratch can place ads in minutes using WASK.
Once you connect your Facebook or Google ad account or both, the user panel becomes a single screen to track and manage all the ads. You can see digital marketing metrics such as total clicks you get from your ads, CPM, CPC, CTR and many more.
All together shows you how efficient your ads are. And you can edit your ads easily from the area located just below the metrics.
WASK hugely benefits from AI in terms of the target audience. AI finds the perfect target audience for you based on your website and your social media accounts. The audience can be edited using areas of interest, region, age, gender. It gives you a more accurate target audience, and it means better ads. Your ad budget will not be wasted on the wrong audiences with WASK.
When your audience is ready, now it is time to creating ads. WASK recently published a Design Tool, that is an easy-to-use simple way to create ads images.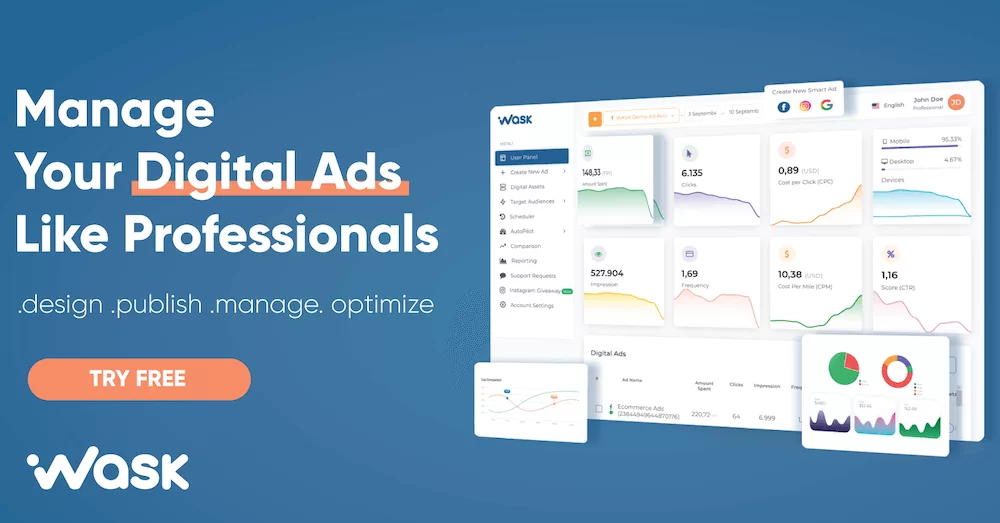 It provides plenty of free templates, stock images, shapes and emojis. Everything you need to design a good social media ad. It also has Layers section that helps you edit quicker. You can publish your ad immediately when your design is ready. Also, we provide a media library to store images for future use.
Once your ad image is ready, publishing an ad is really easy. You select whether you want to publish Google, Facebook or Instagram ads and it is done in seconds.
The other features come into the scene after you have published several ads. Autopilot and Scheduler help you automate the ads to gain more with less effort. Autopilot stops, deletes or changes budgets according to metrics you set.
The scheduler enables you to place ads when you are not available, let's say while you are on a trip on a weekend.
A/B Test and Performance Comparison find the best ads for you by comparing several ads. You can keep the better-performing one and delete the worse-performing ad. It gives a constantly increasing quality to your digital advertising efforts.
These and many more features help users to get more customers and more conversions/clicks while spending less.