If your goal is a modern, uninterrupted yet modern creative website? Then your "minimum" program is to find a resource with high-quality templates and themes and purchase a couple of necessary plugins and other functional things.
And if your professional activity is directly related to regular orders for the creation and promotion of websites (for example, the creation and maintenance of online stores, Instagram Story, blogs, presentations, etc.), then you should think about a more permanent resource partner, you can always rely on.
Both in the first and in the second case – one great solution is a subscription MonsterONE by TemplateMonster.
In this article, we will consider in detail all aspects of cooperation with MonsterONE Membership: its price, package of services, advantages, bonuses and much more.
MonsterONE subscription – thousands of possibilities
One of the most popular and highly demanded services of the company is a unique MonsterONE by TemplateMonster.
TemplateMonster recently surprised its customers once again by offering a truly cool service – unlimited subscription to all products.
What does this mean?
Now you can download different templates or other elements, experiment with them, adapt them, use them in your projects an absolutely unlimited number of times throughout the year and not worry about additional fees.
MonsterONE subscription gives you unlimited access to 251,000+ products worth over $ 500,000! Amazing, isn't it?
Why should you choose MonsterONE by TemplateMonster and what to expect from MonsterONE subscription?
Big choice of HQ digital products
This is an absolutely cool subscription service that can provide you with high-quality website building products:
9375 most popular themes and templates
40 Advanced Add-Ons and Plugins
18458 presentation templates
108541 graphic templates
1.7M free stock photos
1 Year Free Draftium PRO Prototyping Tool (Save Up To $ 99)
Recommended web hosting as special offers – fast, reliable & money-saving
In addition, you get the opportunity to save up to 30% personal discounts on TemplateMonster products & Technical support for all items
Continuous updates and new arrivals of subscription products
By purchasing MonsterONE by TemplateMonster subscription, you are purchasing an ever-growing digital pack for professional online businesses. You are sure to receive new themes, templates and plugin updates.
MonsterONE keeps you up to date
Everything is fair and transparent: you change your mind – TemplateMonster returns your money
You can cancel your subscription at any time. If you change your mind, TemplateMonster guarantees a refund within 14 days if you haven't downloaded any products.
The Clear Licensing – no more Headache
All MonsterONE by TemplateMonster products are licensed for an unlimited year, which allows you to use them on unlimited domains for one year.
Another nice bonus: when the year of unlimited use is over, your site will continue to run smoothly. What's more, you will continue to even receive updates for your plugins necessary to ensure maximum performance in the future.
TemplateMonster Affiliate Program: Earn more money by doing what you love
TemplateMonster platform is a great option for designers, developers and web studios who want to show their digital masterpieces to the world and thereby increase their budget.
Just look at the main benefits of such a partnership:
Each partner gets their own account that contains all statistics, payments and other settings. In addition, an affiliate can change their personal information, view referral program information, find out about useful third-party services, and learn about traffic, sales, and payment information.
If you don't make & produce digital products, no problem. With the TemplateMonster Affiliate Program, you can benefit too.
If you are an active blogger, dynamic web studio, practicing internet marketing consultant, online store owner or web designer, then you can make money by promoting TemplateMonster products.
You can place advertising banners, affiliate links or template collections on your own web resource. The affiliate program offers a wide range of digital products that can be offered for promotion.
Try, Rate and Buy! Free Tariff – Free Download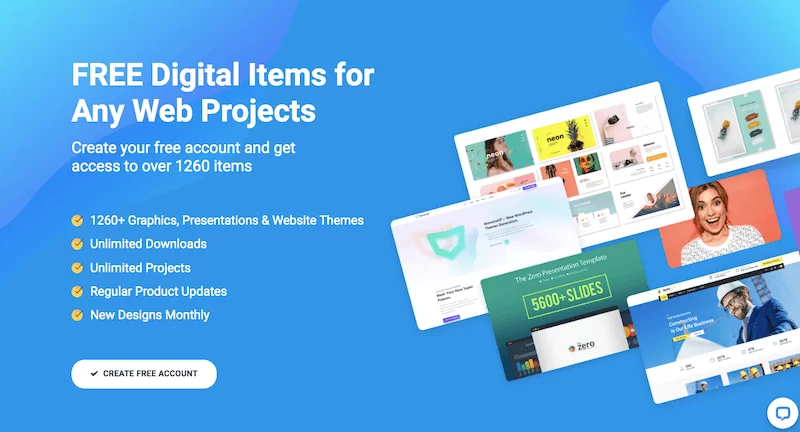 Digital products available for free download include HQ music, video, audio files, images, software, graphics systems, 3D designs, fonts, symbols, various templates, patterns, backgrounds, and more.
Just sign up for free – it takes only 1-2 minutes and tons of quality digital content will be available to you!
In conclusion, I want to emphasize that the MonsterONE by TemplateMonster subscription service is an excellent solution even for those who are at least indirectly related to everything related to websites, social networks, graphics, media content, advertising, etc. So, it's high time to use a discount coupon code 'nitdit' to get 10% OFF on any MonsterONE subscription plan!
A Web Studio subscription helps reduce the time it takes to create a website template for a client or add features to an existing website. For bloggers and content managers: save significant time and financial resources on sourcing high-quality media, preparing graphic products, and more.