Envira Gallery WordPress plugin prides itself in certain key areas which are all necessary if you are planning to create professional galleries for your WordPress website.
First and foremost, with easy gallery building tools and a whole set of premade gallery templates, you will be able to create professional looking galleries in a matter of minutes.
Best of all, there is no necessity to have any coding knowledge whatsoever. This makes the plugin extremely beginner friendly.
However, if you do come from a developer background and have some coding knowledge, then the plugin hasn't forgotten about you either.
Developers will get access to tons of hooks and filters which can help them extend the functionalities of the plugin and add custom features.
Now besides building stunning galleries quickly, you will also want your them to load quickly, be SEO-friendly, and adaptive to mobile screens.
Well, that is covered.
And with metadata features, deep links, and paginations, your images will help you fetch even more traffic to your online portal.
On top of all these, Envira also features WooCommerce integration, image proofing, and social media integration.
This allows you to share your images easily, create a brand for yourself, and even sell your photographs and make a profit out of them.
Envira Gallery: Features
Being a premium plugin, and also marketed as the best WordPress Gallery plugin in the market, Envira Gallery sure packs in a lot of advanced features and options. Here we have provided a detailed overview of all its bells and whistles.
Drag & Drop Gallery Builder
The plugin features a drag and drop gallery builder to help you easily create photo and video galleries. You don't need to have any coding knowledge whatsoever.
All you have to do is simply drag and drop all the elements, modules, and your desired content, and your professional gallery will be ready in no time.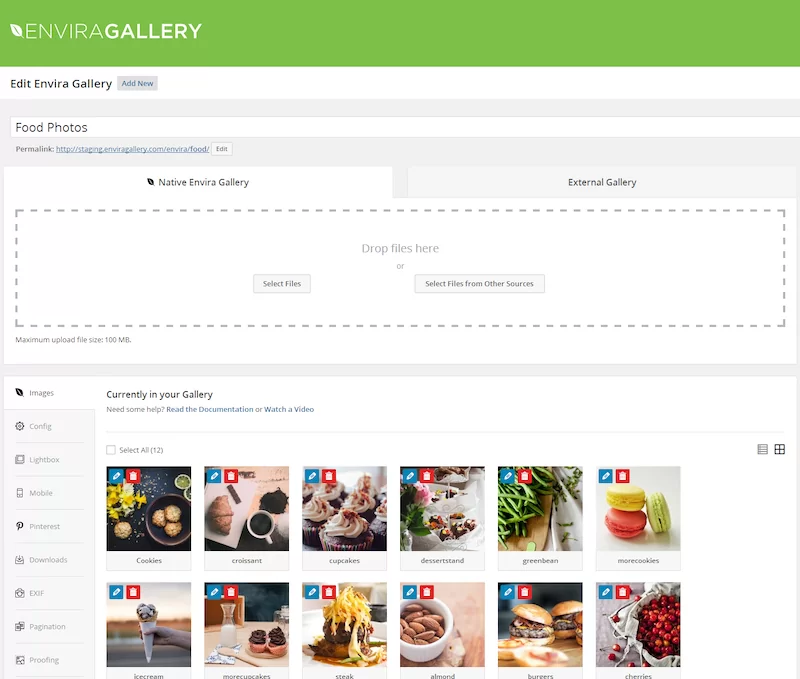 Gallery Templates
Just in case you don't want to build your gallery from scratch, you can use one of the many pre-built templates that come with the plugin.
It offers a one-click solution to get a professional designed Gallery ready to go. Also, you can further customize all the pre-made templates to fine-tune its design to fit your likings.
Independent Galleries
With most gallery plugins, you will be able to create image/video galleries, but they will be embedded or tied to one of your pages or posts.
Now with Envira Gallery that is not the case.
You will be able to create totally independent standalone galleries which can be accessed independently of which part of your website the user is browsing.
Full-Size Lightbox Images
When opening images in lightboxes, sometimes the images get resized or cropped. This might affect the overall quality of the image, or worse, make it appear distorted. With Envira Gallery, you won't have to worry about any such problem.
If your website users decide to view your images in a lightbox, it will not cause the images to get cropped or resized. You have full control to set them to open in full image dimensions all the time.