Browsing through a brand's website, you might have often encountered the word "As Seen On", followed by an impressive list of other websites. Sometimes, such a list can also be seen on small websites too.
This raises the question: how do big websites like Fox and USA Today notice such brands or websites?
Well, the answer is they don't. In fact, the owners of the brands and the websites ensure they get a space on such news websites. The second immediate question is how?
BrandPush and services similar to it are the answer. However, today we will focus only on BrandPush, a news publishing service. With the help of BrandPush, you not only get published on one or two major news sites like Fox and USA Today but 200 other news websites.
BrandPush Overview
BrandPush is a news publishing service based in Estonia. With their service, you can publish your content on 200 influential websites resulting in brand awareness and press coverage. The ultimate result of using BrandPush includes
Better authority of your website
Better profit for your business
Real readers
Press and media coverage
More signups
Quality backlinks
Higher authority
If you are wondering what type of content you should write to get published by BrandPush, you don't need to worry about it either!
BrandPush not only helps you to publish your articles, but it can also write them down for you. However, this service is unavailable for the starter plan.
Digital marketing is an important marketing strategy in the current world. To grow your online presence, you can make BrandPush a part of your digital marketing strategy.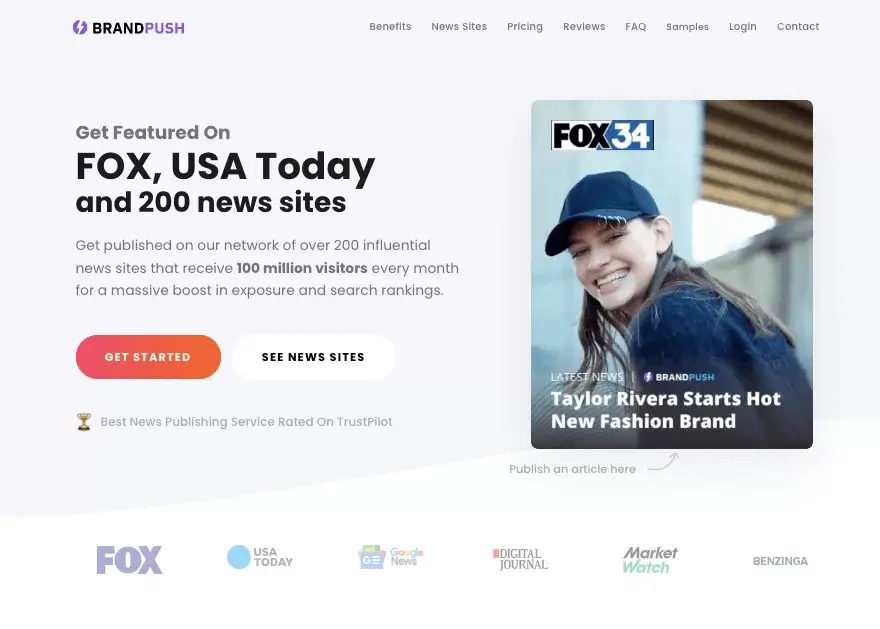 How BrandPush Can Help?
We have already discussed the services that BrandPush offer. Let us now focus on how you can exactly benefit from its services.
1. Brand authority
How do you decide whether you can trust a brand or not? The most common answer is through a Google search. When your brand is featured on the first page of a Google search by a prominent news website, a reader knows that they can trust your brand.
BrandPush waves this magic wand around you by ensuring that your brand through your content gets covered by the influential news website.
When a potential customer gets that feeling that your brand or business is genuine and can be trusted, converting them into actual leads is extremely easy.
2. Writes an article for you
With BrandPush, you can write your own article or ask them to write it for you. Based on your convenience, you can go for either of these options.
However, if you want to avoid the headache of writing a quality article for an influential news website, you can get the job done by providing BrandPush information like:
What is the article about?
Website link
Contact details of the business
Apart from the writing part, if you want the article to include any image, quote or videos, you can simply send them the material and rest assured, BrandPush will include it in your article.
3. Complete details of the publications
After publishing your article through BrandPush on multiple websites, how do you decide whether these websites are powerful or not?
BrandPush understands this concern of the customers; therefore, the platform provides the customers with complete details of the news website.
Ask any digital marketer or an SEO expert, and they will tell you to measure a website's success using metrics like authority, MOZ rank, Alexa rank, followers and monthly traffic.
The report that BrandPush provides includes all these metrics of the news website where your article is published. With such data, BrandPush assures you that the news websites are really influential.
3. Verified badge on social media platforms
As discussed previously, BrandPush ensures that your brand awareness increases. With an increase in your brand awareness, the popularity of your brand or you will increase too.
In such a scenario, getting a verified badge or blue tick on social media platforms like Instagram, Facebook and Twitter become easier.
Just like "As Seen On", a blue tick on social media platforms can speak volumes of your success.
4. More Sales For Your Business
According to reports, with the "As Seen On" badge, the conversion rate of a website increases by more than 45%. Therefore, BrandPush plays a direct role in increasing your business's sales.
BrandPush will ensure that the readers of different news websites reach your business by creating brand awareness. Once they are on your website, all you need to provide them is quality products and services to boost your business's sales.
5. Better SEO and more traffic
With your content published on different prominent websites, you will receive plenty of backlinks. These backlinks can either be no-follow links or do-follow links. Both the links can result in better SEO of your website.
Even though there is a misconception that no-follow links are not that important. This is not the case. It can positively impact the search result and this alone can drive plenty of traffic to your website.
Most BrandPush users saw an increase in traffic within a month of getting their articles published.
6. Publish on top news sites
BrandPush can help you to publish your article on top news sites that will help you to grow your business and increase the trust for your product or services.
The inventory of BrandPush includes the leading news sites like the following.