Asana Vs Airtable: A Detailed Comparison 2022
Asana Vs Airtable, a side-by-side comparison of two of the most popular project management and team collaboration software that you can use for your business.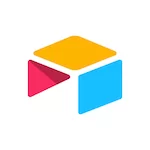 A powerful database management and project collaboration platform for businesses of all size
Airtable is popular project management, collaboration, and database management software that you can use to manage your projects. You can create custom workflows and apps for your project with your database. It comes with over 50 ready-to-use apps that will make the process easier for you. Choose between a number of different views of your database, such as Grid View, Calendar view, Gallery view, Kanban view. Airtable offers you a free plan to get started with.
A detailed Asana review & the top alternatives to Asana that you can use to manage projects.
Asana is a very popular project management and team collaboration software with all the required features. You can use this software to manage a completely remote team and work on a project. Asana makes it easier for team members to collaborate and communicate quickly. You will have real-time updates on the project status and all other important details so that you can take a proactive decision so that you never miss a deadline again.
Asana Vs Airtable NitDit Score
Asana Vs Airtable NitDit score based on a number of data points. We check the features, user feedback, community sentiments while adding the score. The score will give you some idea about the overall quality of the products.
Asana Vs Airtable Top Features
Asana Vs Airtable top features. In this list of features, we haven't included all the features that the products has to offer. However, we tried to add the important ones to give you a competitive idea.
Free to use
Create detailed spreadsheets
Create custom workflows
Automate processes
Create custom view for your project
Ready templates for different projects
Build and publish your own custom apps
Sync information
Collaborate with your team
Integrate with popular apps
Project management features
Team collaboration
Remote team management
Ready to use template
Easy team communication
To-Do list productivity tool
Task management
Workflow management
Workload management
Comment on tasks
Different project views
Integrate third-party apps
Asana Vs Airtable Company Profile
Asana Vs Airtable, some of the important points about the product company to giev you an idea about the strength of the company behind the product. It will also give you an idea about the stability of the product.
Asana Vs Airtable Pricing Comparison
Asana Vs Airtable pricing comparison. The pricing is one of the most important aspect to look at when we compare two products. It can be an important aspect to make a decision.
Asana Vs Airtable Pros & Cons
Team collaboration & project management
Different project views
Custom interface for every business
Pre-designed project templates
deep integration with other apps
Learning curve for newbie users
Free plan is very limited
Complete project management
Different types of project views
Automate routine works
Manage complete workflows
Ready project templates
Complete analytics on any project
Learning curve for newbies
No project time tracking option
Asana Vs Airtable Support Comparison
Airtable has e a very active help section. You can go through their rich database of articles in the help section to understand the product in a better way. If you still have any questions, you can get help through the following channels.
Tutorial Videos & Documentation
Asana comes with a complete user forum and a help section where you can find answers to most of your questions. You can also get in touch with the support team for help.
Tutorial Videos & Documentation
Q1. What Are Asana & Airtable?
Asana & Airtable are two of the popular project management software that can be used for any kind of project.
Q2. Asana Vs Airtable: Which Is Easier to Use?
According to users, Asana is a little easier to use when it is compared to Airtable.
Q3. Are Asana & Airtable Free to Use?
Both Asana & Airtable offers a completely free plan along with paid options.