Keyword tracking is an essential aspect of any SEO strategy. It allows campaigners to keep a check on their performance and helps them in monitoring their SERP rankings as well. Modern keyword ranking tools help campaigners adjust their budgets and strategies as required.
SE Ranking is a popular and well-known keyword tracking and monitoring tool that aims to provide accurate and updated rankings for all your keywords and rankings. SEO experts use SE Ranking for regular and in-depth monitoring of keywords.
SEO professionals have always prioritized choosing the most affordable and easy-to-use ranking tool. Here is a detailed review of SE Ranking and all of its major features.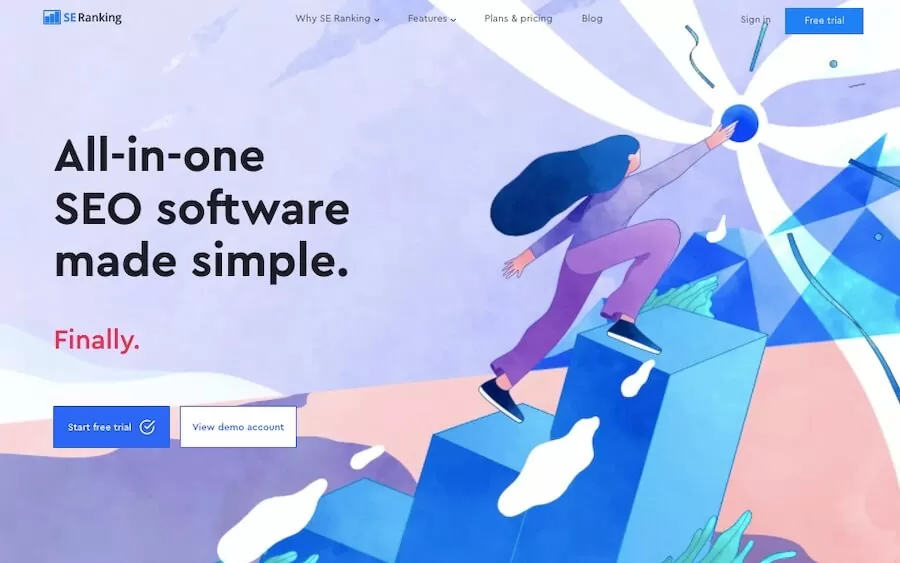 SE Ranking: Major SEO Tracking Features
The features offered in SE Ranking are extensive. Here is a list of the top features that help SE Ranking stand out from the crowd.
Handy SEO Tools
SE Ranking offers a number of handy SEO tools that you can use for different analysis. You can analyze keywords, backlinks, find details of your competitor sites, website audit tools, and more.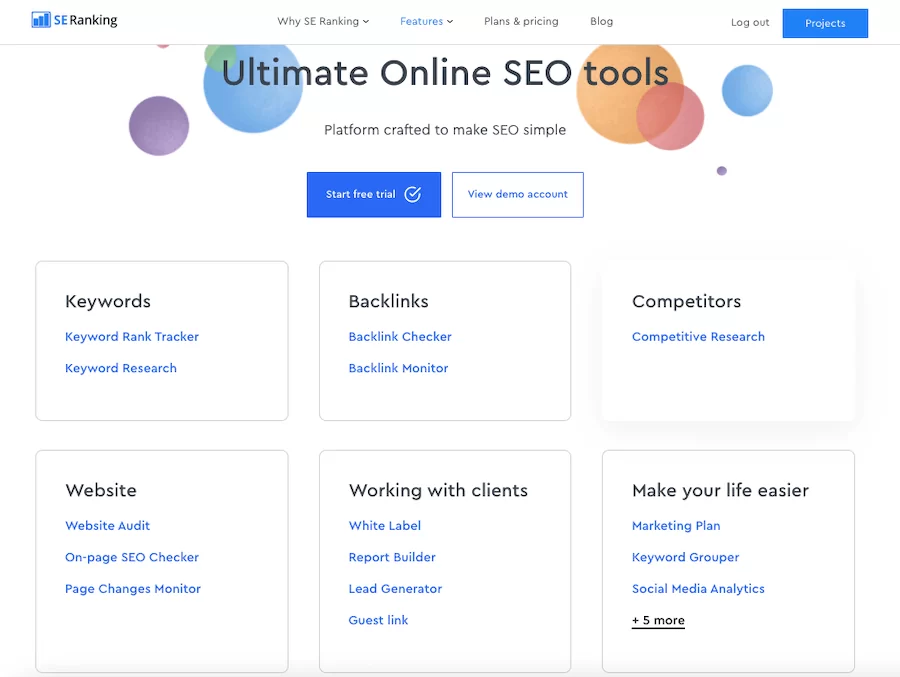 Analyzing websites with SE Ranking is easy. All you have to do with SE Ranking is to get your website registered into the software database. After successfully registering your website in the dashboard, you will get a detailed report of all the keywords you enter for analysis.
The dashboard gives you a clean report of all your keywords in a very detailed manner. Click on the Rankings button located in the top right corner of the software.
The tool allows you to change your options by clicking on the gear icon. You can also remove the website easily from your database by clicking the delete button.
The tool would take you to the website overview upon clicking on the website link. You can see the details and reports of all your keywords, as well as rankings associated with the website.
The tool offers you a set of amazing options to choose from, where you can get a highly detailed insight into your website data. These stats include rankings for a certain period of time, historical website data, or the search engines you would like to monitor.
Start With SEO Audit
Before you start using any of the SEO tools to analyze your own or your competitor's site, it is important to do an SEO audit of your site.
It's a very simple SEO audit tool, you just have to add the URL of your site and start the audit. The system will take some time to analyze and give you the report quickly.
You can use the report to improve your site further.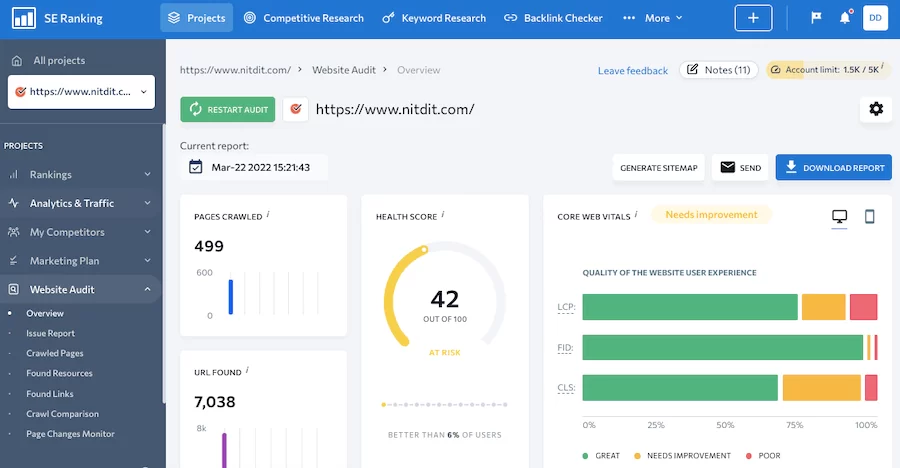 Reporting Tools
You can also analyze and send reports of your target website to your client easily with SE Ranking.
The best part here is that you can schedule your reports as per your choice. Also, the tool allows you to deliver reports in different formats like .pdf, .html, and .xls.
If you are managing any SEO agency, you can use the report builder tool to send SEO reports to your clients with your logo and other branding details.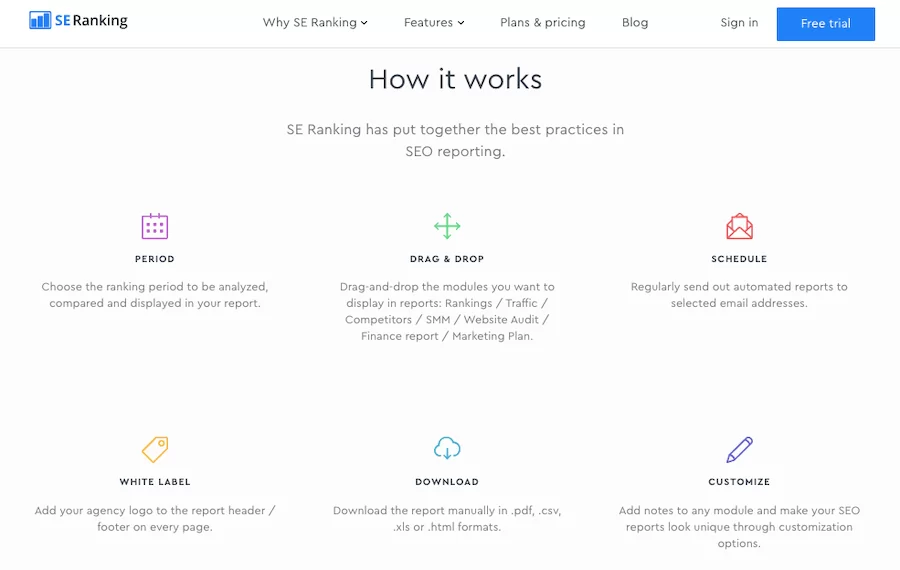 Competitor Research Tools
RE Ranking offers you intuitive competitor research tools that offer you a number of essential functionalities.
You can monitor the amount of traffic your competitor's website is getting, such as organic and paid traffic.
The competitor analysis tool of SE Ranking is relatively new but a very handy tool to analyze rival websites to find out what is working for them.
You can analyze a number of important aspects of any of your competitor sites such as overall traffic, backlink profile, top keywords, historical data and more.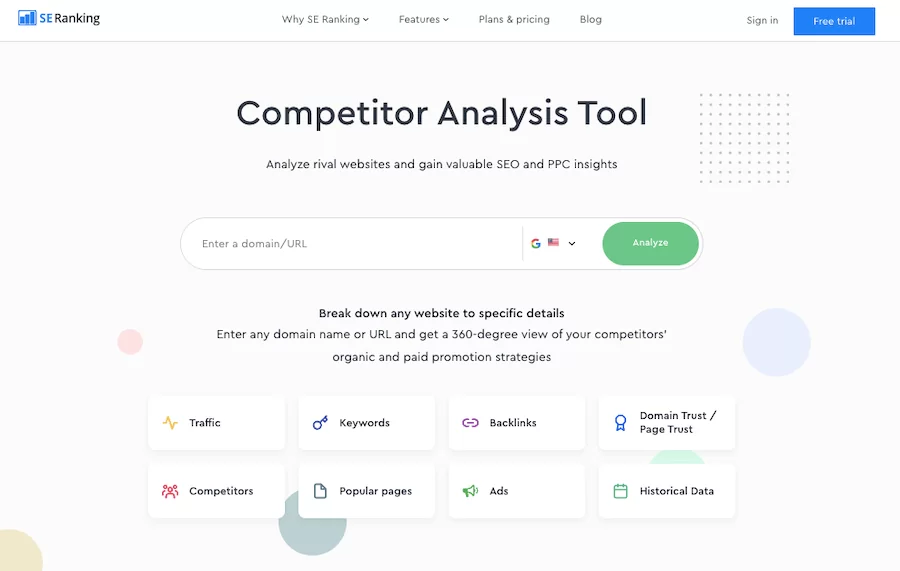 Easy to Use Keyword Suggestion Tool
Keyword Research is a crucial feature of any SEO analytics tool in the market. The Keyword Research feature of SE Ranking helps users in finding the best possible keywords that would rank higher on different search engines.
Intuitive Backlink Checker
SE Ranking has a Backlink Checker feature that allows users to keep a check on different backlinks on a single website. You can easily list all of your backlinks to optimize the management. You can also validate all of your backlinks easily with SE Ranking.
Here are the major points that make SE Ranking a good choice for different businesses:
Easy Setup
Setting up SE Ranking takes just a few clicks. Before initiating keyword tracking, you will have to add them to the database.
First and foremost, you will have to enter the website title and URL in SE Ranking. You will have to do this along with adjusting your range for online searches.
You can also change the status of your projects by simply shifting between active and paused. You will then have the option to send in a weekly report to your clients or team members via SE Ranking directly.
Now you can club together those keywords that you want to track on your website. With SE Ranking, you can create a group of all the target keywords in the software itself and get instant tracking results in a highly detailed manner.
You can also link your website to Google Analytics, using which you can gather more data and info about the performance of your website and the included keywords.
Finally, the tool also allows you to choose the search engine that you would like to track rankings for. You can choose between different search engines like Google, Yandex, YouTube, Bing, and Yahoo.
Another feature that sets SE Ranking ahead of its competitors is the option to narrow down your search by picking a specific country or city.
You can also change the setting of your searches by choosing a specific language, which is a very handy option for both local and international SEO professionals.
Powerful Dashboard
This SEO tracking tool offers an amazing dashboard interface for easy analytics. The tool would take you immediately to the dashboard as soon as you sign up.
The dashboard gives you quick access to all features. This is where you can track and monitor your rankings in real-time.