Get the maximum discount deal for the Divi Theme using our link above.
ElegantThemes discount offer, get lifetime membership at an amazing 10% OFF deal.
Divi is one of the most popular multipurpose WordPress themes available in the market that you can use to create any kind of website.
Divi Theme Discount Coupon
If you are aware of ElegantThemes, they offer a membership package to get access to any of their products including the Divi Theme.
With our links below, you can save maximum while purchasing the Divi Theme. Along with this, you will also get access to the Extra Theme, Bloom Plugin, Divi Builder Plugin, Monarch plugin in the same package.
They offer 2 different packages, a yearly package and a lifetime package.
If you go for the yearly package, you will have to renew your membership after the completion of one year. In case you don't renew your membership, you still can continue using the products but you will not get future updates.
While in the lifetime membership package, you will get access to the products and the updates for a lifetime.
You can get the lifetime membership at a discount price and save 10% using our link below.
ElegantThemes Deal: 10% Discount
Divi is created by the experienced ElegantThemes team. They have been offering WordPress products for over 12 years.
The big community around Divi and other ElegantThemes products is another reason to use it because there are a number of tutorials and add-on products available that are created by the community.
So, if you are looking for ElegantThemes products, here is your chance to get an exclusive 10% OFF.
Divi Builder Discount: 10% OFF
If you look at the Divi Theme, the core power of the theme is in the Divi Builder. The Builder is available as a standalone plugin as well. You can use it with other WordPress themes as well.
One of the most comprehensive website builders for WordPress, the Divi Builder offers you a great editing experience.
Even if you are a complete newbie user, the Divi Builder will make you a developer and help you create a completely unique design for your site without any coding.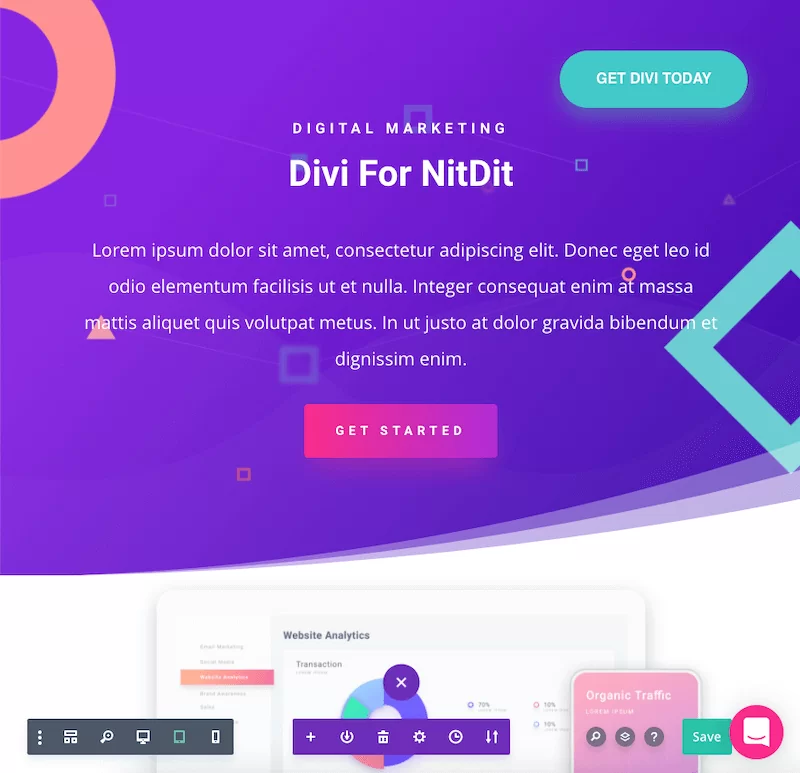 How Divi Theme Can Help?
Divi is one of the most popular multipurpose WordPress themes that you can use to create any kind of website. It is powered by the Divi Builder which is a popular drag and drop front-end website builder to help you create a completely custom design for your site without any coding.
Divi is a great theme for all kinds of websites. If you are planning to bring your business online, look no further; Divi is the top solution for your business.
With one membership of the ElegantThemes store, you will get access to the Divi Theme, Divi Builder and all other products offered by the store.
With Divi, you will have complete control over the design of your site. You can fine-tune each and every section of your website to make it perfect.
Divi Theme Builder
Not just posts or pages, Divi comes with an entire theme builder. You can make use of the website templating system to create the header, footer, create page and post templates so that you can make the changes to the entire website as per your need.
This system brings amazing control to your website so that you can make your website completely unique and professional.
The global styling and design options will help you save a lot of time during the website building process. If you are managing an agency, you can store the designs and replicate them to all other sites.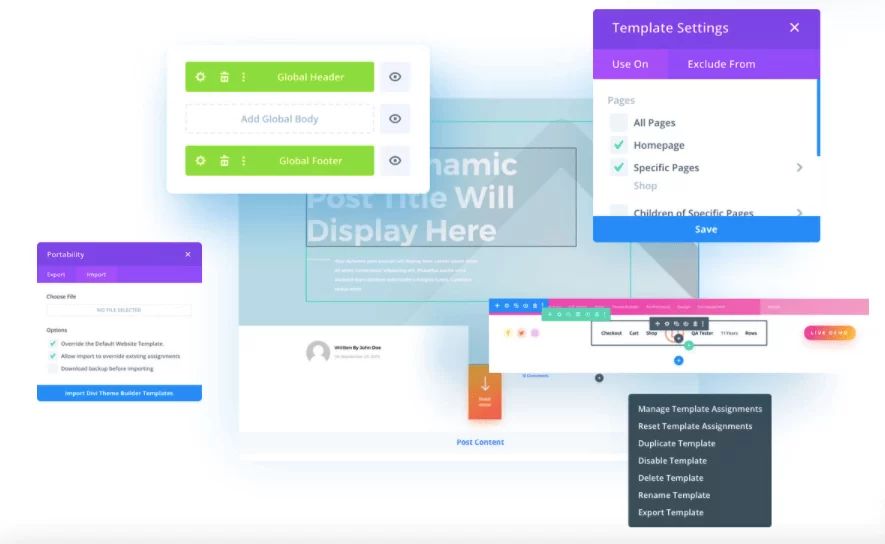 800+ Pre-made Designs
You got that right. Divi comes with over 800 ready-to-use premade designs to make things super simple for you. This will include designs for almost all kinds of niches you can think of.
And the team is constantly adding new layouts and designs. So, the possibilities are unlimited as far as design is concerned. You can quickly select any of the demo templates from the collection and use them for your site.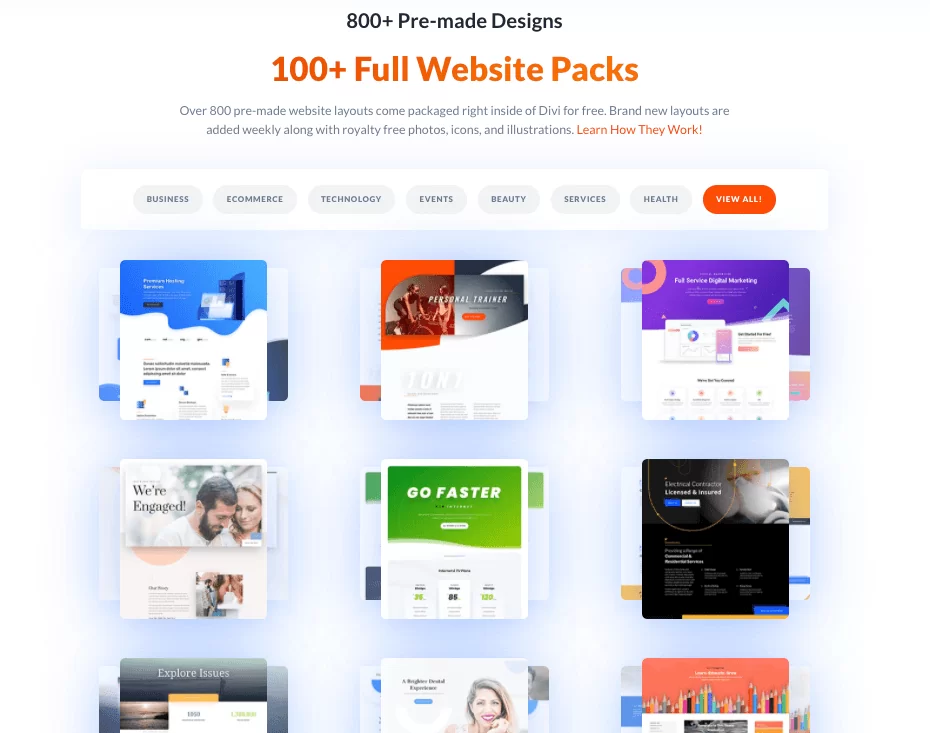 Easy Customization
The core strength of the Divi Theme is in the customization possibilities. You can design any kind of website you can imagine with the Divi Builder and make sure that you control all the aspects of the design.
You can edit the responsive design to make your site looks perfect on every device. Divi comes with a large collection of ready-to-use page modules that you can use while creating your pages to add new functionalities to your page.
When you have the Divi Theme, you don't have to install any other plugin to create galleries, forms on your site as these modules are included with the theme.
You can simply drag any element onto the page and start editing it in the front-end of your site with a real-time live preview of the changes you make.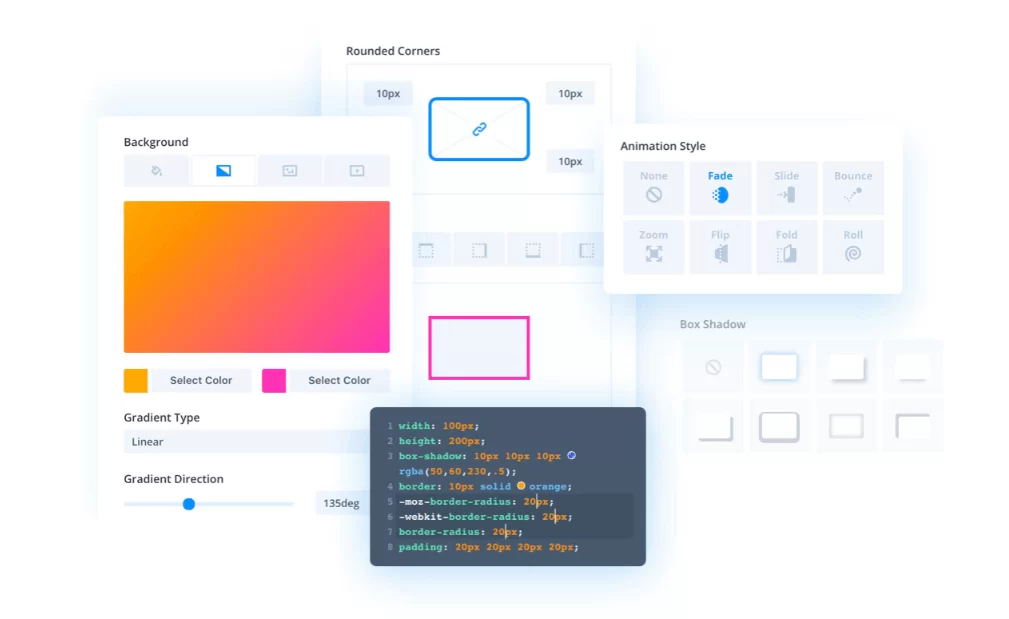 Divi Marketing Modules
Creating a website is just the starting point and probably the easiest step. Growing it to a bigger brand is the real task. You need to put in your effort and use the right tools and services that can help you to analyze and grow it bigger.
Divi Theme comes with a number of marketing modules that will help you to grow your website once you start creating content actively on your site.
It offers you a lead generation module, email opt-in forms so that you don't have to depend on any external tool or plugin. You can link it to your preferred email marketing service provider.
It also offers you a split-testing tool so that you can test different designs and combinations on your site to get a perfect balance.
Create an Online Store: WooBuilder by Divi
Divi is fully compatible with the WooComerce plugin and it gives you a very simple option to create a completely customized online store for your business.
The WooBuilder by Divi is a simple solution to create the perfect custom online store. It is nothing but the Divi Builder that is customized for the WooCommerce sites.
It readily offers you a number of demo design store options that you can choose and build on. It comes with a number of modules that are created specifically for the WooCommerce stores.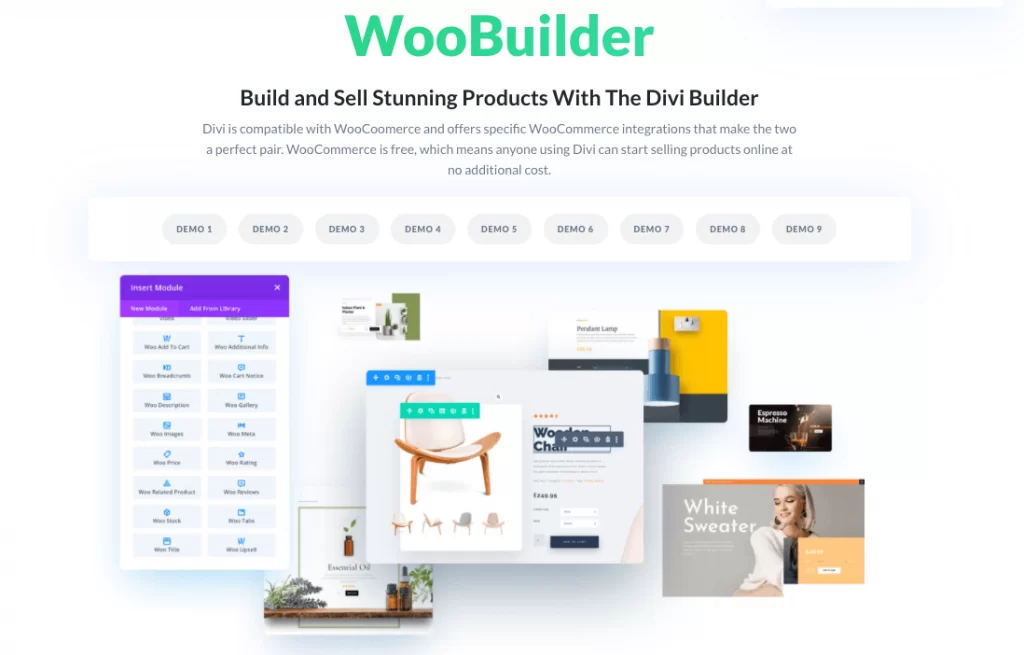 Divi Speed Booster
Divi has recently come up with an update to improve the loading speed of the theme. For a theme like Divi with so many modules and features, keeping the loading speed under control is a challenge.
But no anymore.
With Divi Theme, now you can achieve a perfect 100 score in Google Page Speed and 100% on GTMetrix. While loading speed has always been a very important factor for websites, it has become even more important now as Google rolled out the Core Vital update.
So, how does Divi Do it?
Divi has introduced a Dynamic framework that cuts out all the unnecessary modules and CSS code that is not required on a page. Generally, when you load a page, everything, all the CSS files load which makes a page slow.
Divi offers you more than 50 design components and many CSS files. However, they have broken down all the CSS files to make sure that only the files that are needed on the page load.
If your page has only 5 modules out of all the modules that Divi offers, when a user lands on that page only those 5 modules will load and not all the available modules making the page load remarkably quicker than before.
Divi System also detects the critical CSS that is present above the fold to make your page load quickly while deferring all other files.
So, with this update, you are surely going to get the much-needed SEO advantage and a much better user experience.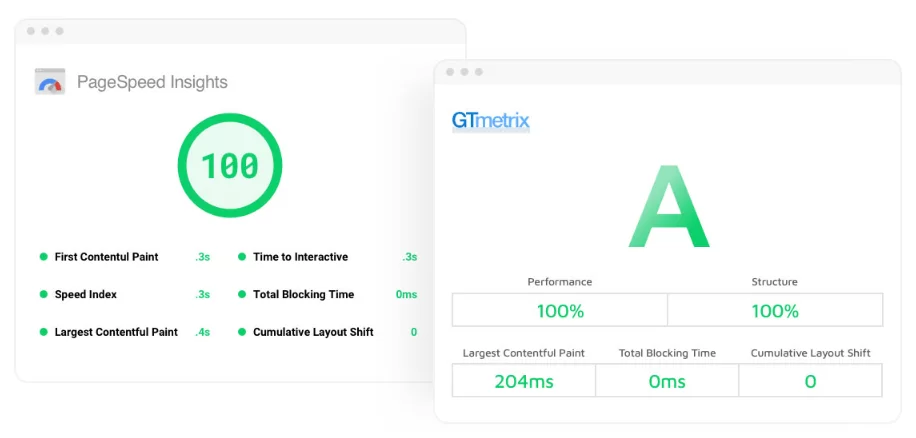 What Else?
Other than everything mentioned above, Divi offers you all the important features like the social sharing option, pricing tables, contact form building option, Theme builder, header and footer builder, translation option, and a lot more.