The name of your blog is more important than you might think. Your blog name is the first thing that people will remember when they look for something that is informative and useful.
If you are looking for the best blog name generators, we have listed the best options in the industry to help you find a professional, easy to remember name for your blog.
While you can have a different URL and a different name for your blog, that doesn't make any sense. In most cases, the name and the URL are the same, so you have to check if the domain name is available to purchase before you make up your mind.
You've got to have something memorable and easy for people to type in. Anything that reflects what your blog is about, your attitude, and anything else you want to convey help.
Things to keep in mind before you start looking for your blog name
Before you plan your blog and start looking for a suitable name for your blog, you must do some research to know the best practices in the industry you are targeting.
For example, if you are going to write about mobile phones on your blog, check the best blogs in that niche and find out the kind of names they are using.
How to Select A Brandable Name
Before we talk about how to select a brandable name, first we need to understand what does a brandable name mean?
While there is no fixed rule to define a brandable name, a simple to spell, and easy-to-remember unique name can be considered a brandable name.
And most of it depends on how you are going to use it to make it a big brand. Before you select the name, check if all the social media usernames are available on important social platforms.
Brandable names are generally derived from the kind of goal you have in mind so that when it becomes big it reflects your objective and idea even if it is not a keyword-based name.
Use the best blog name generators to find a good quality name for your blog. Here's a look at ten of the best choices you can use today.
Here are the best blog name generators that you can use to find brandable names for your blog.
01

. Lean Domain Search
Your start for the right blog name can start through the use of the Lean Domain Search tool.
The Lean Domain Search system works by providing you with a simplified approach. To use the site, you will enter a term associated with the keyword of value.
You will then get information on the various domains available for your site. You can use this to figure out a name for your blog based on the domains that are available.
02

. Name Mesh
Name Mesh is a helpful site that works with many generators based on the particular desires you have.
You can work with different generators based on finding common words, finding SEO-friendly options that work with new parameters in mind, and short URLs or acronyms that you can produce.
You have the option to work with any of the generators on this site.
You will have to notice how well the results on Name Mesh are programmed so you have an idea of what to expect out of your work.
You can use this well to help you find a solution or idea that is suitable for the desires you have with your site.
The best part here is that the results can be thorough and complex while ensuring you know what makes your work so effective and useful for your site.
03

. Domains Bot
Part of finding a blog name entails finding a domain that fits in with whatever is available. Domains Bot helps you find domain names in various languages and terms.
You can enter a few words into Domains Bot and then get details on domains that are available for your use.
You can also adjust the results based on factors like the domain extension you want, whether you're fine with dashes on your domain, and if you are okay with adult content.
The thorough layout of Domains Bot gives you extra help with managing your work
04

. Nameboy
The term Nameboy seems to be generic when all is considered, but this is a helpful blog name generator that should do well when you're aiming to produce an appealing title.
The Nameboy generator helps you find new ideas for your blog name while assisting you with reserving a new domain. The site lets you get in touch with BlueHost to help you with reserving the new domain.
The results you'll get focus on the .com extension. The results are not too long either. That is, the domain names aren't overly wordy, thus giving you the freedom to find a good name based around that domain.
The fact that it won't take a while for users to enter the domain name that you've created helps as well.
05

. Domain Wheel
Domain Wheel lets you enter many terms and gives you control over how well the content you're working with is arranged.
But what makes Domain Wheel even more useful is that the system lets you view details on any of the domains that you wish to utilize. You can use these details to get a closer idea of what to expect out of your subject matter use.
There's also the option for you to search for options based on the extension you want to incorporate.
Domain Wheels lets you experiment with the names that you want to use.
06

. Panabee
You only need two words to describe what you wish to discuss with Panabee. The site lets you find ideas for your site name. You can come across more than suggestions and domain names though.
You can also use Panabee to find details on suggestions for words or prefixes or suffixes that might work for your use.
Panabee helps you find details on app names that you can use. International domains based on the .co.uk, .ca, and .com.au among others can also be considered if you're trying to target people in certain countries.
You can even get details on social media usernames available based on your recommended ideas.
The content you work with here should help you make more out of your plans for managing every aspect of your online site.
07

. Wordoid
Perhaps you want to produce a completely unique word that is relevant to your business and reflective of the values you have. Wordoid will help you produce a new word for your blog.
Wordoid works in that you will enter a few words and then adjust the parameters on the site to produce a completely new word. You can produce something of a certain length or in a particular language.
You can also ask for the word to begin or end with something specific. You have full power over the new word that you'll create and where it might lead you.
The site even lists details on which domain names are available for your blog based on the new word for your spot.
08

. SpinXO
The next option you can use is SpinXO, a program that helps you to make your work more appealing. You can use this to not only find information on domain names and blog names but to also produce usernames.
You can use this if you need to find ideas for a site or if you need a username that will match up with whatever you want to promote your site. SpinXO lets you enter details on your name, what you are like, hobbies, important words, and much more.
You'll get a unique idea that could be used for YouTube and Twitter among other sites. SpinXO also lets you know if your unique name is going to work on all of those social media sites.
You'll need this information to confirm that you can get the content running well on your site and that you have a plan in mind for making it all thrive.
09

. Blog Title Generator
Another useful choice for your name generation needs is Blog Title Generator. The tool lets you insert a term and then gives you the option to describe something.
You can specify your blog title idea based on whether something is a generic term, is an event, or a program among other things.
The title will help you identify something that suits the demands or interests that your audience has.
The information here should help you with moving forward in your work and make more out of the content you're planning. The best part of this is that the program gives you an idea that works to your liking.
10

. Dot-O-Mator
Your last option to see is Dot-O-Mator, a blog title generator that focuses on specific things of value. You can use a beginning and an ending for the specific things you wish to talk about.
You can work with different name lists to give yourself an idea of what to expect out of your work. There's also the option to type in words on your own. The flexibility of what you wish to utilize can be to your value.
The scratch box feature lists information on the particular site ideas you've come across. The detailed points will give you more control over whatever you have put value in towards.
The details can particularly be helpful when you have enough ideas for your value.
11

. Domain Hole
Domain Hole is another great resource to find a great domain name for your blog. You can use this website to find a name for your blog and to have a competitive advantage, this site can help you to find an old expired domain name for your blog.
You can search through a large collection of expired, expiring or dropped domains that are easy to pick. The site is easy to use, you just have to make a search using their search option and your chosen keyword.
You can search for various combinations of your keyword to find the best available option. You can save your search and keep the domains on the watch list.
And not only .com domain but you can search hundreds of different TLDs to get the best possible option for your business.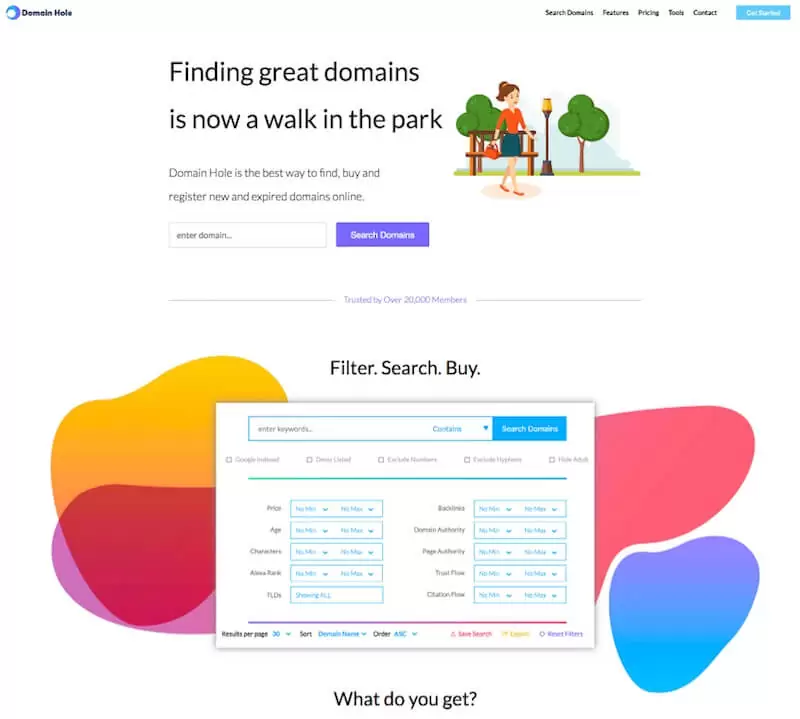 11

. Name Station
A comprehensive name generator tool, Name Station is a great place to find business name, blog name and domain name finder.
You can use this site to generate random mae for your business. All you have to do is to write a keyword or a possible name that you have shortlisted and the tool will help you find hundreds of related names to choose from.
If you are looking for a cool domain name for your site, you can quickly make a search and find the best suggestion on this site. You can click on the link and register your domain.
12

. Domaintyper
Domaintyper is another very effective tool when it comes to finding quality domain names. Just make a search with a keyword and the tool will suggest you top name ideas related to that keyword.
For example, here we made a search with the keyword "Digital" and we have so many options that we can choose from.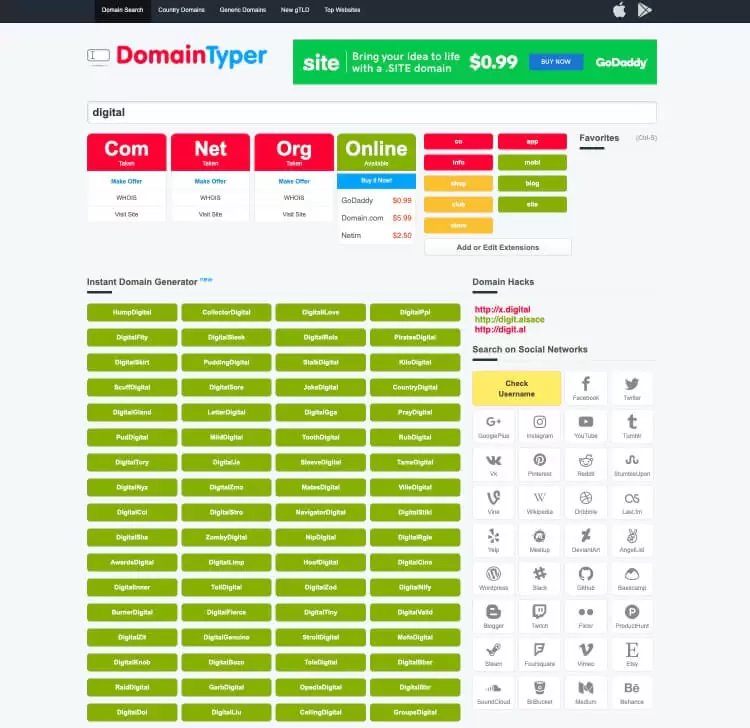 FAQs About Blog Name Generators
Q1. What is a Blog Name Generator?
Blog name generators are tools that help to find a quality brandable name. You have to add the desired name or a keyword related to your niche and the tools will offer you all the possible combinations to help you select the best one.
Q2. How to Find a Quality Name for Your Blog?
Have a clear idea about your objective about your business that you are going to create and find a word around that, once you have the clarity you can use the blog name generators to find the options around that word.
Q3. What Makes a Good Blog Name?
While it may not be a keyword-rich name, it must reflect the niche of your blog. It shouldn't be very long so that users can easily remember so that they can come to your blog just by typing the name on the browser. If it is very long, users will hesitate to type it and come to your blog.
Q4. Can I Use My Own Name for My Blog?
Why not if it is available to register. There are many examples of popular blogs created with the bloggers' own names. However, if you have plans to sell the blog when it becomes big it is not a good idea to use your own name as it very would be difficult to find a buyer.
Final Word
While finding a good blog name is important, it needs some research and patience. Look around and check the best blogs in the niche that you are planning to enter and have some idea about the kind of names those sites are using.
Have you figured out what you wish to get out of your blog name? Take a look at these blog name generators to get some help to find something that works well for you.