Blogging is not just a hobby anymore. There are bloggers making millions every month, and you can do it too. Even in the growing times of video marketing, blogging is still on a strong rise.
Starting a blog is the cheapest and one of the most influential & effective marketing strategies you can implement in your business, regardless of its type and niche. It is also fully capable of being an independent business itself.
Being a blogger helps you in building your own audience with humongous possibilities of earning impressive passive income through different monetizing mediums, such as affiliate marketing.
Blogging empowers you to earn even more added revenue from your own home-produced products and even helps you in becoming a digital influencer in a particular niche or industry.
The only key here to know is the answer to the most anticipated question "how to get started in being a professional blogger?"
Starting a full-fledged blog can be an overwhelming undertaking for beginners, but it's actually a lot easier than you think. When you use the must-have tools and techniques to start a blog, things become quite easier.
Here is a comprehensive step-by-step process to starting a new blog.
This post covers all the important steps to creating a blog, the important settings, themes that you can use, must-have plugins as well as how you can grow and make money from your blog.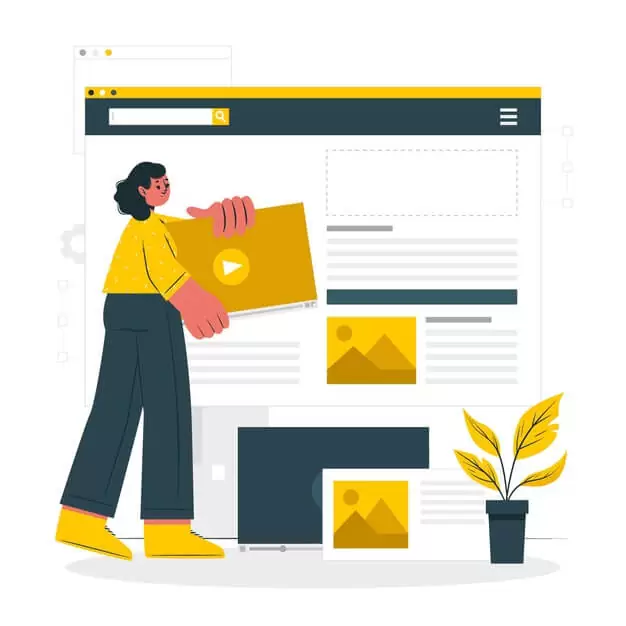 Why You Should Start a Blog
I started blogging in the year 2009 and a lot has changed since then. Blogging is a much better idea to make money online now than it used to be, as the avenues of monetization have increased.
Business organizations are working with bloggers a lot more these days to help them in advertising their services. Brands are spending more now in the form of content marketing, and advertising than a decade ago.
As more people are coming online and turning towards the web for information, entertainment, and social communication, you can build your readership actually growing day by day with blogging.
We all have unique experiences, as well as ideas. We all have some sort of viewers wanting to read your blogs and spin of your passion.
As the best say, now is the best time to make money from your passion and interests. If you want to start a full-fledged blog on fashion, cloud-computing, food, finance, traveling or anything else; this is the time to get started.
You can actually make a real, full-time income online by sharing your bedtime stories and ideas. Let's see how to get your blog up and running in just a few clicks.
Don't pass thinking what ifs. Jump in now and boost your incomes in very little time.
Step No 1

. Find Your Ideal Blog Niche
If you are a complete newbie and don't have much idea about blogging, one of the most important questions for you will be "What Should I Blog About?"
I understand that it happens to everyone.
There are unlimited number of topics you can think of, such as Entertainment, Health, Sports, Tech, Blogging, Social Media, Business, Fiance, and so on.
And all these broad topics have almost unlimited subtopics. So, it may get confusing.
The best idea to choose a topic is to sit down and think about what kind of topic really interests you?
You can create a list of potential topics and then brainstorm around those. Select a topic that you will not find boring even after five years.
Now, niche down your main topic.
A niche is actually a very specialized sub-topic of a very broad topic or subject. For example, health is a very broad topic. If you select health as your niche and start creating content about everything around health, you might find it very difficult to rank your articles as many high very authority blogs are already ranking at the top.
So, you need to select your niche wisely. Considering health as a broad topic, you can choose losing weight as your niche which is a sub-topic of health.
Now, if you start creating good quality content around how to lose weight regularly, you will start getting results.
Similarly, you can select sub-topics for any other broad niche and start creating content around that.
When you select a sub-niche and create well-researched high-quality content it will be relatively easier for you to establish yourself as an expert on that topic and your audience will trust your opinion or recommendations.
As we have said above in this blog post, getting noticed in a particular niche that covers a very broad and complex topic is very tough, especially when you're a budding newbie.
A niche helps you in easily target a much smaller and specific audience where the overall field isn't as jam-packed and competitive as others. You might also find a few chances to target untouched markets.
As for finding your ideal blog niche, you should consider various topics that you know a thing or two about (you do not need to be an expert to be specific) as well as topics that excite you.
Always try to think in expanding and broad terms, to begin with. You must jot down multiple niches that interest you in starting your own blogs.
It's actually only a question of doing a bit of research to discover your ideal niche, which has the best search-to-competition ratio.
Step No 2

. Choose a Brandable Domain Name
When I started blogging, I had no idea about the importance of the domain. I just selected a random domain and created my blog.
My domain was very long and it had a (-) in it as well. The domain had no direction or meaning as such, so it was difficult to create a brand with such a domain name.
You must spend some time and give a thought before you finalize your domain name.
What is the domain name we are talking about?
The domain name is the URL where users can access your website. For example, Facebook.com, Google.com Forbes.com. These are domain names where you can access these popular sites.
For this site, nitdit.com is the domain name. So, if you want to access our site; you can use the URL nitdit.com on the browser and access our site.
Now, the question is how to select a good domain name for your business?
Here are few points you need to consider while selecting your domain name
There could be exception to these rules if it is important for your business. For example, many tech business prefer .net domain even if the .com domain is available and so on.
A new domain should cost you around $15 and you can register your domain right on your hosting site.
While there are many domain registers, it is good to keep the domain at the same place where you are hosting your site.
Here is the good news for you, we will create our blog on BlueHost and you will get your domain name free of cost. Yes, that's correct. You will be saving your $15 that you otherwise need to spend on your domain.
You can check for your chosen domain name availability using the tool below.
Step No 3

. Choose Hosting: Why Bluehost?
There are a number of WordPress hosting services such as HostGator, SiteGround, WPXHosting, Kinsta, WPEngine, and many more. And these are not bad options. All of them have their own advantages.
The main reason why we have selected Bluehost is that it is simple, cost effective, newbie friendly and one of the top recommended hosting by WordPress.
We are creating a site as a complete newbie, so we will try to keep the overall cost as minimum as possible while hosting our site on a premium, highly secured hosting environment.
If you have no clue about "what is hosting". You can think hosting as the home for your WordPress blog where as the data of your website will be stored. It will store the code, images, files of your website and make it accessible through the web.
Here are some of the advantages of using Bluehost.
About Bluehost
Founded in the year 2003, Bluehost is hosting more than 2 million websites. It is one of the top recommended WordPress hosting providers with features and services that are custom created to be suitable for WordPress.
You can be sure that your site is with one of the most experienced WordPress hosting providers.
Step No 4

. Setup The Blog
In this step, we will create the blog. You can head over to Bluehost site and follow the process mentioned below.
Click on the "Get Started" button and proceed.
In the next step, you will see the Bluehost plans that are available to choose for your blog.
You can select the Basic plan if you wish to create only one blog or you can go for the Plus plan if you wish to create more than one blog. The plus plan gives you the option to create an unlimited number of blogs.
Step No 4.1

. Get Your Free Domain
In the next step, you will get the option to choose the domain for your blog. As already mentioned, you will get a domain name for FREE with any Bluehost hosting plan (SAVE $15).
If you are ready with your domain name, you can add it and proceed. If you are not able to choose your domain name yet, you can choose your domain later.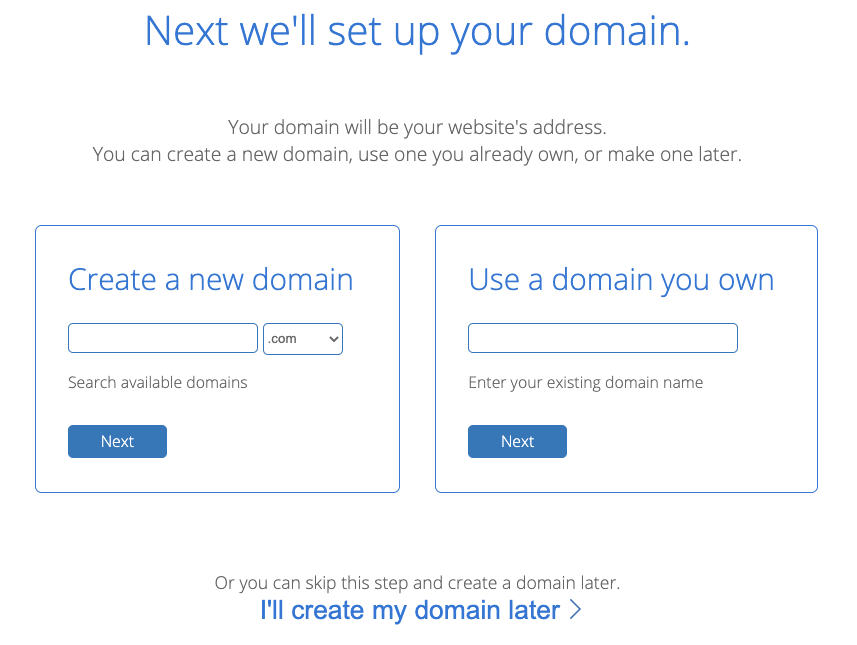 Step No 4.2

. Add Your Details
In the next step, add your personal account details and proceed. Or you can choose to use your Google ID to sign up in a single click.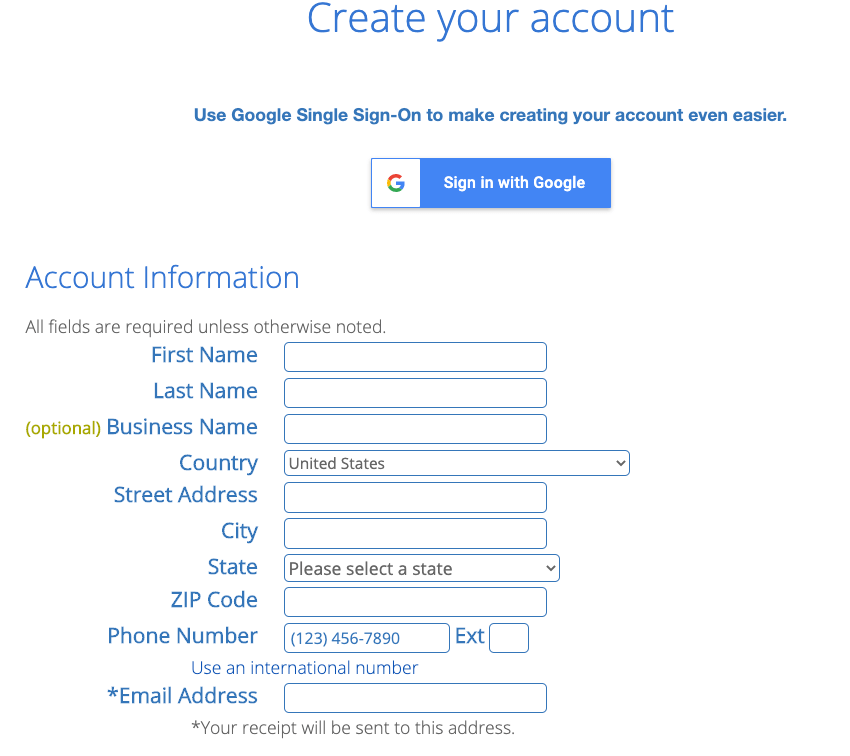 Step No 4.3

. Select Package & Extras
Now, select your account package. Go for the maximum duration package i.e 36 months to keep the pricing low. If you reduce the duration, the price will be a little more.
Bluehost recommends you to go for maximum term to keep the pricing low. If you go for monthly billing plan on any other host the price will be more than what you pay on Bluehost. Also, as you have 30 days money back guarantee, there should not be any issue. You can check the services for 30 days and then make your decision.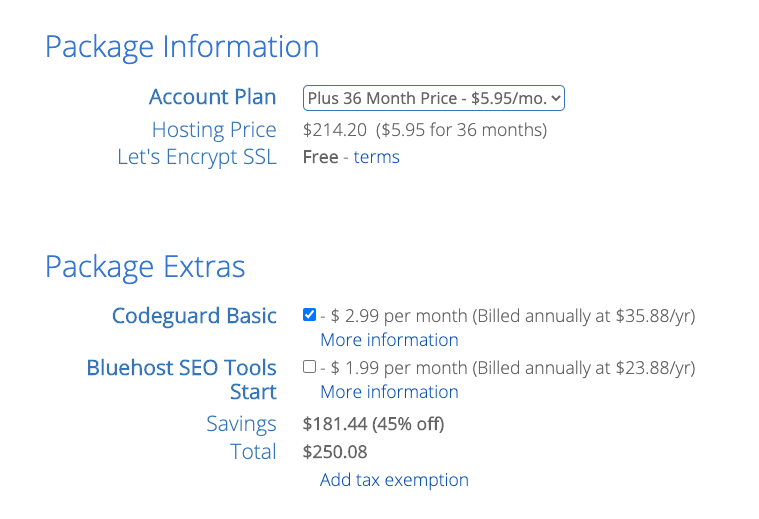 In the Package Extras, keep the domain privacy protection option that will keep your domain related information safe and you can untick all the other options.
Please Note: If you choose to select your domain later in the domain section step, you will not see the domain protection option.
Step No 4.4

. Complete Buying Process
In this step, you can make the payment using your credit card or you can choose another payment option to make the payment. Tick on the terms of service and proceed.
Congratulations! Your blog is ready now.
Yes, that's correct. You don't have to do anything more to create your blog.
Bluehost will automatically install WordPress on your blog and make it ready for you.
Step No 5

. Select a Theme
As you probably know that you will need to install a theme (the design of your blog) to make WordPress work properly. WordPress offers you the foundation software that includes functionality, important files, database, etc. And the theme of your site will give the design of your site, how it looking at the front-end.
Install a Free Theme
If you wish to keep your cost low, you can go for a free theme. There are a number of quality free themes these days.
Bluehost will show you the available free theme options, you can check and install the one you like.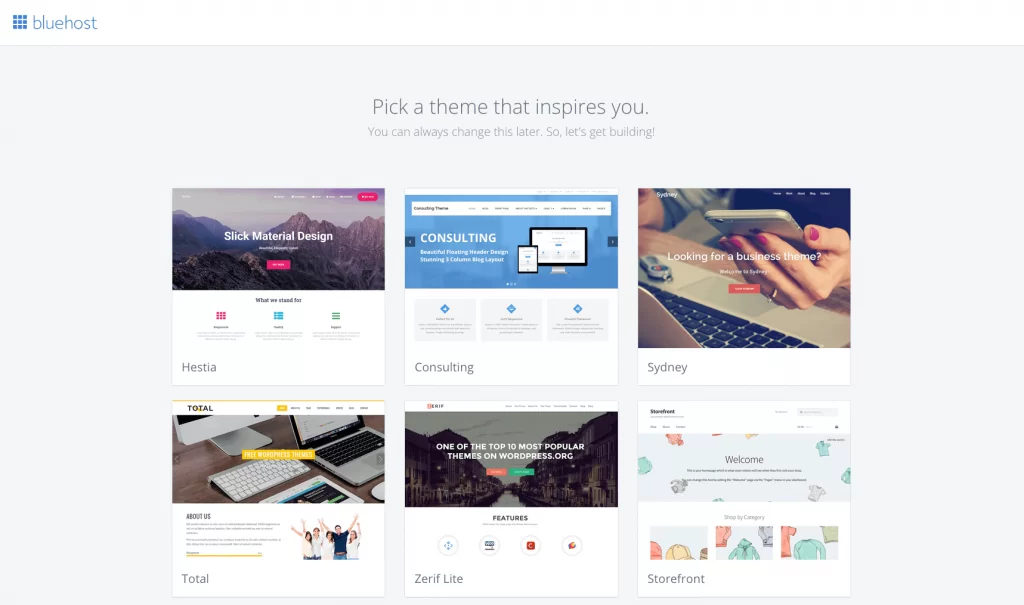 Advantages of Using a Premium Theme
While you can use a free theme for your site. It is recommended to use a premium theme if you are serious about your business.
There are a number of advantages of using a premium theme, such as
When we talk about premium theme, you will get a number of popular themes that you can use on your site.
Use The Divi Theme
Divi Theme by Elegant Themes is one of the most popular and widely used WordPress themes in the market. It will make sure that you will never need to look for another theme even if you are starting multiple sites.
It is a multipurpose WordPress theme with a very strong website builder, the Divi Builder which is a front-end drag and drop website builder for WordPress.
Divi comes with a number of ready to use design template that you can install and customize it further to make it perfect as per your need.
You will never need to write a code while using the Divi theme as it offers you unlimited design possibilities with the builder.
There are hundreds of design elements, templates that you can use on your pages.
Divi has a very strong community around it and there are a number of businesses that are creating modules and templates to work with the Divi Theme.
Don't miss 10% extra discount on Divi Theme.
Step No 6

. Install Important Plugins
One of the most important reasons why WordPress is so popular is the plugins. You will get a plugin for almost anything you wish to achieve with your WordPress theme.
The plugins add different functionality to your WordPress site. For example, you can add a social sharing plugin to add sharing buttons at a custom location, you can use a contact form plugin, you can use a table builder plugin, and so on.
While is important to keep the number of plugins to minimal as every additional plugin will add to the overall loading speed of your site, there are some must-use plugins that you will have to install as soon as your WordPress site is ready.
Here are a few of them.
Install an SEO Plugin
It is a must to use an SEO plugin for every WordPress site. The SEO plugin will help you add the necessary SEO meta tags and the option to optimize each of your blog posts by adding custom meta descriptions, focus keywords, etc.
There are a number of popular SEO plugins for WordPress. The Yoast SEO plugin is one of the most popular SEO plugins that is used by millions.
You can install and start using the free Yoast SEO plugin. It is a very popular WordPress SEO plugin that offers you all the options to add custom meta tags, option to optimize each of your pages and posts.
It will handhold you while editing your blog post with a number of on-page SEO suggestion to make sure that your content is perfectly optimized.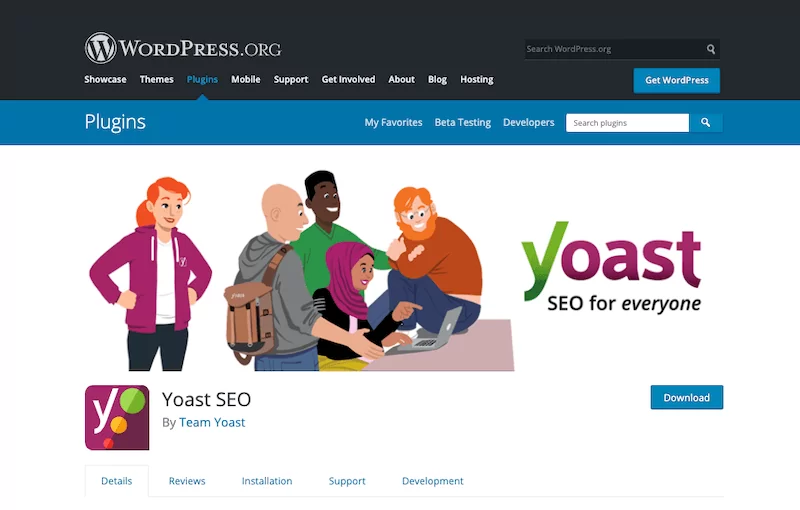 Rank Math is another very popular SEO plugin for WordPress created by the MyThemeShop team.
It is a very easy to use plugin and you will be taken through a few clicks to during the activation process and the plugin will activate itself with the recommended features.
There are advanced settings that you can go through if you are well aware of the process of optimizing a site.
There are a number of advantages of using the Rank Math plugin. Many of the premium features of the Yoast plugin for free in the Rank math.
It offers you complete on-page SEO analysis and unlike the free Yoast plugin you can analyze multiple focus keywords.
It also offers you the built-in schema markup option, so you don't need another schema markup plugin to let search engines understand your content better.
Install a Cache Plugin
If you are not aware of why cache plugin is important, it will help you to create static version of your pages in users browsers and make your site load quality when they visit your site next time.
So, basically is it important to use a caching plugin on your WordPress site so that it loads quickly.
However, before you install any cache plugin on your site; make sure to check with your hosting provider as many managed hosting services don't need a cache plugin as they offer their own caching option.
Also, many hosting providers have their own cache plugin that works the best with their service.
If your hosting provider doesn't have any such custom cacheing option. You can use the following plugin.
W3 Total Cache is one of the most popular caching plugin for WordPress with over 1 million active users.
You can use this cache plugin to speed up your site. This plugin comes with a lot of settings that can be intimidating for a newbie user.
However, the default setting is good enough for a site to get started.
The plugin claims to make your site 10x better in terms of performance of your site. Another benefit of using this cache plugin is that it will help you to save a lot of server bandwidth. It claims upto 80%, but even if it saves anything close to this number of good enough.
It comes with the support for the AMP pages and offers you the required settings to add CDN for your site.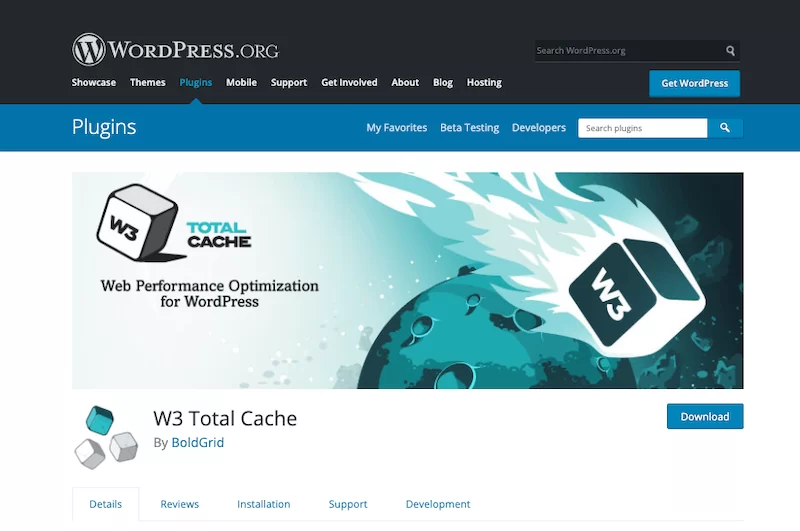 For a newbie user, it is not easy to edit a file and add code correctly and there are many instances when you need to add custom code in the header or the footer section of your site.
For example, when you link your site to Google Analytics you will have to add the analytics code in the header or the footer of your site.
So, this plugin will help you to add custom code to your site without editing any of your file. It is a very handy WordPress plugin for the beginners.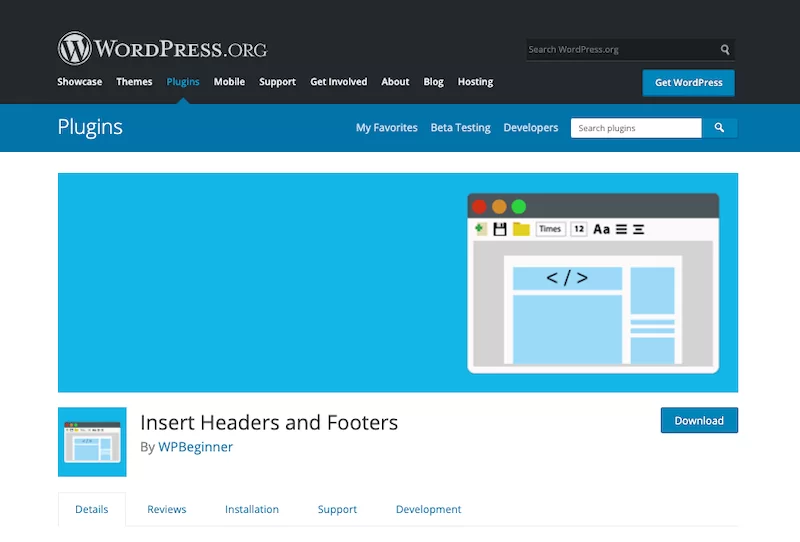 Once your site is ready, you will need to have a contact form so that your users can get in tough with you. You will also need a email opt-in form to capture the email IDs of your visitors.
WPForms, one of the best form builder WordPress plugin to create a custom form in your WordPress site. The pro version of the plugin comes with a number of useful features.
It comes with the drag and drop form builder making it very easy for the users to create custom forms. You can use this plugin to create any kind of form.
It offers you hundreds of from templates that you can use to create form on your site.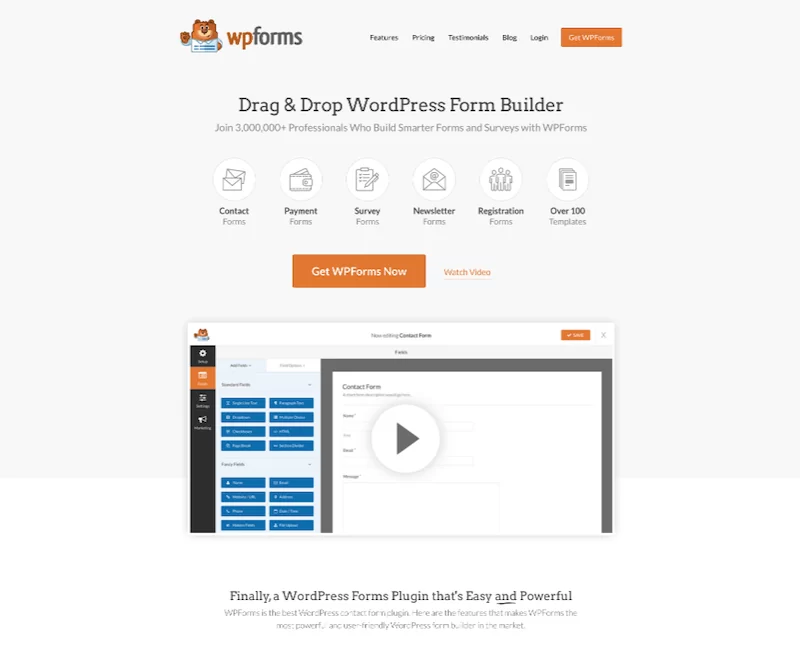 Step No 7

. Create Important Pages
Once your blog is ready, you should start creating the important pages on your site.
Here are the must-have pages
Creating The About Page
The about us page is very important for any blog or a business site. The about pages gives idea to any visitor what your blog or website is all bout.
If you are going to manage your blog just by yourself, you can create a detailed page listing all your experience around the topic of your blog so that the visitors understand that you are capable of guiding them.
This page should clearly explain what your visitors can expect from you and how they are going to get benefited.
You can add your image so that the audience get familiar with the person behind the blog.
If have have a team of writers and editors who is going to help you in the process, you can clearly showcase your team. It's a good practice to create credibility around your blog.
How to create a quality About Us page design.
You can spend some time while creating your about us page and make it look attractive because it is one of the most important and frequently visited page on any blog.
To create your page, you can go to your WordPress dashboard >> Pages >> Add New and start working on your page.
If you are a complete newbie. You can create a simple about page with your image and details about you as well as the blog. You can use the simple Gutenberg editor to create the page.
If you are familiar with website builders and you are using one, the process of creating an attractive page becomes a lot easier.
You can use page builder like Elementor to create your about page.
How to Create the Privacy & Terms Page
As a newbie blogger, creating these pages could be a little critical because these pages are considered as the legal pages for a website.
To create these pages, you can take help from other blogs in your niche. For example, if you are creating a food blog; you can visit any other popular food blog and go through their privacy and the terms pages. Try to find the aspects that are relevant to your blog as well and include those.
You should clearly mention the cookie policy, the data that you are going to capture from your visitors through email subscription form or any other way.
try to be as descriptive and clear as possible.
Contact Us Page
The contact page is another very important page on your site as it is the bridge between you and your visitors who want to contact you.
You can use a form builder plugin to create a contact form and mention any other details that you find important.
Step No 8

. Start Creating Content
Your blog is ready, now you need to publish some high-quality content to get started. So, let's understand how you should go about your content.
keyword Research
Keyword research is one of the most important aspect of creating content. You should never go about creating random content without any direction.
You need to find some keywords to work on.
So, how to find the keywords?
You can start by checking your competitors blog, the kind of content they are creating to get some idea about the potential topics.
Semrush is one of the most popular all in one SEO analysis tool that will help you to find profitable keywords that you can work on.
It offers you a number of different tools under one umbrella to make sure that you don't need another tool for growing your site.
From keywords research to social media management, SEMrush is the single tool you will need for everything.
First of all, as your site is completely new you may not be able to find any competitor as your site don't have any content yet.
So, you can find some quality blogs around your niche and start analyzing those blogs using the SEMrush tool. You will come across all their top keywords, top-ranking pages to get ideas about the topics that you can work on.
SEMrush also offers you "Keyword Magic Tool" which is a tool to find profitable keywords with all the important data such as the potential volume of traffic for those keywords, the difficulty level to rank for those keywords to get complete clarity.
You need to target low difficulty and high traffic volume keywords so that it is relatively easier to rank.
Here is a complete SEMrush review and 50 ways to use the tool, this article will help you to understand how to use the tool step by step.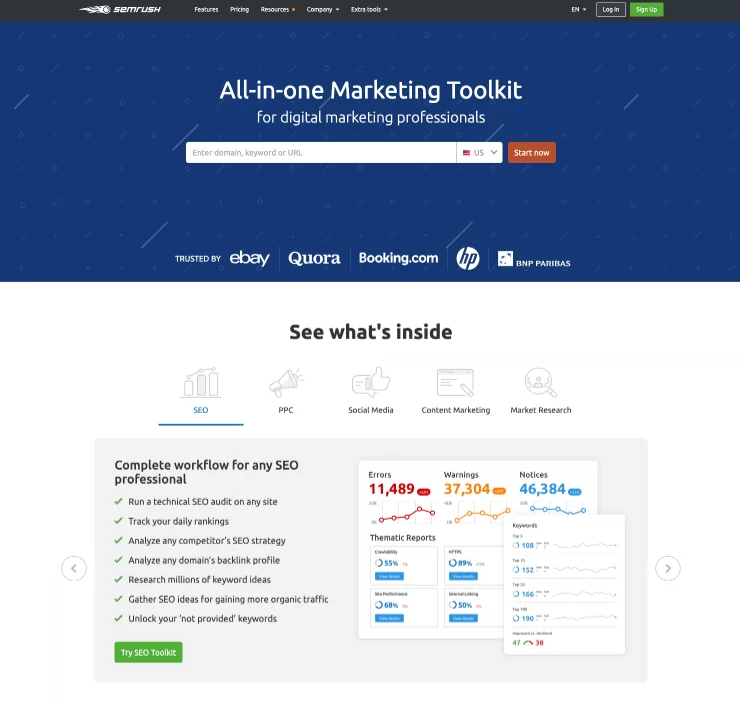 Use Quora
Quora, the most popular question and answer platform is another great resource to find popular topic around any niche.
You can use Quora to find quick actionable keywords and topics. There are millions of users who are asking questions around every niche.
So, if you have created a blog around mobile phones, you can search with the broad keywords related to mobile phones and you will come across so many different questions that Quora users are asking.
You can choose some of the topics from those questions and then use SEMrush to find details about the related keywords around those topics by using the Keyword Magic Tool of SEMrush.
If some of those topics have high search volume, you can start working on those topics.
Please Note: Quora is a great platform to drive traffic to any site by answering relevant questions on the platform. Quora allows you to add a link to your article that can offer a detailed answer to those questions as a reference. But you have to make sure that your answer is detailed and adds value to the platform. Here is a detailed article about how to drive traffic from Quora.
What is Quality Content?
When you start a blog, all the experts will guide you to create quality content? But the question is what is quality content? How to define quality content?
Well, the answer is simple. The piece of content you publish should answer all the questions around that topic.
The content has to be as comprehensive as possible so that every visitor who lands on your page understands your content and they don't need to go to the second article to find the answer to the same question.
Needless to say, your content should be well written in terms of the language you use, no spelling or grammatical error.
Make sure to use the Grammarly tool so that your content goes through the required checks to avoid spelling and grammar errors.
Conclusion
Creating a blog on Bluehost is very easy. All you need to do is to follow the above-mentioned steps in the set order and you will be all set to start your blogging journey on the internet. Make sure that you have your niche decided before buying a domain or hosting plan.
The key to becoming a successful blogger in this highly competitive online world is being consistent and to produce high-quality content. Always try to solve some kind of problem that people are searching for.
You can use a lot of popular marketing strategies, such as Search Engine Optimization, PPC, Video Marketing, Email Marketing, and so on, for marketing your blog over the internet.
I hope you find this tutorial helpful. Make sure to let us know your opinion, feedback by using the comment form below.