Are you looking to know more about the popular WordPress plugin WPBakery? If yes, then you are on the right page. Look no further as we bring you a highly researched, hands-on guide of the popular WordPress page builder plugin WPBakery.
It includes all the major features and everything else that you need to know about WPBakery.
Let's get started with an introduction.
WPBakery: How It Works
WPBakery is a popular drag and drop website builder that you can use to customize your WordPress site without any coding. You can easily create unique-looking pages on your site by using the modules offered by this plugin.
The front and back-end editors are amazingly intuitive and allow all kinds of users to design creative and easy-to-manage webpages in an effortless manner. The drag and drop interface is very convenient and you can create an active webpage with a beautiful layout in no time.
WPBakery offers you a number of unique and easy-to-edit templates. The best part about WPBakery's template feature is that you can create templates for creating new pages and content. You can convert any webpage or post into ready-to-use templates, which you can use further for any part of your website.
The plugin is centered and developed to reduce and minimize all kinds of time-consuming complexities in web designing. Unlike many other plugins, here you get a true What You See is What You Get front-end editor. The plugin also allows you to seamlessly switch between the different editors in just a few clicks.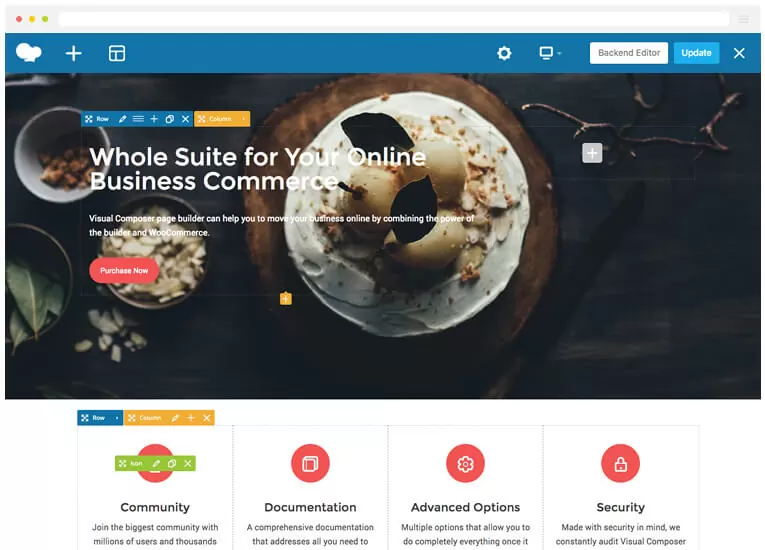 WPBakery Review: How It Can Help
When you buy a theme from the ThemeForest marketplace, the WPBakery plugin comes bundled with many popular themes to help you create custom pages on your site.
You can also buy a license to have better control & regular updates.
The WPBakery plugin offers a number of modules that you can use while creating a page on your WordPress site. Also, it will give you much better control over rows and columns of your pages which is not possible with the default WordPress setup or if it is limited.
Let's have a look at how WPBakery plugin can help.
Easy to Use and Configure
Installing and configuring the plugin only takes a few seconds. All you need is to download the plugin into your WordPress site and click on the "Activate" button. Also, configuring the plugin on your website is very easy.
Font-End & Backend Editor
Although you won't need any coding knowledge, the plugin allows you to access the back-end editor for tweaking the major functionalities of your website wherein the element codes installed using the WPBakery plugin.
If you don't want to use the backend editor and wish to have an inline front-end editor, you can quickly switch and use the front-end editor.
Template Library
Quite a unique feature, the plugin allows you to create a complete template library. You can create and save templates of your created webpages and posts, and use them on your websites in the future. It saves time, effort, and a lot of your expenses.
You can quickly select a template as per your page type and start editing it to make it perfect.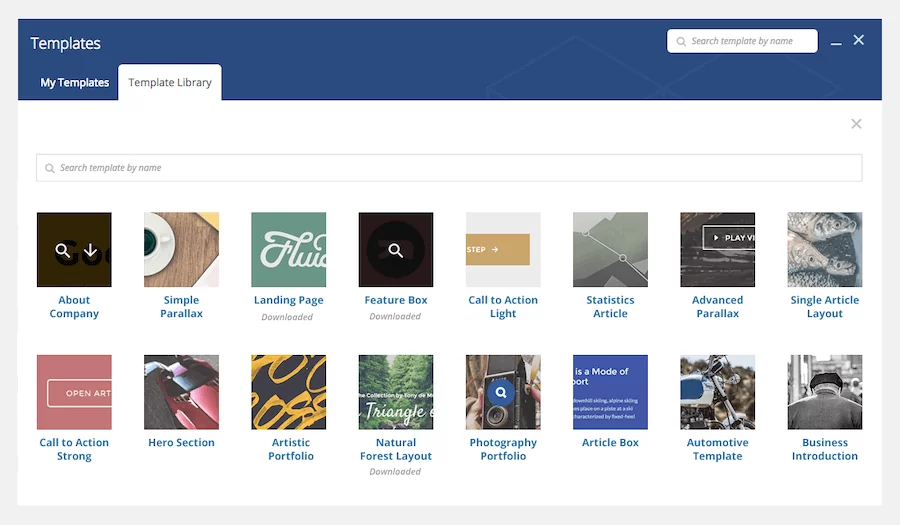 50+ Built In Content Blocks
The WPBakery plugin. comes with more than 50 ready-to-use content blocks or page elements that you can use while designing your pages. You can quickly drag the element that you wish to use and start adding your content.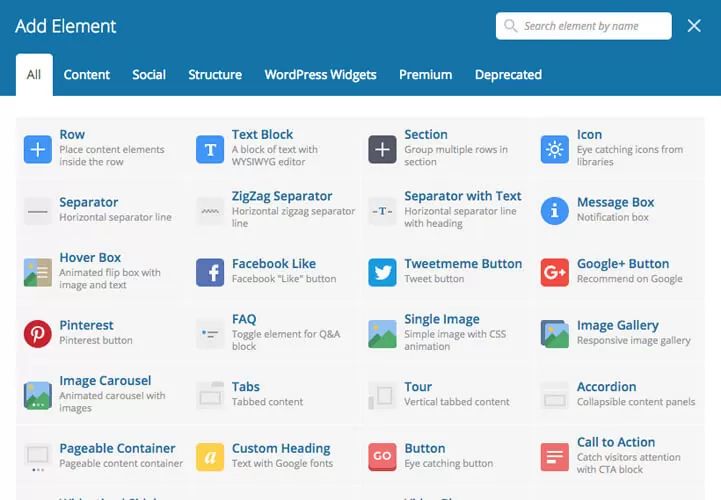 Advanced Grid Builder
WPBakery comes with an advanced grid building option that you can use to showcase your posts, portfolio, custom post type in a very attractive design.
You will have more than 40 different grid elements that you can use to design a beautiful grid to showcase your content. You will have complete control over space, gaps, width and filters to make sure that your grid looks perfect.
WPBakery Skin Builder
The WPBakery skin builder will make sure that your design reflects your brand image. You can color code all the elements as per your need using the skin builder.
It will help you to integrate the website builder with the theme you are using to help you create a completely unique design.
RTL Support
Some largely used languages like Arabic, Hebrew are written Right-to-Left. So, if your website caters to the population that speaks and writes this kind of language, your website has to be similar.
So, you need to use a theme that supports RTL design. When you are using the WPBakery website builder to create your RTL site, you will not have any issues because it completely supports RTL.