Business organizations are always looking for easy-to-use and personalized collaboration solutions. These kinds of applications not only help in enhancing productivity but also empower teams to streamline all their business complexities.
Compared to the competitors, the pricing models of the Workplace from Meta are quite affordable. If you love to combine work and social media, then Workplace from Meta is worth a try.
How Workplace Can Help?
The list of available features in the Workplace from Meta is quite long. Being one of the easiest-to-use team messaging apps in the market, its features are quite impressive and simplified for the team.
Digging deeper, you will find a lot of cross-integrated functionalities that are designed for all types and sizes of organizations across the globe.
The chat features integrated look amazing and works quite similar to the Facebook messaging feature. Also, the group feed allows users to post messages, shared data, and add comments to different posts in just a few clicks.
The app also allows you to create team collaboration events and track employee attendance easily. You can easily create different photo libraries for your team members and share work data.
Employee Profile
Each of your employees within your organization will have their own profile with their updates making it easier for other team members to know each other better.
The interface is simple and somewhat similar to Facebook which makes it easier for every team member to understand it better.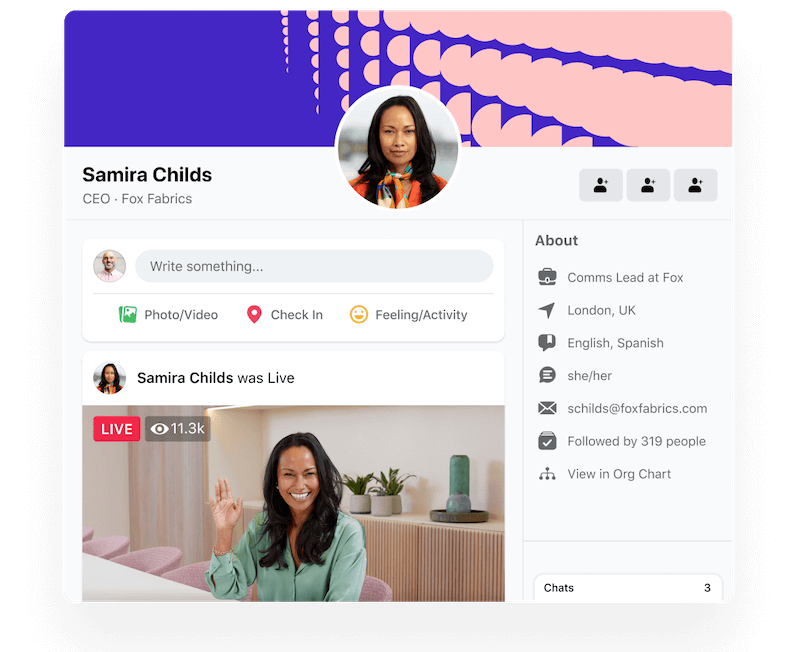 Workplace Newsfeed
You are already aware of the newsfeed feature of Facebook where you see updates from your contacts and what is popular on the platform. The Workplace newsfeed works in a similar way but only for your organization.
All the members of your organization will see all the updates from colleagues and see all the important organizational updates in the newsfeed making it easier for quicker for everyone to be aware and be on the same page.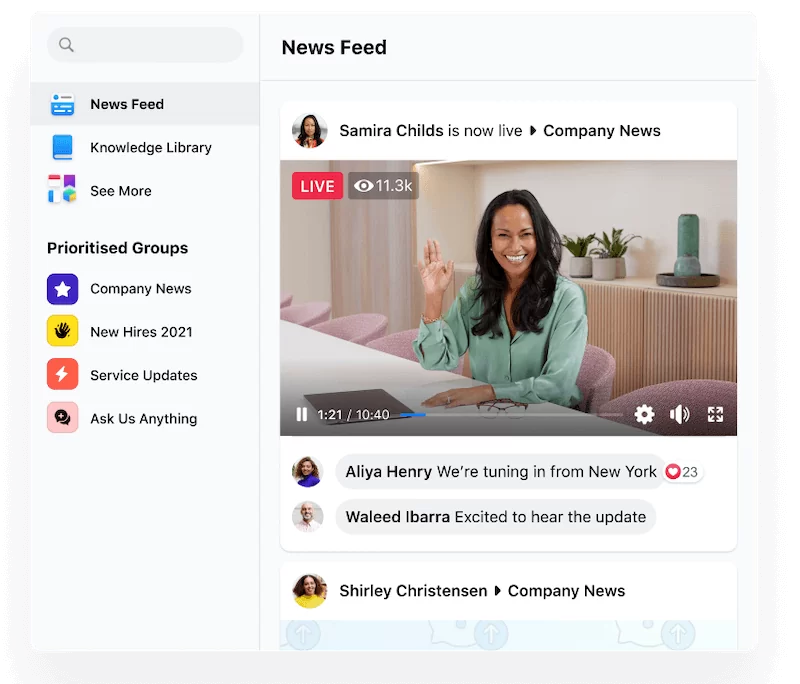 Video Chat & Meetings
As most businesses are moving towards working from home or working with remote teams, online meeting apps and video conferencing software are in high demand.
If you are using Workplace by Meta, you don't need any additional software for video meetings, as you can use the group video chat feature for your daily team meetings.