A complete platform for video producers to create, manage, market, and sell videos. You can use Uscreen to create your own video streaming platform as well as an OTT platform with your own branding while Uscreen manages everything in the background.
First things first, Uscreen is nothing like YouTube. Unlike platforms like YouTube, Uscreen won't make you rely on ad-based video content monetization. One of the most interesting things about Uscreen is that it allows you to sell your videos from your website. This is done via a subscription-based model or a pay-per-view model.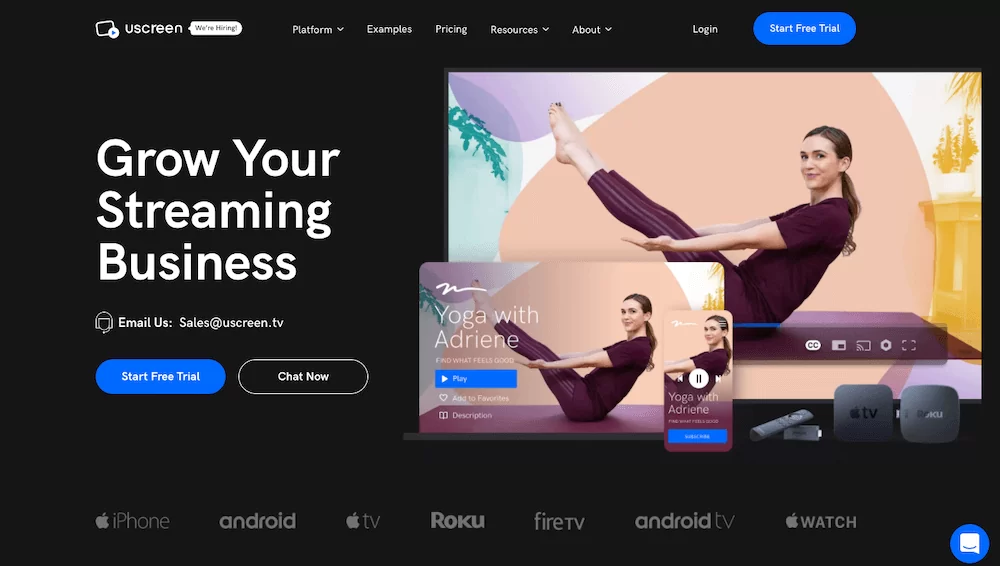 Unlike any other platform, Uscreen is not a course-based typical online video course platform. The platform gives you the power and flexibility to monetize your videos easily. You can either sell your videos individually or group them together into playlists and chapters.
Similar to other online video streaming and content-based platforms, such as Sqadia.com, you can create and see your video lessons quite easily with Uscreen. You can create videos and video playlists in the entertainment category as well.
In case you don't want to create video lessons with Uscreen, the platform allows you to create and publish videos in other niches. The platform works well with entertainment-based content.
As of now, creators and video producers from different industries, such as Yoga instructors, Spiritual artists, entertainers, and so forth are using Uscreen for building their complete VOD business in a cost-effective and effortless manner.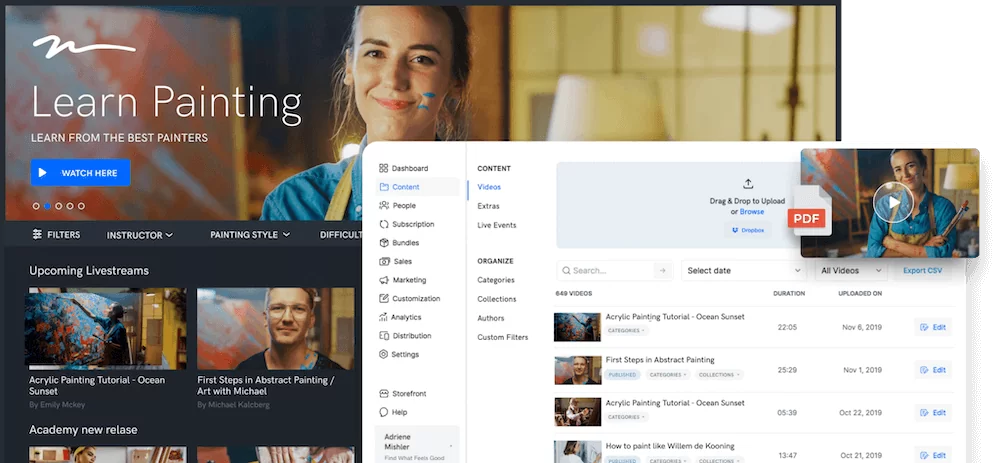 Another amazing feature that makes Uscreen unique is the powerful content management system. It allows users from across the globe to create and explore video content from all around the world.
Video creators and developers from all around the world can build video catalogs easily with Uscreen. Delivering and distributing content using Uscreen is very easy. The platform empowers you to create beautiful and monetization driven websites easily.
One of the major things you need to keep in mind while using Uscreen is that the developers have not designed it for selling and monetizing online courses. Another major setback with Uscreen is that it is priced very high as compared to its top alternatives.
Here's How Uscreen Can Help You
On Uscreen platform you will have complete freedom and flexibility to create your own app, own video streaming platform, and grow it quickly with the top marketing tools.
Here's how Uscreen can help you to start a grow your business.
OTT Apps
Suppose you are an actor and looking forward to creating your own custom platform, or you are a great teacher who wants to create a video learning platform. Now with Uscreen, you will be able to create your own OTT platform and distribute your video content through mobile apps and TV.
If you are thinking that you don't have the required technical skills to create your video platform, you don't have to worry. You will not need any coding skills to create your own video app on Uscreen.
All you need is the knowledge to create quality videos, all the technical things will be managed by the Uscreen platform.
Over-the-top applications, or OTT apps, are apps that deliver video content using the internet rather than cable or satellite TV. They allow your customers to instantly stream videos on both mobile devices (iOS and Android) and TVs using devices like a Roku Box, AppleTV, Android TV & Amazon Fire TV.
Live Streaming
Live stream your videos with HD quality videos across any location through web, mobile apps or TV apps.
Uscreen offers you everything to live stream your videos, create curiosity around your upcoming stream, monetize your live stream so that you can earn regularly.
Go-live notifications
You can create live streaming countdown and send go live notifications so that your subscribers are well aware in advance about your live videos.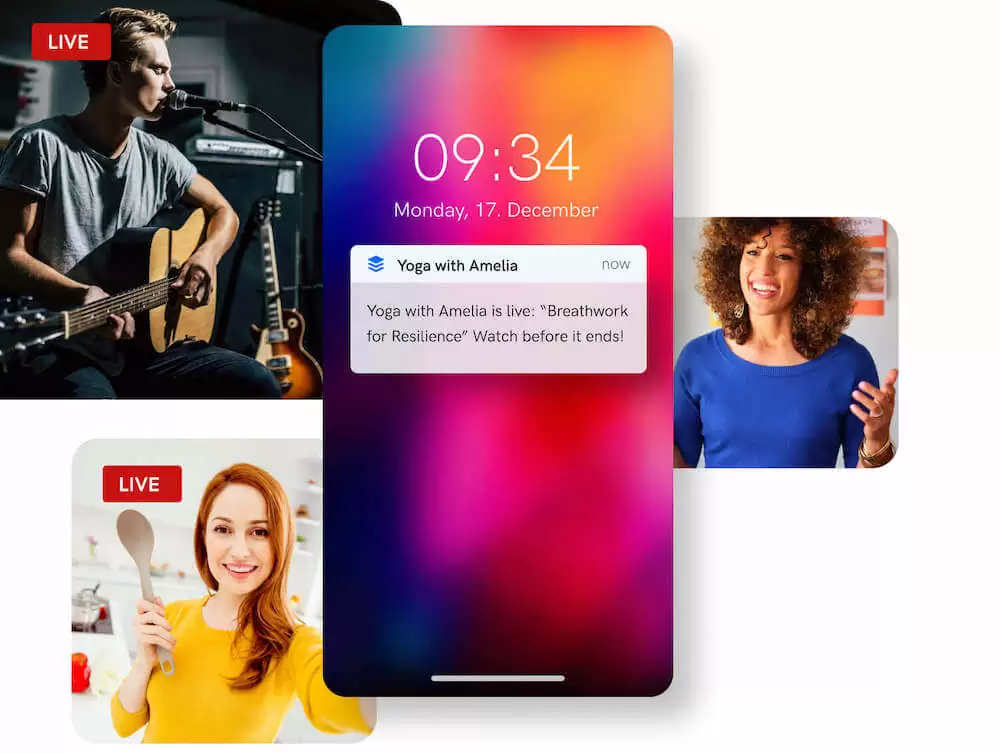 Live Chat With Audience
While the live streaming is going on, you have the option to chat with your audience so that you understand their need and what they think about the program and chat with you.
This feature will help you to increase engagement around your video.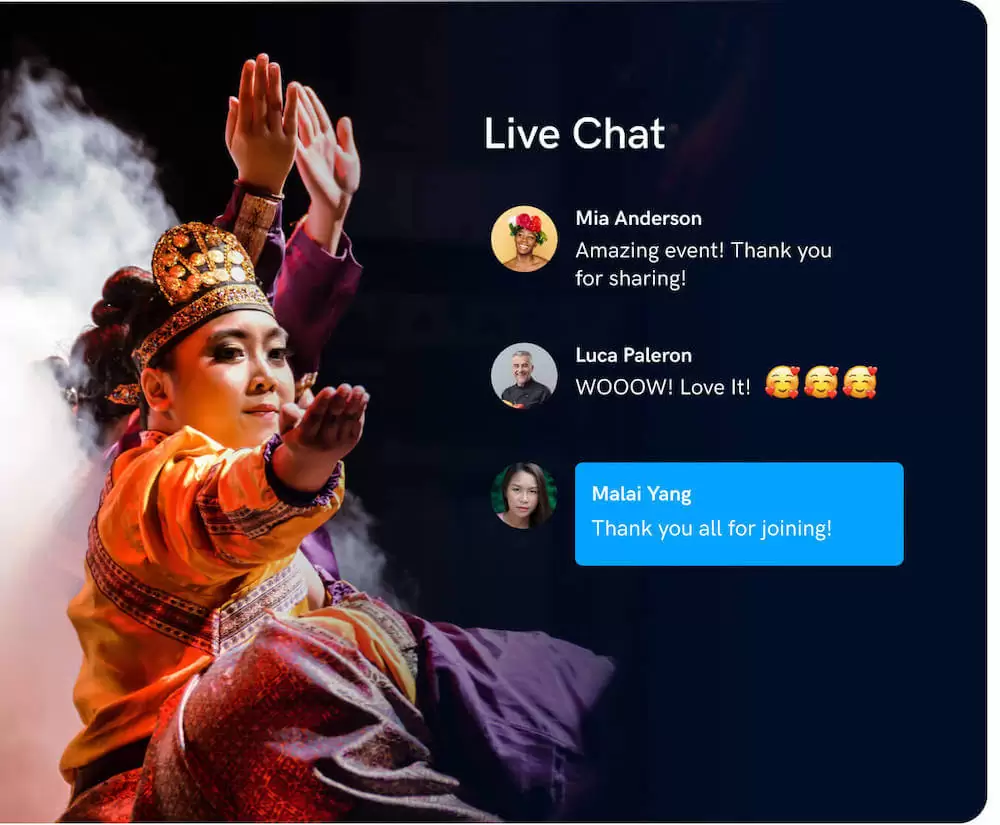 Monetize Your Live Streams
This is one of the most important reasons why you should use Uscreen. You will be able to make money through your videos and live streaming sessions.
You have multiple options to go about monetizing your videos. You can go for subscriptions, rentals, or one-time buys. You can promote your offers, offer coupons to your audience as per your wish.
The Uscreen platform is designed to maximize your conversion and profit from your videos.
Launch Own Branded App
If you want to launch your video app, but you don't have the expertise to do that; the Uscreen platform will help you to get that done. You don't need any technical knowledge.
So, your audience will be able to enjoy your videos through all different platforms.