It is highly recommended to build an email list right from the start, even if the traffic is not impressive. It is a good recommendation because the money of a blog usually resides in this email list. 
If you don't have a plugin to build an email list on your website, you need to get started with it now!
There are many lead generation plugins available on WordPress, and Thrive Leads is one of the most popular options. Thrive Leads is an all-in-one email list building plugin designed for WordPress.
It not only helps you in collecting the email addresses in a non-technical way but also offers plenty of features to pursue the website visitors to enter their details. 
Thrive Leads is a modern email building list plugin that is designed by keeping conversion tactics in mind. Therefore, it is much more than a simple lead generation plugin for WordPress. This is also the USP of the plugin too. 
Users have also seen a 238% increase in their conversion rate after using Thrive Leads. Let us now explore how Thrive Leads can help you generate more leads by helping you build an email list that you can rely on.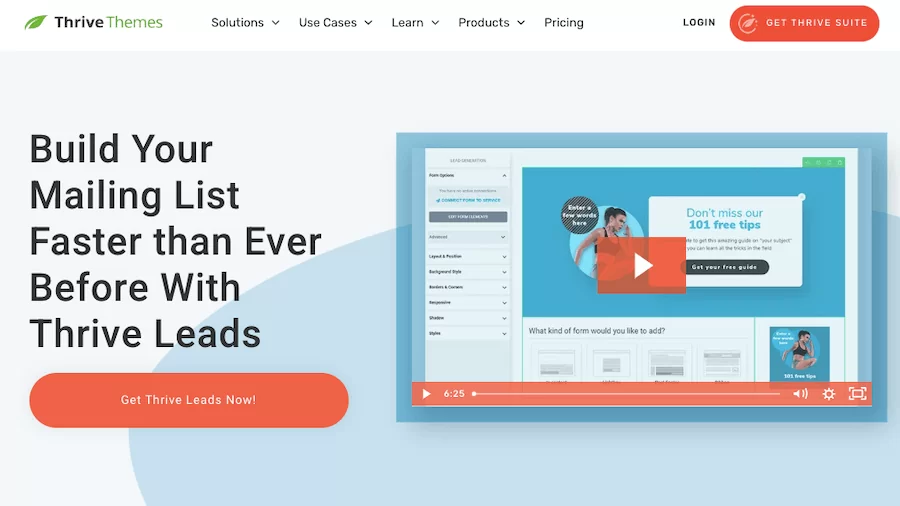 What Are Leads? How Thrive Leads Can Help?
Before we go ahead with the Thrive Leads Review and have a look at the product in detail, let's understand what are leads and why they are important for your business.
If you are just blogging as a hobby and don't wish to make any revenue from your blog, the leads are not that important. However, if you are a professional blogger and wish to make money through your blog or you are a marketer, the leads become very important.
Also, for the product and service-based business, generating leads and managing them are the most important factors that can determine the overall revenue of the business.
So, what are leads?
Leads are the users that come into your website or landing page and subscribe to your newsletter or your service who you can re-target for benefit in the future.
If you are managing a product business or any kind of eCommerce business, you can target your leads to sell by offering custom discounts and benefits.
So, in simple words leads are the individuals who are your potential customers.
Thrive Leads is a plugin that makes the process of capturing leads easier on a WordPress site with advanced-level targeting.
Multiple Type Of Opt-in Forms 
Different websites require different ways of generating leads. Often this option is not available and a user ends up installing multiple plugins.
This is not the case with Thrive Leads, which allows the users to build different types of opt-in forms to increase the conversion. 
The different types of opt-in forms available on Thrive Leads are: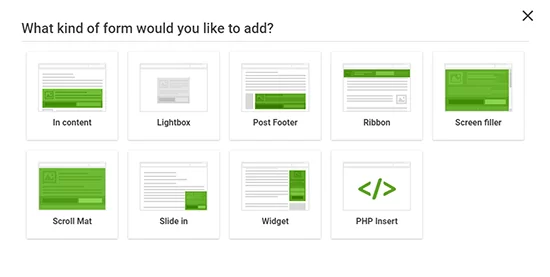 Thrive Leads Review: A/B Testing 
The A/B testing of Thrive Leads can be used to figure out the best opt-in form option for your website's visitors. Even though the A/B testing engine of Thrive Leads is pretty advanced, it is simple to use.
With the A/B testing, you can test:
Different types of forms
Form triggers
The A/B testing of Thrive Leads is a feature that must be used to increase the conversion rate with the help of the insights gained through it.
SmartLinks and SmartExit 
Making money out of a website is simply not about attracting new customers but also keeping the existing subscribers happy too. SmartLinks and SmartExit cater to the needs of the existing customers.
Also, imagine a scenario where you ask a subscriber to subscribe again. How annoying will that be? The SmartLinks feature avoids this dreadful scenario.
This feature can be used either to hide forms or show offers to increase the conversion rate by engaging the current subscribers.
Thrive Leads Review: Conversion-Focused Forms 
Creating a form manually can be challenging, especially if you are not a designer or a coder.
However, you can build impressive forms with Thrive Leads without any design skills. The plug-in supports an intuitive drag-and-drop editor to design a form without needing to code. 
You can also customize the design of the forms based on your preferences. All the form templates available on Thrive Leads are mobile-responsive which is perfect considering the fact that the smartphone users have surpassed the desktop users in browsing the internet.
Thrive Leads supports the following three levels of customization:
Show or hide different elements in the opt-in form types
Show or hide details on the opt-in forms
Customize the form for mobile responsivity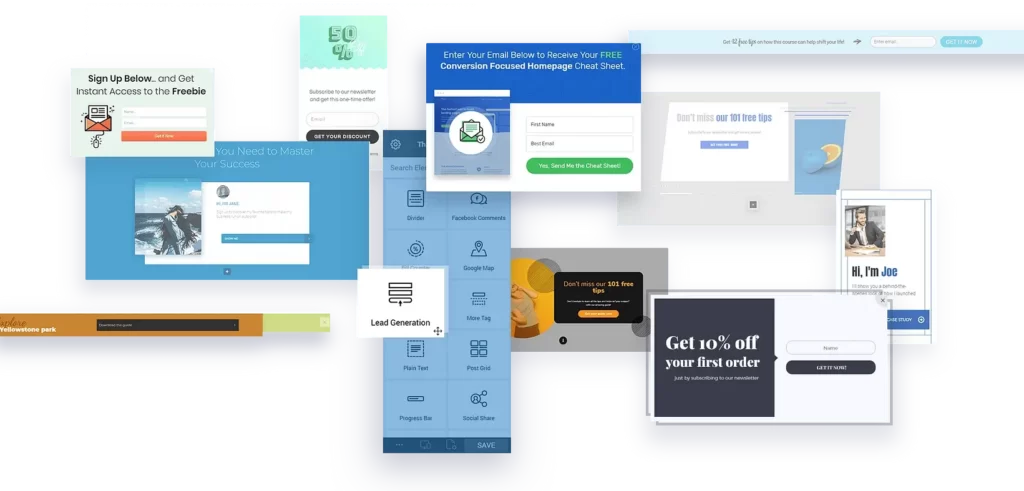 The user can also select the trigger rules for the opt-ins. Thrive Leads support the following triggers:
On page load
After a certain time
On reaching a specific part of the content
Scroll depth
On click of an element
Exit intent
Users reach the bottom of the page
Drag and Drop Form Builder
Thrive Leads integrates perfectly with the Thrive Architect and helps you to design a perfectly optimized opt-in form by using the drag and drop builder.
With this editor, you can easily create beautiful opt-in forms and pop-ups without having to mess with code. Plus, it's easy to customize your forms to match your brand identity.
You can create high-converting opt-in forms and pop-ups, then the Thrive Leads drag and drop editor is a great option. It's easy to use and you can easily customize your forms to match your brand identity.
Plus, you can customize every aspect of the form such as color scheme, font and other elements on the lead generation form.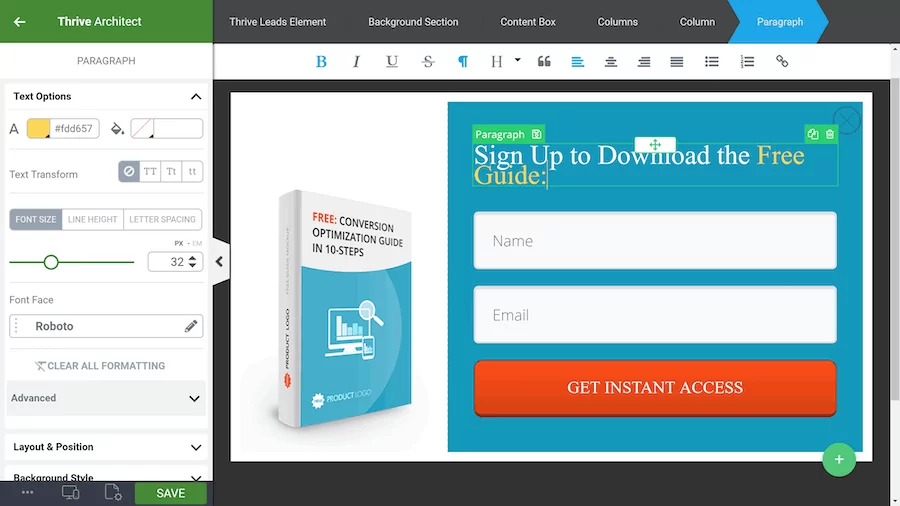 Thrive Leads Integration With Email Services
Thrive Leads captures the leads on your site, what next?
You need a service to store the leads and send email newsletters so that you can convert them to paying customers. For that, you will need to integrate an email marketing service provider.
Thrive Leads gives you the option to integrate it with the top email marketing services such as Constant Contact, GetResponse, Aweber and others.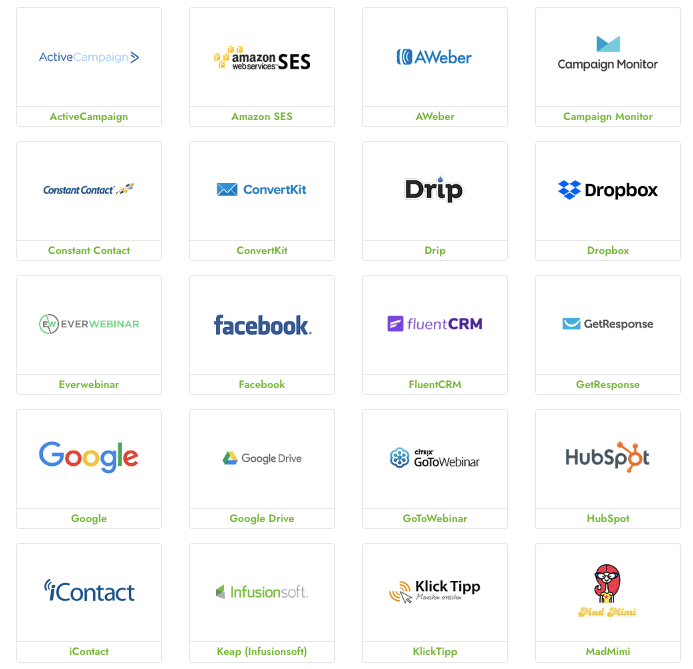 Stats And Reports
The most important metrics are covered on Thrive Leads, and the users get a simple overview of the same.
This report gives insights into the performance of the forms along with an analysis of the traffic. For instance, the reports will indicate the pages and posts from where you are getting your maximum leads. 
Thrive Leads provides an analysis of impressions, conversions, and conversion rates. In addition to viewing the overall stats, you can all view the stats by individual variants, forms, and lead groups.