When it comes to live streaming videos, StreamYard is a big name in the industry and offers amazing features that will help you bring your live videos in front of the world.
You can use StreamYard to live stream your videos to multiple platforms like Facebook, YouTube, LinkedIn, Periscope, Twitch, and custom RTMP outputs. So, it is a single solution for all these popular platforms.
If you are an entrepreneur or a YouTuber and interview other professionals regularly StreamYard can be of great help. You can invite up to 10 people on board at a time and do live interviews. So, you can use these features for a small webinar or live demo of your product, a simple and quick solution to get things done.
StreamYard is recommended by some of the top video producers and entrepreneurs.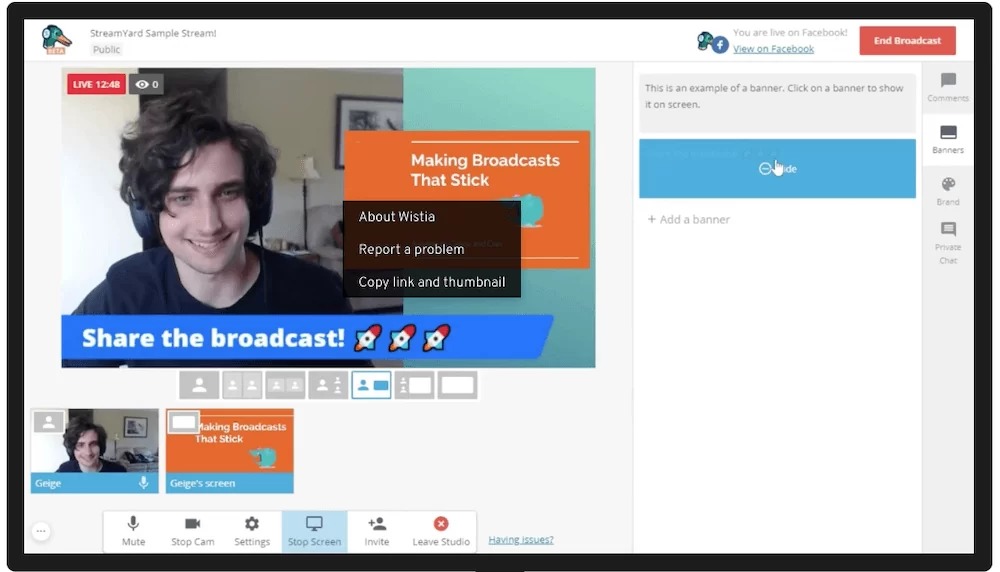 Engage Your Audience
Live streams are very engaging with users in general. You can go a step further with StreamYard by replying to the comments of your audience. You can also display the best comments on the screen so that other users can see them.
This is a great way to engage your users and encourage them to comment on the videos.
Add Call To Action
When you approach your audience through any medium including live streaming, you want them to take action. StreamYard makes the proces seasier for you by offering you easy option to add call to action to your streaming.
You write it and the call to action will show-up on the stream. It can be as simple as asking them to share your live streaming on social platforms.
Or you can use this feature to gather their point of view on the go by asking them questions.