Slack is popular worldwide for its constant updates and innovations. An advanced and easy-to-use interface makes the software a popular choice among team collaboration software.
Users will get an integrated compose button for quick message writing and options to edit it briefly before actually posting it. Also, changes with commands and apps have made Slack even more accessible and quicker than old slash commands.
Slack, the best team collaboration application, is now available for platforms like Mac, Windows, Linux, Android, and iOS. All you need is an active internet connection to use Slack on your favorite device.
Users get to use two different versions of Slack, a standard and a beta version. Make sure you choose the one which suits your team.
Keep Your Team Organized
Slack helps you to keep your team organized and active while the entire team works on any important project. It will make your communication process a lot more quicker and easuer.
You don't have to spend time writing emails to your colleague as you can get an answer instantly with direct messaging or a face-to-face video call with a click.
Overall, Slack will make your team a lot more productive by optimizing the overall process of communication.
As the manager of a project or an owner of a company, you can use Slack to communicate with your team individually or in a group without any hassle.
Manage a Remote Team
These days, most of the companies work with a remote team. We don't need to be present in the same place to get things done anymore, thanks to software like Slack.
You can easil manage a complete remote team and optimize the overall communication a lot more organized with Slack.
Communicate Better on Slack – Review
Slack is all about communicating with your team. Along with organizing yoru work and your team, Slack will help you to make your communication quicker and easier with your team.
You can have an open communication as well as a private communication as per your need.
Slack gives you the option to communicate with your team one-on-one or as a group and both are important. There are certain things that you need to convey to a specific team member while there will be updates that you need to send as a group to the entire team.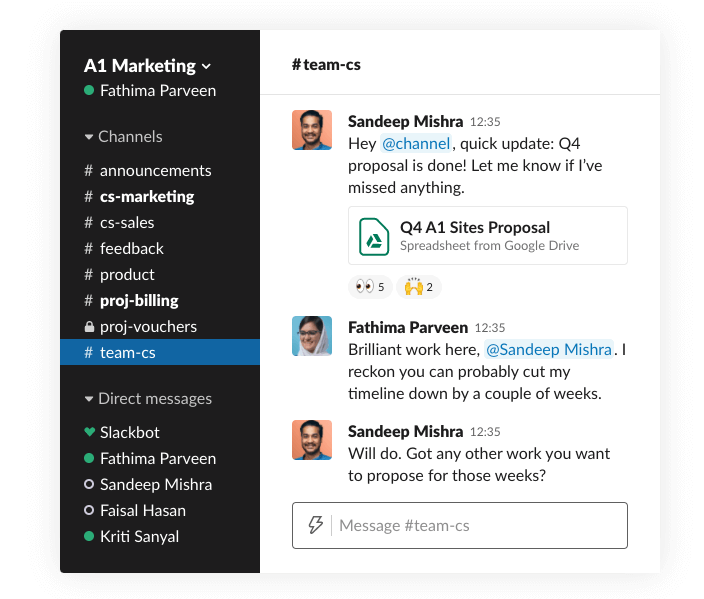 Video Conference on Slack
As the trend of working from home is increasing, the demand for quality conference software is also increasing. We have seen how software like Zoom became so popular in the recent past.
If you are using Slack, you will have a built-in option of video calling and video conference making it simple for the teams to meet every day overall video chat to communicate even more effectively.
In case, you wish to use other popular video conferencing software you can integrate a software like Zoom, Cisco Webex Meetings, Google Hangouts, Cisco Webex Meetings etc with Slack.
Slack Channels
Slack channels are the ways to keep things organized and make the communication more clear. You can create a channel for any team, topic or a project to keep things together.
As you start managing a new project, you can create a channel for the project and share everything related to the project in the channel. Everything that you share in the channel, the conversations and the files can be searched. So, over the time it becomes a very important archive for the project to keep things at one place.
Effective File Sharing
While managing a project on Slack, you can share files and you can add the context to the fine so that it is easier for other users to understand the file at any point of time.
As mentioned above, you can create different channels to share files so that it is perfectly organized for longer time.
Slack Integrations
No matter how small or big your organization is, Slack makes things possible with the right integrations. You can use third-party apps and tools along with Slack to extend the functionality and manage everything form the single interface.
You can look at the Slack integration section to find the apps that can be effectively integrated with Slack.
You can integrate software like Jira, monday.com, Asana, Zoom, Trivia, Loom, Google Drive, GitHub and many others.