OptinMonster is an innovative solutions to grow email lists. It offers a number of features and options to make sure that you are able to increase the email subscription rate for your site quickly.
Almost all the big marketers, bloggers, tutorial sites ask people to start creating an email list from the very first day.
Why do we need an email list at all?
The answer is very simple, "money is in the list."
Now, again this is a popular line has been written thousands of times to establish the importance of the email opt-in form.
Your email list can send you traffic on demand whenever you need. You will no longer be dependent on Google to promote your products.
Though SEO can help you to get tons of free traffic. The process takes time. You will have to go step-by-step, create high-quality content, create quality backlinks (avoid black hat SEO) and then wait for your site and articles to get a little older to start receiving good traffic from search engine.
Even if you are doing everything correctly on your site from the SEO perspective, you will not receive overnight traffic.
However, if you have an email list with 100K targeted emails, you will start receiving traffic almost instantly.
So, the ideal way to go about your online business is that, optimize your blog posts for SEO and start collecting emails from the very first day.
Also, as the subscribers of your blog like the kind of content you publish (the reason they give you consent to send emails) the rate of conversion will be higher when you send a custom deal.
All you need is a quality email subscription form on your blog that is placed on the prominent section so that your visitors can see that or a quality popup (a highly converting opt-in type) plugin.
OptinMonster is one of the most popular and widely used email opt-in tools for websites.
You have a simple WordPress plugin that you can easily set up on your WordPress site and start collecting emails.
OptinMonster Review: The Top Features
OptinMonster is a conversion-focused email opt-in service that makes it easy for users to collect emails rapidly with attractive pop-up and other opt-in types.
After registering on the OptinMonster site, you can signup and generate the API for your site.
The process is simple, go to your account and generate the API key that you will need to link the WordPress plugin with the OptinMonster platform.
Once it is linked through the API key, you can start creating your email opt-in.
Different Opt-in Types
OptinMonster offers you a number of different opt-in types that you can use on your site. In fact, you can have multiple options with different opt-in types targetting different pages on your site.
You can create opt-in for different campaign targeting different content on your page to increase the conversion.
You can create a
These are the proven highly converting opt-in types that are used by the top authority sites.
Now, let's select the pop-up opt-in type and move forward.
For each of the opt-in type, you have multiple ready to use templates to make the process even gift and quicker.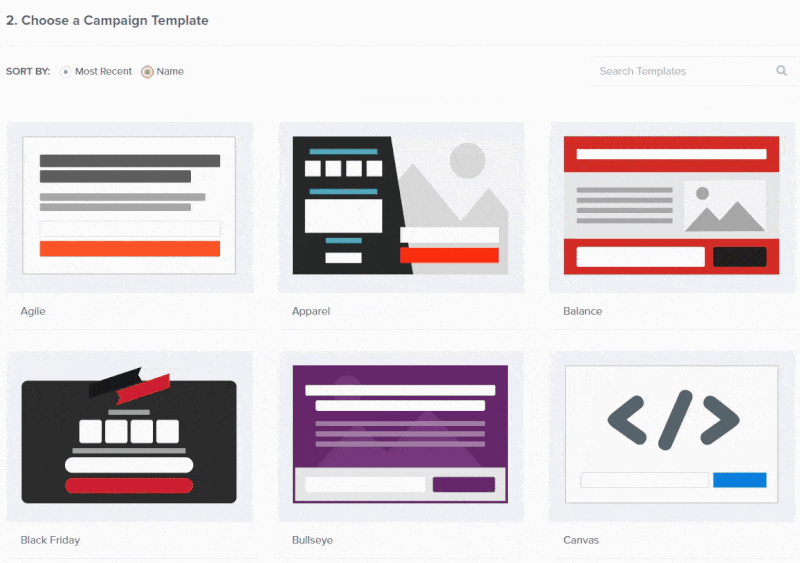 If you wish to start from scratch, you can do that too and create your design.
Select the template you wish to create a put the details of your site.
Configure Your Email Opt-In Form
In the next step, you will have the option to configure the opt-in email form for your site.
It's a very simple drag-and-drop editor. You can simply click and edit your form.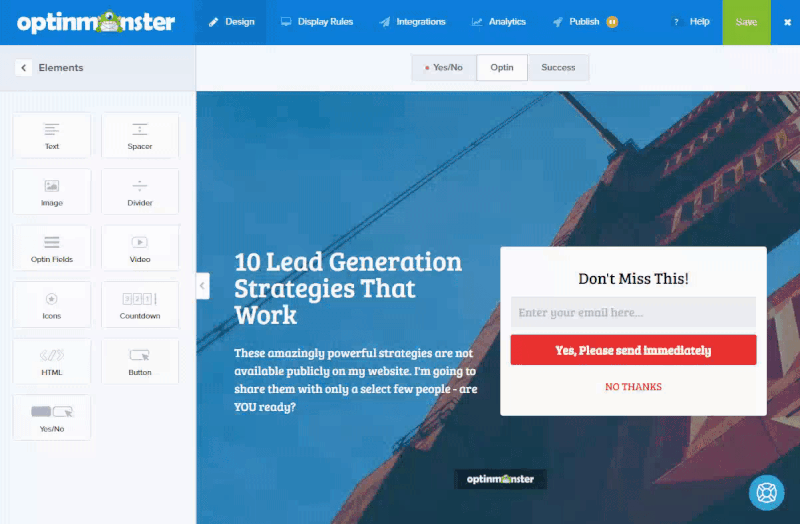 Click on any section of the form to edit it. You can design the form with the custom text that you need in the form.
Style Your Pop-Up
You can customize every section of the opt-in form as per your requirement. You can upload your own image; you can set up a custom background for the popup.
You have easy to choose color options, border options, you also have the option to add a box-shadow.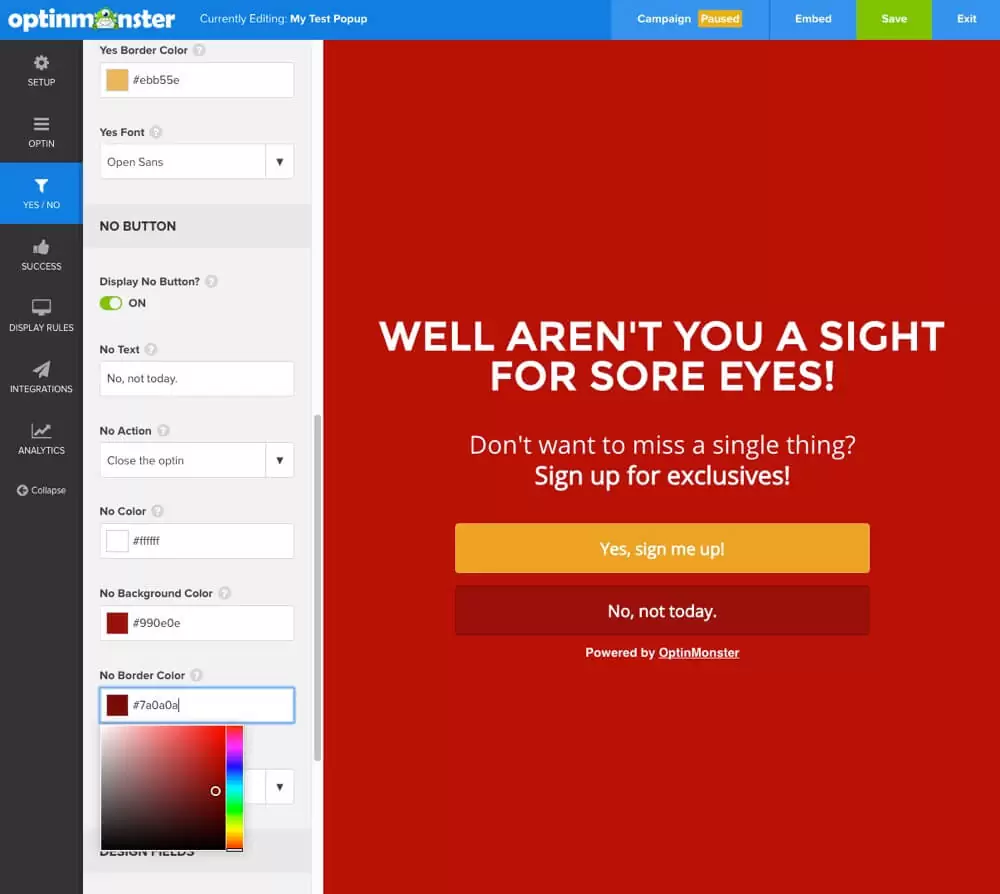 You have a quick option to add additional fields to your form. You have a number of different layouts to choose from for the additional section.
So, overall, you can easily create a completely custom design for your pop-up even if you have selected a ready template.
Success Message
You can setup a custom message for the users who subscribe to your email. You can have a custom message or redirect them to a custom page to get some freebies just as a thank you gift.
Display Rules
This is important, the settings on this page will define when the opt-in pop-up appears on your site. The tool gives you a number of different options to choose from.
Time spent on a page
Integrations
OptinMonster gives you a very easy option to integrate your opt-in form with any of the leading email service providers in the market.
You can select the option you are using from the dropdown menu and get started.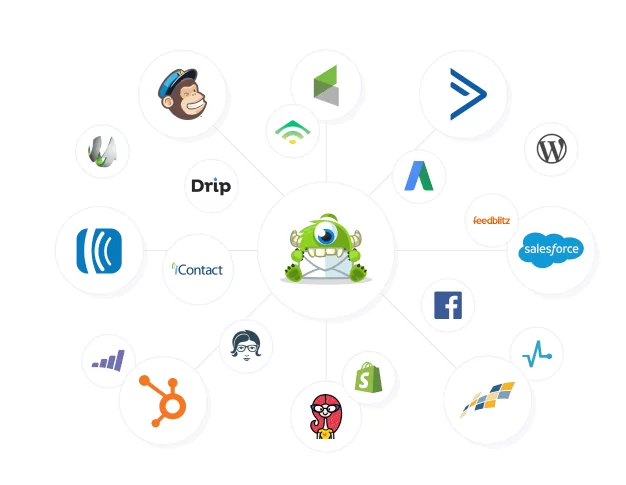 A/B Split Testing
A/B split testing is very important to increase the overall conversion on your site. OptinMonster offers you a number of different testing option.
You can work around with the different design, different optin type, different layout, and you can test almost everything to make sure the conversion is at its peak.
Yes/ No Forms
The Yes/ No forms are very effective in making the best use of your engaged visitors on your site. If a user likes the content on your site, you can set the trigger for a Yes/No form with a custom offer.
It is most likely to convert those visitors into your subscriber. You can probably offer a freebie after the subscription or set up some custom offer for them.
eCommerce Offers
If you are managing an eCommerce site to you have amazing custom coupons to offer your visitors, OptinMonster will help you to increase the overall conversion and revenue of your site.
You can create stunning offers that your visitors will not be able to resist. Also, you can target the popup trigger perfectly timed to increase the conversion further.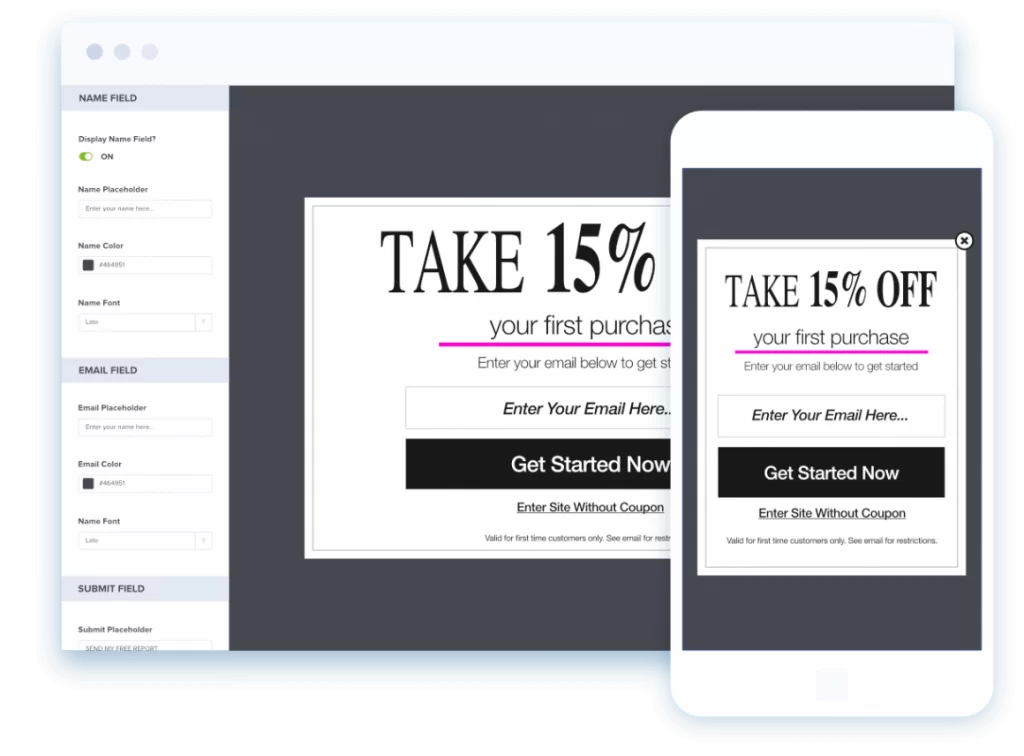 Final Word
The amount of features OptinMonster offers you, it will easily make up for the cost involved in getting this tool. It can show extremely targeted offers an email subscription that will surely increase the conversion of your site.
Many times, you have a great offer for your visitors, but they leave your site without even looking at it.
So, why not target those visitors and trigger a custom offer popup just before they plan to leave your site' I'm sure it will skyrocket the conversion.
If you have a freebie to offer, show a popup with the Yes/No form, who doesn't like a free gift? You will surely be able to increase the email list for your site way faster than you even imagine if you have the right kind of offers.