Built on Getting Things Done productivity principles, OnePageCRM was designed as a simple CRM tool for small businesses that need to grow fast.
It is a perfect solution for those who have outgrown spreadsheets or looking for their first CRM.
OnePageCRM has all the important features of a sales CRM tool without overcomplicated functionality. Its simplicity and clutter-free interface make it easier for small businesses and solopreneurs to get started with using a CRM even if they've never used one before.
Action Stream: Next Action Sales Method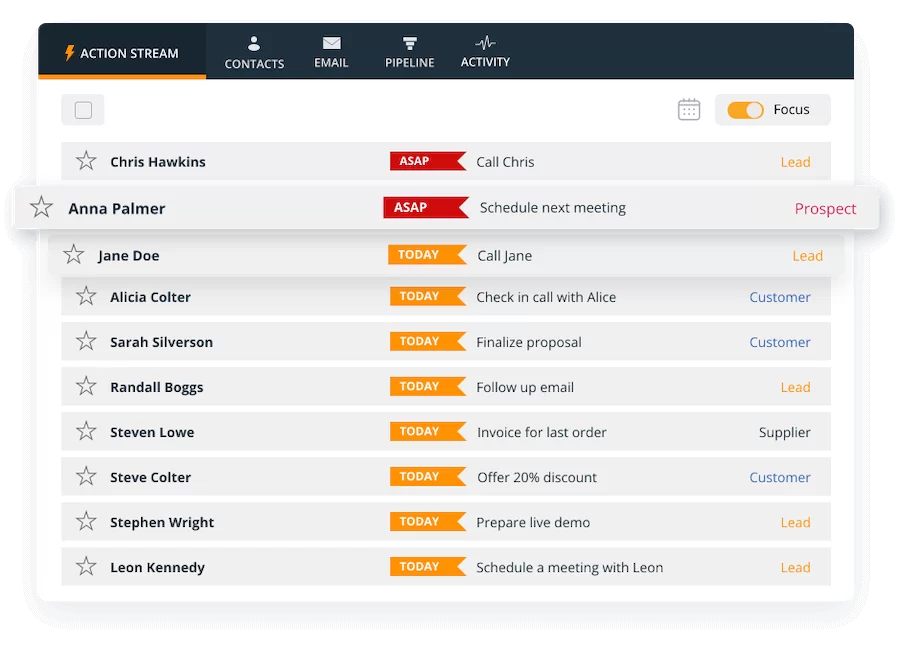 This is a unique feature developed by OnePageCRM.
As an action-focused CRM, OnePageCRM encourages users to take action with every contact in their database instead of simply storing them.
With OnePageCRM, businesses can add tasks and reminders (Next Actions) to every contact and make sure that no customer is ignored and no sales opportunity is missed.
Customer-Centered Contact Management
If you're looking for a customer-centered CRM, this is your go-to tool.
All contact details, interactions, notes, previous calls, sales deals, and upcoming Next Actions are stored on one scrollable page.
In OnePageCRM, a contact profile becomes the heart of your sales process.
Efficient Email Management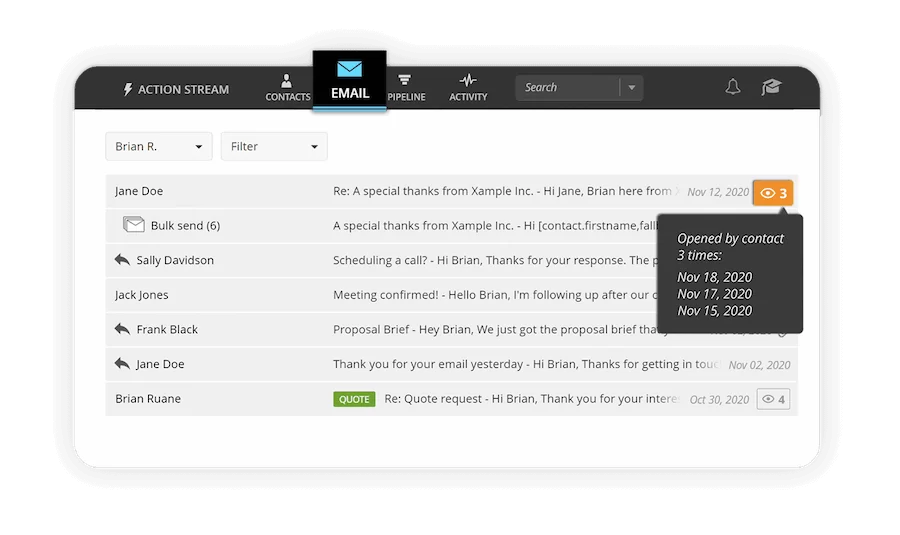 OnePageCRM offers a full email sync with your favorite email clients. You can send and receive emails straight from within OnePageCRM.
Besides, users can also choose which type of communication they want to sync (for example, you can keep in your CRM only emails from specific people and filter out the rest).
With OnePageCRM, you can send personalized emails in bulk, track email opens, and create multiple email templates with attachments.
Sales and Workflow Automation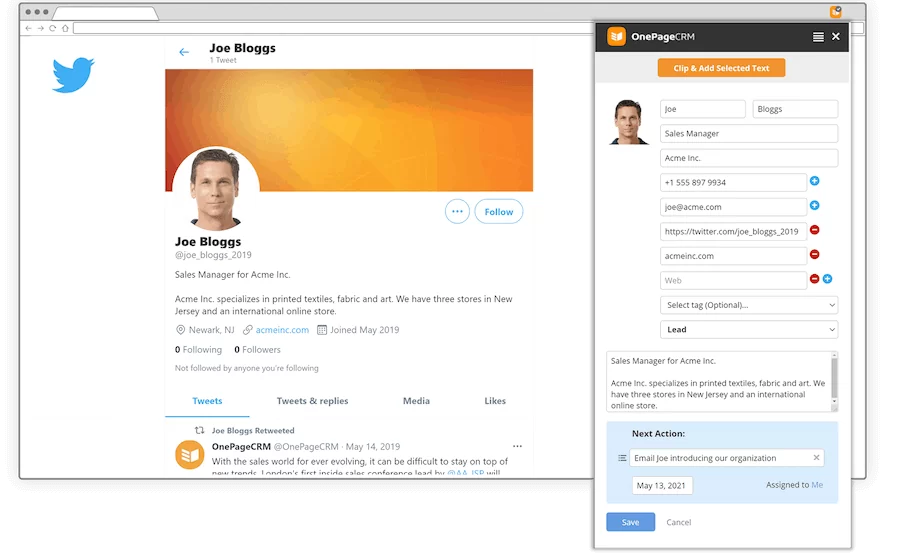 Depending on your needs, OnePageCRM offers a variety of automation features.
You can add leads from any page to your CRM in one click with their unique Lead Clipper. It's also possible to create a sequence of actions that resembles your sales process. They can be added automatically to new leads or customers.
OnePageCRM users can also build and email sales quotes in 30 seconds, set up deals in a few clicks, and automate many repetitive tasks with the Autoflow feature.
Pipeline and Deal Management
In this sales CRM, you can build deals in a couple of clicks, customize deal stages, and pre-save your most used products and services. There's no need to do any calculations: OnePageCRM does everything for you.
OnePageCRM users can switch between the Kanban and Forecast views to get revenue predictions or a quick overview of their deals. If you have several products or services, OnePageCRM lets you build and manage multiple pipelines.
Besides, with OnePageCRM you can identify bottlenecks in your sales processes by seeing how much time is spent on each deal stage. Also, if you lose a deal, OnePageCRM encourages you to record a reason. This way, you can improve your close rate in the future.
Mobile CRM applications
For those companies that do field sales, OnePageCRM developed several mobile applications.
There's a sales CRM, which works on smartphones and tablets, both on iOS and Android. You can log calls, and notes, send emails and manage your entire sales process from within this mobile CRM app.
OnePageCRM has also built an AI-powered Route Planner. If you're planning to visit multiple leads in one day, OnePageCRM will build an optimal route for you considering the traffic and factoring in the average time you plan to spend on each meeting.
You can also use OnePageCRM's Speed Dialer to quickly dial your contacts. And if you're a fan of business cards, OnePageCRM lets you scan hundreds of business cards each month and automatically create new contacts based on business card snapshots.
Team Collaboration and CRM Reporting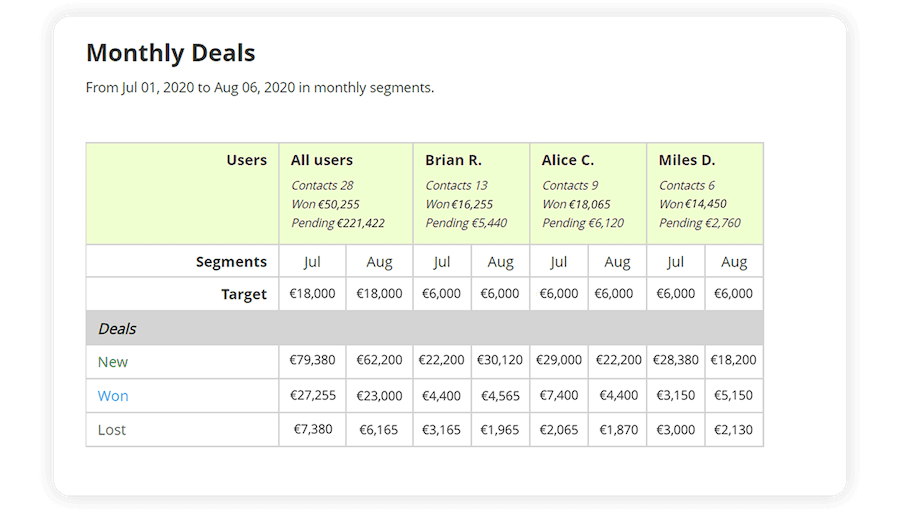 As a simple CRM, OnePageCRM is a great tool for solo users. But if you plan to use this CRM with your team, it offers you different collaboration and reporting options.
You can see what's happening in your team with the real-time Activity feed. On top of that, you can generate custom reports in a few seconds and get them delivered to your inbox on a regular basis.
In OnePageCRM, you can assign deals, contacts, and Next Actions to different team members, leave notes and comments for your colleagues, and tag them to get their attention (they will receive email and in-app notifications).
CRM Integrations
OnePageCRM has integrations with different lead generation, marketing and communication, accounting, customer support, and task management tools.
You can connect this CRM to Mailchimp, Xero, Google apps, WhatsApp, Dropbox, Evernote, and many more.
You can also connect it to thousands of apps using the Zapier integration or build your own with OnePageCRM's open API.
How to use OnePageCRM
OnePageCRM is one of the simplest sales tools in the world. It takes just a few minutes to set it up, and you can start using this CRM without any training.
01. Create a Free Trial Account
To get started with OnePageCRM, you need to create a free trial without entering your credit card details or any other obligations.
The set-up process takes just a few clicks, and the 21-day free trial gives you full access to all OnePageCRM features.
02. Explore the Action Stream
After the quick registration, your account will be customized for your industry. You'll see the Action Stream with a few contacts with dummy data.
Feel free to play around with these contacts: add notes, log in calls, set Next Actions, and so on, to better understand how an action-focused CRM works.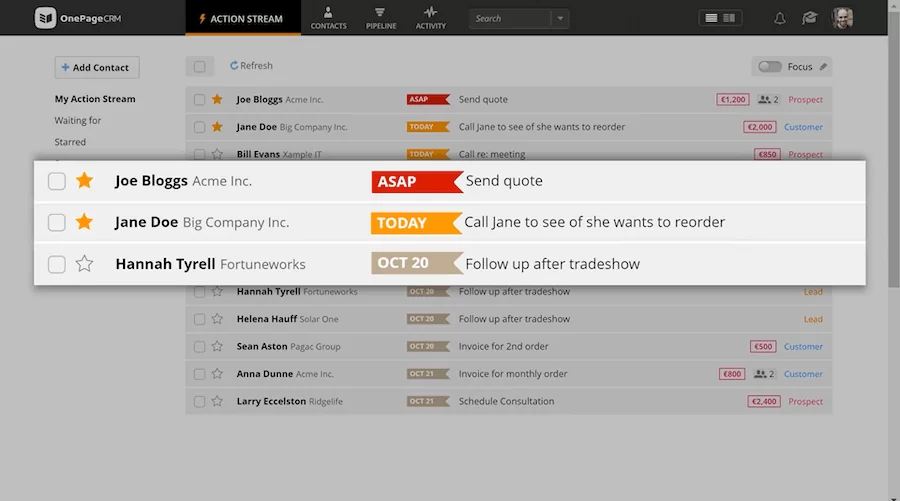 03. Add and Edit Contacts in CRM
One of the main OnePageCRM advantages is its contact-centered nature. All contact details and interactions are kept on one scrollable page.
Have a look around this page and understand what type of information is stored there. This will give you a better insight into why small businesses in almost 80 countries prefer this action-focused CRM.
04. Connect Email Client to CRM
Connect OnePageCRM to your inbox to see how your emails are neatly stored in this CRM.
If you're not comfortable with using your real email address, you can create a test inbox and connect it to your trial CRM account.
This will give you an opportunity to test all of OnePageCRM's email functions: two-way sync, email templates, email opens tracking, and many more.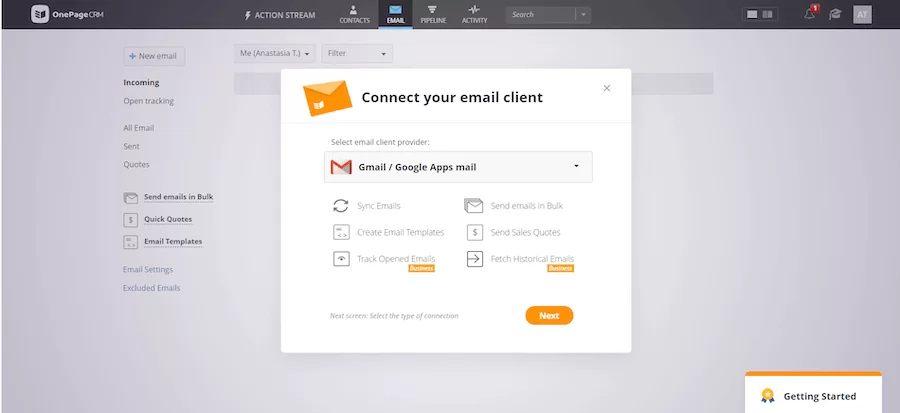 05. Customize Your Pipeline
You already have many processes in place. Some of them can be easily visualized with OnePageCRM's pipeline feature. For example, your sales process.
Configure your CRM pipeline to reflect all the stages of your sales process. You can also add a few deals and give the drag-and-drop functionality a try.
By the way, in OnePageCRM, each time you win a deal, you'll see confetti popping out—this is a kind reminder to celebrate every achievement.
06. Add New CRM Users
Once you feel comfortable with OnePageCRM, you can also add new users to your CRM account and let your team members try all features for themselves.
07. Import Data to Your CRM Account
You'll have 21 days to thoroughly test OnePageCRM and see if it is a good fit for your business.
If at some point you want to try this CRM on real data, you can easily import your contacts or deals to OnePageCRM. Besides, this tool has a direct connection with Google Contacts, which makes it easy to import your Google contacts to OnePageCRM without CSV files.