Ninja Forms, one of the most popular form builder plugins for WordPress with over 2 million active users.
If you run a blog or a website, you might already know how important the contact page is.
It can help incorporate a factor of reachability, availability, security, as well as user engagement on your website. In fact, it is one of the most essential modules of any website.
That's why here we will be taking a look into Ninja Forms WordPress form builder plugin.
WordPress, although a very powerful CMS, doesn't come with any default options to help you create contact forms or any sort of forms for that matter.
You will have to install a dedicated plugin to help you create forms for your WordPress website/blog.
Now, there are plenty of plugins advertised to help you build forms on your website, but for this particular read, we have chosen Ninja Forms.
Ninja Forms is one of the most popular Form Builder plugins and has over a million downloads. It packs in a whole lot of awesome features.
For example, you will get a drag and drop builder for creating forms. Besides this, there are also plenty of other features which makes it very popular amongst beginners, or people coming from a non-developer background.
With that being said, let's now take a more comprehensive overview of everything the plugin has to offer:
Comprehensive Setting Panel
Once installed, Ninja Forms will add a dedicated control panel in your WordPress dashboard from where you can control all the settings and options.
The UI is extremely good-looking and intuitive allowing you to easily get a hang of all the options that have been laid down in front of you, at your disposal.
You will get full control to fine-tune every part of your forms without any hassle. The individual fields, submit actions, and emails can all be tweaked effortlessly from a single panel.
This is not just a contact form builder, the contact form is just a part of the overall plugin. You can create almost any type of form that will need on your site.
For example, you can create a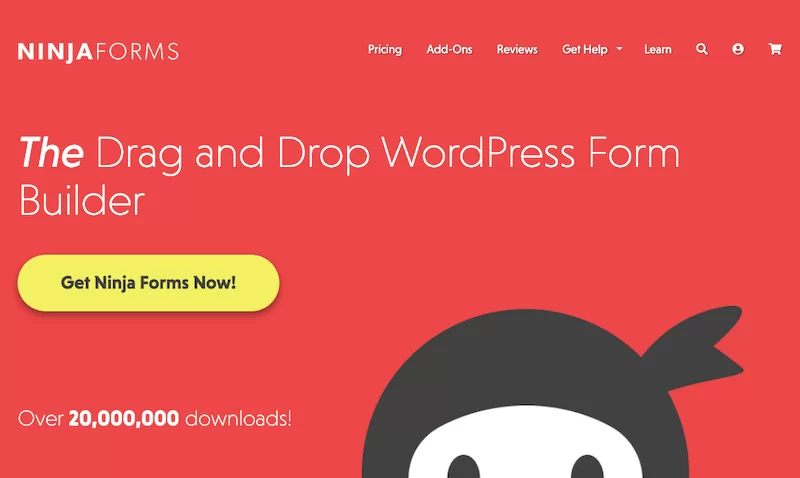 Developer Friendly Options
With the use of an intuitive design, drag and drop builder, and plenty of easy-to-use options, Ninja Forms effectively caters to its non-developer demographic. But that does mean developers won't be enjoying themselves with the plugin.
If you come from a coding background, then you will really appreciate the hundreds of functions, action hooks, and filters that are thrown in with the plugin.
Developers can use them to add their own custom functionalities to make the plugin even more feature-rich.
Powerful Extensions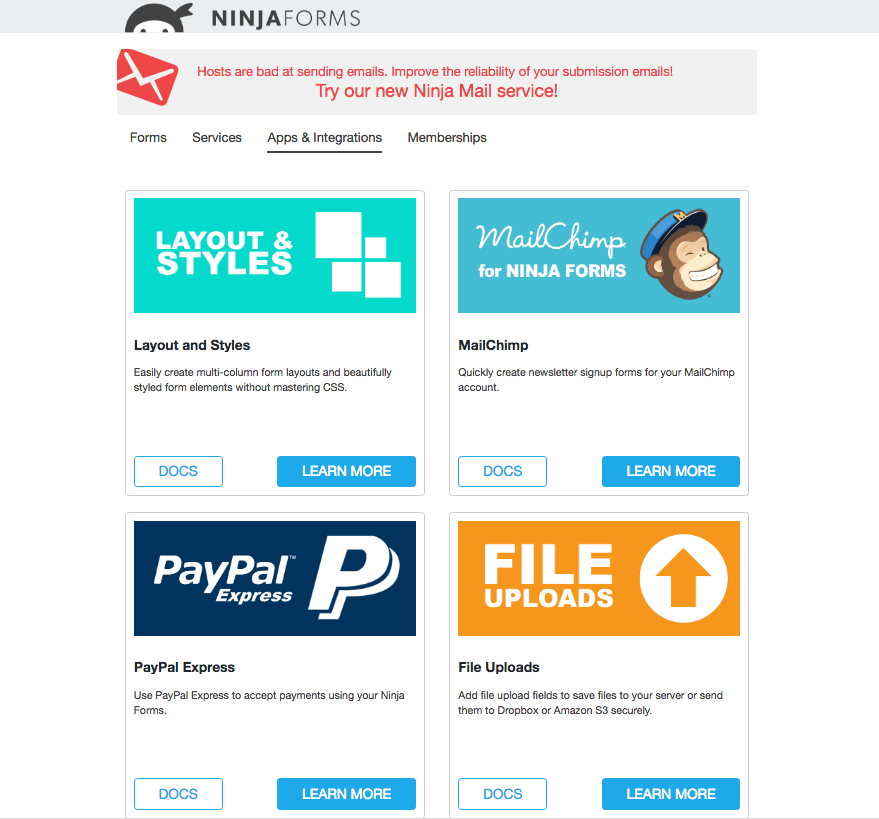 Ninja Forms is completely free to use the plugin. The abundance of settings, the drag and drop form builder, and the intuitive UI is all given to you for free.
However, they have also left another option for paid add-ons or extensions to add far more powerful functionalities to your forms.
In total, Ninja Forms features over 40 extensions; each of them specializing to provide you with certain advanced functionalities.
Here is a brief look at all the extensions and how they can help you to better run your WordPress website.
Email Marketing & Newsletters
Nearly a dozen of all the extensions that you get with the plugin are dedicated to providing you with a diverse collection of email marketing and campaigning tools.
Payment Options
Some of the Ninja Forms extensions also allow you to take payments using WordPress forms.
CRM Integration
You have built up your email list, you have loads of customers buying stuff from your website, now it is time to manage them.
You will want to build and manage a positive relationship between you and your customers, so that return to your site. This is managed with the use of CRM (Customer Relationship Management) software.
Now, Ninja Forms offers a load of different extensions that help integrate it with all the popular and powerful CRM solutions in the market.
There are a bunch of different extensions which will help you to connect with:
Team Management and User Management Solutions
There are also a couple of extensions that will help you with managing your teams as well as your user base.
Other Options
All the extensions we just talked about are merely the tip of the iceberg. There are even more add-ons to help include far more advanced options to your WordPress website.
Form Building Options
All these extensions can help supercharge your WordPress Forms with a host of awesome and powerful functionalities.
But what about the look and feel of each of these forms? Well, there are also extensions to help you tweak around with the design of the forms, as well as configure how they function.