Microsoft Teams has quickly become one of the most popular business communication and collaboration platforms on the market today. And it's no wonder why – with its robust feature set, ease of use, and integration with Office 365, it's a tool that can help any team work more efficiently.
In this review, we'll take a look at what Microsoft Teams is, its key features, and how it can help your team be more productive.
Microsoft Teams is a video conferencing and business messaging software. The platform is designed to meet both professional and academic work. To be precise, Microsoft Teams serves:
Home
Business
Enterprise
Education
It supports all the communication options. You can chat, call or engage in a video conference per the requirement.
All these features might give the idea that Teams is a chatting app. However, it is not the case. In fact, it is a powerful collaboration platform where all the team members and students can come together for discussion and work on a plan.
The ability to share documents and files makes it a powerful collaboration tool and helps your business and other plans run, even remotely.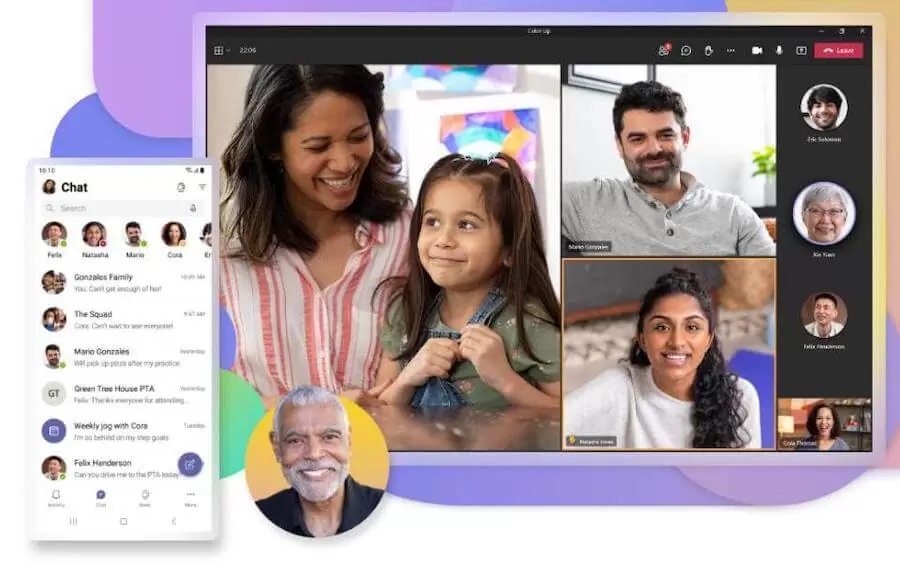 How Does Microsoft Teams Work?
We now have quite a bit of an idea of what Microsoft Teams does. Let us now have a look at how exactly Microsoft Teams works.
We have already discussed the four areas that Microsoft Teams serve. The way it works for Home, Business, Enterprise and Education services are different. In this section, we will understand this in-depth.
Microsoft Teams for Home
Microsoft Teams is for everyone, including your family and friends. On this platform, you can connect with your friends and families. Also, the Together Mode platform allows you to enjoy virtual cafes and lounges.
Video Calls
Even if your family members are staying at different places, the Microsoft Teams video call feature can bring them together. During celebrations and family functions, the video conference feature will be very handy to bring everyone together.
It also makes it easier to manage a celebration. The chat options can help you to manage your plans and carry on the discussions, you can use the platform to assign different activities to different families. Have a problem deciding the theme? Use the polls feature to decide quickly.
Further, you can use Microsoft Teams to upload and share the photos that you have clicked while celebrating. The dashboard of the platform is handy for accessing these contents.
Microsoft Teams for Business
During Covid-19, when many businesses shifted to remote work, Microsoft Teams emerged to be a top choice among the working professionals to work together.
Firstly, with Microsoft Teams, it is possible to schedule online meetings. The platform is especially known to ensure high audio and video quality.
Further, all the conversation, before, after and even during the meeting, is accessible on the platform. So, a team member can always review it whenever required.
Secondly, it also supports cloud storage. This makes it easier to share files without worrying about any space. The platform is even perfect for dealing with sensitive information. Data encryption ensures the safety of all confidential information.
Team Video Conference
With Microsoft Teams, you can make video calls with up to 270 people. This is great for team meetings or presentations, and you can even record your calls if you need to refer back to them later.
You can join the meeting through any device of your choice on the go.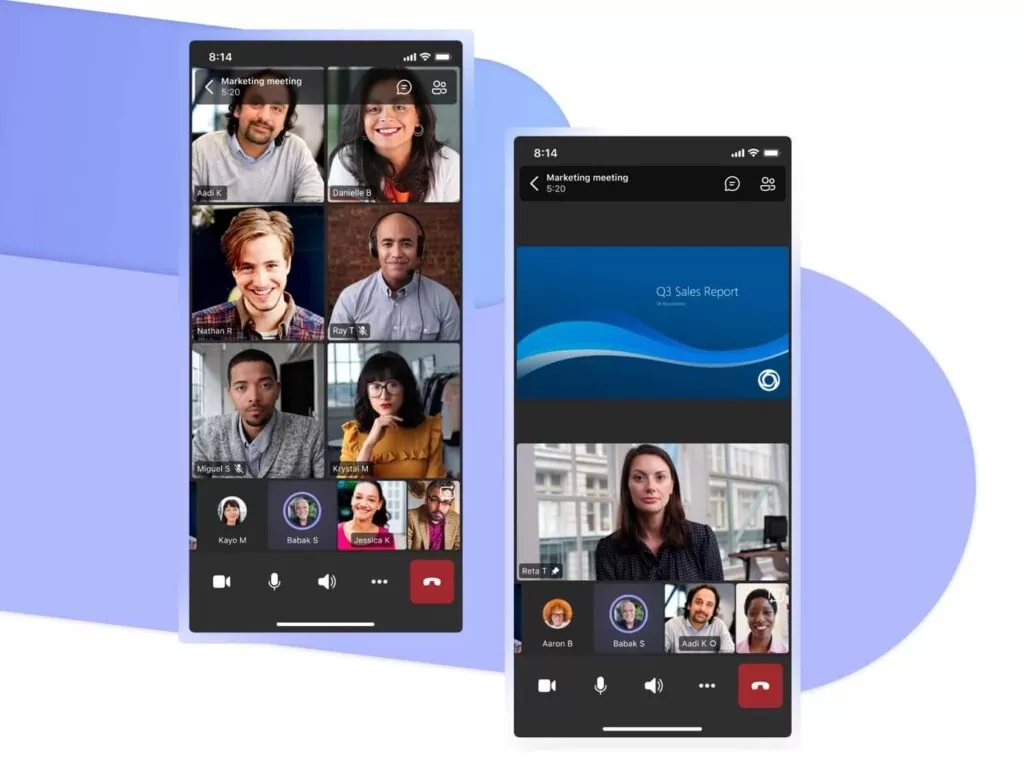 Microsoft Teams also has a feature called "Background Effects" that lets you blur your background or choose from a selection of images and videos. This is a great way to personalize your video calls and make them more fun.
Microsoft Teams also has screen sharing capabilities, so you can share your screen with other team members during a call. This is handy for presentations or if you need to collaborate on a project.
Microsoft Teams File Management
Microsoft Teams has a built-in file management system that makes it easy to share and collaborate on files. You can either upload files directly to Microsoft Teams or connect your OneDrive account.
Once you've uploaded your files, you can use the "Share" button to share them with other team members. You can also create folders to organize your files, and set permissions to control who can access them.
Microsoft Teams also has a handy "Recent Files" section that shows you the files you've recently worked on. This is great for quickly finding a file you need without having to search through all of your folders.
Chat & Discussion History
The history of chat and discussion during a meeting will be shared and can be accessed by the team at any point in time so you will never miss any important details of a decision made during a meeting.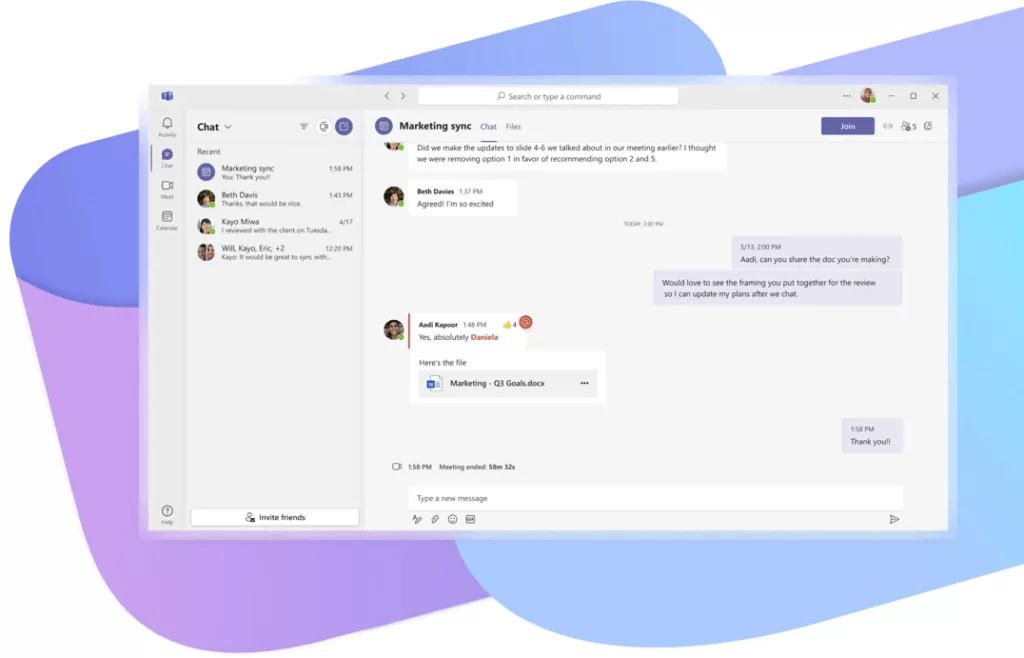 Microsoft Teams for Enterprise
The platform works well even for enterprises. With this plan, a user can:
Connect one on one
Lead a team training
Host an interactive webinar
The Together Mode of Microsoft Teams allows the users to create an engaging and realistic meeting experience. One can also create a customized registration page for the webinars on Microsoft Teams.
In addition, it also supports closed captions to support inclusivity. It further provides the users with the option to create a private space for collaboration with specific members of the team.
The USP of Microsoft Teams for Enterprise is that it also provides the participants with a real-time automated caption. This feature alone makes all the media highly accessible. Additionally, you can use the digital canvas of Teams to brainstorm ideas together.
On the whole, Microsoft Teams Enterprise is perfect for enjoying a hybrid work model.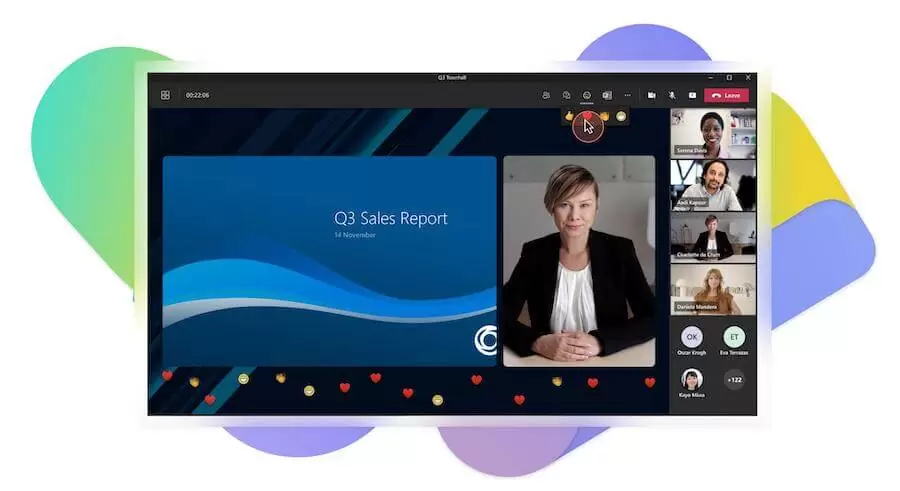 Microsoft Teams for Education
Not only Microsoft Teams is enjoyed by working professionals but also by students too. The platform is perfectly designed even to ensure excellent learning.
For the children, Teams support supervised chat. Thus, the platform ensures that the students are engaging in safe conversation on the platform. It further supports Reading Progress. This feature is handy for improving the reading fluency of the students.
The students can also use Microsoft Teams to collaborate on a project. The app can be connected with Learning Management Systems to enhance the students' learning experience further.
Finally and most importantly, the teachers can also record the online lessons on Teams. This feature gives the students the freedom to go back to the online class to understand something they missed out on during the lesson.
It is also a handy tool for teachers because it gives them insights into the students' performance.
The popularity of Microsoft Teams in educational institutes is clear from the fact that more than 270K educational institutions use the platform to support learning.
How Can Microsoft Teams Help?
Microsoft Teams has a lot to offer, irrespective of the domain you are working on. Few of the features of the platform are common across all the domains. Let us check out these features now.
Online Meetings
You can use Microsoft Teams for conducting online meetings in both call and video mode. You can conduct a 60 minutes meeting free of cost. The platform's free plan supports a maximum of 100 participants, which is fairly impressive.
Features that are handy while conducting an online meeting on Microsoft Teams are:
Screen sharing
Customized backgrounds
Together mode
Scheduled meetings
Noise suppression
One does not need to be a Teams user to join a Microsoft Teams meeting.
Chat and Collaboration
Teams support unlimited chat messages. The free version of the platform supports a maximum number of 100 users.
One can attach 2 GB of files in the chat. In addition, the platform supports 5 GB of file storage too. You can use Teams for real-time collaborations in the following Office mobile apps:
When required, you can also chat between your personal and work accounts too.
Security
When it comes to online interaction, security plays a significant role. Microsoft Teams ensures that you can communicate and collaborate securely.. It provides this through data encryption both during rest and in transition mode.
Additional security features of Teams include
Single sign-on for all the Microsoft 365 apps and services
Multi-Factor authentication
Advanced auditing and reporting
With Microsoft Teams, you don't really need to worry about your online safety and security.