Ranking a website or a blog demands high-quality content and that too regularly. Updating regular content with consistent quality can be tough for an individual.
The ideal solution in such a situation might be hiring writers and asking them to write quality content. However, getting quality content is only possible when one has years of experience. This experience comes with a hefty price. So, the process becomes quite expensive.
You can use AI writing software if you have a limited budget and are looking for high-quality content. However, this again can come with a problem.
Imagine getting a product description with adjectives like "timeless style". Doesn't sound very human, right?
Thankfully, there is a solution and this solution comes in the form of Hypotenuse AI. With Hypotenuse AI, you can write compelling content that is plagiarism-free within five minutes. It also takes care of the keywords for you too!
As the name suggests, Hypotenuse AI is an AI writing tool that you can use for writing:
Quality articles
Product descriptions
Marketing copy
Let us now understand how Hypotenuse AI can help you.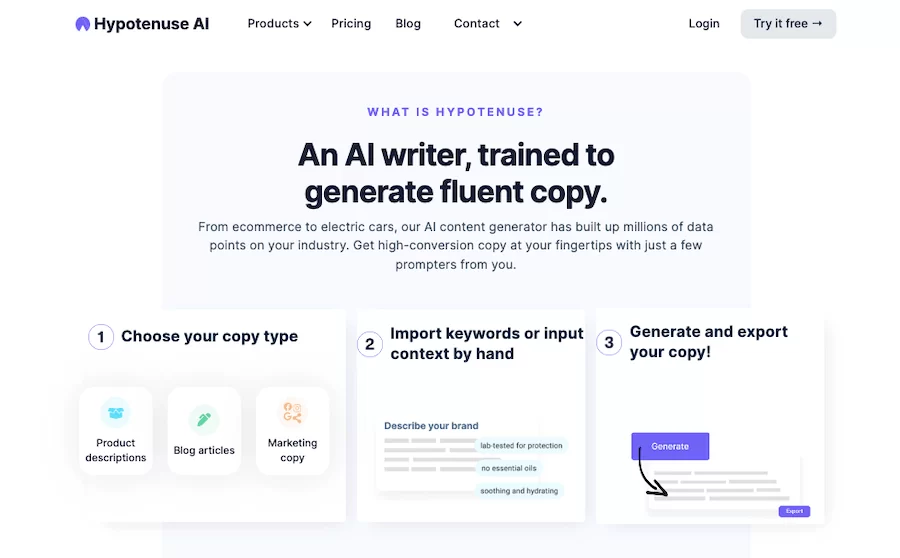 Hypotenuse AI is a copywriting tool. It helps the user to create unique and quality content with artificial intelligence. It is handy for anyone who deals with blogging, affiliate marketing, copywriting or digital marketing.
The tool is trusted by thousands of companies, including renowned companies like Vogue and Marie Claire.
Hypotenuse AI is unique because it can create content that looks very natural. Hypotenuse AI creates content that looks human-written. This is a very rare feature for any AI writing software.
Joshua Wong is the founder of the company. He created Hypotenuse AI to develop a tool powered by artificial intelligence to help users automate the copywriting process. The company is YC-backed up.
Now that we know the basics of Hypotenuse AI, let us put its features under the microscope to understand the product better.