If you have not come across GetSiteControl yet, it is one of the top marketing tools that offer you multiple widgets that you will find extremely useful to grow your business.
What good is a website if it does not have the knack to engage its users and convert potential viewers into customers?
Well, there are websites that do not operate with such goals, but then, if you intend to make money out of your website, user engagement is the most surefooted way to ensure that.
Now, we all know with most of the themes that you purchase online, you get a plethora of plugins and widgets that help in unique ways to monetize your website.
In most cases, these plugins & widgets are for free and in equally most of the cases, these plugins & widgets come at a price.
So how would you feel if you get access to a one-stop-shop for all the widgets which has the definitive prospects of taking your website to new heights?
That's right, GetSiteControl is one such website, which packs all the essential widgets that you will ever need to push your website up the ladder.
Let's take a closer look at how GetSiteControl amplifies your website and assists you in connecting with more users.
Comprehensive Pop-Up Builder
GetSiteControl comes with a comprehensive and easy-to-use pop-up builder that you can use for various needs such as email opt-in widgets, special offer announcements, displaying best offers, discounts and more.
It offers a large collection of ready-to-use pop-up templates that you can use to create your pop-ups. You will get custom templates for different occasions throughout the year.
The pop-up templates are fully optimized for higher CTA and to make sure that you are able to increase your conversion to a large extent.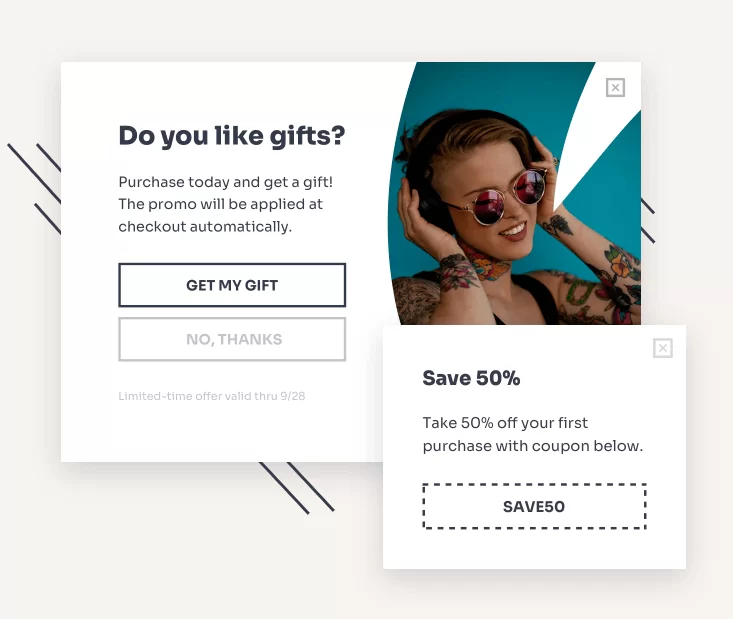 GetSiteControl Mobile Optimized Pop-Ups
As most of the traffic comes through mobile devices these days, it is important to have your offers, email opt-in pop-ups work properly on the mobile devices.
The GetSiteControl pop-up builder gives you the option to edit and optimize each of your pop-ups for the mobile devices to make sure that you don't miss any opportunity to convert a random user to a paying customer.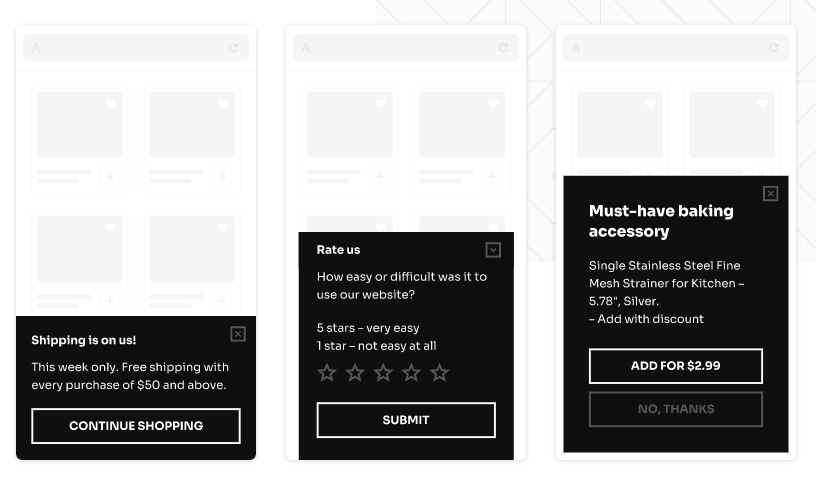 Email Subscriptions
One of the easiest and efficient ways to generate traffic towards your business and no one does subscription forms better than GetSiteControl.
You can prompt special deals, discounts, etc in exchange for an email. This helps you to grow your mailing list and boost sales as well as traffic into the website.

Moreover, these forms are designed in a very intricately smart manner. One of the tricks that you can use is the exit-intent technology that makes an effort to ensure that the email id is captured via a pop-up right before the website is closed.
This proves to be very helpful in reducing bounce rates and also in converting the visitors before they abandon the site.
The smart targeting feature-set allows you to display email signup forms to the right audience spot on. This can be done via bar format or slide-in format depending on what appeals to you most.

Easy to Get Started With GetSiteControl
You can customize the appearance of your signup forms, display personalized CTAs targeted towards a specific group, moderate the widget behavior.
The subscribe widget allows you to customize the look of the forms and multiple options to place them. You also get smart targeting features and set the behavior of the pop-ups such as scroll-based or time-based triggers or exit triggers.
The widgets are mobile-friendly and do not compromise on the quality of the content. Moreover, the installation process is outright fast.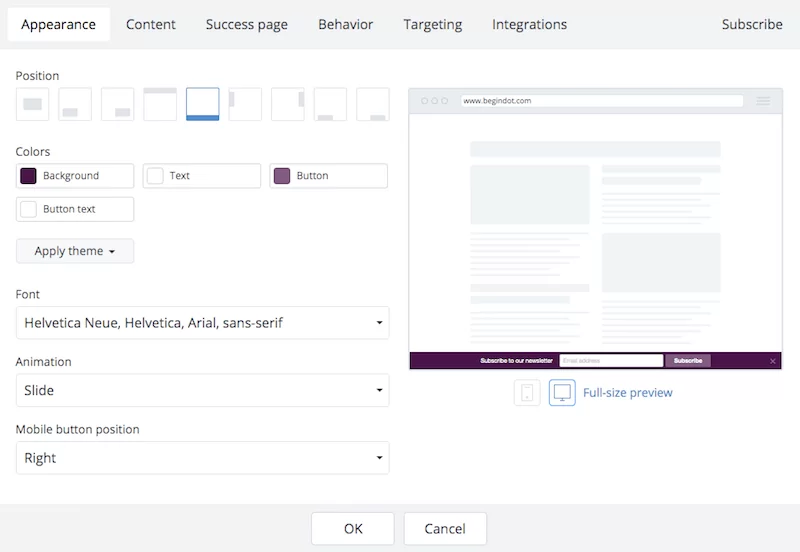 There is no involvement of special skills or coding knowledge. GetSiteControl also packs an auto-responder that comes to play in sending an automated greeting post successful signup and also built-in analytics to monitor performance based on geography, click-through rates, etc.
The reports and email data is easily downloadable in MS-Excel format. You can also integrate this widget with tools like MailChimp, Constant Contact, Campaign Monitor, Mad Mimi, AWeber, and 25 more email apps.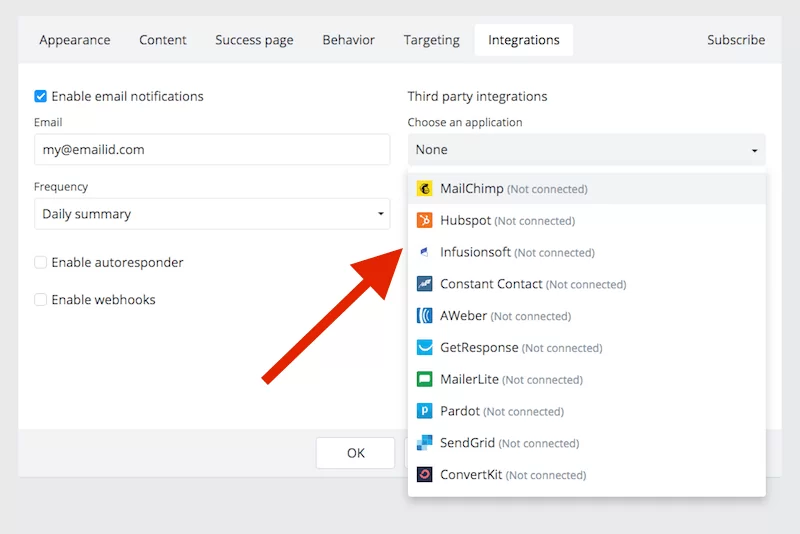 Detailed Targeting
GetSiteControl offers you detailed control to reach your specific audience. You can target different sections of your visitors depending on different parameters.
You have the option to target the visitors who visited at least 2 pages on your site or you can target the audience depending on the browser they are using as well as the device.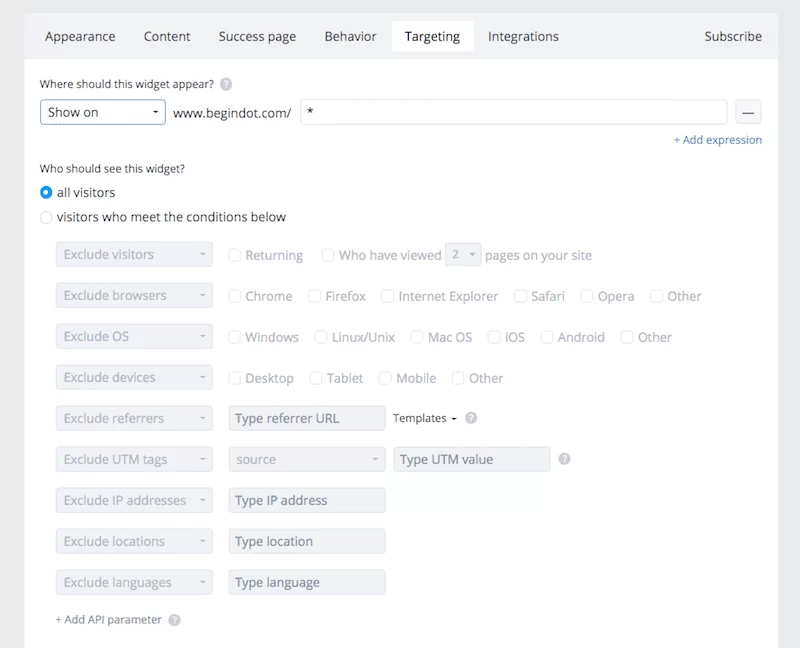 Promotional Offers
Promo Widget is the go-to widget when it comes to a Call-to-action pop-up that will take your customers exactly to the place they want to be (within the website).
You can create customized pop-ups, highlighting the latest blog that you have published, the important news or articles in the finance, health, education, travel or other sectors, the most exciting deal of your online store, so on and so forth.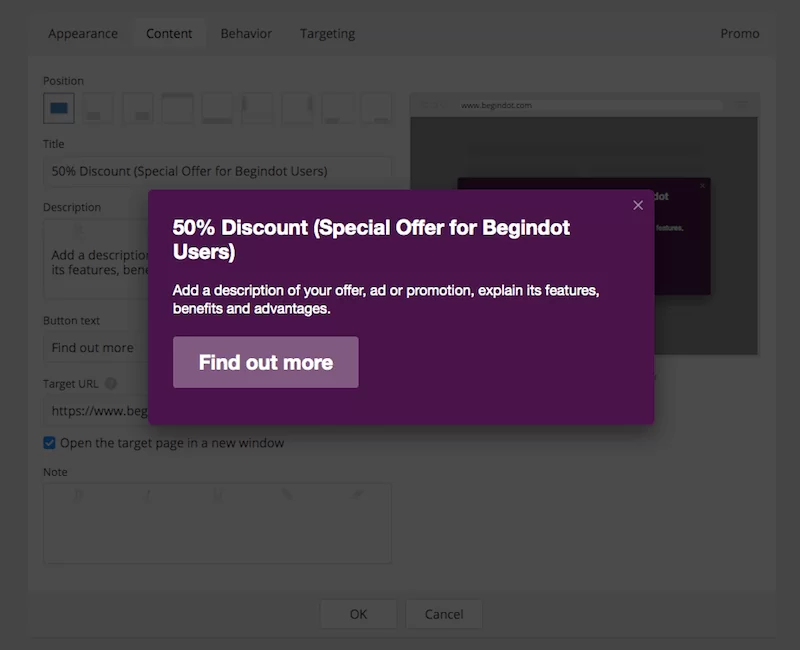 The promo widget can also be used to notify your users about your cookie policy and terms & conditions in an extremely subtle manner.
The widget is absolutely customizable and possesses the flexibility with which it is displayed to the selected audience which can be targeted based on their location, language, device, browser, etc.
Grow Email Subscription
GetSiteControl is one of the most comprehensive email marketing tools that you will find on the internet. You will have complete control over the tool, the way it looks and the way it performs.
Get it today
Contact Us Form
If your website involves users, readers or customers, then having a contact us or a feedback form is absolutely mandatory.
It is the most recommended method to interact with your users, acknowledge their feedback and queries in order to build long-lasting trust.
With the Contact widget of GetSiteControl, you can get in touch with your users to respond to feedback or a customer query immediately. You also get an email notification every time someone sends you a message.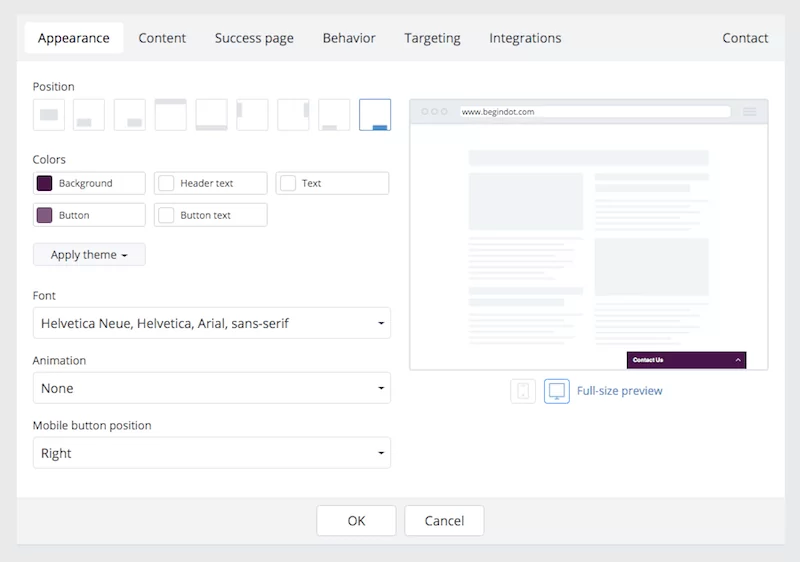 And the contact us form is not only limited to written interactions. You can create a callback request form through which your customers can request for a callback at their convenience.
The contact us form can also be moderated to accept orders online. The information that you might require for the order can be added to the form.
The widget can also be integrated with CRM tools, helpdesk software thus ensuring that the flow of communication between your customers and remain streamlined.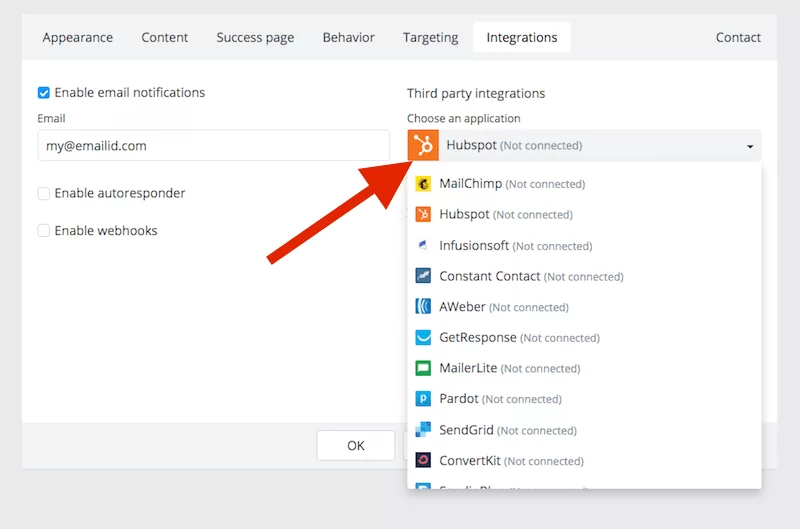 The contact forms can be adjusted based on your marketing goals. It allows you to create personalized messages for selected pages or show the widgets to the new/returning visitors only.
This feature can also be customized to be visible to those who performed a certain action or met other conditions of your choice.
With the magic wand of A/B testing, you can split-test contact us forms to find out which one looks more enticing for users to engage with.
You can create up to 5 versions of a widget to see if its aspects such as color, copy, animation, targeting or behavior settings affect the click-through rate.
Survey & Polls
Surveys and polls are another quick way to get constructive feedback from your users and customers.
You can conduct quizzes or measure customer satisfaction via polls. Using surveys you can let visitors rate your products, services, or your content with a simple 1 to a 5-star rating.
Using the widget, you can conduct surveys for individual pages and for internal employees as well.
That's not all, with the survey widget you can also conduct market research and the smart targeting feature will ensure that your survey is shown to the most relevant people.
This is an extremely handy feature if you intend to launch new products or services on the online platform.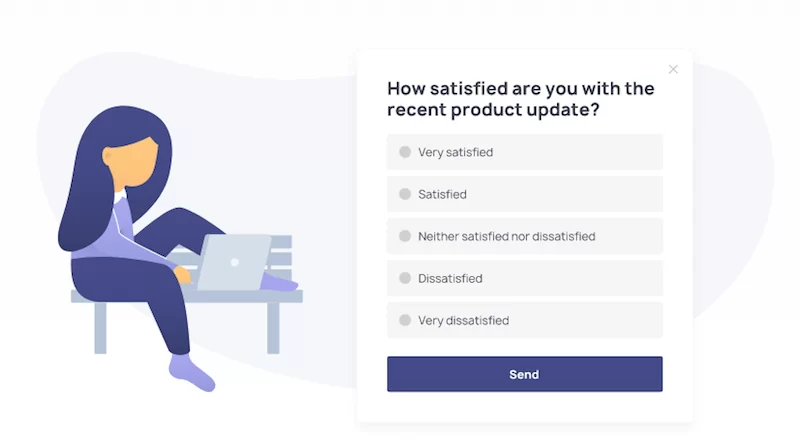 Then you have the exit survey feature which allows you to display a survey just when a viewer intends to close the tab.
Ask a few questions about their experience in the website along with the email is an excellent way to understand the mindset of a viewer and growing your mailing list simultaneously.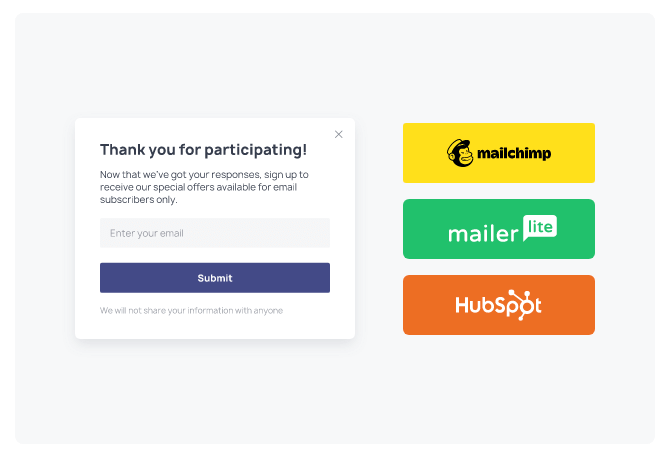 The statistical aspect is completely taken care of by GetSIteControl on a real-time basis. It also means that every single time a survey is filled by a user, GetSiteControl will add the data in real-time and also show you the updated result.
Live Chat Widget
Now if your customer base increases with time then it will definitely be difficult to resolve their queries via the contact us forms.
You will need a team and the resolution will take time. So to kill that time, GetSiteControl has the live chat widget for you.
Tech support, customer support, product information are an integral part of maintaining a long-lasting and trustworthy bond with your users and implementing a live chat option on your website is a brilliant way to ensure that.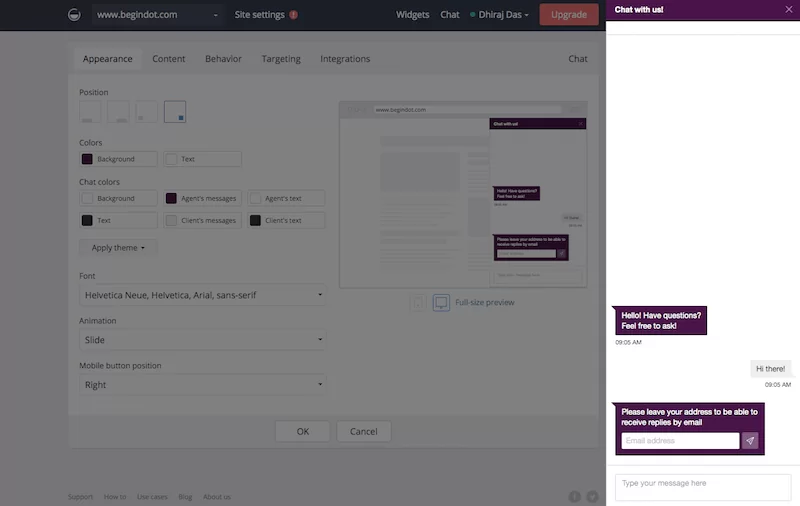 If you are in the online sales business model, having a live chat is extremely helpful.
This allows your customers to connect with you in real-time with their queries, requests, and complaints and you also have the power to resolve them in no time.
With passing time, connectivity with the customer has evolved from long email threads to repeated phone calls and now to chat.
For a lot of reasons, people are moving towards chat-based customer support and the reason that dominates this trend is time reduction.
Having live chat contact support is the most trusted way to ensure customer satisfaction.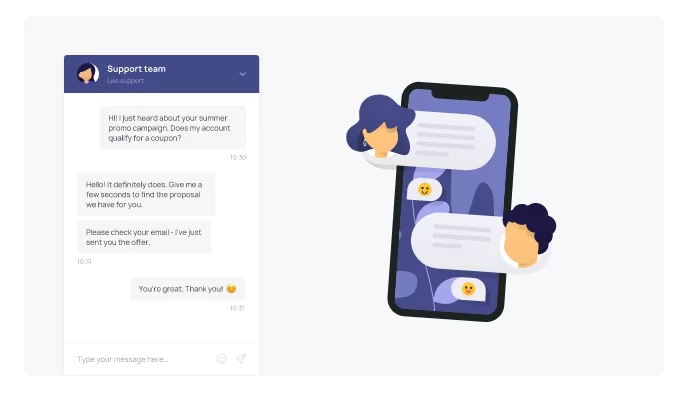 With the live chat widget, you can customize the appearance of the widget, ensure seamless connectivity and conversation with your users and also analyze how the widget adds value to your business and also the performance of your live chat team on their efficiency in delivering resolutions.
Other Features
The above features are the ones that make GetSiteControl a very unique tool. When it comes to generating traffic, collecting email databases, connecting with users/customers, understanding the mindset of the population, then these set of widgets is the only arsenal that you will ever need.
But, there are a few more amazing and equally features that come with the GetSiteControl package and we are here to deep dive into a few of them.
Exit PopUp
If your business runs online then you must be aware that users tend to close the webpage randomly or by accident. That cannot be healthy for your business.
But with GetSiteControl's Exit Popup, you can reduce the abandon rates by asking your customers if they really want to leave the website.
Use a customized popup message that appears the moment a visitor clicks on the exit button. Whether they wish to stay or leave is up to their choosing.
Targeting
Targeting allows you to set the widgets according to audience segmentation. Targeting your users/customers by setting certain criteria and using widgets to lure them into signing up or subscribing or sharing is like a cakewalk with GetSiteControl.
Customization
GetSiteControl gives you the power to modify your widgets according to your website needs and appearances. You can also control how they are displayed, whether they appear as bars, pop-ups, panels or buttons on your site.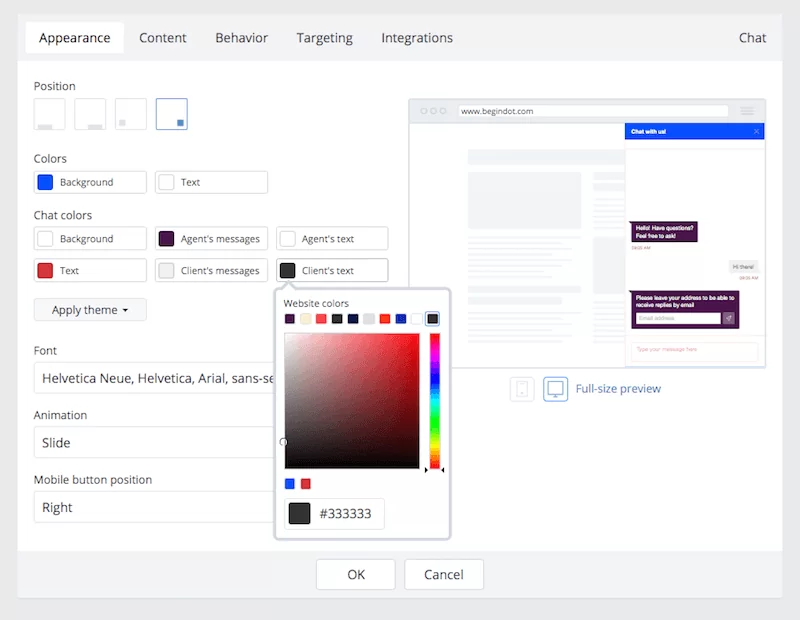 Autoresponder
This feature is an absolute time-saver. The autoresponder assists you in sending welcome greetings to your new subscribers, automated products details to your users, sale information to your customers, etc.
All of these can be done with a few clicks, zero stress and thus give you more time to focus on productive elements of the business.
Real Time Stats
This is the place where you can see the performance of your pages, your posts, which subscription channel is generating the most traffic and which is not.
GetSiteControl also gives this entire statistic in real-time. Hence the changes you make have the requisite impact website.
The statistics are provided in easy-to-read graphs, click maps, & they can be downloaded in no time.
Mobile Compatibility
Everything that GetSiteControl has to offer is mobile responsive. Since almost half the internet users have already made a drastic shift to mobile devices and with that number only growing, doing anything that does not sync with the present trends is nothing less than a fall down the rabbit hole.
GetSiteControl has ensured that the designs and user experience remain unaffected, irrespective of the device used by the customers.
Updates
GetSitecontrol is GDPR compliant. Some of the measures include amendment of the privacy policy, destruction of the user data if the relationship is no more existent, reviewing of their sub-processors to make sure that they align with the new rules and regulations.
Installation and Set-Up
To set it up a widget, all you need to do is sign up or sign in to GetSiteControl. Then you have to choose the widget you need to set up or edit.
GetSiteControl dashboard lets you create various instances of the same widget for A/B testing(and this feature is paid).
The primary steps that you should remember before starting your exploration of GetSiteControl:
Appearance
You get 9 locations to display the widget. Here, you can choose any color for your text, the widget, the button, and the button text.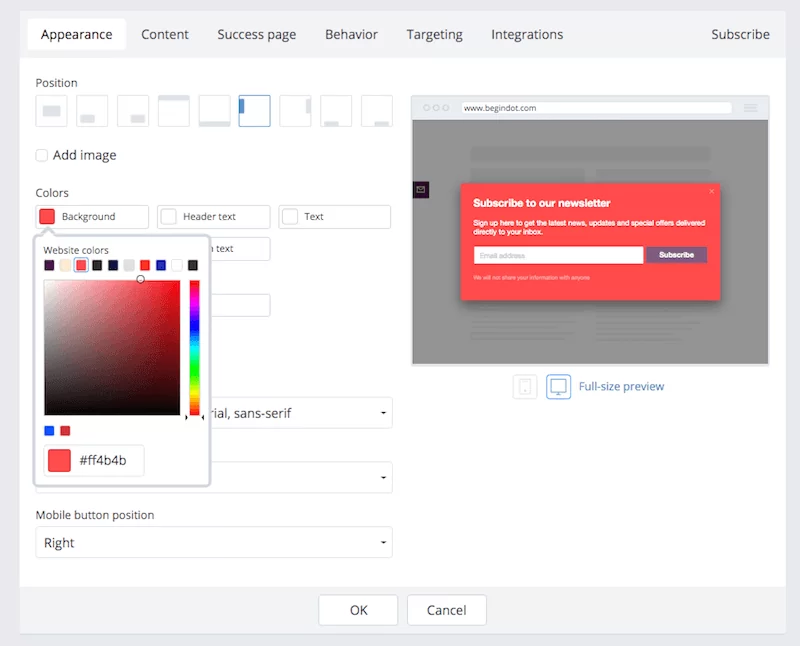 You also get an option to edit the fonts
Content
This is where you edit the content. You can put your desired text and a call-to-action text.
If the content is focused on subscription and contact widget, you will have to add separate fields like name, email address, etc (as per your requirements).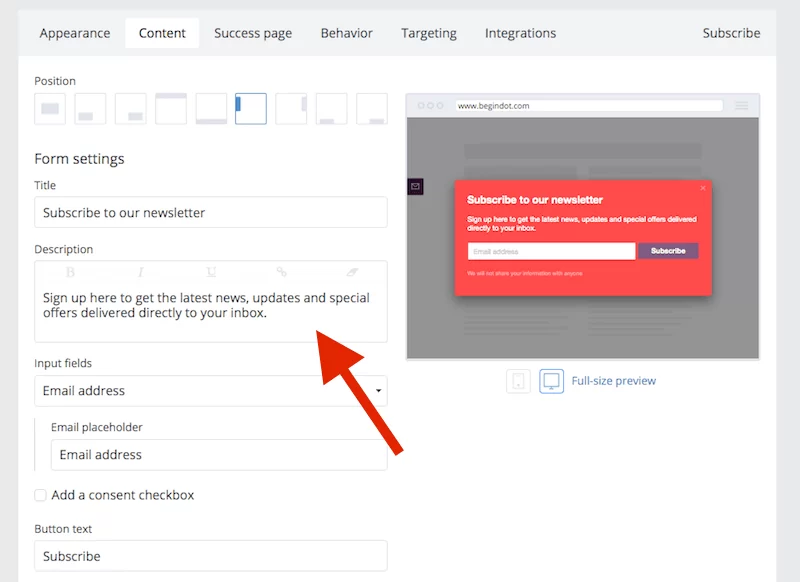 Behavior
This is where you determine how & when your widget will appear. The widget can be displayed as soon as the visitor starts viewing your website or you can time it after a few seconds.
You can also show the widget after a user has spent considerable time on the website.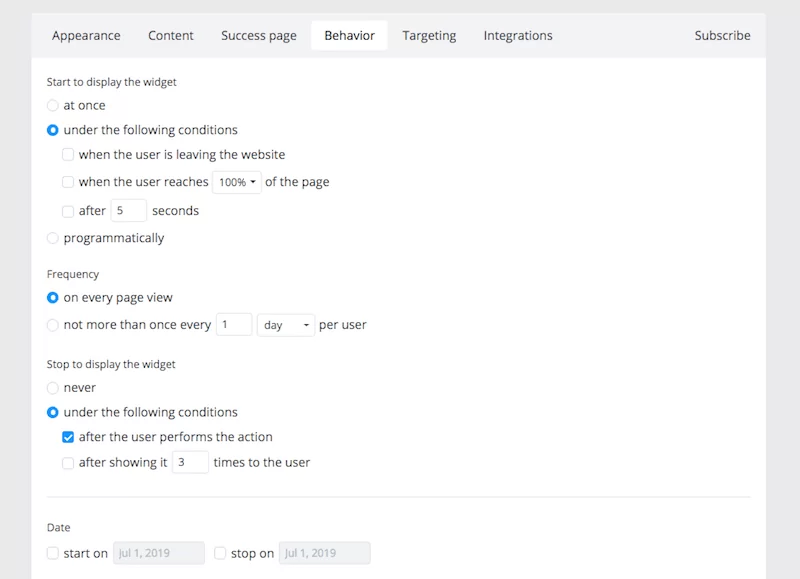 Targeting
GetSiteControl gives you the freedom to select the pages/categories where you want your widget to be shown.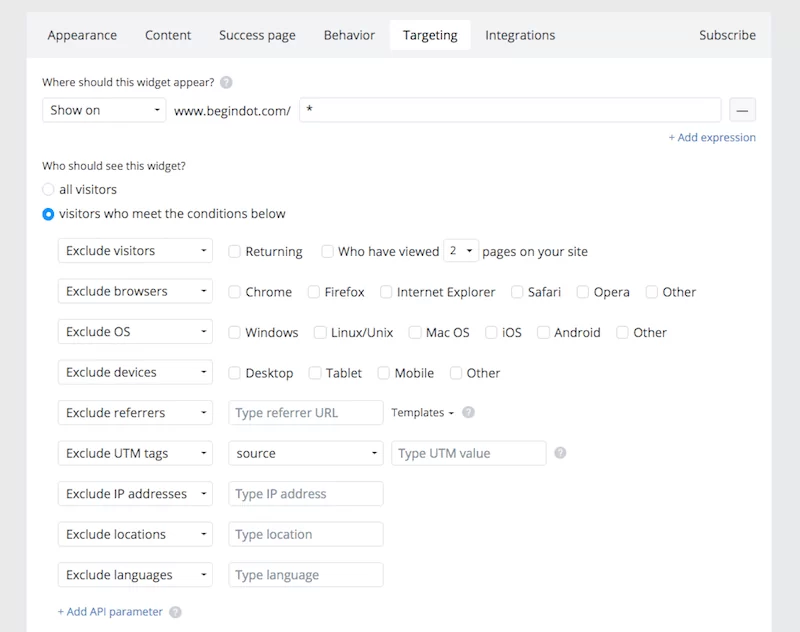 Integration
The Integration option comes into account only when you create a contact or subscribe widget.
The lists are automatically pulled in email service providers to continue with email campaigns. You can enable the autoresponder feature to send quick responses if you are a paid user.