If you have not come across GetSiteControl yet, it is one of the top marketing tools that offer you multiple widgets that you will find extremely useful to grow your business.
What good is a website if it does not have the knack to engage its users and convert potential viewers into customers?
Well, there are websites that do not operate with such goals, but then, if you intend to make money out of your website, user engagement is the most surefooted way to ensure that.
Now, we all know with most of the themes that you purchase online, you get a plethora of plugins and widgets that help in unique ways to monetize your website.
In most cases, these plugins & widgets are for free and in equally most of the cases, these plugins & widgets come at a price.
So how would you feel if you get access to a one-stop-shop for all the widgets which has the definitive prospects of taking your website to new heights?
That's right, GetSiteControl is one such website, which packs all the essential widgets that you will ever need to push your website up the ladder.
Let's take a closer look at how GetSiteControl amplifies your website and assists you in connecting with more users.
Comprehensive Pop-Up Builder
GetSiteControl comes with a comprehensive and easy-to-use pop-up builder that you can use for various needs such as email opt-in widgets, special offer announcements, displaying best offers, discounts and more.
It offers a large collection of ready-to-use pop-up templates that you can use to create your pop-ups. You will get custom templates for different occasions throughout the year.
The pop-up templates are fully optimized for higher CTA and to make sure that you are able to increase your conversion to a large extent.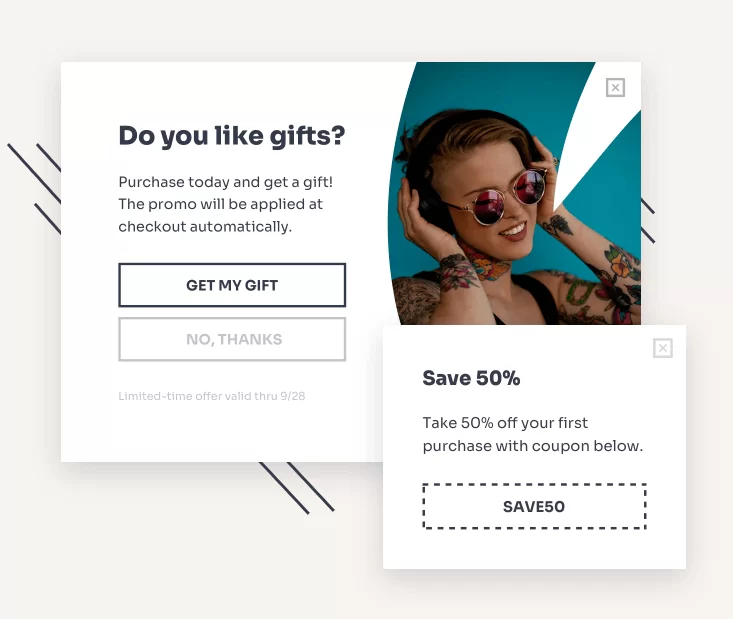 GetSiteControl Mobile Optimized Pop-Ups
As most of the traffic comes through mobile devices these days, it is important to have your offers, email opt-in pop-ups work properly on the mobile devices.
The GetSiteControl pop-up builder gives you the option to edit and optimize each of your pop-ups for the mobile devices to make sure that you don't miss any opportunity to convert a random user to a paying customer.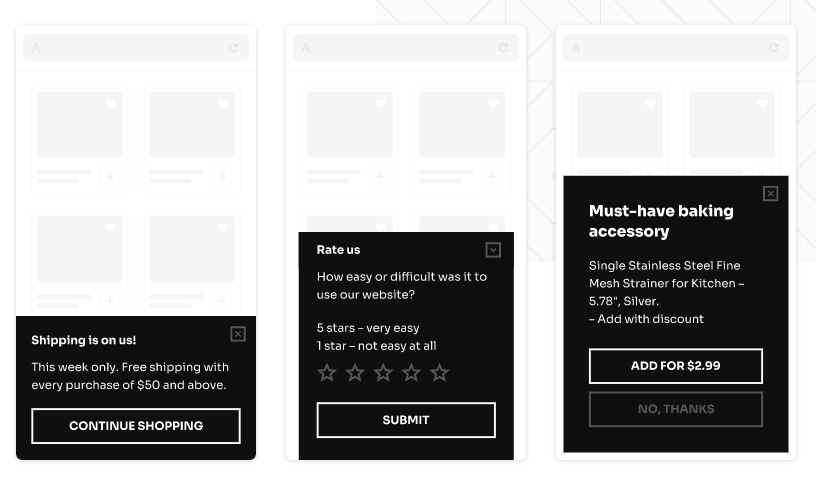 Email Subscriptions
One of the easiest and efficient ways to generate traffic towards your business and no one does subscription forms better than GetSiteControl.
You can prompt special deals, discounts, etc in exchange for an email. This helps you to grow your mailing list and boost sales as well as traffic into the website.

Moreover, these forms are designed in a very intricately smart manner. One of the tricks that you can use is the exit-intent technology that makes an effort to ensure that the email id is captured via a pop-up right before the website is closed.
This proves to be very helpful in reducing bounce rates and also in converting the visitors before they abandon the site.
The smart targeting feature-set allows you to display email signup forms to the right audience spot on. This can be done via bar format or slide-in format depending on what appeals to you most.

Easy to Get Started With GetSiteControl
You can customize the appearance of your signup forms, display personalized CTAs targeted towards a specific group, moderate the widget behavior.
The subscribe widget allows you to customize the look of the forms and multiple options to place them. You also get smart targeting features and set the behavior of the pop-ups such as scroll-based or time-based triggers or exit triggers.
The widgets are mobile-friendly and do not compromise on the quality of the content. Moreover, the installation process is outright fast.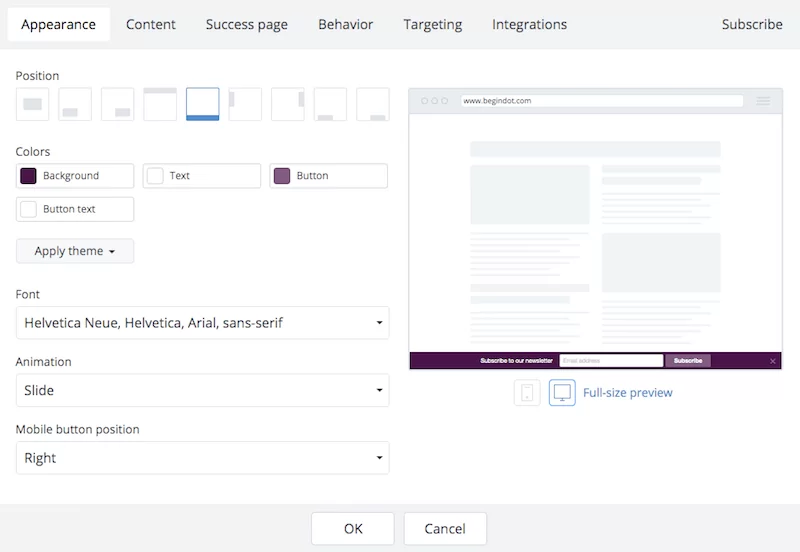 There is no involvement of special skills or coding knowledge. GetSiteControl also packs an auto-responder that comes to play in sending an automated greeting post successful signup and also built-in analytics to monitor performance based on geography, click-through rates, etc.
The reports and email data is easily downloadable in MS-Excel format. You can also integrate this widget with tools like MailChimp, Constant Contact, Campaign Monitor, Mad Mimi, AWeber, and 25 more email apps.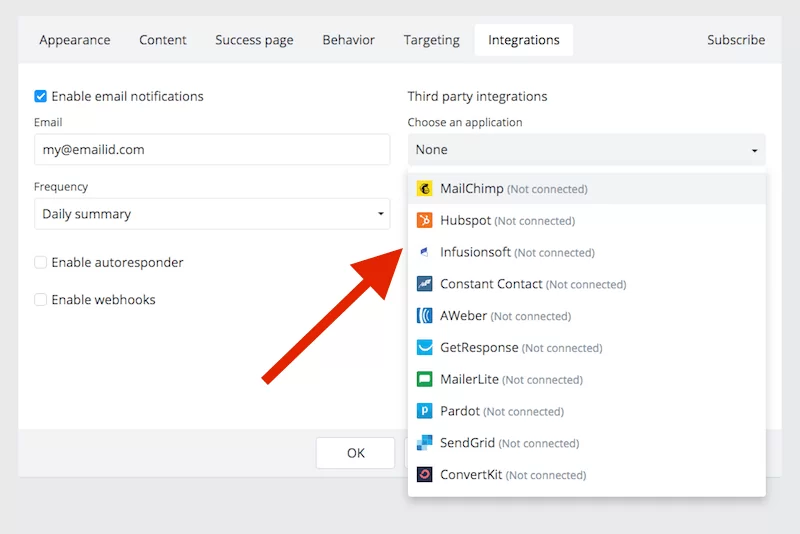 Detailed Targeting
GetSiteControl offers you detailed control to reach your specific audience. You can target different sections of your visitors depending on different parameters.
You have the option to target the visitors who visited at least 2 pages on your site or you can target the audience depending on the browser they are using as well as the device.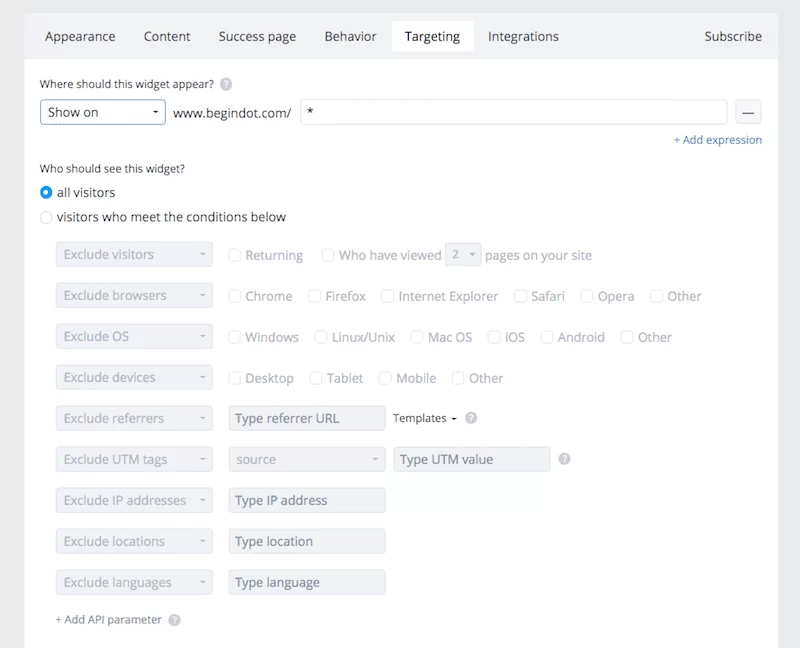 Promotional Offers
Promo Widget is the go-to widget when it comes to a Call-to-action pop-up that will take your customers exactly to the place they want to be (within the website).
You can create customized pop-ups, highlighting the latest blog that you have published, the important news or articles in the finance, health, education, travel or other sectors, the most exciting deal of your online store, so on and so forth.