Gone are the days when email was the only solution for collaboration and team communication. Team messaging apps of modern times are simplifying the way things work today. In the presence of top players like Slack and Microsoft Teams, new players like Flock are making their presence felt.
Why Flock?
Flock's interface is one of the best in the category. It offers you a right side pane, sometimes two different on both sides. This is where you will find all your pinned posts, added to the list of Flock's exclusive features.
Some of the top exclusive features included in Flock are easy task management and file sharing. At the very right edge of the app, you can see directories, notes, reminders, and so forth in Flock. On selecting one of the apps from the edge, the associated info appears in a secondary pane.
On clicking on Directory, users get to see a list of all the people added into their Flock account, on the very extreme left. The integrated new view of Flock won't cover the main view of all your active channels. This simplifies looking through the directory without learning any convo.
Many of the top selections on Flock are channel specific. This simply means that you will have to choose the correct channel for associating content for groups into the sidebar. There is also a drop-down menu at the top of Flock.
The service allows you to effectively open your human resource channel in the very main window. You can exclusively do that via the editorial channel. Though the service is quite confusing, you do get a ton of information on a single screen.
How Flock Can Help?
Flock is one of the most comprehensive solutions when it comes to team communication and collaboration software.
Here's how Flock can help your business.
Collaboration
After writing and posting a message on Flock, you can easily edit and delete them on demand. Users can pinpoint posts in a channel in an effortless manner. If you need to see any post or any of its authors, there is a quick button for that too.
Communication
On Flock, you can bring your team together to share ideas and discuss projects. The user can opt for either public or private channels to organize the conversations taking place on the platform. The user can use individual channels on the platform to focus on one team project. 
The user can do everything in real time on the platform, from sharing feedback to files.
Also, it has an in-app video and voice calling feature that empowers you to organize a meeting from anywhere and anytime. 
The platform is not only helpful for internal collaboration but also communicates well with external stakeholders. It supports the following two invitation types:
Team Members: To invite members of your organization 
Guests: To invite external stakeholders. 
You can obviously use Flock to chat and engage in voice and video calls. However, it goes one step ahead in communication convenience by supporting voice notes!
Other useful communication features of Flock are:
Direct messaging
Contact details of all the company members
Mailcast to email everyone at one go
Lastly, one has the freedom to go ahead and create a Me channel on the platform too. Create a Me channel exclusively for you if you want to have your private workspace.
Productivity
It is easy to get lost in chaos when a team works together. However, feel free to say goodbye to this problem now, thanks to Flock. 
Flock ensures productivity by providing the users with a platform to create to-dos. This to-do list is further enhanced with features like a discussion for the tasks, shared tasks and the ability to add due dates.
Also, while working on a project, it is essential to consider the ideas and feedback coming from the team. However, when the team size is large, it can become confusing to go for one single idea or feedback.
You can make an unbiased decision by creating polls on the platform. Post a question, create a poll, download the result, and decide. You can also allow your team members to vote anonymously too!
In a meeting, we often have to take notes. The platform comes with an in-app notebook which you can use to take notes, attach files and build tables. Further, feel free to format the notes as per your preference. You can keep the notes private or share them with the other team members.
Process Automation
Another way through which Flock guarantees productivity is through process automation. Using this feature, you can automate any process. Turning on the automated feature allows you to focus on the work that matters. 
This feature is handy to take care of repetitive functions of the work. It also improves productivity and provides faster resolution. The best part is that one does not need any technical skills to automate any process on Flock.
Video Conferencing
As most businesses are moving towards work from a home model, video meetings and conferences are becoming even more important. Flock comes with a comprehensive solution when it comes to video conferencing.
You can quickly start a video meeting with your team. You can share the conference link and users can join the meeting through any device.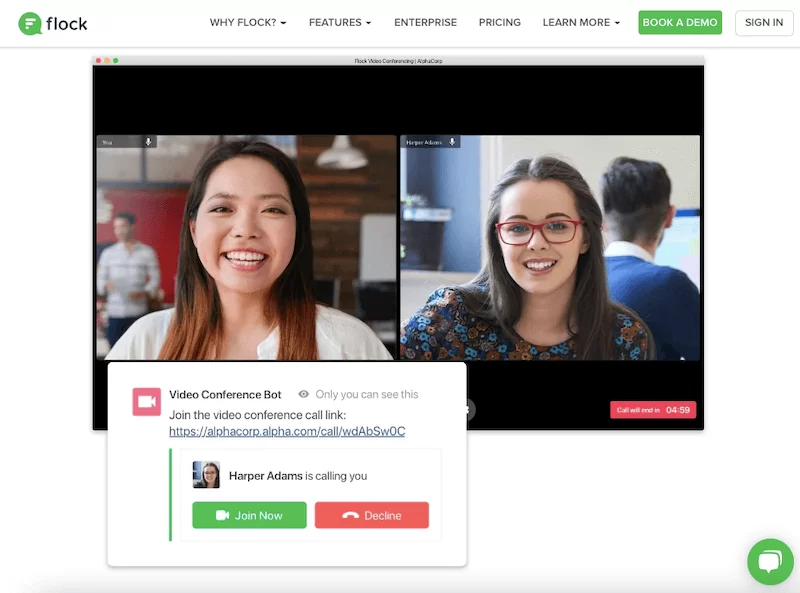 Managing Projects
Along with all the collaboration and other features, Flock comes with a number of handy project management features such as a collaborative to-do list manager, deadline reminders, and shared notes to help the entire team to be on the same page and make sure that the team never misses a deadline.
Flock also gives you the option to share files with your team, so the entire team can share the required files for a project and access them whenever they need to.
Double Sidebar
Flock's double sidebar feature is one of its USPs. It allows you to add layers in the form of tabs so that you can eliminate all kinds of confusion and hassles in collaboration. The app allows you to upload files and pinned texts across two communication tabs.
Integrations
Users get to connect other apps and services, such as Google Drive, Trello, Asana, MailChimp, Airbrake, and other popular business apps.