Elementor Cloud Website is a complete solution for creating a WordPress website and hosting it on Elementor's cloud servers (Powered By Google Cloud)
Think of it as a one-stop destination for hosting, SSL certificate, installing WordPress content management system, pre-installed themes, and Elementor plugins, everything provided in a single dashboard.
The Elementor Cloud plan only requires a domain name, and Elementor will handle all the rest. That means in just a few steps, you can go live with your stunning business website.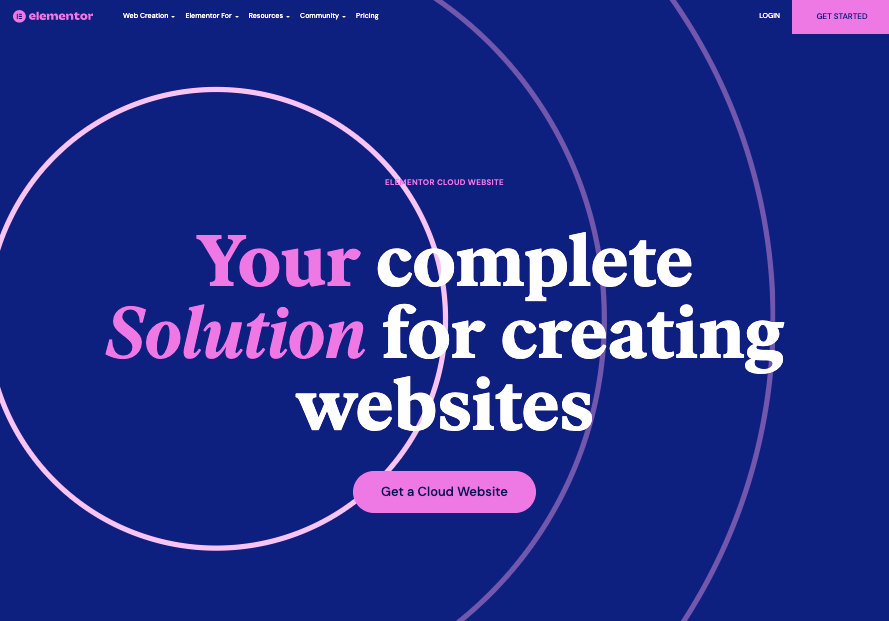 But how do I know if the Elementor Cloud Website is for me?
If you love designing with Elementor page builder and don't want to spend time on hosting-related things, you can try Elementor Cloud Website.
It takes care of all the server configurations, giving you all the freedom to focus entirely on what you love.
If you aren't convinced, start by looking at the features offered in the Elementor Cloud plan.
Elementor Cloud Website Features
Elementor Cloud Website offers many powerful features that are sufficient to create any kind of beautiful-looking business website. In this section, we'll try to highlight the features of Elementor Cloud in a detailed format.
With that said, let's dive deep into every feature.
WordPress Pre-installed
Once you sign-up and login into your dashboard, you'll find the option to Edit your WordPress website with Elementor. It comes with a pre-installed Hello theme, built especially for the Elementor page builder.
You're free to install popular WordPress plugins to increase the features of your website like WooCommerce, cache plugins, form plugins, and integrate with email marketing service plugins.
However, the Elementor Cloud Website restricts other page builders and some third-party plugins incompatible with the Elementor Pro plugin. That makes sense because they don't want you to install any plugin that breaks your Elementor website.
Custom Domain
Elementor Cloud offers you complete control of your domain name. You can move your existing websites to Elementor Cloud and connect your existing domain name to their Cloud hosting.
Contrary to other hosting providers available in the market, you don't get a free domain name within the Elementor Cloud package.
Cloud Hosting
Elementor Cloud hosting is a great choice for those who want the content management system benefits with Google's platform. That's a yearly price with no hidden fees.
With Elementor Cloud hosting, you get a generous capacity to handle 100K monthly visits, 20GB of storage, and a bandwidth of 100GB.
Shared hosting can be risky because if another website on the same server has problems, it could affect your website as well. Contrary to this, Elementor Cloud is set up for high bandwidth, so you won't have to worry about slow speeds.
Speed and Security
Elementor Cloud is based on the Google Cloud Platform, thereby offering world-class performance features just like Google's products. To further optimize the speed, Elementor utilizes Cloudflare CDN to serve content from servers that are located closest to the visitor's location.
Elementor Cloud hosting offers a free SSL certificate to encrypt web server requests and keep your data private.
Additionally, Elementor makes use of the IP protection features provided by Google Cloud Platform in combination with the Cloudflare firewall solution to protect your website from malicious phishing attacks.
Elementor Pro plugin
Within the cloud website plan, you get the Elementor Pro plugin worth $49 included, so there is no need to pay extra for purchasing a pro page builder plugin.
Besides, you can create stunning designs and use readymade Elementor templates that come bundled with the Elementor Pro plugin.
Email Services
Just like any other hosting provider, Elementor Cloud gives you the ability to send up to 100 emails per day.
That means you can create email opt-in forms and send submission emails, sales emails, and other event-related emails from your Elementor dashboard.
However, you need to sign up for a 3rd party email service using Office 365 or Google Workspaces to use your custom domain name for sending mails from personalized email addresses.
Getting Started With Elementor Cloud Website
Getting started with the Elementor Cloud Website is simple and easy. Once you buy the plan, you can go to your Elementor Cloud dashboard and click on Create a Cloud Website.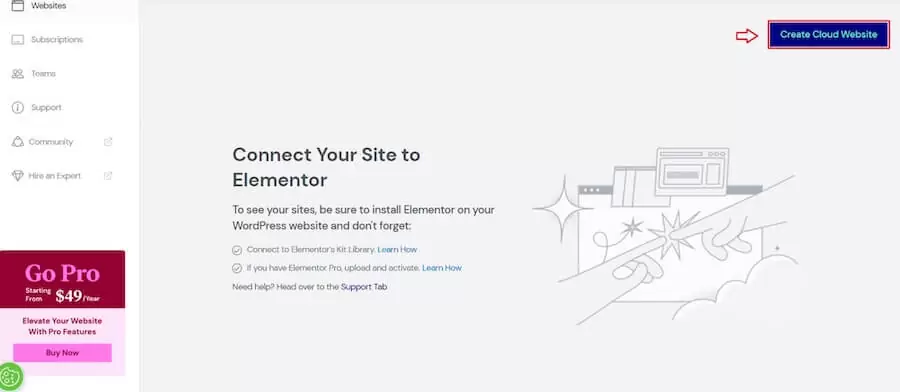 From the dashboard, you can manage all your cloud websites.
Connecting Your Domain to Elementor Cloud
With Elementor Cloud, you can use your own domain name. Either you can buy a new domain or use your old domain.
To connect your domain, you can go to your Cloud dashboard and click on Manage This Website on your website list and click Connect my domain to add your domain name.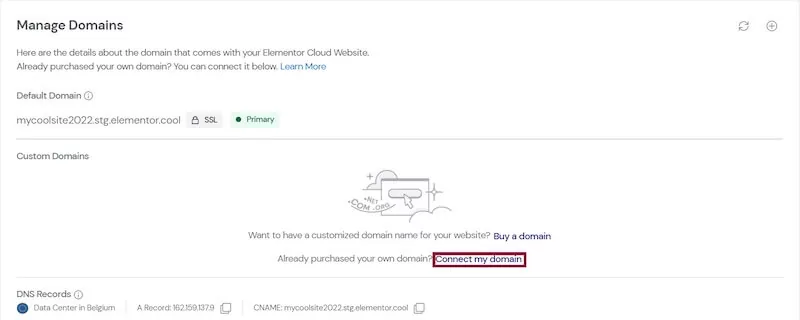 Now, it will open a pop-up window where you can add your domain.