Duda is a professional drag-and-drop website builder that helps you create high-performing websites. It is feature-packed with fast building tools so you can build websites that go live in just a few minutes.
Just like website building platforms like Wix, Duda offers you a plethora of stunning websites and designed sections that you can drag and drop into your editor.
You can also access their library of thousands of images and complete websites at a much faster pace as compared to WordPress.
Duda websites get hosted on AWS with maximum uptime and unlimited storage space. You can create eCommerce websites, membership sites, and apps on the go and scale them with your marketing efforts.
With that said, let's dive into more details and explore what this website builder offers.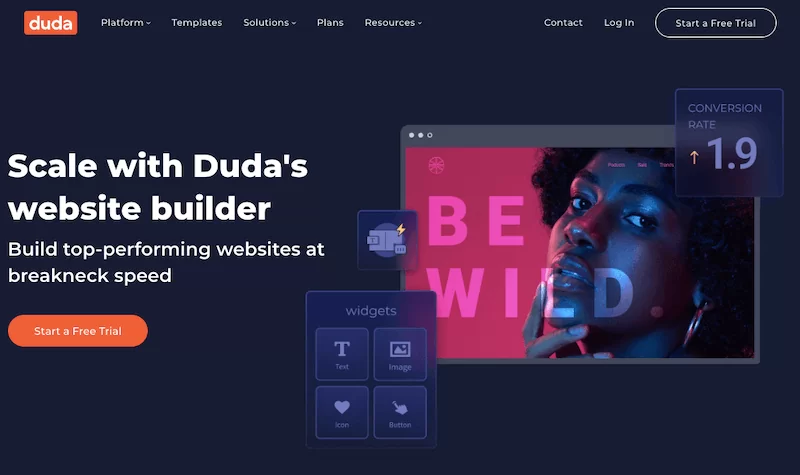 How Duda Can Help?
Duda offers robust features like eCommerce and marketing integrations, which makes it a good choice for web design agencies and designers.
Although the platform has plenty of features that cannot be discussed in a single post, let's understand more about Duda's core strengths.
Duda Website Builder & Simple DIY editor
Duda comes with a comprehensive drag-and-drop website builder that you can use to create a perfectly optimized website for your business. Also, if you are managing an agency, you can offer your clients a do-it-yourself website builder that is simple and easy to use.
Like Wix, you can build responsive websites in half the time with Duda's CSS Grid, Flexbox, and dragging web elements. You can easily duplicate created posts/pages and copy-paste the same layout to different pages of the site.
You can quickly drag and drop any element and edit the responsive design on the fly to check how each element of the page looks on different devices.
It also comes with schema and other SEO features to optimize your pages and make them rank better in search engines.
To engage site visitors, you can use formatting settings to add underlines, bold, and italics, and link the text/boxes to different pages on the website.
Beautiful Website Templates
Duda offers many readymade website templates that are easy to use and can be used for all sorts of businesses.
You get access to hundreds of beautiful, modern website templates that look great on any device. Furthermore, you save a lot of time by using Duda's predesigned sections. These look great on any type of site, and you can edit them with just a few clicks.
Additionally, Duda makes it simple to show your clients different web design options and get instant feedback. This helps you lower the conversation churn rate.
Hosting and CDN
Duda hosts all websites on high-performance AWS cloud hosting with unlimited bandwidth and storage capabilities. As far as the security is concerned, your website is SSL secured and protected from any type of malware and phishing attacks.
Duda's API enables you to automate workflows such as website creation, publishing websites, and pushing content from outside sources (e.g., CMS, billing tool, directory) into the new website. It eventually helps create business websites at scale or speed up the development process.
eCommerce
Just like any other website builder, you can create eCommerce stores and product-selling websites with Duda. It comes with a built-in eCommerce solution for listing products, managing product pages, offering discounts, maintaining inventory, and managing delivery zones.
Duda also gives you access to all the features required for running email campaigns and selling downloadable assets like software files, images, audio, and videos.
With Duda, you can launch your eCommerce site quickly and start selling your products. Your eCommerce store will be well protected to make sure that your business is safe.
It comes with over 40 different payment gateway integration options to offer you a comprehensive solution to receive money from your customers.
With powerful features like..
Duda will make sure that you can sell more and increase your revenue.
Client Management
If you're an agency that spends a lot of time interacting with clients, then Duda can help you enable real-time dialogue with clients from within the website editor. It helps you save a lot of time from to and fro conversations and maintaining long email threads.
You can directly comment on specific elements and chat about the changes needed. Besides, there's also an email notification triggered every time there is a new comment, which encourages a quick response in real-time.
Duda also enables you to provide specific area access to clients and teammates to boost productivity and make necessary changes on their own.
App Store Integration
With Duda's Appstore, you can easily add apps to cater to client requirements. These apps are deeply integrated with Duda's platform to enrich website functionality quickly and effectively.
Adding an app is easy, and you can add it from the Duda editor. Some common apps include HelloBar, FireWork, Image Hotspot, Google Ads, Search Console, Google Reviews, and many more.
Duda Client Billing Solution
If you are managing an agency and designing your client's website using Duda, you can manage all the billing-related updates right from the dashboard.
It comes with a white-labeled solution so that you can use your own brand details while you manage and interact with your clients.
With Duda's client billing system, you can manage one-time payments as well as recurring payments for your business.