Bitrix24 can help a business by automating some of the core processes like sales and marketing and make it a lot easier. It is a simple and easy platform to get started.
How to Use The Bitrix 24 CRM?
Bitrix 24 is one of the easiest and simplest to use customer relationship management software available out there.
The process of setting up the software and customizing it as per the requirements is pretty simple and takes hardly any effort.
And yes, the process is quite similar to setting up any other CRM software. Just follow the steps below.
01. Setup Your Account
First of all, like in many other CRM providers out there, you have to set up your Bitrix 24 account. The setup is very simple and hardly takes up a few minutes.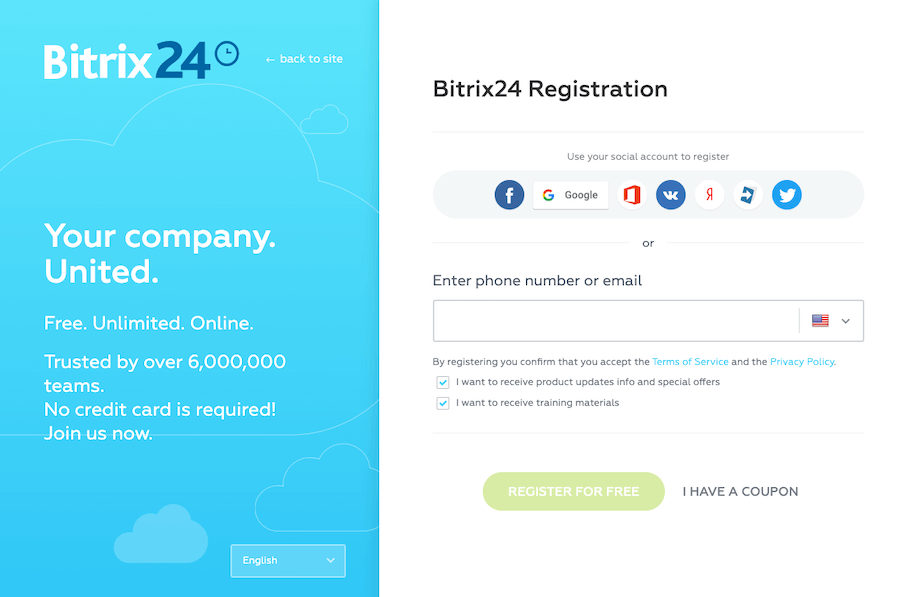 02. Add Users
This is the most common step in setting up any customer relationship management software.
Here, you add your team into the software and create a common workstation for your team.
Add your colleagues, partners, and all those people you want to include in the overall customer management process.
Bitrix 24 also provides the feature for all users to switch to another interface language, in case if they need to.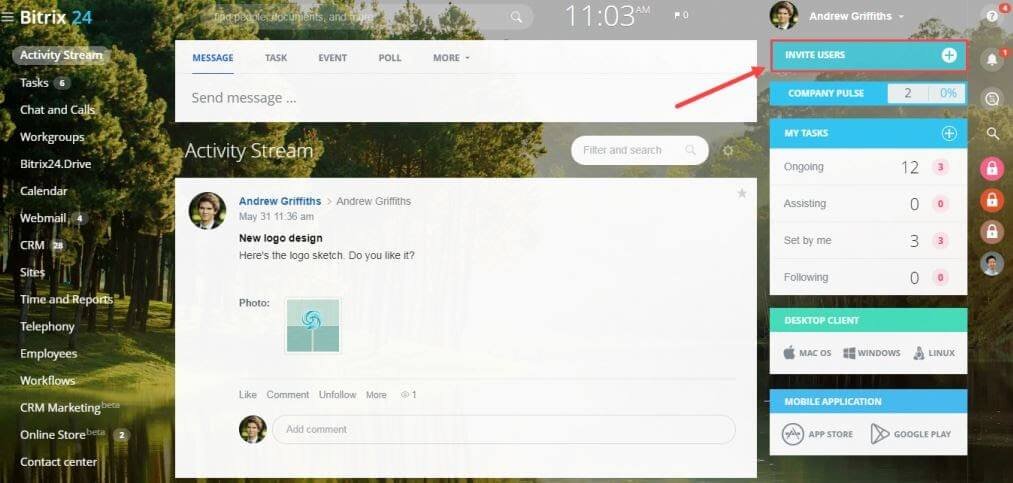 03. Create Workflow
This step is the setting up of the workflow that you follow. Customer relationship management software creates a pipeline according to your working structure.
This is where you create also those specific fields in your CRM pipeline that match your actual selling process. Make sure your team knows the process that is being followed and your CRM pipeline matches the real selling and management process.
04. Create Tasks
Additionally, Bitrix 25 CRM allows you to create tasks, workgroups for handling sub-tasks, create schedules in the company calendar.
Unlike in many other CRMs, Bitrix 24 also helps you organize your document library with the help of a common document library feature. Creating and managing events is also possible in Bitrix 24.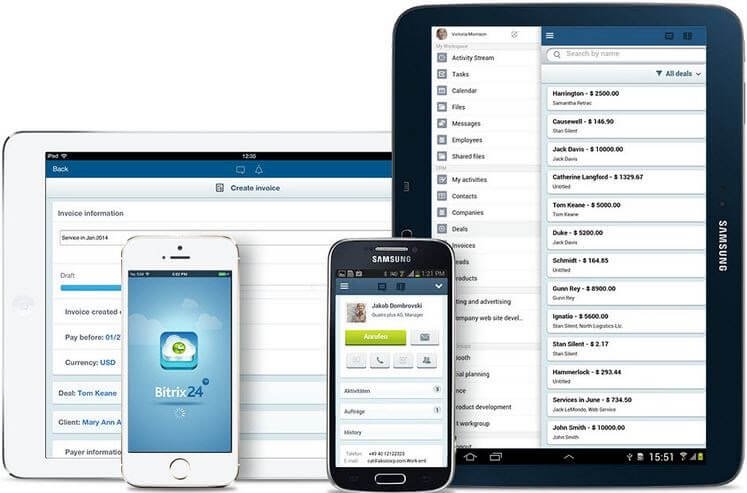 05. Create a Custom Dashboard
Now, finally, here you get to customize and create your dashboard. The most common practice you can apply here is placing the most used features and tools at the forefront.
Also, BItrix 24 allows you to configure the access permissions for different access levels and workgroups. Also, you can configure the worktime configuration of your CRM.
06. Overview of Bitrix24 CRM features
Bitrix24 offers a lot of different CRM features that altogether help your business and sales perform better.
Some of the most important and noticeable features of this CRM include:
07. Email Marketing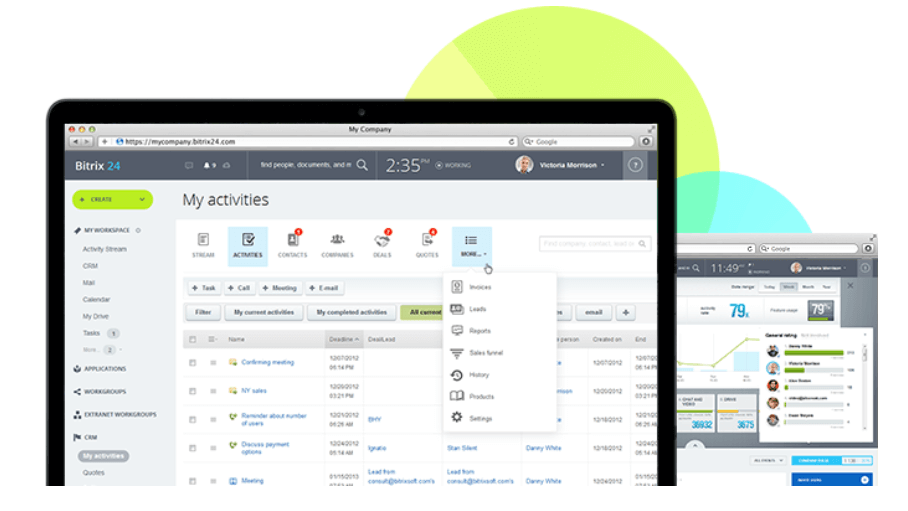 Bitrix24 is a free CRM that offers you an email marketing option. The free plan has a limitation of 12 users and 5GB storage.
You have the option to integrate MailChimp for email marketing.
The iOS and Android offered by Bitrix24 will make it easy for you to manage your business on the go.
08. Calendar Sharing
Sharing tasks and assignments, as well as time bounds for them becomes much easier with Bitrix24's calendar sharing feature. You can create a time-specific task, add members to the task and monitor the progress.
09. User Profiles
Creating and managing user profiles for all customers becomes much easier with the user profile feature of Bitrix24.
10. Repeat Sales and Manage Subscriptions
You can actually keep track of your recurring deals, repeat leads, repeat deals, manage high recurring sales, manage recurring invoices and so on.
11. Integration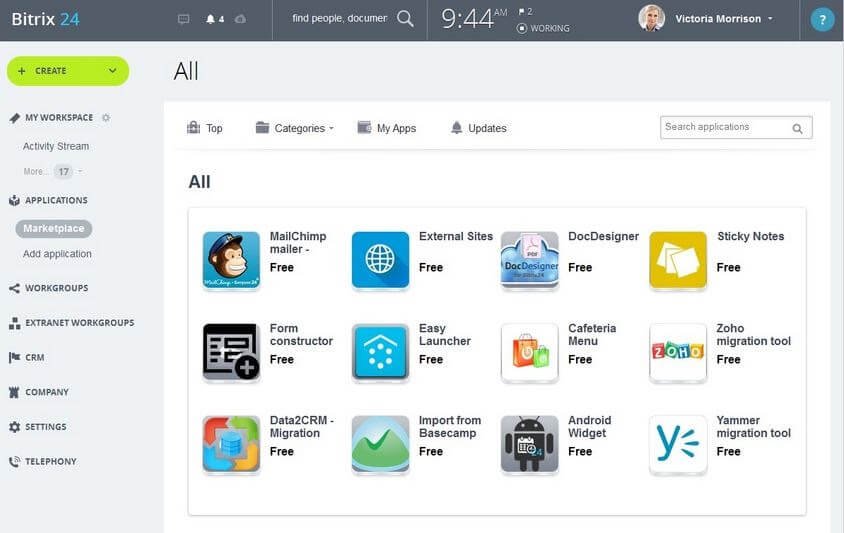 Bitrix24 allows you to integrate a ton of unique tools and applications, which can be integrated with the Bitrix24 software to increase the overall productivity and to increase the workflow speed.
Apps like MailChimp, Slack, Skype, Office 365, Zapier, Quickbooks, Google Drive, and Xero.
12. Contact Center
Communication through the software becomes way easier with the contact center feature.
You get a common platform for doing chats and task-related conversations with Bitrix24.
13. Advanced Reporting Feature
Bitrix24 offers you a set of amazing tools to monitor all your major activities, such as lead generation and management reports, deal reports, sales, and overall business reports, custom user-generated reports, and overall activity reports as well.
14. CRM Permission Management
Bitrix24 allows you to manage access levels of all your users and workforces. You can set role-based permissions, you can set automatics client routing, and also set rule-based lead distribution with Bitrix24.
Pros and Cons of Bitrix24
---
Pros
Cons