The BigCommerce user interface is designed to be both user-friendly and powerful. It provides users with all the tools they need to manage their online store, including an easy-to-use drag-and-drop editor, a powerful product catalog manager, and a robust order management system.
The BigCommerce user interface also includes a number of built-in marketing tools that allow merchants to quickly and easily create effective promotional campaigns, such as discount coupons, email marketing tools, promo codes, and much more.
In addition, the BigCommerce user interface also includes built-in visibility features that help merchants manage their online store's appearance on search engine results pages (SERPs), including SEO tags like including SEO tags like meta keywords and meta descriptions, as well as one-click integration with Google Analytics for comprehensive website tracking.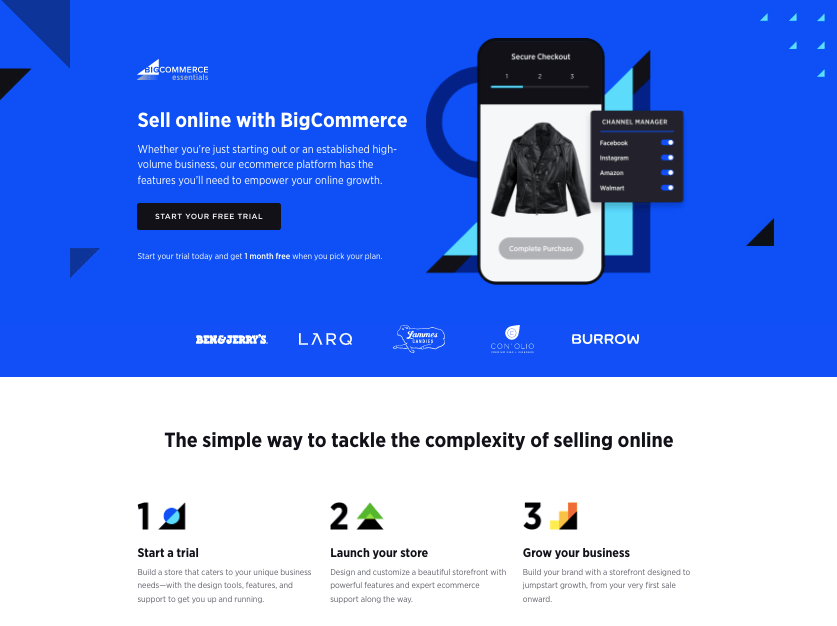 BigCommerce Omnichannel Solution
BigCommerce is truly a cross-channel platform that offers you various marketplaces to increase your customer base. It allows you to integrate with popular marketplaces such as Amazon, Walmart, eBay, Etsy and more.
You can even try to enhance your store's social media presence by integrating Facebook, Pinterest, and Instagram. Besides, it enables you to switch between storefronts with a single user login.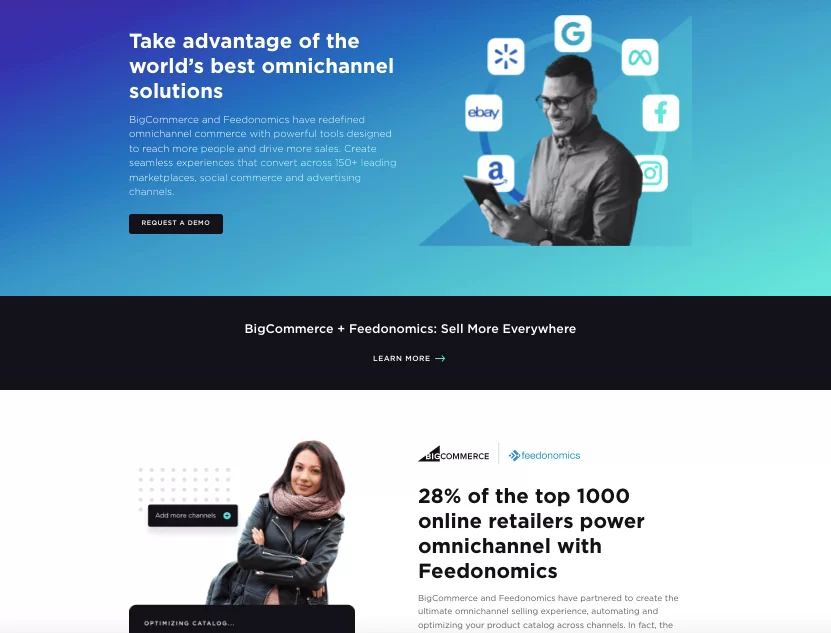 Abandoned Cart Saver
Every e-commerce platform has to deal with card abandonments, but BigCommerce lets you increase revenue by little email efforts.
It sends three automated follow-up emails to users who've left their cart without purchasing in your store. It's worth mentioning that this feature is available only on its Plus, Pro, and Enterprise plans.
BigCommerce Multi-Storefront
BigCommerce helps you to go international by creating a multi-storefront so that you can sell to international users.
It helps you with content localization to cater to different geolocation. Along with that, you can also customize the product catalogs to make them suitable for different geolocations.
While other e-commerce platforms will direct you to third-party apps to apply numerous currencies to your store (over 100 different currencies), BigCommerce facilitates automatic currency conversion based on the user's IP address.
BigCommerce also offers multi-language support.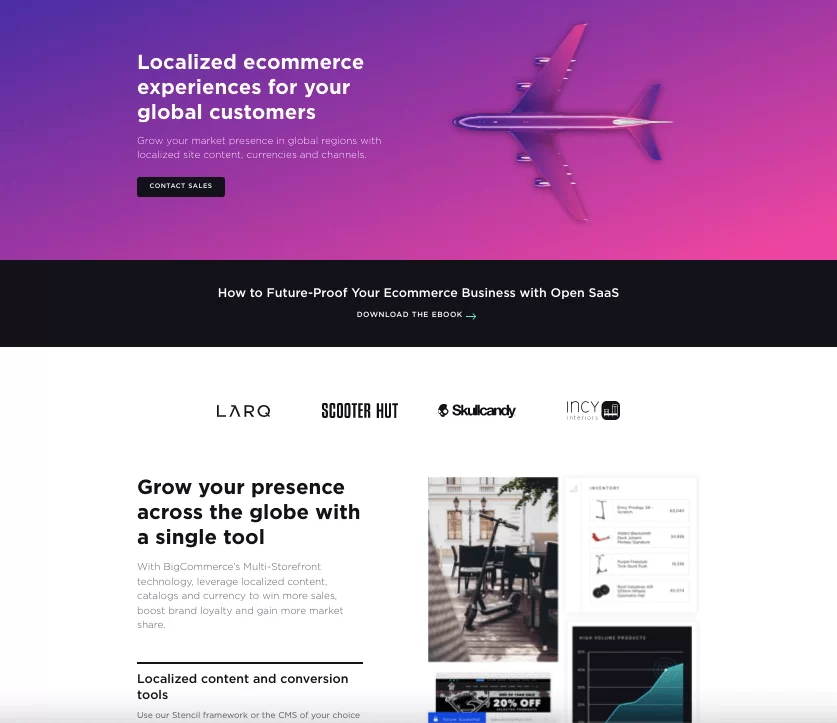 Themes and Templates
To make your store look stand out, you need to rely on beautiful themes and templates, and thankfully, BigCommerce has got a handful of them. It comes with an option to use free themes and over 100 paid themes. Each of its free themes is responsive to any device.
Besides, if you're searching for a particular theme in your niche, its advanced search and filter functions will make it easier for you.
You may look for a theme based on your niche.
A Hosted Secure Solution
Hosting is a very important aspect of any online business. When it comes to eCommerce, it becomes even more important because if your site doesn't perform well, you will surely lose customers and revenue.
BigCommerce is a high-quality hosted solution with multiple security layers to make sure that your business performs at its maximum potential and it is secure.
With BigCommerce, you won't have to rely on other third-party security services as it does an excellent job in providing a reliable, safe network.
It complies with PCI DSS and provides SSL encryption with every plan. It ensures every card transaction in your store is secure. Besides, you also get a 99.99% uptime guarantee and a backup and restore facility.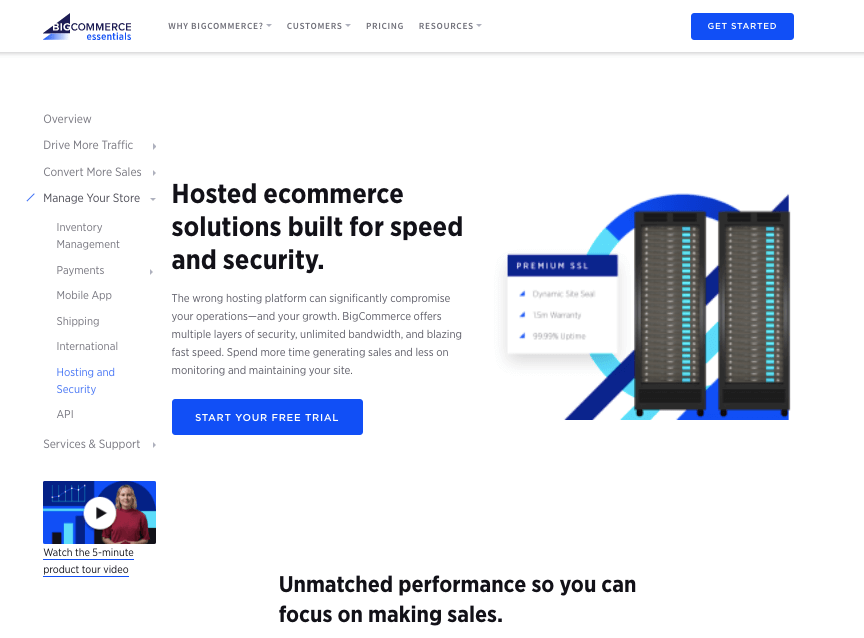 BigCommerce App Integrations
BigCommerce comes with a complete marketplace of third-party apps that you can use for your store as per your need.
You can look for apps based on your requirement, you can filter using the category of apps.