AffiliateWP is one of the best affiliate management plugins to create a fully-featured affiliate program easily. It is an easy-to-use affiliate plugin that gives you robust affiliate tools to grow your business.
You can manage your affiliates, payments, referrals, and more directly from your website. All the features of AffiliateWP are crafted to adapt with WordPress to give you an easy and familiar experience.
With the plugin, you get accurate and reliable data. In addition, the plugin seamlessly integrates with Easy Digital Downloads and supports WooCommerce and all the other popular plugins to build your business and expand your earnings.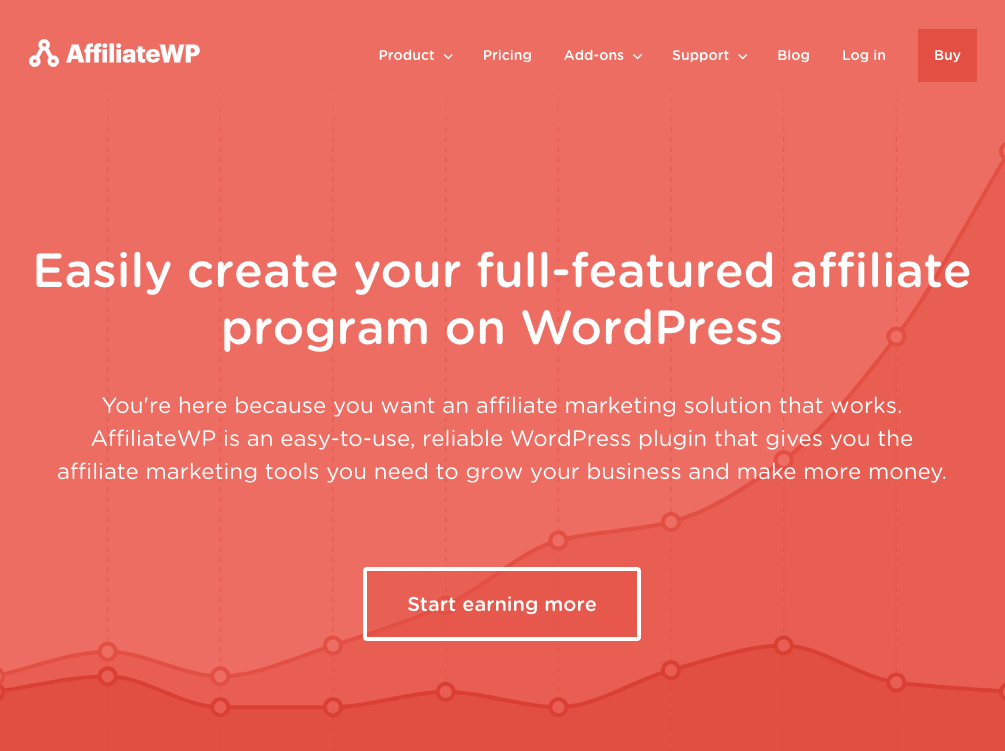 Furthermore, the dashboard is easy and intuitive. You can run an unlimited number of affiliates actively promoting your site, products, and programs. Besides all the essential features of the affiliate plugin, it is also developer-friendly, giving you plenty of hooks and templates to add custom functionalities.
Getting Started With AffiliateWP
AffiliateWP is easy to configure and use. The interface of AffiliateWP is designed completely for WordPress with an interface that is similar to WordPress.
Your affiliate program will be up and running in minutes. All you need to do is install the plugin and activate it, and you are all set to go. You can set it up with its user-friendly interface.
There are in-built integrations that you can manually select and enable from the settings. We have covered a separate section on add-ons and extensions in the next section.
Additionally, from the AffiliateWP settings, you can configure the email settings directly from the Email tab in the settings.
Creating affiliate area:
The affiliate area refers to the section where people can see the login form and registration form. From this page, users can apply for affiliate programs on your site and the already signed up users can track the referrals, conversions, and more.
Once you install the AffiliateWP plugin, it will automatically create an affiliate area for your site. However, if you do not see the affiliate area, you can manually create it using the shortcode.
The affiliates can generate affiliate URLs through Generate URL link. Additionally, when you click on the statistics option, you can see the complete statistics of the affiliate program. This includes visits, conversion rates, unpaid and paid referrals, commission rate, paid and unpaid earnings, and more.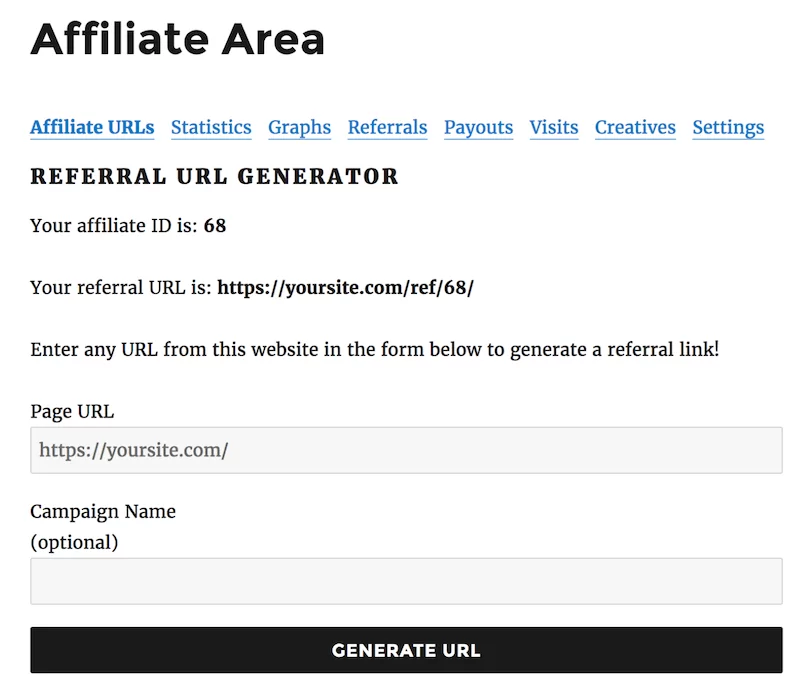 If you want to view a graphical representation of your statistics, click on the graph option. Similarly, the referrals option gives you a deep glance over the affiliate referrals.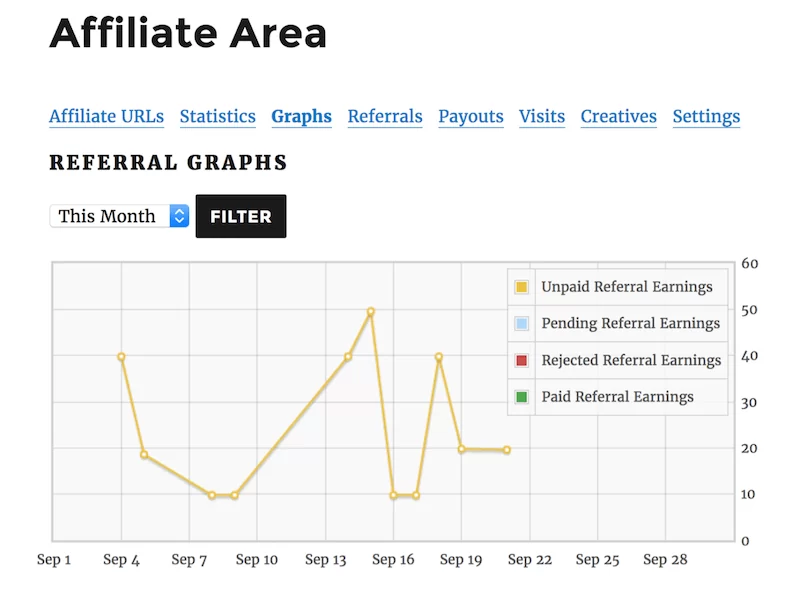 For sending commissions to the affiliates they earn, they can add the payment email from the Settings tab.
The interface of the affiliate area is extremely simple and easy to understand. Your affiliates will love the Affiliate area interface giving them easy and quick access to the settings and data.
Managing Affiliate Programs
As mentioned below, AffiliateWP provides an easy-to-use yet intuitive user interface. You can manage your affiliate program easily, irrespective of your prior experience.
You can see a complete report, manage referrals and visits, add, edit, review affiliates, and more. You can manage and configure the admin option with AffiliateWP easily.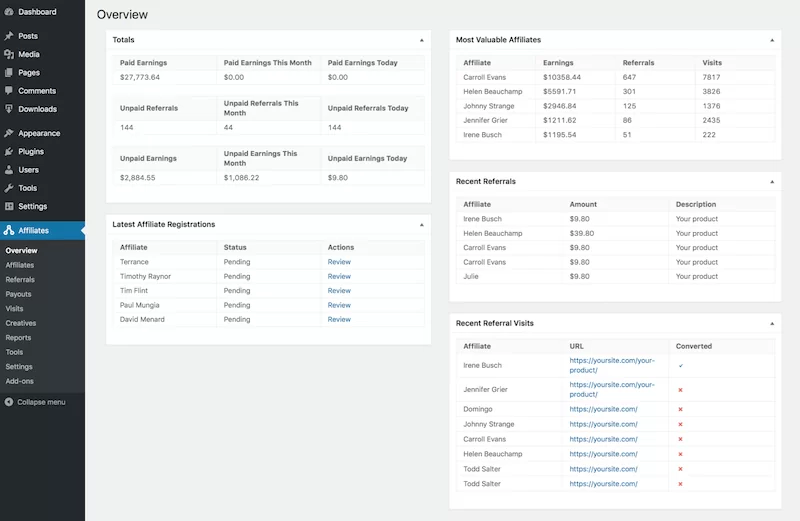 You can go to the Affiliates > Overview. In this section, you get a glimpse of unpaid referrals, earnings, attest affiliates registrations, recent referrals, and more. Next, you can add new referrals, list of total affiliates, edit, and more by going on Affiliates > affiliates.
Managing your affiliate program is similar to WordPress standard posts. If you are used to the WordPress interface, you will find zero difficulties managing your affiliate programs.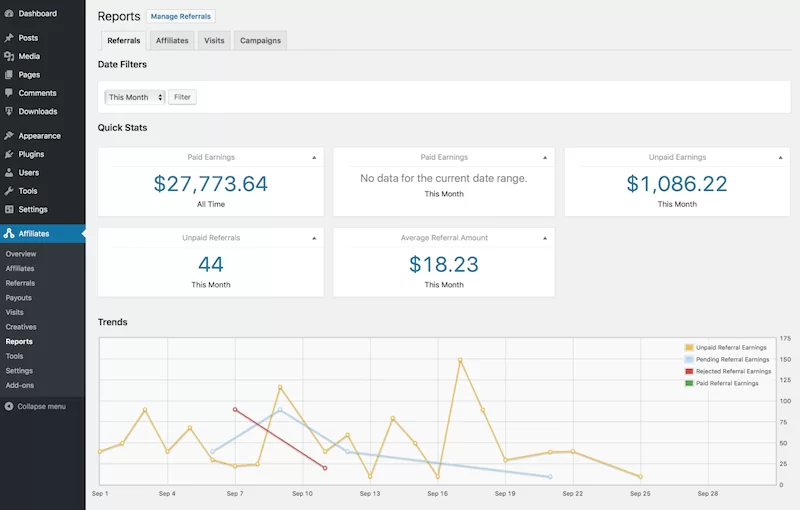 If you are a developer, AffiliateWP is hugely easier to use for you. Irrespective of your user experience, you can enjoy AffiliateWP and its excellent functionalities.
AffiliateWP Addons & Extensions
Although AffiliateWP offers excellent features to get your affiliate business running online, it adds additional spark by giving you access to add-ons and extensions. To increase the functionality of the plugin, you get plenty of add-ons.
All the plans include official free add-ons. These free add-ons include:
Affiliate QR codes.
Blocks.
Starting Affiliate ID.
Affiliate Area Tabs.
Affiliate Info.
External Referral Links.
Allow Own referrals.
Show Affiliate Coupons.
Allowed Products.
Leaderboard.
Signup boards.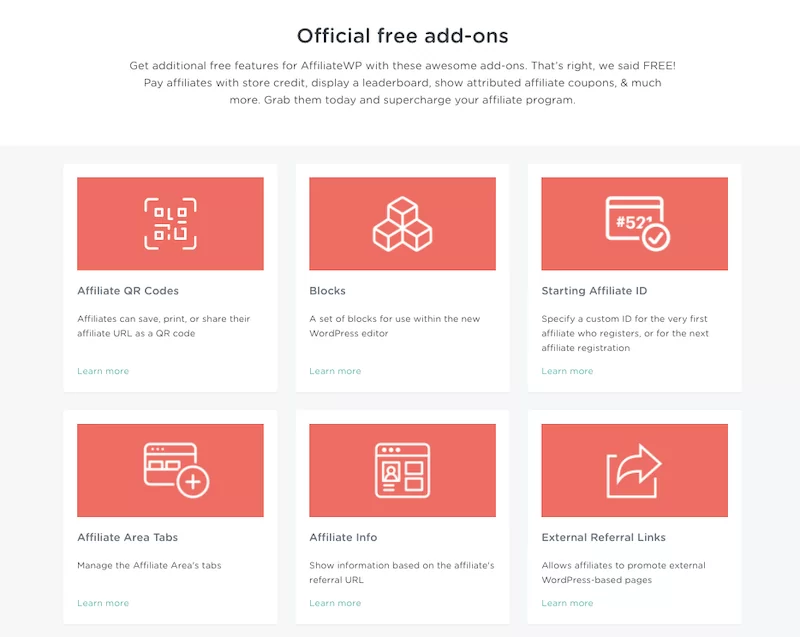 And the list goes on for the free add-ons and extensions. However, if you pick the top-tier plan, you can access 15 professional add-ons worth $900. The professional add-ons include:
Zapier for AffiliateWP.
Direct Link Tracking.
Custom Affiliate Slugs.
Affiliate Forms for Ninja Forms and Gravity Forms.
Lifetime Commissions.
Pushover Notifications, and more.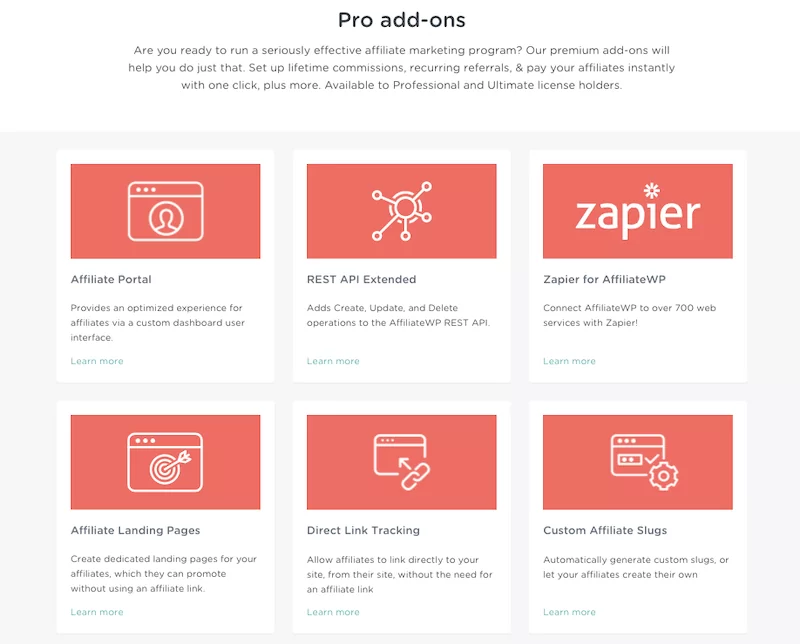 Note that you cannot purchase official AffiliateWP add-ons individually, but various third-party affiliate add-ons can be purchased individually.
In addition, AffiliateWP is developer-friendly, meaning you can tweak and make changes as per your needs through hookup and custom templates. With all the add-ons and extensions, you are bound to get maximum functions to the plugin.
Conclusion: Is AffiliateWP Worths the HYPE?
There is no doubt that AffiliateWP is one of the best affiliate plugins in the market. The plugin brings all the powerful features to boost your SEO, increase your sales, and give a kick-start to your business.
You get an all-in-one solution with AffiliateWP to run your affiliate programs with ease. If you want to run an affiliate program on your WordPress site, you can grab AffiliateWP.
We strongly recommend AffiliateWP as it comes with affordable pricing, brings you all the robust features, and is ideal for beginners and developers as you can manage and create affiliate programs without a single line of code.
We hope our AffiliateWP Review helped you to get a clear glimpse of the affiliate plugin. What are your thoughts about AffiliateWP? Let us know in the comments section below.