Modern business trends are all about marketing rages. Users and customers have to hear this rage all day on all kinds of devices. This essential list of podcast statistics will definitely give you the competitive edge you need.
Podcasts are the talk of the town across the global marketing world. Entrepreneurs of all kinds and types are making use of podcasts for promoting their platforms, services, and products across the internet.
You must have considered it for your project as well, right? Marketing experts these days are advising all kinds of promoters to add podcasts in their complete marketing strategies without a fail.
What is a Podcast? An Overview
Before just diving into the ocean of numbers, let's take a look at just exactly what podcasts mean.
Podcast, in a very brief introduction, is a form of an online audio broadcast. The best part about podcasts is that the listeners can get insightful information and a lot of data about almost anything from anywhere, anytime, using any kind of device.
One of the key factors owing to the popularity of this new and trendy marketing tool is that most listeners integrate listening to podcasts with their daily activities such as working from home, working out at the gym, etc.
The elimination of all the visual elements from the setup makes a podcast easier and much more feasible for promotions in the contemporary, busy world.
So, without any further ado, here we start with the list of the podcast statistics you should know about right now. These statistics will help in realizing the power of podcasts as well as creating a perfect podcasts strategy without a doubt!
01. 65% of All Podcasts Listeners Use Portable Devices Such as Smartphones
While you might be thinking that podcasts listeners are just those geeky people who use their PCs or heavy laptops to tune into their favorite podcaster, most listeners use their smartphones, tablets, and other portable devices for listening to their favorite podcasts. Mobile apps have changed everything, including the way podcasts are being heard across the globe.
According to a study, computers and laptops are the go-to podcast device choice for just one-quarter of all podcast listeners across the globe. The number is estimated to only increase in the future.
02. 6 Podcasts Per Week: This Is the Average Number of Podcasts Listeners Tuning in per Week
According to a report, podcast listeners across the globe tune into 5-10 podcasts during the course of a week. This is the stat concerning the hardcore, full-time podcast listeners across the world.
However, the stats are quite different for the casual and occasional podcast listeners. Around 50% of weekly podcast listeners consume around 1-3 different podcasts per week, while there is also a 12% of the podcast listeners population who stream around 11 or more different podcasts per week.
03. What Percent of People Are Aware of Podcast?
The best part here is that the number has only increased from 70% in 2019. The concept of familiarity does not necessarily mean that the respondents have listened to any kind of podcast, or even really know how a podcast works. This 70% includes the people who are exposed to the term "podcast" in some way or the other.
75% of All US Citizens Are Familiar with the Concept of Podcasting
As the popularity of podcasts is growing, the familiarity is becoming steadily visible in entire general conversations all around the world. The familiarity of podcasting is booming at a rapid pace in 2020 as more than ¾ of all Americans are now aware of the term "podcast".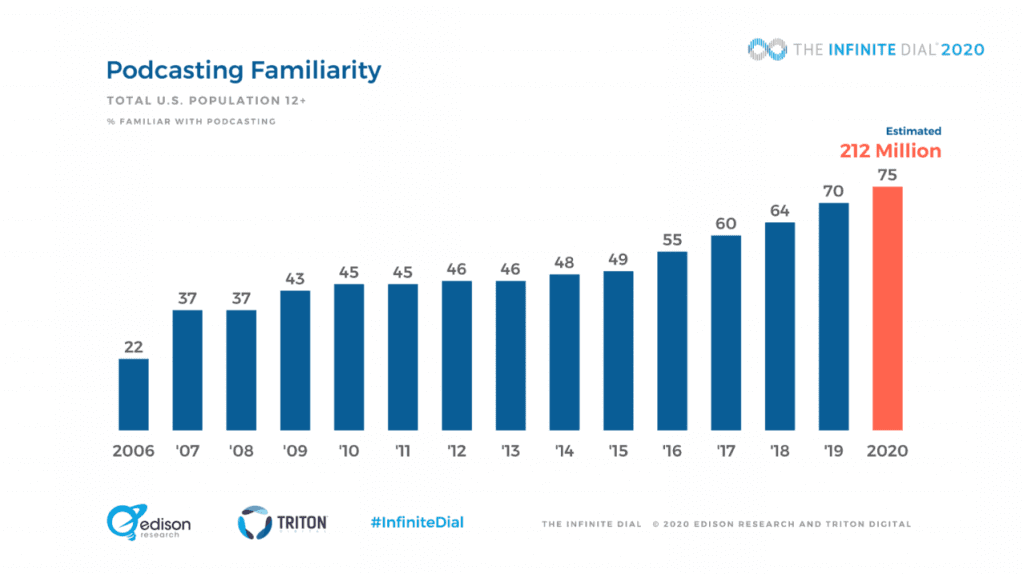 04. Which Are The Top Podcasts to Follow?
Since the inception of podcasts, one of the most popular podcasts has been "Serial". It still gets listed as one of the top podcats to listen to. There are a number of other popular podcasts such as "The Joe Rogan Experience", "The Daily" by the New York Times, "This American Life" etc.
Here is a detailed chart of top 30 podcasts followed by the Americans. (As of August 2020)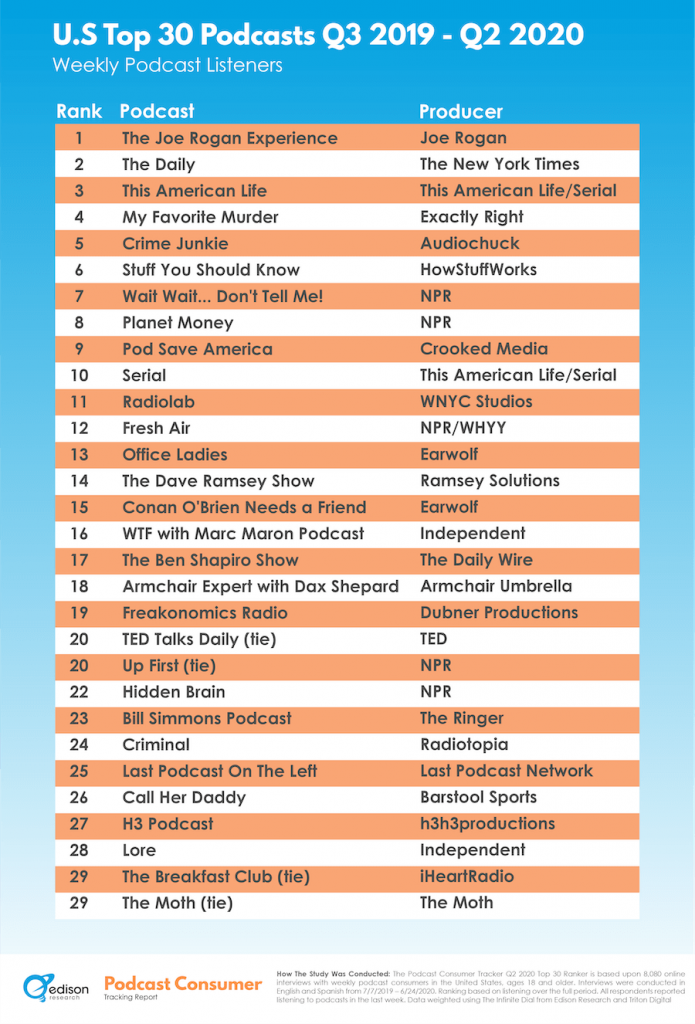 05. Out of All Podcast Listeners, 80% Either Have a College Degree or High-School Education
According to a recently conducted study, it was found the majority, 80% to be precise, have higher education. Getting deeper into the stat, we see that 27% of all those have some kind of college degree with themselves.
Out of those, 25% have a four-year college degree and 28% have attended a graduate school or have an advanced degree with them. On the other side, only 20% of all podcast listeners have a high-school or less level of education.
06. How Many Podcasts Are There in the World Right Now?
This is one of the most commonly asked questions, "How many podcasts are there in the world right now?" The real answer is the number is rising every day.
As of the last count conducted in January 2020, there are over 850,000 active podcasts all over the world. Also, there are over 30 million active podcast episodes.
There Are Over 850,000 Active Podcasts across the Globe
The number is very crucial to understand the growth of podcasts as the number of active users in February 2018 was just 500,000. The two-year jump is evident to understand the future trends of podcasts across the marketing and generic market.
Experts have stated that this fact defines the current popularity of podcasts in the mainstream market.
07. 54% of All Podcast Listeners Are More Likely to Buy from a Brand after Listening About It on a Podcast
Studies have shown that around 54% of all podcast listeners are either directly or indirectly linked to buying a brand after hearing about its advertisement on a podcast.
This fact might turn a lot of heads towards starting a new podcast, but the real fact is that simply starting a podcast to boost your brand's awareness isn't all that you need to boost your sales.
The core of a successful podcast remains the same, a good and strategized promotional plan for your podcasts.
Also, another fact remains that around 43% of all podcast listeners discover new shows by asking around on various social media platforms, forums, and online communities.
This is also followed by mouth publicity, social group promotions, and browning through various podcast app directories.
Also, another fact related to this is that podcast listeners are more likely to follow brands on various social media sites after listening about them on podcasts.
08. 58% of All South Korea Listen to Podcasts: One of the Highest in the World
The listenership of podcasts is booming extensively across the globe. More than half of the population of South Korea is increasingly becoming addicted to podcasts slowly and steadily.
Every two out of three Koreans are fans of one or the other kind of podcast from all across the globe.
58% of the complete Spanish population are die-hard podcasts listeners, another highest population of podcast listeners across the globe.
The spread and popularity of podcasts in countries like Spain, South Korea, and Australia are believed to be the reason for podcasts being a popular choice of marketers of tomorrow.
09. 97.7% of All Podcasters Agree on the Fact that High-Quality Podcast Content Is Very Important
Quality of the content has always been the core and spine of all kinds of content in the marketing world. According to a recent study, 97.7% of all podcasters have agreed on the fact that the quality of the content is a huge concern and a factor for podcast success.
It is believed that regular posting of high-quality content enhances the listenership of a podcast to a very large extent.
Bottom Line
Podcasting is here to stay for a very long time. These stats are highlighting the rise of podcasts as an important and vital part of marketing strategies for brands, entrepreneurs, services, and ventures across the globe.
The key here is to have a proper plan for developing high-quality content for your podcast. Make sure you add podcasts into your marketing strategy for comprehensive success.