Instagram is among the most popular social media platform that you can use to get updates from your family and friends as well as an important platform for businesses.
If you are not using Instagram for your business as of now, here's some Instagram Statistics you should know about.
The once photo-sharing app has now broadened its horizon towards targeting audiences for brands as well. Simply put, if your brand isn't on Instagram, you're not discovering your brand's true potential.
To make sure you and your brand are working in the right direction, we have compiled a list of Instagram statistics you should know before marketing on the platform.
Let's get started!
01

. Active Instagram Users 
As one of the most popular social media platforms, Instagram crossed the figure of 1 billion monthly active users. In terms of users on social media, only Facebook and YouTube are ahead of Instagram. Among daily users, you'll find over 500 million actively participating on the platform.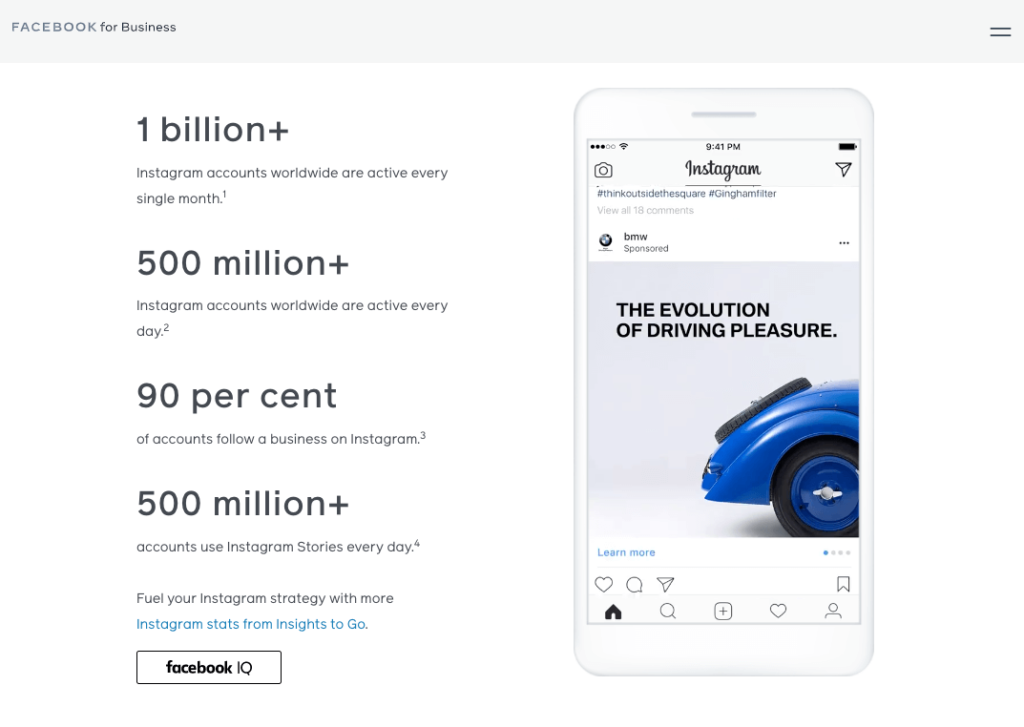 02

. Countries Wise Instagram Audience 
When it comes to using Instagram, India is the leading user with over 180 million active users followed by the USA at 170 million. Then comes Brazil 110 million, Indonesia 93 million and Russia 61 million.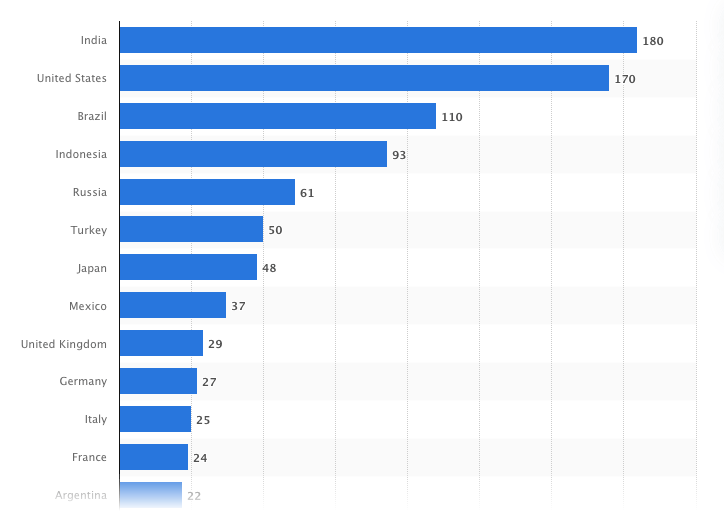 03

. Instagram Hashtag Usage
According to research done by Hubspot, an average Instagram post contains 10.7 hashtags. From brands to influencers, the use of Instagram hashtags for better reach has been increasing every day. 
These hashtags help your brand/post reach a particular target audience and increase engagement for a better brand image.
04

. Engagement on Instagram
Compared to Facebook, Instagram has a better rate of generating engagement. Instagram gets 23% more engagement than Facebook. This statistic is important for brands who want to interact with their audience on a daily basis.
05

. Age Wise Distribution of Instagram Users
If you want to target the youth for your brand, Instagram can be a perfect choice. As per research, more than two-thirds (71%) of Instagram users are under the age of 34 years.
Instagram is filled with 34% of young adults between the age of 25 and 34 years. This statistic will help you get the best out of your Instagram content and hashtags research.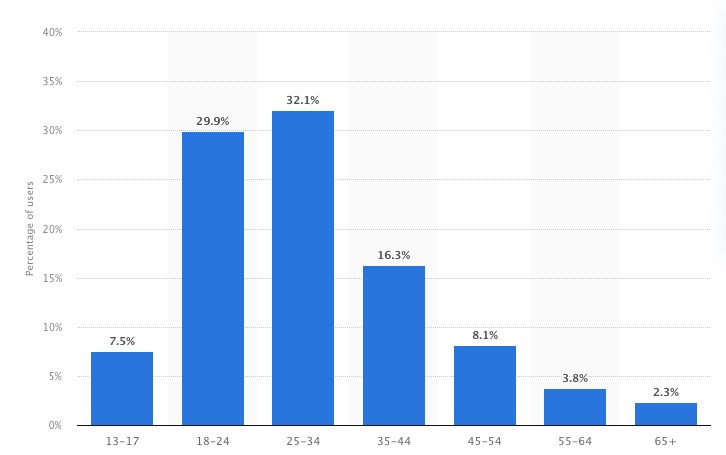 06

.

Time Spent on Instagram
The more time a person spends on Instagram, the more opportunities advertisers have to spread the message for their brands. Instagram stands in the second position, after Facebook, in terms of the longest time spent during the day.
While Facebook clocks at an average of 58 min per day, Instagram clocks at an average of 53 min per day. With the increase in popularity, Instagram will soon cross the benchmark set up by Facebook.
07

. Business Profile Visitors
Out of the 1 billion users on Instagram, over 200 million users visit at least one business profile daily.
This is a stat that doesn't shock many people: in a period of one hour, people looking for their favorite brands and products increase. 
08

. Importance of Instagram Stories
It is not always the posts that will convert your audience into customers as Instagram stories have created a special place in the audience's heart.
According to research, 62% of Instagram users claimed that they became more interested in the product after seeing it in the stories. You should plan your campaign with stories that will increase your engagement.
09

. Explore Tab on Instagram
To discover new content, Instagram provides a special feature called "Explore Tab". Over 50% of Instagram users use this feature every month.
Optimizing the explore tab for your brand becomes important as it exposes your products or services to new profiles. 
10

. Brands on Instagram
Instagram has turned out to be a good source of investment for brands. In terms of e-commerce marketing, it is considered an ideal platform. 87% of the users took action after consuming information about the product or service on Instagram.
Moreover, 42% of users admitted that Instagram helped them discover a new product or service. 
Some additional stats by Facebook.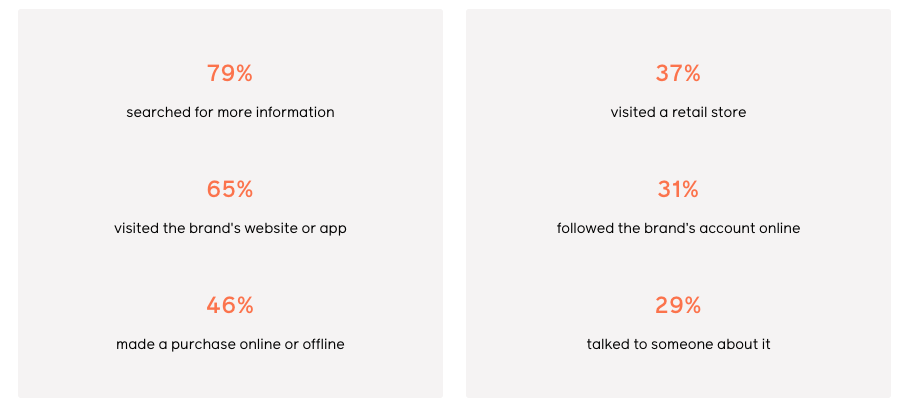 11

. Influencer Marketing
Instagram is way ahead of the other social media platforms when it comes to channels most crucial for influencer marketing.
According to a survey by Influencer Marketing Hub, it was ascertained that businesses are making $5.20 for $1 spent on this type of marketing. The majority of the marketers are increasing their budget for Influencer marketing.
12

. Engagement on Videos
We have known for a while that videos tend to do better on the search engine as compared to photos. This is true for Instagram, in terms of engagement, as well. Posts containing videos received 38% more engagement as compared to posts containing photos.
So, the next time you're planning your brand strategy, don't forget to include some videos.
13

. Instagram Impact on Shopping Journey
Instagram is a well-known social media platform for driving sales and advocacy for brands. According to Facebook research, it was determined that 80% of Instagram users decide whether to buy a product or service while scrolling through the platform.
Moreover, from the people surveyed, 87% admitted that information available on Instagram influenced their call-to-action.
14

. People Who Don't Follow Brands on Instagram
If you're thinking that your brand's Instagram handle would reach only the people who follow your brand, it's time to clear your doubt.
Over 65% of the visits on Business profiles come from profiles that don't follow them. A strong profile would gather more amount of profile visits. 
15

. Adding Customer Photos
As per the A/B test, it was revealed that adding customers' Instagram photos on your site increased your orders by 24.3%.
It is very important to design an eye-catching landing page with proper call-to-action that will induce your audience to convert into customers. 
16

. Brands Taking a Stand on Social Issues
While, earlier, brands refused to comment on any controversial or political issues, the brand's voice against these issues is now heard more than ever. In fact, 70% of the consumers said that they like to see brands taking a stand on social causes.
Over 60% of such consumers believed that such stands on social causes can cause a more serious impact and can lead to a better change in society.
17

. Engagement Rate on Branded Posts
Brands are highly concerned about the engagement rate of their posts. According to Union metrics, it was concluded that the average engagement rate on Instagram is 4.3%. Simply put, for every 100 followers, you'll get 4.3 activities on your post.
This engagement rate is higher compared to other platforms such as Facebook and LinkedIn.
18

. Brands Creating a Change
This is another statistic related to brands taking a stand against a social cause. It was determined that 36% of the customers agreed that they will purchase from the brand that takes a stand on social media. This stat puts the conversion rate of the brands into a better perspective. 
19

. Posts with Locations
Locations do not only put your brand on the map but also help in increasing the amount of engagement. Posts with locations, according to Sproutsocial, get up to 79% more engagement than posts who don't put locations.
The Instagram algorithm works in a way in which an Instagram user in your area will have a higher chance of finding your brand.
20

. Importance of Long Hashtags
According to TrackMaven, a hashtag that contains 21-24 characters tends to perform better than the hashtag with a shorter character length. Long hashtags will give you more chances of connecting with your audience.
21

. Impact of Story Stickers
If you've been using Instagram stories for your brand, you'll realize the impact and engagement it creates on your audience. Interactive elements in the stories such as polls, questions, gifs, and stickers increase the video viewership 83% of the time. 
It becomes important for you to be creative with your Instagram stories strategy.
22

. Instagram Sponsored Video Statistics
The popularity of videos on the social media platform can be ascertained from the fact that within 24 hours of the introduction of Instagram videos, more than 5 million videos were posted.
As far as the sponsored content is concerned, sponsored videos on Instagram get 3 times more comments than sponsored photos.
23. 

Instagram Stories by Brands
As compared to Snapchat stories, brands on Instagram upload 2 times more stories. This is mainly because of the features provided by Instagram as well as the type of response they receive.
The swipe up, poll, and Q/A feature provided by the platform help in better connection and conversion. 
Conclusion
Over a span of 10 years, Instagram has proved to be a powerful marketing tool for brands. In fact, it is showing no signs of slowing down in the near future.
We hope that you find the right marketing strategy for your brand based on these statistics.