Looking for a Divi theme discount? Well, we have a maximum discount offer for you. This offer gives you access to the Divi theme and all other ElegantThemes products at a discount price.
ElegantThemes discount offer, get lifetime membership at an amazing $50 OFF deal.
Divi is one of the most popular multipurpose WordPress themes available in the market that you can use to create any kind of website.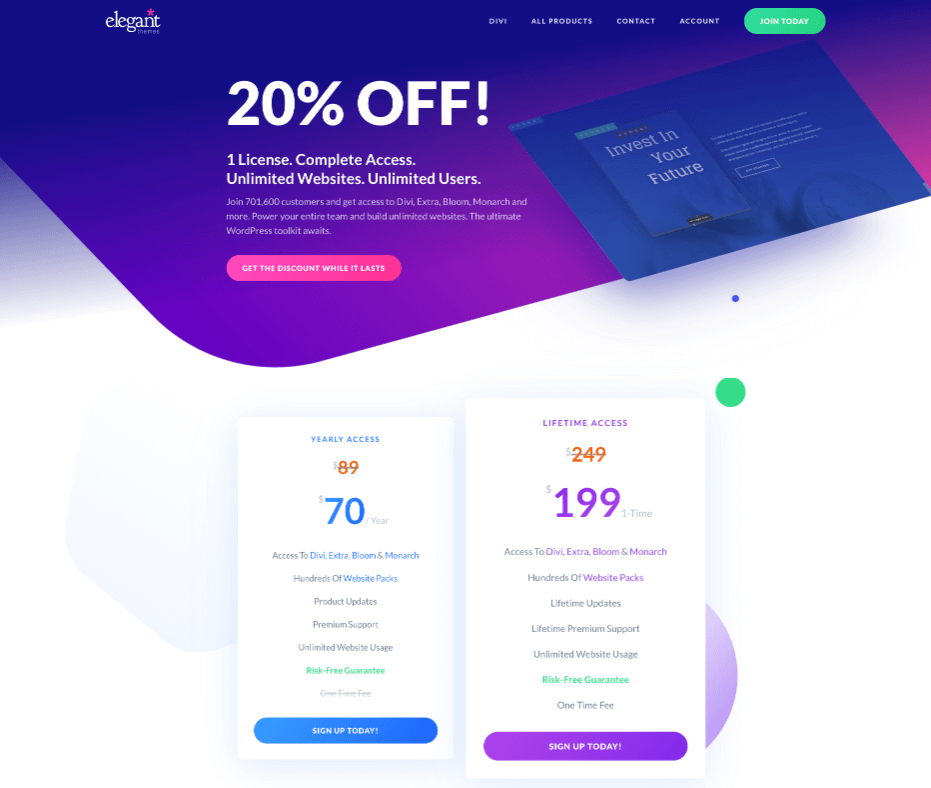 Divi Theme Discount Coupon
If you are aware of ElegantThemes, they offers membership package to get access to any of their products including the Divi Theme.
With our links below, you can save maximum while purchasing the Divi Theme. Along with this, you will also get access to the Extra Theme, Bloom Plugin, Divi Builder Plugin, Monarch plugin in the same package.
They offer 2 different packages, yearly package and the lifetime package.
If you go for the yearly package, you will have to renew your membership after the completion of one year. In case you don't renew your membership, you still can continue using the products but you will not get the future updates.
While in the lifetime membership package, you will get access to the products and the updates for a lifetime.
You can get the lifetime membership at a discount price and save $50 using our link below.
ElegantThemes Deal: $20% Discount
Divi is created by the experienced ElegantThemes team. They have been offering WordPress products for over 12 years.
The big community around Divi and other ElegantThemes products is another reason to use it because there are a number of tutorials and add-on products available that are created by the community.
So, if you are looking for ElegantThemes products, here is your chance to get an exclusive $50 OFF.
Divi Builder Discount: 20% OFF
If you look at the Divi Theme, the core power of the theme is in the Divi Builder. The Builder is available as a standalone plugin as well. You can use it with other WordPress themes as well.
One of the most comprehensive website builder for WordPress, the Divi Builder offers you a great editing experience.
Even if you are a complete newbie user, the Divi Builder will make you a developer and help you create a completely unique design for your site without any coding.