We have already published this detailed guide on Semrush that will show you 50 ways how Semrush can help you to grow your business.
So, before you start with a paid plan of Semrush, you may like to try the products and get familiar with the different tools that the platform has to offer. While our detailed guide will help you to understand how to use the product, you can use our link to get an extended free trail of the product to save some money.
Semrush is one of the most popular SEO competitor analysis tools, that will help you to find the exact pages where your competitors are getting the link from. And it is just the start of what Semrush can do.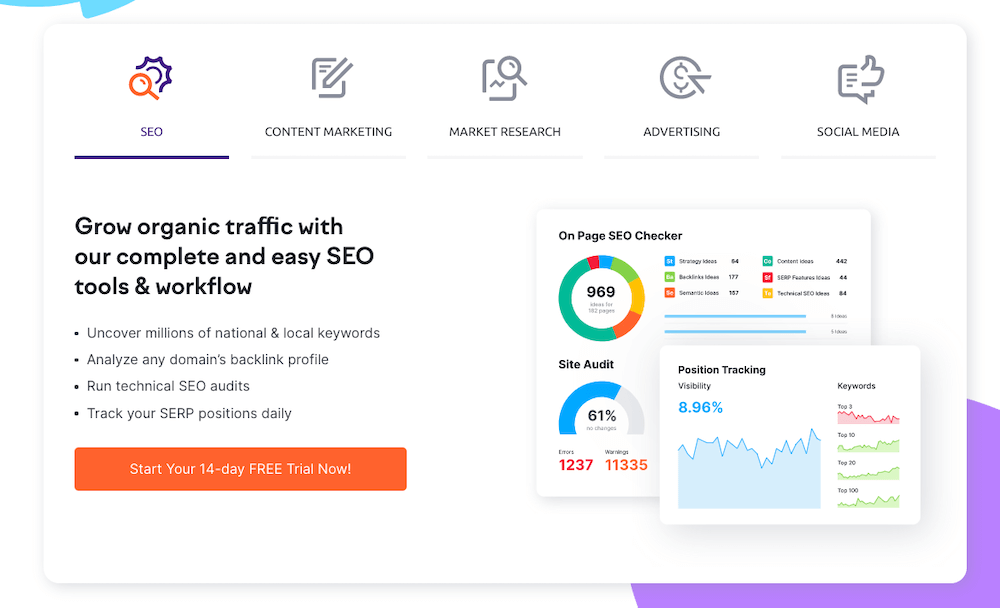 Keyword Research Tools
Keyword research is an important aspect when it comes to growing an online business.
While it is a must for blogs to find the high-traffic keywords, even the product based websites can grow really fast with proper keyword research before planning the content strategy.
Semrush offers a number of tools around keyword research to make sure that you are able to create a full-proof content strategy for your business.
You can find the most profitable and top traffic driving keywords for all of your competitors so that you can plan a similar content strategy.
Keyword Magic Tool
The Keyword Magic Tool is a popular tool by Semrush. You can take advantage of over 20 million keyword database to find the low competition and high-traffic keywords so that you are able to grow your business quickly.
You can start your research by adding the seed keyword for your business and the tool will quickly give you all possible keyword ideas that you can work on along with important stats like traffic volume for each keyword, the keyword difficulty value to understand how easy or difficult it is going to be to rank for those keywords.
It gives you a number of other details for each of those keywords.
Backlink Analysis
The backlinks are very important part of a strong SEO strategy. Your site will grow in organic ranking as it starts getting quality links from related content.
Semrush offers detailed link analysis and link building tools that you can use to find prospects of quality links.
You can find every aspect of the link strategy of your competitors. You can find the exact pages where your competitors are getting the link from, the anchor text used and all other details so that you can target similar kind of links for your business.
Competitive Analysis
Semrush is a competitive analysis toolkit at its core. It offers a number of tools to help you do detailed analysis of your competitor sites . You can find the top traffic driving pages, the top keywords and more.
You can do a heat-to-head analysis of your business to your competitors to find the gaps in terms of keywords, backlinks and other important aspect.
You can start with organic research. Just add the domain that you wish to do the research for and get started, the tool will instantly show you all the details of that domain.
Detailed SEO Audit
In the on-page and tech SEO section you will find tools to do detailed SEO audit of your site to find out where you can improve. It also offers you SEO content template to help you create SEO optimized content on your site.
And there are a number of other tools in this section.
Other than the organic SEO and the competitive analysis, Semrush offers a number of other toolkits such as the following.
Do, overall Semrush is a platform that offers 360 degree solution when it comes to growing an online business. Get started with free trial of the product now.