A quality YouTube intro will make your content and channel look more professional and help you grow your subscribers.
You can use a simple YouTube intro maker to help you move forward with your work. You can use the intro makes to create a visually appealing intro video for your channel.
Also, a tool like this will help you with the overall branding process for your channel. You can use the branding setup through an intro maker to help you go far with your work and to make your content attractive.
This listing of the twenty best YouTube intro makers includes several choices that will help you with many promotional needs.
You'll have to look at these options if you want to make the work that you have look its best and offer an outstanding style you will love.
Note: Many of these YouTube intro makers are ones that cost extra for you to utilize. Many of these sites offer free features as well. Check the links for each of these places for details on different things you might utilize surrounding the production of an appealing intro maker for your value.
01

. InVideo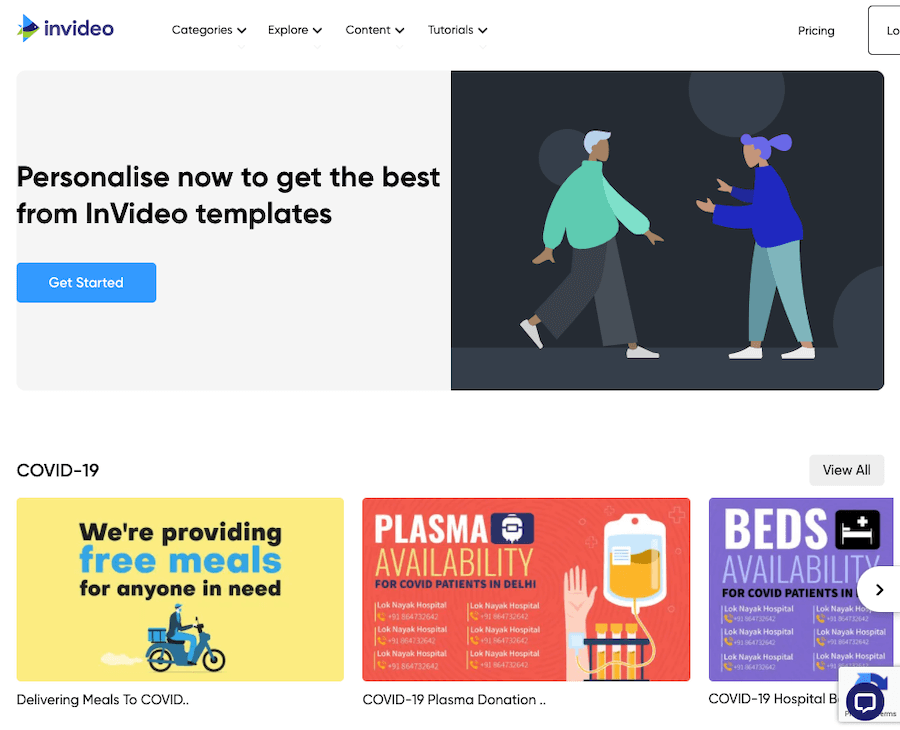 InVideo is a popular video-making and editing platform that you can use to create custom videos for all different social media platforms and your website quickly with ready-to-use templates.
It offers you hundreds of ready-to-use templates that are custom-created to be suitable for different platforms. It is one of the most flexible video editing platforms to help you create stunning videos quickly.
It is loaded with features and options that are easy to use and newbie-friendly. Starting from thousands of stock photos to effects, you have everything that you need to make your video engaging.
From creating a product ad video, testimonial, or social media video, you have a ready template for all types of videos that you may need.
Another attractive feature of InVideo is that it gives you the option to convert your articles into engaging videos automatically. So, you ever wanted to have your own YouTube channel but are not good at creating videos, you can use InVideo to convert your articles into videos and upload them to YouTube creating a new channel of traffic and revenue.
As we are talking about the best YouTube into makers in this article, InVideo comes with a built-in option to create attractive videos for your videos to attract users' attention quickly and make your videos look professional.
There are a number of ready to use into templates that you can use to create your intro video.
While the intro maker is completely free to use, you can get an amazing 25% discount when you go for the premium plans to create attractive videos for your channel.
You can use our exclusive coupon code "NITDIT"
02

. Flixpress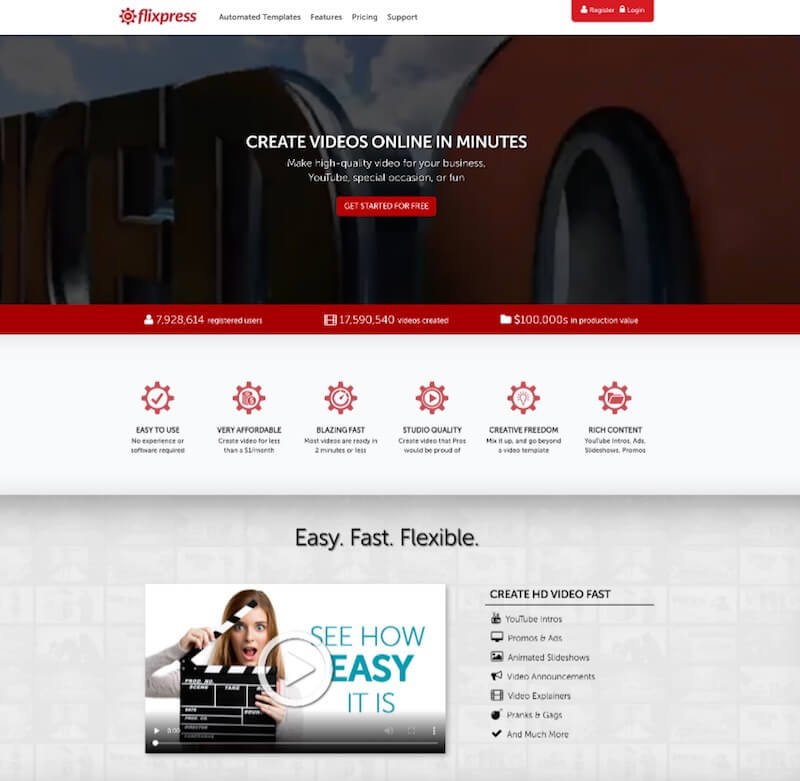 Flixpress is helpful for assisting you with producing appealing YouTube intros. The tool uses an MP4 format and can operate with any other format that you wish to upload to the video.
You can also upload unique audio bits on your YouTube videos when you use this tool for your needs.
The tool is easy to use, so you don't have to be an expert video producer to create a top-quality video with the Flixpress tool.
Other than the intro videos, you can use the tool to create video ads, engaging animated slideshows, video announcements, video tutorials, and more.
03

. IntroCave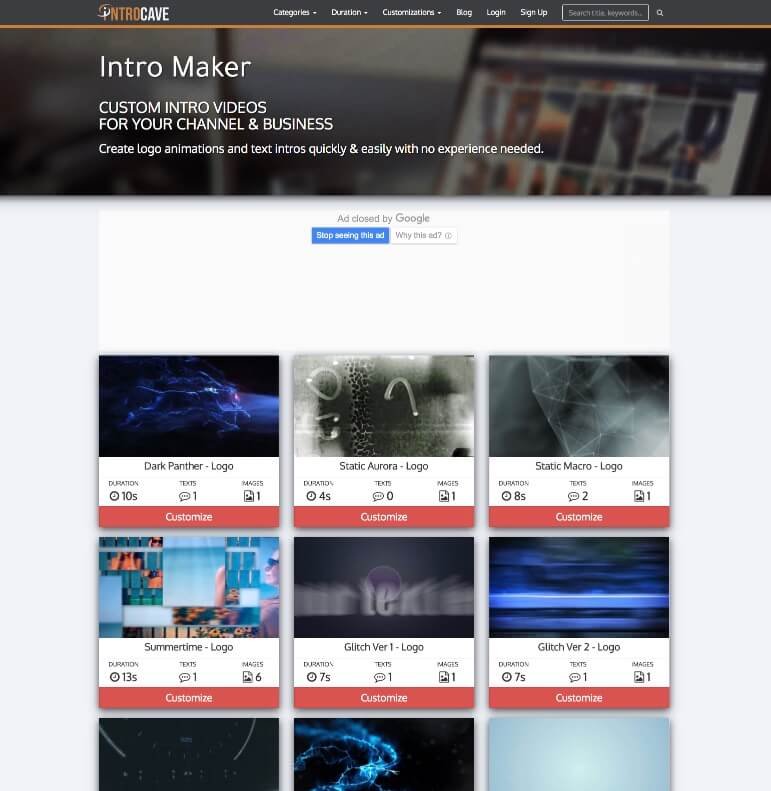 IntroCave lets you pick a base video and then allows you to add your unique content and then render that work for your download needs. The tool lets you work with many resolution levels.
The attractive particle effects you can utilize when producing your videos are among the most attractive ones that you can incorporate for your work, with the designs being simple and easy to prepare in moments.
04

. Intro Champ
The exciting part about using Intro Champ is that you can get this tool to work for your production needs in minutes. Intro Champ lets you create attractive videos that come with intriguing effects.
The videos can work mainly for logo intros, and each of these can be adapted based on the particular logo designs you wish to incorporate.
The various high-definition intros that you can utilize will help you with producing intriguing videos all around.
05

. IntroMaker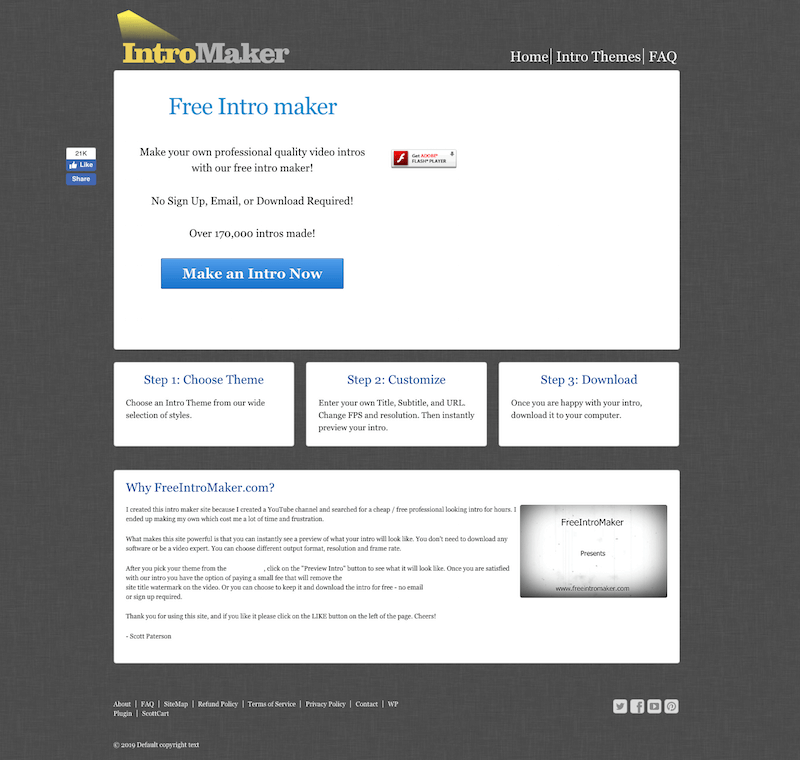 As the name of the tool suggests, IntroMaker is all about making YouTube video intros. IntroMaker helps you to produce videos with three steps. You will first choose an intro theme.
After that, you will customize your video with a title, subtitle, and URL. You can also change the FPS and resolution and then preview your intro.
Third, you can download the video to your computer and then get it ready to be set out to YouTube.
06

. Animaker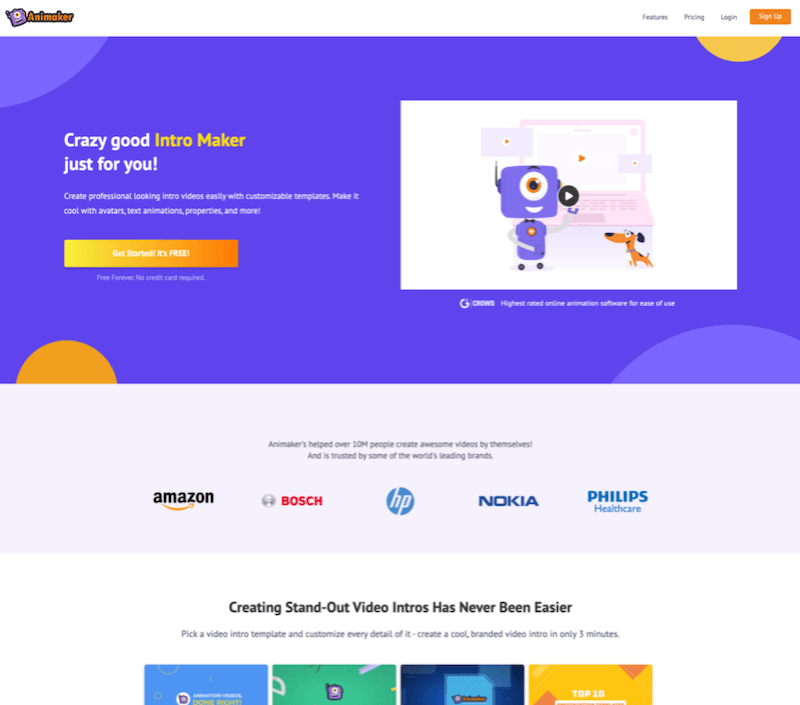 Animaker is a cool intro video maker platform that helped over 10 million users to create attractive videos for their channels. You can easily create an engaging intro video with avatars, text animations & other properties.
It is a freemium product that offers you a completely free plan to create your intro videos. However, your template will have the Animaker watermark. If you don't want the watermark, you can upgrade to a premium plan.
It is an online platform, so you don't have to download any software. You can simply select a template and get started to create your videos. You can completely customize the template as per your need and add music to make it more engaging.
07

. Videobolt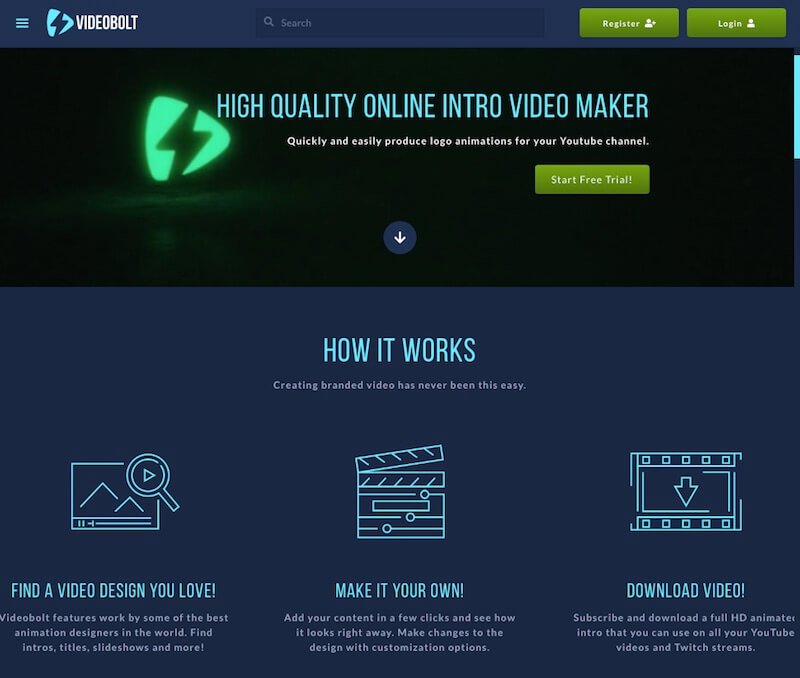 You can create videos in a matter of moments with Videobolt. The site is named for how it focuses on producing fun video effects in moments, thus making it a surprise choice that works for many promotional efforts you want to plan out.
You can also download videos and edit these to your liking to prepare a great arrangement.
08

. Adobe Spark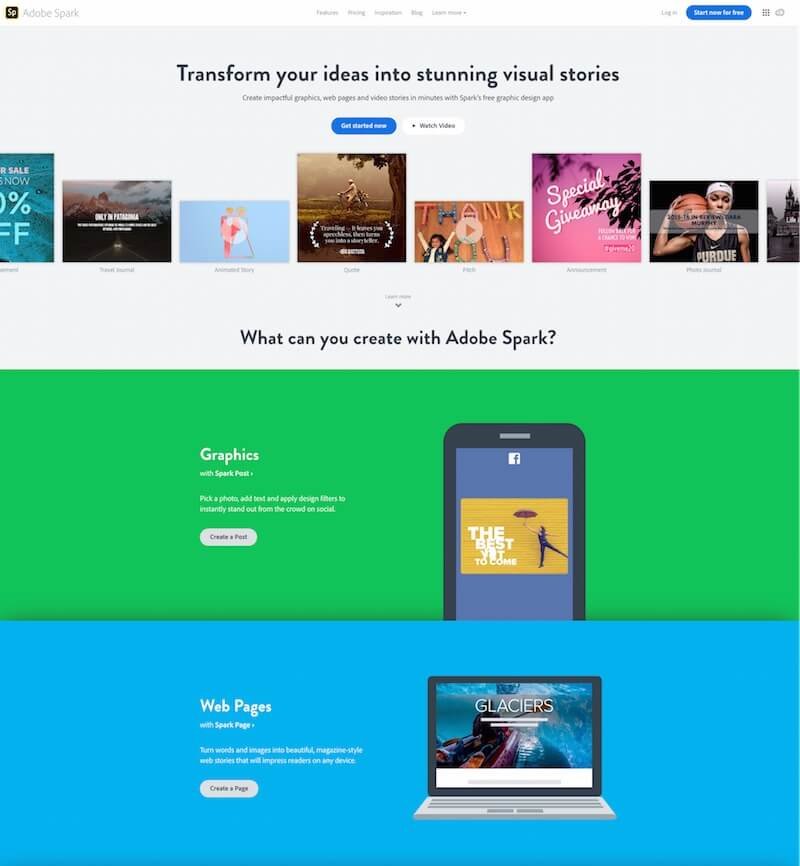 You can use Adobe Spark to get many great videos and graphics produced with appealing layouts and quality features all around.
The features included through Spark focus on producing dynamic effects that add a classic look to your video when used well.
The technical design utilized by Adobe Spark ensures you'll have more control over all the actions you plan when getting your videos ready for online use.
09

. Filmora
Filmora is a tool that was first introduced by Wondershare. Filmora simplifies the art of video editing and establishes a simple organization that makes it easier for your work to go.
The interesting part of what Filmora offers is that it is very technical based on what it can do, but the best part of Filmora is that it is easy to use.
It only takes a few moments for you to load up a video on Filmora and to make it visible and useful for many purposes. The design of Filmora is particularly helpful for ensuring you'll know what you want to get out of your content.
10

. Biteable
The fun layout of Biteable makes it a useful choice for your video production needs. You can produce logo intros, gaming intros, and panorama-themed intros.
You can upload any video and audio files to Biteable and get them adjusted to produce appealing intros.
Biteable also helps you with producing explainer videos that are easy to follow along with while adding a thorough approach to managing your work.
11

. Panzoid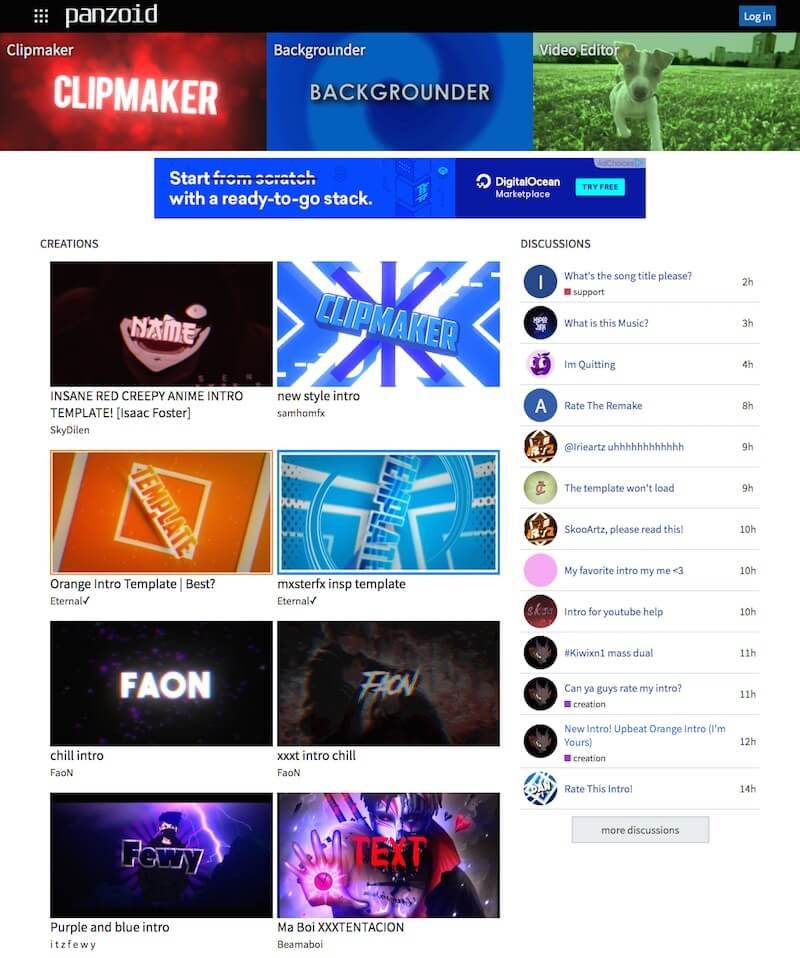 The fun part of Panzoid is that you can share your intros with other users on the Panzoid site.
You can use this to show off your work, or you can use this for some added inspiration for when you're aiming to produce an attractive video.
Panzoid also uses a 3D animation tool to help you with producing more dynamic visuals in your work.
The backgrounds in your videos can also be adjusted to include various additional images and other features you might be interested in showcasing in your work.
12

. MakeWebVideo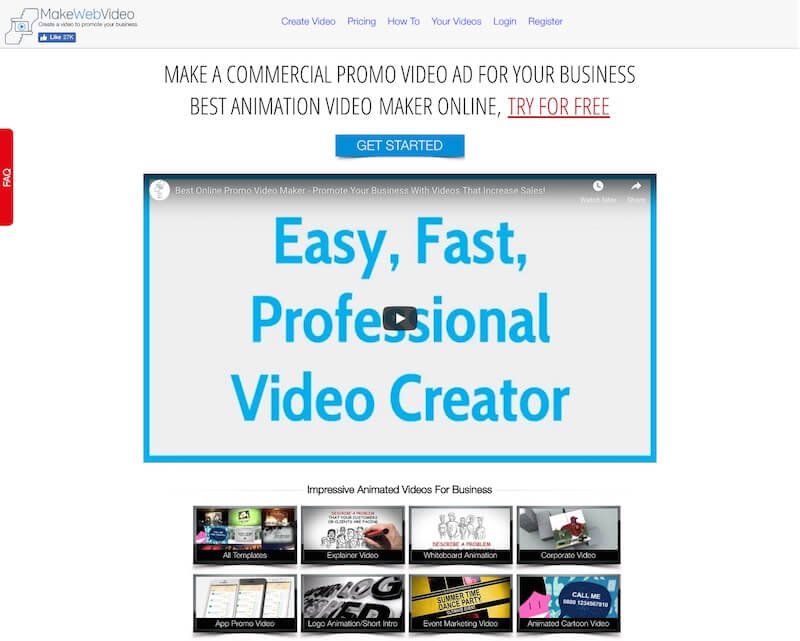 MakeWebVideo is another choice for value to see. The creator focuses mainly on creating business videos and explainer videos, although you can produce brief intro videos for your YouTube videos through the tool.
Everything included in this tool is featured online, thus keeping you from having to download anything that you might not be all that interested in using for your work.
Multiple templates are included, although some of the more appealing templates include the whiteboard animation and logo animation solutions.
The work you put in through MakeWebVideo can work for all logo styles you have, including text-based ones.
13

. IntroMaker.net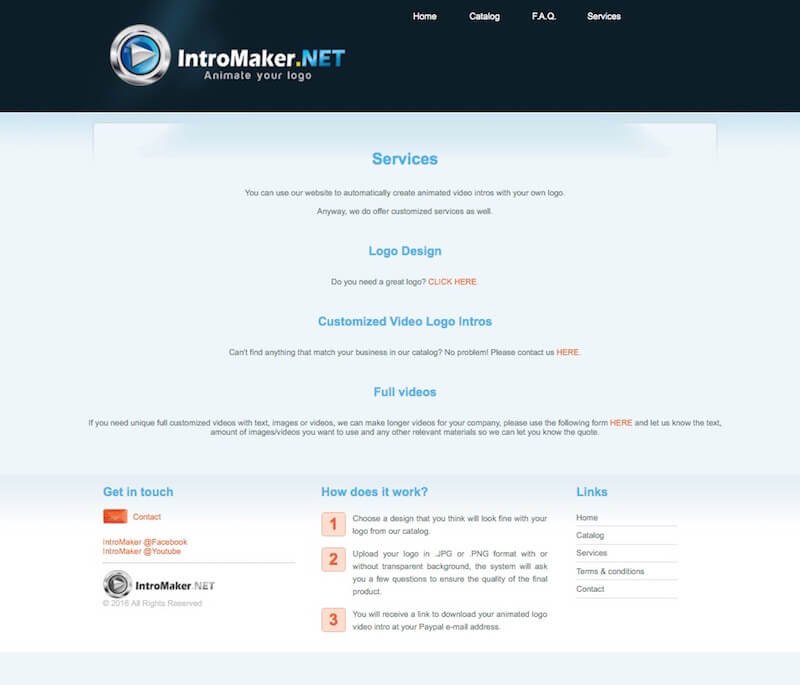 IntroMaker.net helps you to produce animated videos for YouTube use. While the tool works well for animated logos, this can still be used for any specific video style you might wish to utilize.
The great part of IntroMaker is that you can use this to make your videos more prominent and professional, not to mention you will make your content look more distinct that you will want to show off where you are.
14

. TubeArsenal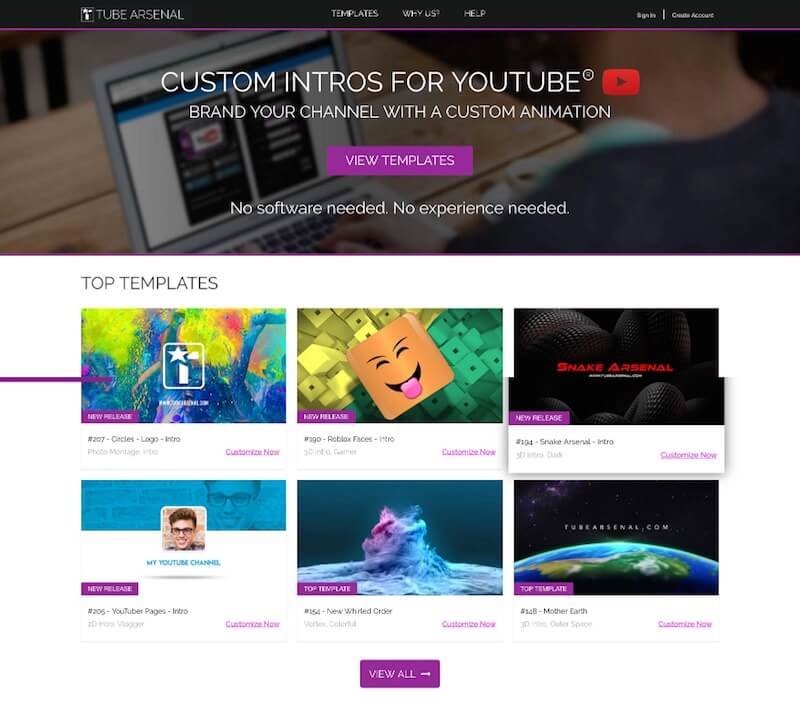 You can use TubeArsenal to highlight your videos on YouTube and offer a unique display that people will be more intrigued by.
TubeArsenal lets you brand your channel with a distinct animation with no added software required for your needs.
The design uses hundreds of motion templates that let you create different things of note while still being simple for your use.
15

. Wideo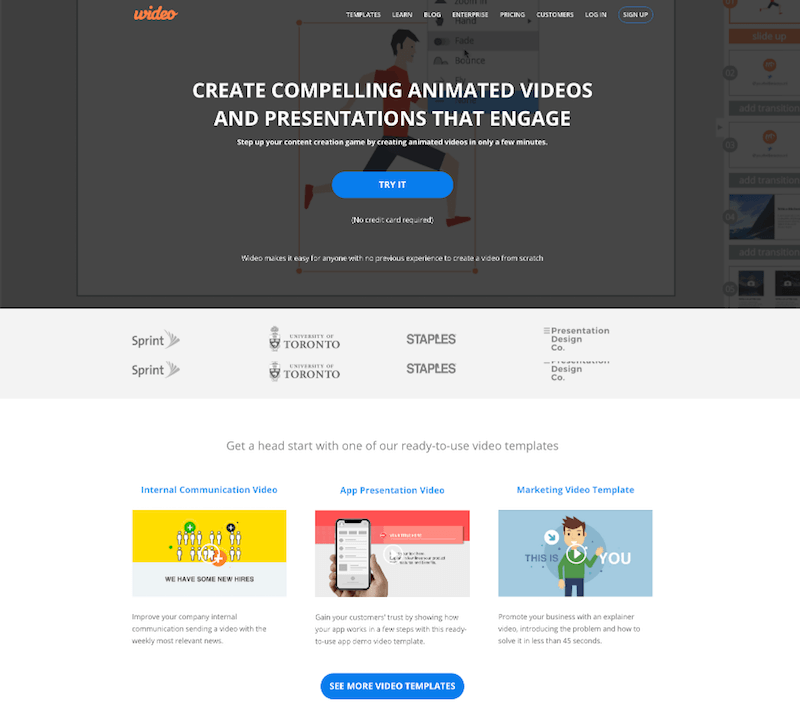 Your next option to see is Wideo, a tool that offers help for producing videos with many attractive tags and other features.
The Flash-based design that Wideo uses makes it a simple tool that will work well for your use. You can get Wideo working on your computer in moments to produce a great way of making your work intriguing.
16

. Renderforest
Another choice to note is Renderforest, a tool that helps you to design logos and create intros that look appealing. You can use this for slideshows, music visualizations, and many other quality features.
You can also use RenderForest for landing pages, but the YouTube intro features that RenderForest offers are among the most popular things for you to note.
17

. Ivipid
You can produce appealing video intros in moments with Ivipid. You can produce a video and then download it in one of many formats, including the MPEG format, to start sharing your content with many people.
The unique themes that you can utilize with Ivipid are especially attractive for how they are influenced by many outside factors.
You can customize your videos with as many unique qualities as you wish when getting Ivipid to work for you.
18

. Explee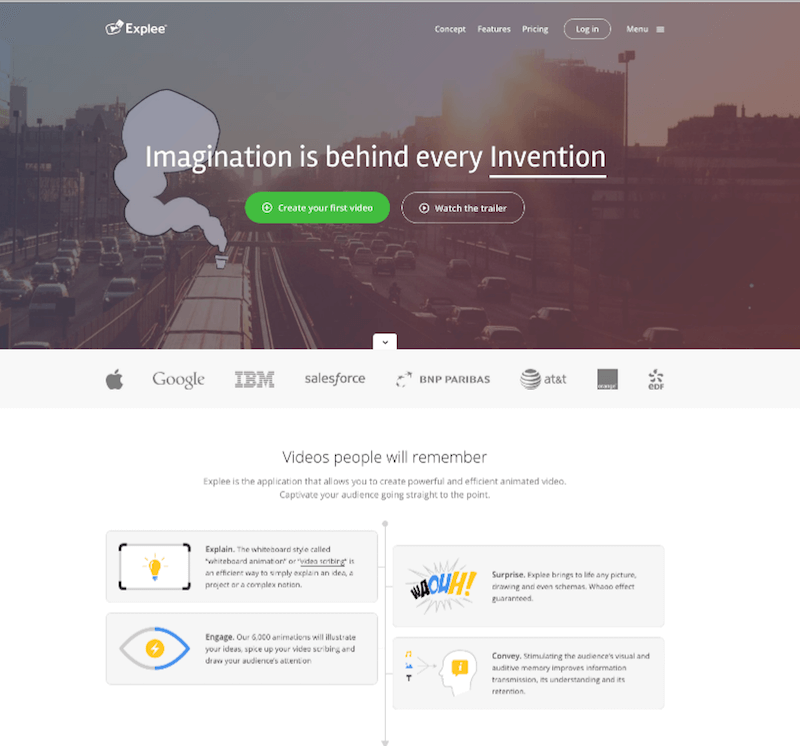 The intriguing arrangement that Explee uses for helping people to produce unique videos makes it a great choice to find for your tool needs.
Explee offers a full layout that lets you create videos in moments, including explainer videos and many others. But the best part of Explee is that the tool focuses mainly on unique custom videos, including videos that offer unique visual effects.
Explee prides itself as a tool that highlights the art of surprise when it comes to producing appealing video intros.
19

. Moovly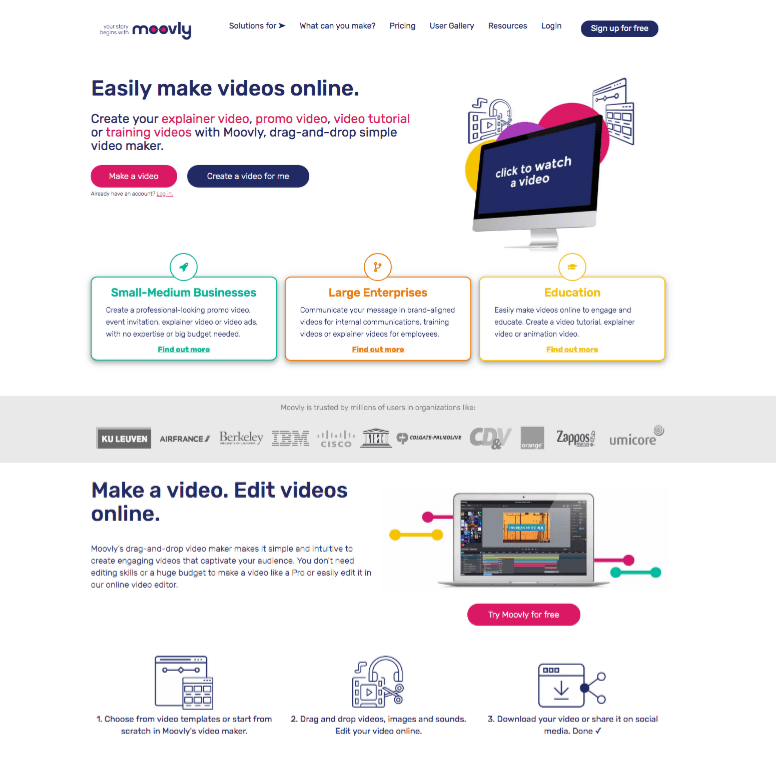 The online editing tool Moovly works well for many of the distinct things that might work for you. Moovly helps with producing great videos with a drag and drop interface included making it all work.
The interface produces a simplified approach to your work and lets you get new videos ready and up for many uses. The content works well for intro videos, but you can also use Moovly for explainer, tutorial, and training videos.
Individual templates are included for each of these categories, thus giving you extra control over the content you're working with.
20

. Kdenlive
The design of Kdenlive makes it a helpful tool, but the best part is that everything here is easy to customize without having to spend anything extra.
Kdenlive works as an open-source tool, thus giving you the full ability to edit your video as you see fit. You can use many technical edits and effects that can be added at various times through the intuitive interface.
You can also use Kdenlive when you need to create videos that feature more attractive arrangements or specialized display points.
21

. Shotcut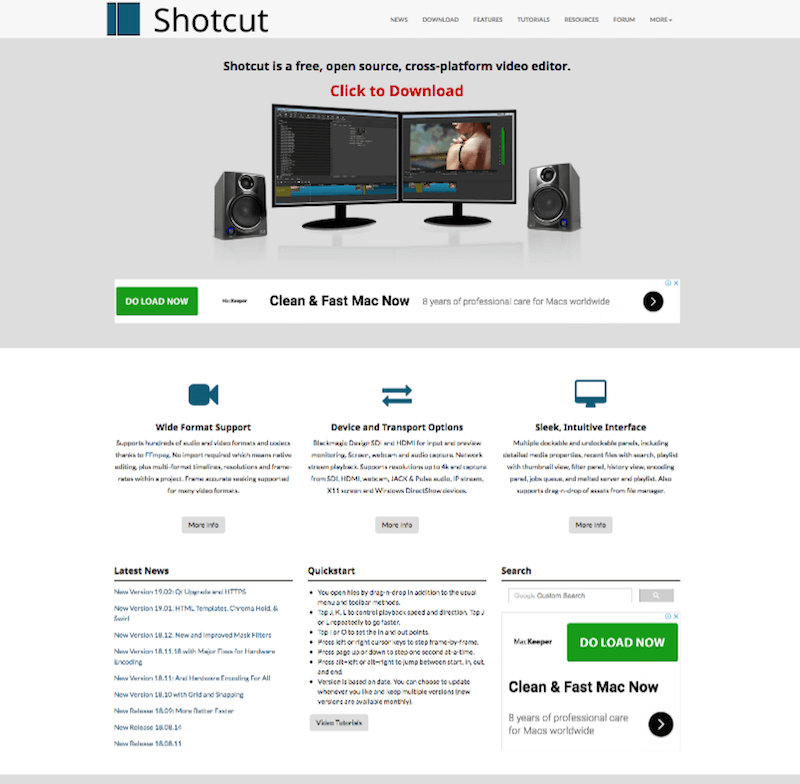 Another open-source option, Shotcut uses a design that helps you to produce videos among many platforms. Shotcut works on all major operating systems.
This is a much more technical option for your use, although the Shotcut community offers plenty of tutorials that will help you with learning how to use the more technical and detailed aspects of the system.
You can also use a screen capture feature for when you need to create thumbnails or you want to establish a dramatic shot for your promotional use.
22

. VivaVideo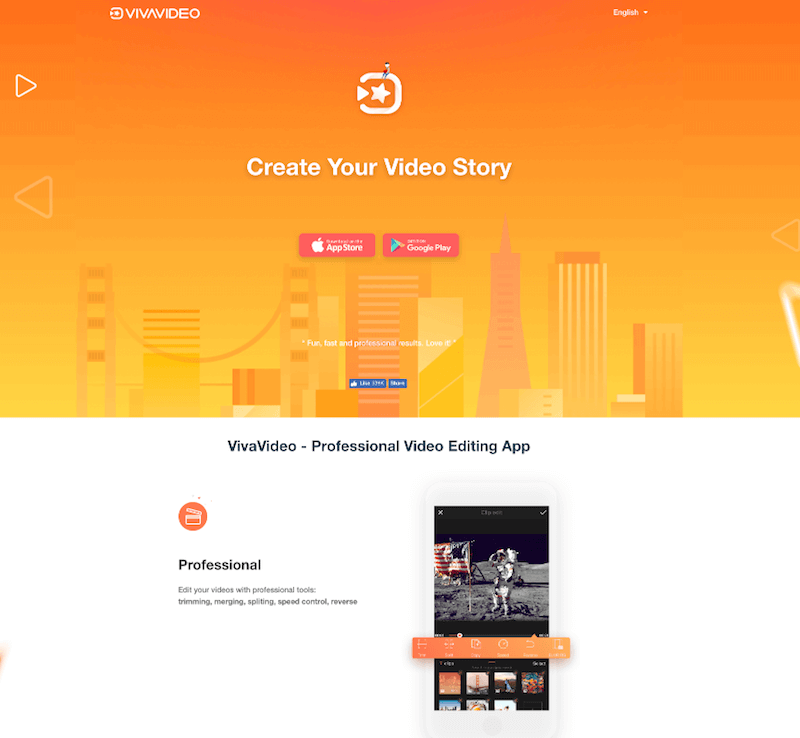 The fun part of using VivaVideo is that you can use it to create collages, panoramic videos, and much more. The tool does well if you have a live-action intro that you want to shoot for a YouTube video.
The layout that VivaVideo uses also works on various mobile devices, thus giving you extra control over the production process.
The various trimming tools available for your use include many things like reverse, speed control, splitting, and merging among other points.
These features let you produce more attractive videos for any intent you might have.
23

. Introbrand
Introbrand is another very handy tool to create amazing logo animation to be a part of your intro video. The tool offers you a number of ready to use templates to make your process simple and easy.
The tool is free yo use, just go to the site and start creating your intro template.
24

. Offeo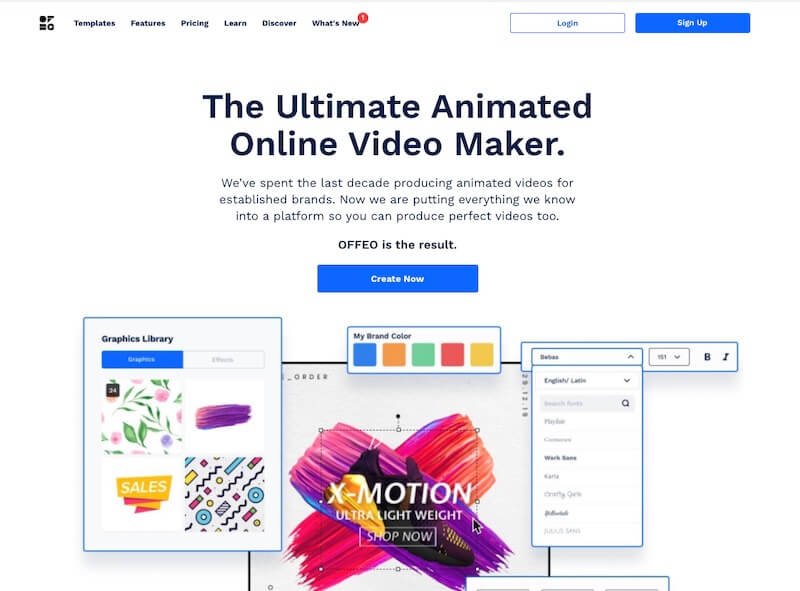 One of the best tools to create attractive animated videos, you can easily create highly engaging videos using this platform.
As we are talking about the intro makes in this article, you can use this platform to create an attractive intro video for your YouTube videos. Offeo offers you the intro video creator a number of ready to use intro templates that you can use to make it quickly.
25

. Canva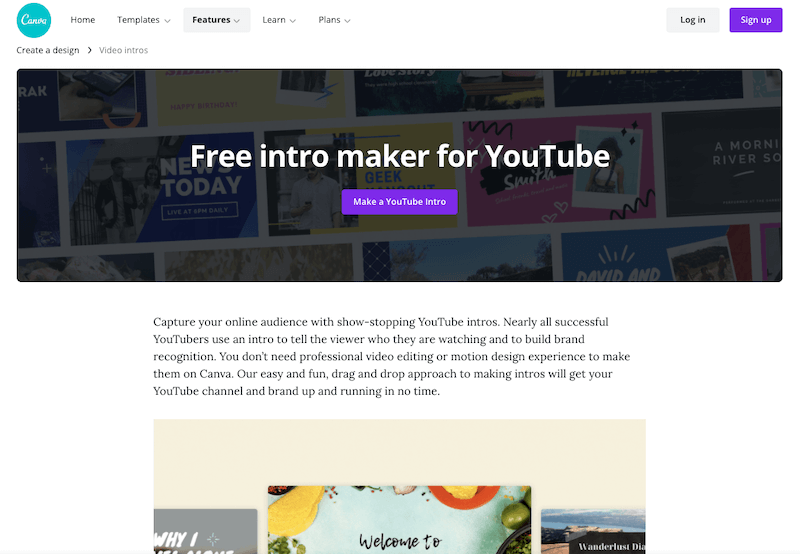 We know Canva as a graphic designing tool that makes it easy to create great-looking images for your website or to share on social media sites. However, you can use Canva to create the intro for your YouTube channel as well.
Canva offers a big collection of stock photos, elements, icons and all other designing-related elements that you can use to add to your template and make it look custom and attractive. You can also add animation and effects so that it is dynamic and engaging.
Once your template is ready, you have the option to download the template in MP4 or GIF.
FAQs About YouTube Intro Videos
---
Q1. Is it Important To Create an Intro Video?
If you have a quality engaging intro for your YouTube videos with your branding, it will make your videos look more professional.
Q2. Are The YouTube Intro Makers Free?
Yes, most of the YouTube intro makers listed in this article offers free options to create your intro video.
Q3. What Are Intro Video Templates?
The YouTube intro markers offer you the option to use intro templates. So, you don't have to create an intro video from scratch, you can use the template and edit it as per your need.
Q4. Can I Add Music to My Intro Video?
You surely can. Most of the intro makers we listed here give you the option to add free music to your video.
Final Word
You should look at what these YouTube intro makers are going to do for your promotional needs.
You'll need to review these options to help yourself with going far with your promotional work and how you're going to make your content more appealing for many intentions.