Are you looking for the best YouTube channel name generators? Well, we have listed the top tools that you can use to find a cool name for your channel.
YouTube has become one of the most lucrative alternative careers in the recent past and other than the fame, you can make really good money on YouTube if you are able to create quality content on a regular basis.
No, when we talk about a quality channel, a lot depends on how you present your content also how it looks.
You must give a lot of attention to the channel graphics, the name of your channel, the description, etc to make sure that the audience takes your channel seriously.
You can use the best YouTube intro makers to create an attractive intro to your videos to engage the users. And use the best online video editors to create top-quality videos.
However, before doing anything else, you have to make sure that you have an attractive name for your channel that gives an idea about your content, the quality at the same time it is easy to remember.
You can use the best YouTube channel name generators to help you decide the name of your channel.
One of the most popular YouTube name generators. You only have to type in your first and last name, and then generate! This generator offers a lot of features, including an option for emojis if you want them.
They also offer filters to edit the name before you finalize anything or add words that are catchy and simple to read after your new username.
Spinxo may be easier because it tells you what your user icon would look like in advance on this page.
It has been rated as one of the best in the business by review sites all over the internet. The users say they love how easy it is to come up with engaging and eye-catchy content.
This name generator is another great choice for the YouTube Creator in your life. It's not just a tool to make up random names, though – it also includes helpful information like anticipated content and what type of audience you want to cater to.
For example, if you were looking for an idea that would fit with videos on gaming or technology, you can scroll through the list and pick something that sounds like it would work well.
You can generate hundreds of suggestions for your YouTube channel names, and you can even generate them by keyword with NameBounce.
Username Generator by NordPass is another popular option for YouTubers looking for a personalized name for their channel. The generator gives options based on your keywords or even if you choose to enter a phrase that is completely random.
Unlike any of the other generators, Username Generator doesn't require any registration. All you need to do is enter your name, and then select a username style from their list of options.
Username Generator is a great option for more experienced YouTubers looking to spice up their channel or give it a new name.
And the best part is that Username Generator is completely free to use whether you're a beginner or an expert. You can also generate usernames for other platforms such as Facebook, Twitter, and more.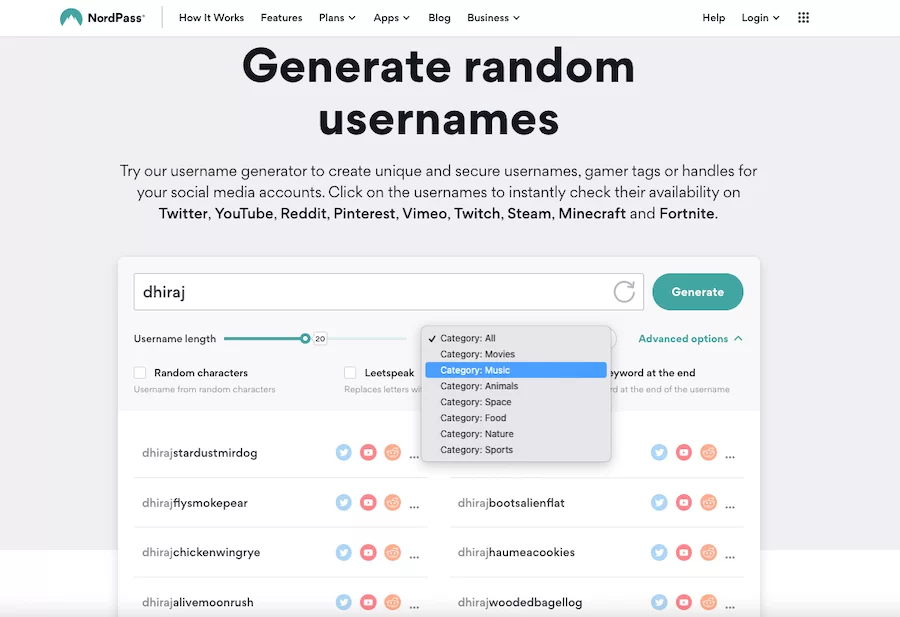 Nameboy YouTube name generator has a simple and easy-to-use layout and a great variety of usernames to choose from.
Nameboy also allows you to generate names for different business types such as podcast names, store names, small business names, etc.
You can use this name generator when you're looking for the perfect username for your new channel on any platform! You can get usernames with Cap specifications that look cool and with a nice variety of designs.
If you are looking to stand out from the crowd with an attractive name, Nameboy will surely help you to find the perfect name for your YouTube channel.
It's free to use whether they're a beginner or an expert, so there's no reason not to give this one a go when coming up with creative YouTube names that will help get your channel noticed!
Business Name Generator is a popular service to generate names for multiple different types of business. You can use this service to generate a name for your business, your YouTube channel, your podcast, our store, or anything else.
You can use the Business Name Generator to find domain name ideas while you plan to start a new blog or any other kind of website.
This name generator is simple to use and you can use it to find an attractive name for your YouTube channel. Just go to the site and start a search with the keywords that you have in mind to find all possible ideas.
You can generate creative and keyword-friendly YouTube names for your channel, blog, or business.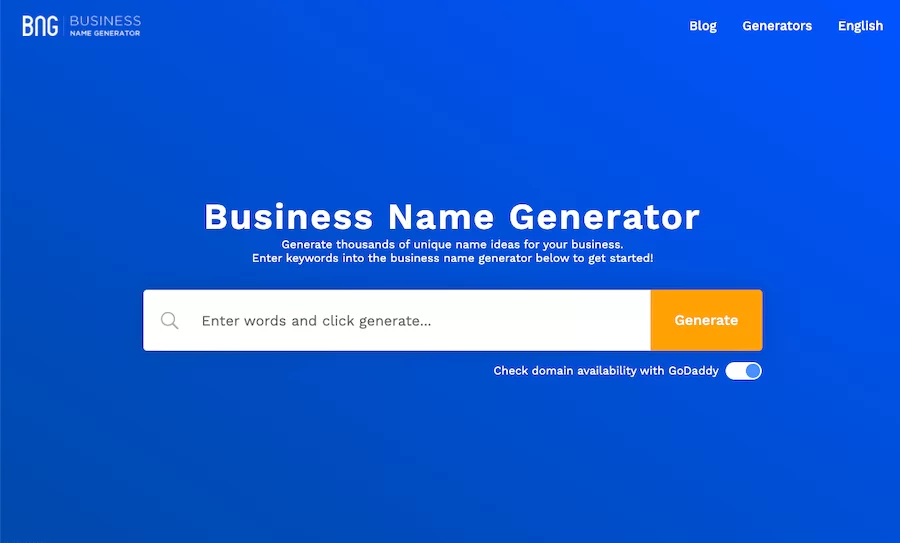 Kparser is all about those keywords in your YouTube name. Not only does this free service generate a YouTube channel name, but it also generates keywords that you can use in the title and description of your videos to help with Search Engine Optimization (SEO).
It's kind of like having an algorithm do all the work for you! You can rank better on YouTube SERPs with a keyword-focused YouTube name and description.
Not only does it save you a lot of time in researching keywords but also makes sure that your YouTube name is catchy, self-explanatory, easy to read, global, and authentic.
An easy-to-read and catchy channel name helps you in the long run as it helps you in standing out from other names in search results without being too long. You get unique names for your YouTube channel but not anything cheap or tacky.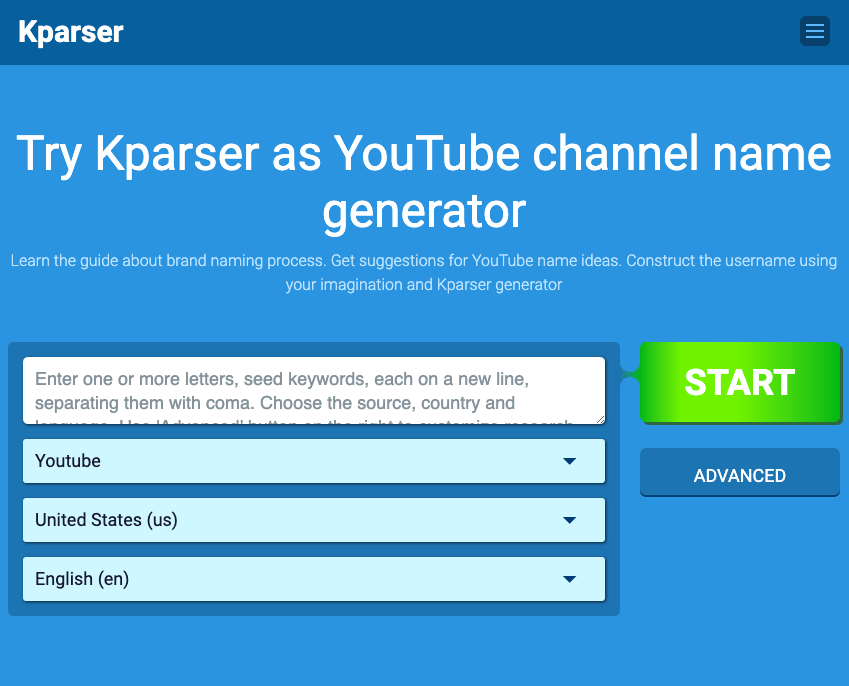 BizNameWiz looks quite similar to We The Unicorn but has some amazing features you should look out for.
BizNameWiz's YouTube name generator helps you with tools and features like:
Generate new YouTube channel name ideas in seconds without any research for technical formalities.
The tool delivers you a list of the best names for your existing channels or a new one for any specific audience.
Keywords-focused YouTube names that help you in ranking higher in SERPs and video searches.
The tool gives you the option to choose between different options for YouTube names.
BizNameWiz is a great option for anyone looking for a unique name that will help them gain more views and subscribers. The tool has been there in the market for a very long time and is known for its reliability and accuracy.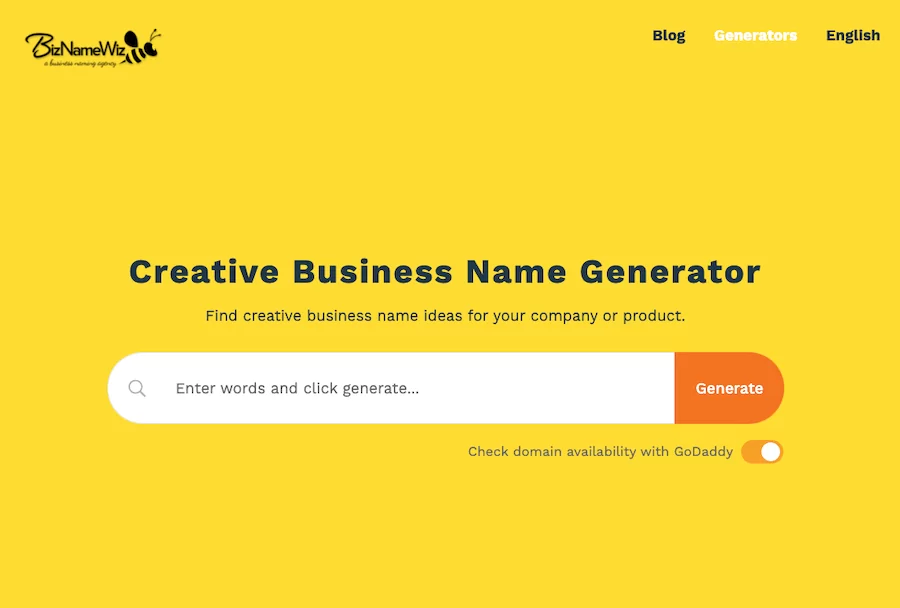 Weshare is a very handy, easy-to-use YouTube channel name generator that you can use to find the best name for your new channel.
You can simply start by adding the main keyword that you wish to have in the name and the system will quickly offer you a variety of different options.
For example, if you are planning to create a channel about food recipes, you can add recipes as your primary keyword and you can find multiple attractive name options using this tool.
We have just checked the name ideas for a channel related to "Gym" so I have just entered the primary keyword as Gym and received so many name ideas instantly.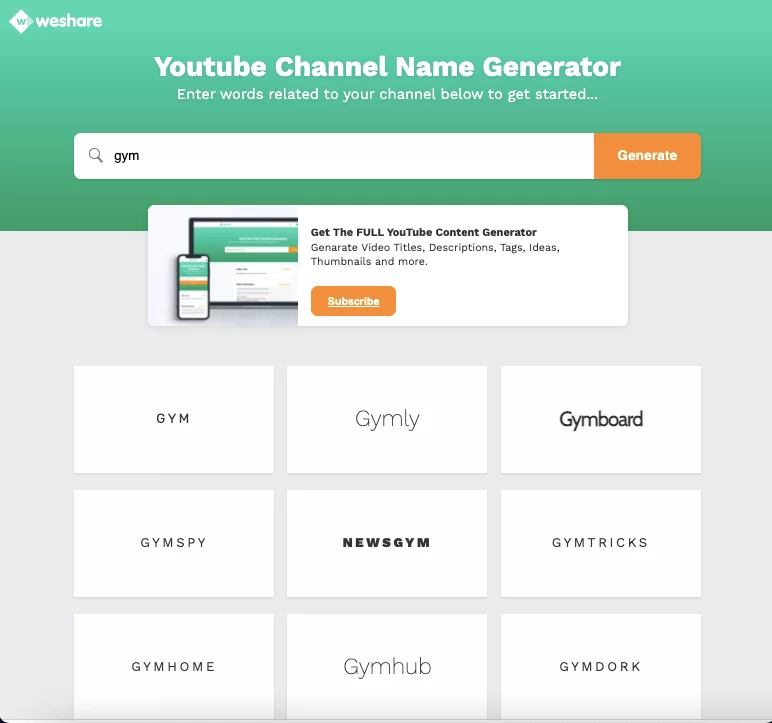 The YouTube name generator by Welder gives you the option to add a short or a long description of the kind of channel that you are planning to start and it will generate some attractive channel name ideas based on your description.
So, we entered a short description of the channel as "Daily Gymming" and got some ready interesting name ideas.
This system really works as far as finding an attractive name is concerned. The tool is very simple and is completely free to use.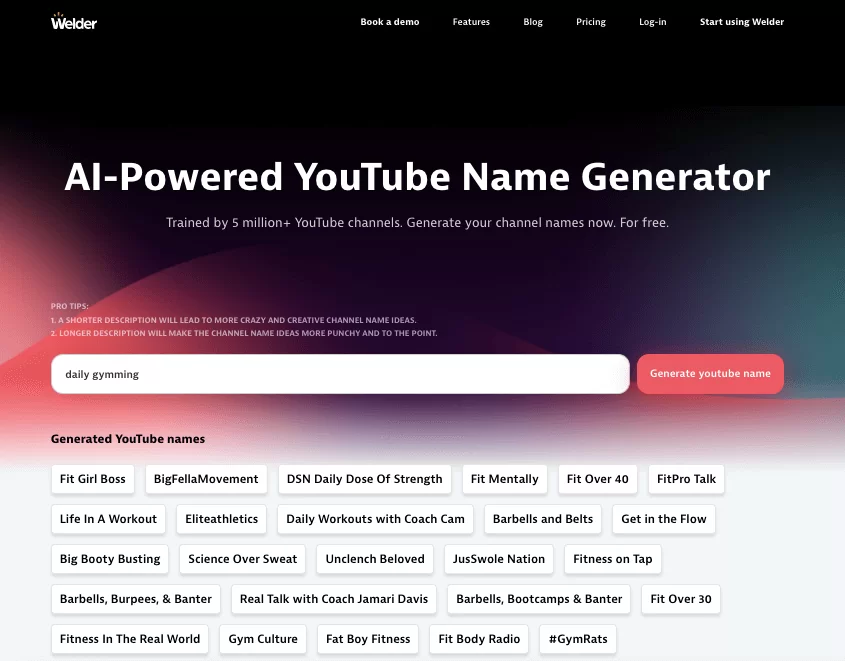 Wix needs no introduction. It is one of the most popular website builders that you can use to create an attractive website. At the same time, you can find a number of very useful tools on the platform that you can use for free.
The YouTube name generator by Wix is one such free tool that you can use to find an attractive name for your upcoming channel.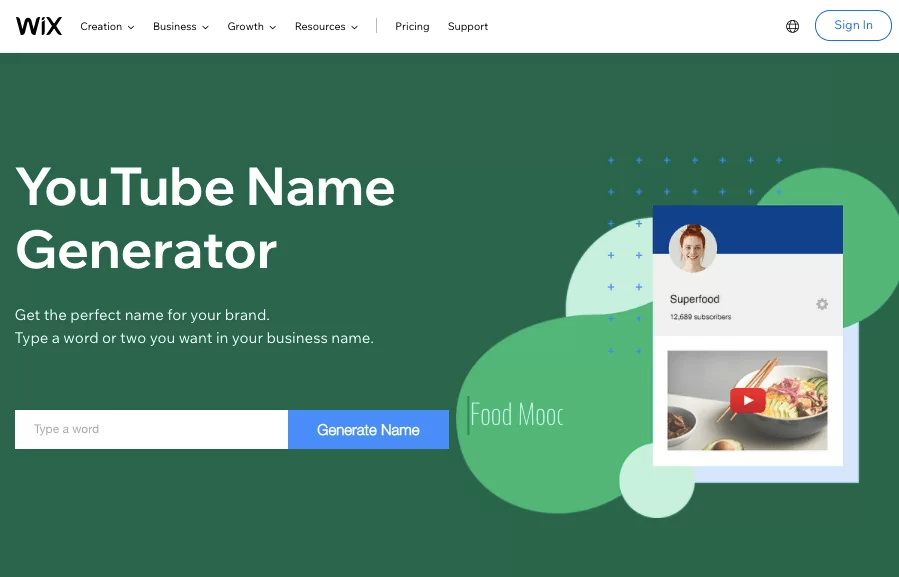 Namify is a custom-created web-based name generator that you can use to generate YouTube channel names as well as names for all other social platforms.
The tool is simple to use, all you need to do is to add a keyword around your niche and select the category and click on generate names to get the name ideas.
It also gives you the option to click on any of the suggested names and check if the domain is available for registration.
For example, we have added Software Review as the keyword and selected the software category to get the name ideas for a new YouTube channel, we have various attractive names to select from.
FAQs About YouTube Name Generators
Q1. Is It Important to Have a Good Name for YouTube Channel?
It certainly is. An attractive name can create the curiosity among audience and make them click and check out your channel. Also, it is very important to have a good name from the branding point of view.
Q2. How to Find a Good YouTube Channel Name?
If you are already managing a business, you can have the same name for your YouTube Channel. If you are starting afresh, you can use any of these channel name generators to find an attractive name for your Youtube channel.
Q3. Are The YouTube Channel Name Generators Free?
Yes, all the channel name generators that we listed in this article are completely free to use.
Q4. Is it Important to Have the Keyword in the Channel Name?
No, it is not important. However, if you have the keyword as a part of the name it will make it easier for the audience to understand the topic of your channel.
Creative Ideas for YouTube: Top 5 Tips
Looking to make your YouTube channel a hit? Here are the top 5 tips you need to follow:
Bottom Line
The best YouTube name generator should have the ability to generate new names that are creative and catchy for your channel.
What makes a great YouTube name? Some believe it's as simple as using your own words or phrases, but others say it's about what people want to see on their screen when they search online.
All of the above-listed YouTube name generators are easy to use and provide the option to see it before you click submit. Go for it now!