Best WordPress auction themes to create a complete auction site and make recurring revenue.
A properly run auction website can prove to be a very profitable niche. These websites provide the perfect platform for sellers and buyers to meet up with one another.
A popular example of an auction website would be eBay, and we all know how successful it is. Now, if you are a WordPress user, you too can seamlessly create a professional and fully functional auction website using a WordPress auction theme.
The trick to making a successful auction website lies fundamentally in providing your users with a functional and intuitive interface.
The major traffic on your site will be generated by the sellers coming into selling their products and buyers coming in to bid, and ultimately buy those products. And hence, you have to make sure that both parties get the best experience using your platform.
We have recently published an article about the best-classified WordPress plugins that will help you to create a listing site.
Now, there are plenty of WordPress themes particularly curated for Auction websites that are imbued with all the necessary features and functionalities to make a successful auction website.
And so, for this read, we will be looking at some of the best WordPress Auction Themes in the market.
So without further ado, let's jump straight to it:
What Are The Best Auction WordPress Themes?
Here is a list of the top WordPress auction themes that you can use to create a product auction site for any kind of product.
01

. Auction Theme – PremiumPress
One of the most powerful and complete auction themes for the WordPress platform, this auction theme from PremiumPress offers all the features and options to help you create a perfect site like eBay.
PremiumPress is one of the top WordPress product stores that has been around for years and offers products to create sites around the auction, classified, directory and related niches.
This theme we are talking about here is created for auction sites. It comes with over 150 design blocks to make sure that you will never have to write a code to customize anything on your site.
The theme comes with some beautiful design options custom-created for auction sites. It offers you over 500 different admin options in the theme dashboard making it one of the most comprehensive solutions when it comes to creating an auction site.
Here're some of the top features of this auction theme.
02

. REHub
One of the most popular actions, classified ad, product comparison, and eCommerce WordPress themes, the REHub is one of the best choices in this list.
When it comes to product-related WordPress themes where you wish to allow your users to list their products for a discounted price, this theme offers everything you need.
It is one of the top-selling themes in this niche with a big community of users and an ever-evolving developer team behind it. So, your site will be in safe hands.
It gives you the option to create your own community around your auction site to make it more engaging. So, you can create a membership kind of site where you display products with discounts and have a ready-to-sell community of users.
If you wish to create a product comparison site, this is the best theme for you. It comes with everything that you may need to create a product comparison site that can be compared to the best in the business.
Red REHub Theme review here.
03

. AdForest
AdForest is a modern and trendy auction and classified ad WordPress theme that you can use to create your auction site. The theme comes with a big collection of pre-built designs that are created for a number of different niche sites.
You can use this theme to create any kind of auction and eCommerce-related marketplace site. The AdForest theme is one of the top-selling themes in this niche and constantly getting updated with new features and options.
When it comes to design, the AdForest theme offers you unlimited possibilities. You can also use the theme with the Elementor website builder to create a completely unique design for your site without any coding.
AdForest theme is optimized for a high loading speed and to make sure that your content has the edge our your competitors in the search engine results.
The theme comes with a number of important features like highly optimized and modern user profile page designs. You have the option of SMS verification when a new user registers on your site and so on.
04

. Taskerr Theme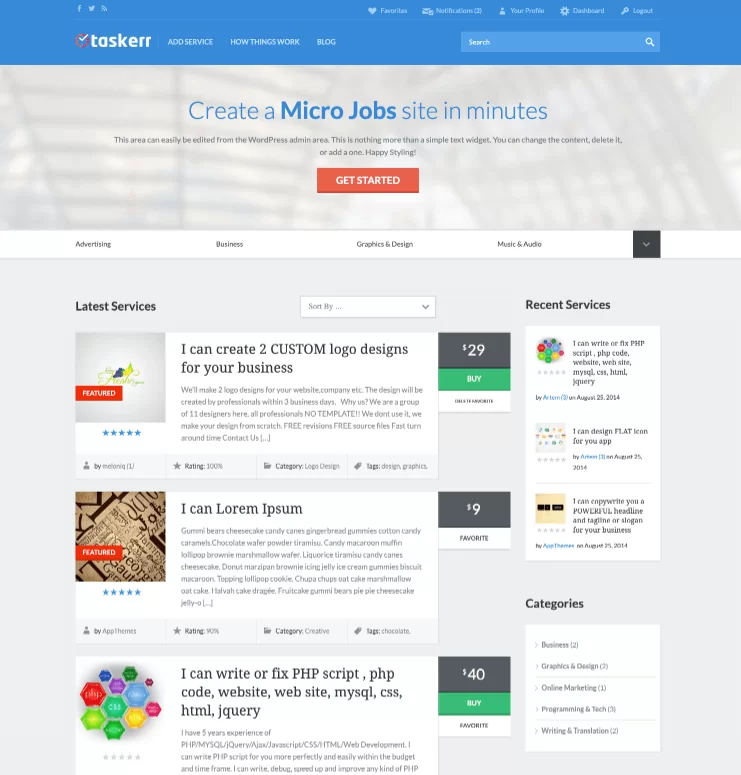 Taskerr is a great-looking feature-rich freelance marketplace and auction theme that you can use to create a successful and sustainable business site.
To start with, the Taskerr theme offers you a very engaging design that can instantly grab your users' attention.
Your users can create their profiles and submit their gigs so that other users can view the details of the gig and hire them.
The theme offers you all the options required to set up different pricing plans and packages to make sure that you can make regular recurring revenue from your site.
Features:
05

. iBid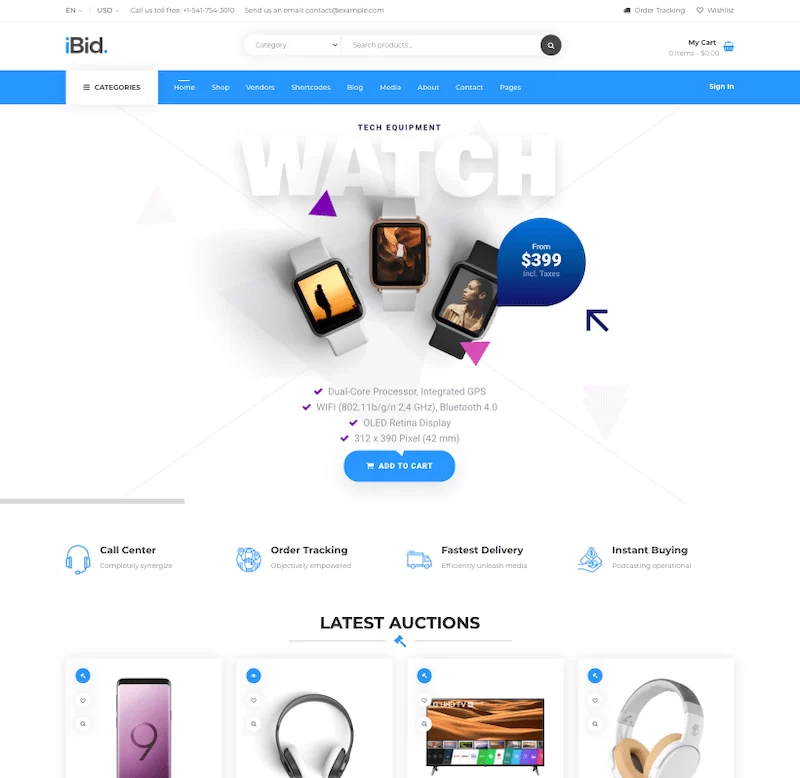 A WooCommerce based multiple vendor auction WordPress theme that you can use to create your auction site.
The theme is created with a modern design and incorporated all the important features and options that you may need to create a successful site to make recurring revenue.
It comes with fifteen ready-to-use demo design templates. You can quickly import any of the demo design options and make your site ready almost instantly.
The theme comes with a number of different shortcodes related to the auction that you can add to your site just by adding the shortcode.
You can use any kind of auction site for any product using this theme. It is perfectly compatible with most eCommerce plugins such as Dokan,  WC Vendors Marketplace and more.
Be it client testimonials, vendor showcases, or success stories, you don't have to design any of these important elements from scratch as the theme already offers you ready-to-use.
06

. Auction Theme for WordPress by PremiumPress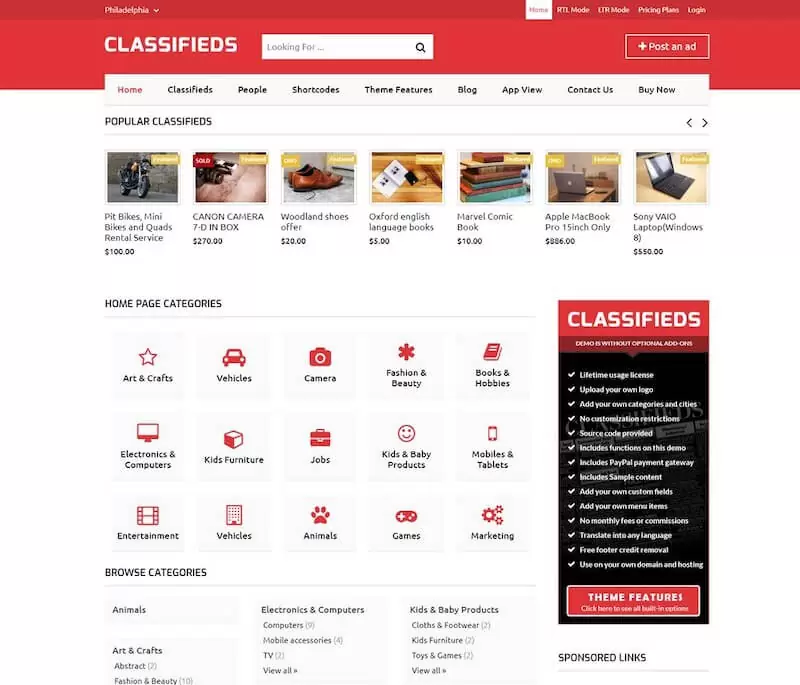 Starting off our list, we have simply named Auction Theme for WordPress by PremiumPress. It is feature-packed and merely installing it to your site will transform it into a full-fledged online auction website. It is also super easy to use thanks to all the management tools and the intuitive admin area.
The theme is built on top of the powerful Twitter Bootstrap framework. It comes packed with the flexible drag-and-drop page layout builder – Elementor.
However, if you don't want to build your site from scratch, you can also use some of the ready-made designs bundled in with the theme.
07

. WordPress Project Bidding Theme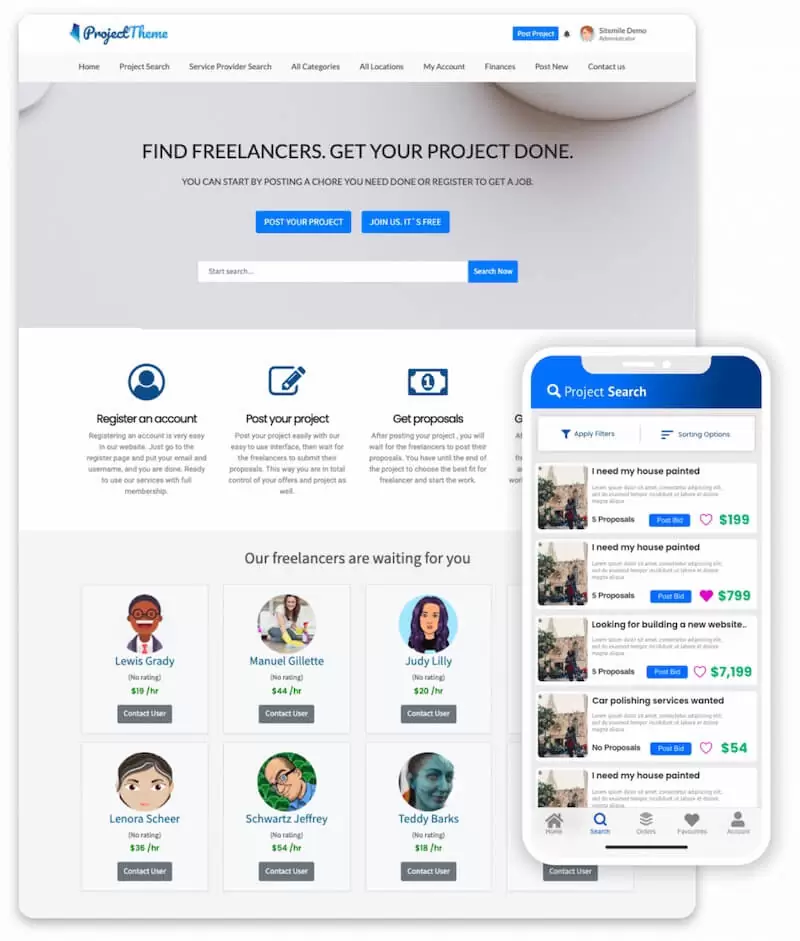 If you want to start a bidding website for services and not products like a freelance marketplace, then the WordPress Project Bidding Theme is the perfect pic.
With this theme, you will be able to turn your WordPress website into a freelancer website in minutes. Similar websites in this niche include UpWork, 99designs, TaskRabbit, and so on.
The interface, design styles, and features are designed to provide the optimal platform for employers and freelancers to negotiate on projects. The employers will be able to post projects, and the freelancers will be able to post bids.
Based on the bids and freelancer profile, the employer will award the project and transfer the freelancer fees once the project is completed.
08

. Essentials – WooCommerce Auction Theme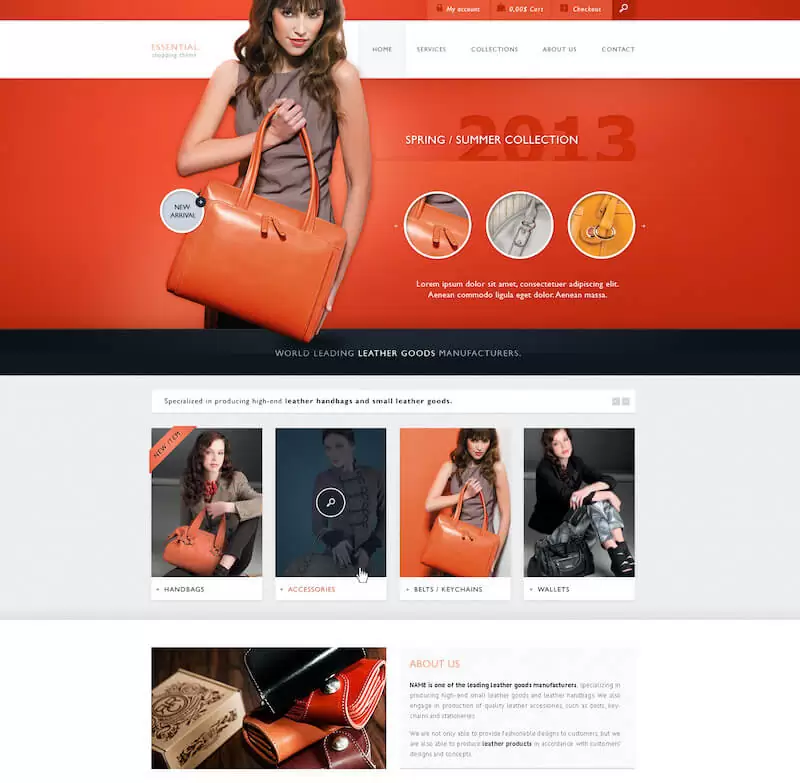 Essentials is a WooCommerce-ready theme for turning your WordPress website into an Auctions portal. As you already know, WooCommerce is an e-commerce plugin for WordPress which helps you to set up an online shop and make monetary transactions from your website.
With this theme installed on top of that, you will be able to set up your auction website along with your e-shop.
The theme bundles in one of the popular – WooCommerce Simple Auctions extensions for free which gives you all the necessary functionalities for running your auction website.
It also features another premium plugin – WooCommerce Simple Bulk Discounts, which allows you to provide – bulk discounts. Besides this, there is a whole host of customization options to make sure your site's design and aesthetics are according to your desires.
09

. Adifier – Classified Ads WordPress Theme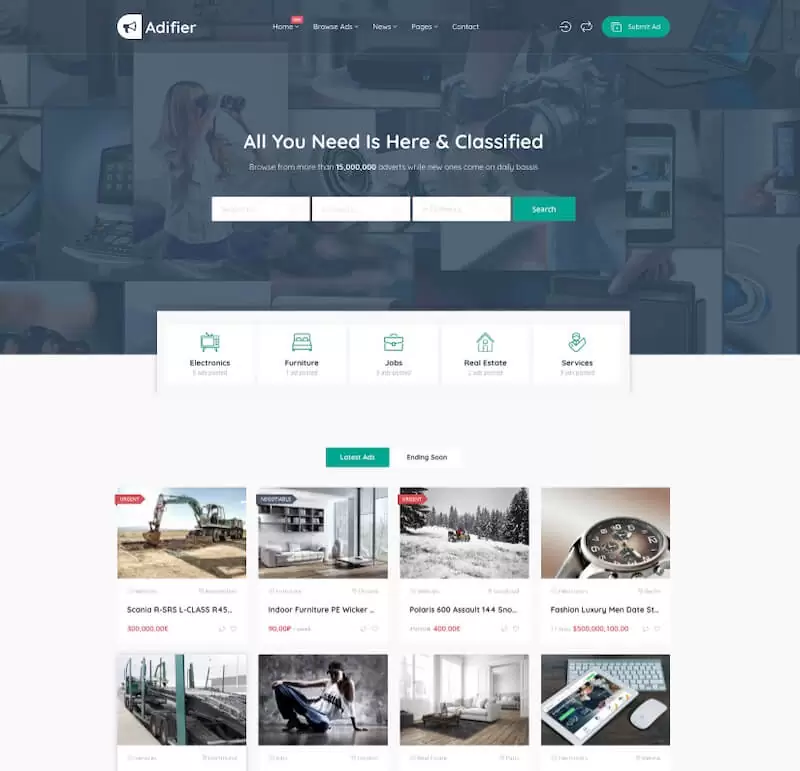 Adifier isn't strictly an auction theme for WordPress, but it is a Classified Ads WordPress theme used for creating listing websites.
However, it does integrate an auction system that you can turn on to let the buyers and sellers achieve the best possible price in a particular transaction.
It has a boatload of awesome features and is completely equipped to run a fully functional classified ad marketplace.
Furthermore, all its features are built from scratch and are not dependent on any third-party plugins. It is designed to be the best, and deliver the best possible experience.
10

. Auction – Car Dealer WooCommerce Theme
Lastly, if you wish to create an auction website for car dealerships, then this is the theme for the job. Auction – Car Dealer WooCommerce Theme boasts a clean and modern design creating the perfect space for mechanic and car listing. It also comes packed with all the necessary features particular to this niche.
It is worth noting that this too is a WooCommerce theme and will require you to have the WooCommerce plugin installed on your WordPress website.
You will be able to set up a basic shop for selling cars as well as an auction system so that buyers and sellers can get the best deals on every product.
11

. Responsive WordPress Auction Theme
Next up, we have a responsive WordPress Auction Theme. This is one of the most popular and powerful auction themes for WordPress.
It is super easy to install and features all the necessary functionalities related to the niche. This saves you the trouble of downloading and installing additional plugins.
The theme is essentially a plug-and-play solution to get your responsive auction website up and running.
Just think of a feature that you may need for the success of your auction portal, and chances are the theme will have it. All users will be able to create their profiles from where they can monitor their auctions and other statistics.
There is also a private messaging option for buyers and sellers to get in touch. You can also charge a fee for every auction listed on your site. And all these features can be conveniently managed from the backend.
12

. WordPress Penny Auction Theme
WordPress Penny Auction Theme is a turn-key solution for creating a penny auction website. In a few clicks, you will have your Penny Auction website up and running.
This makes it an excellent choice for beginners. However, the collection of premium features and functionalities also makes this attractive for advanced users.
The theme is fully designed to handle all necessities that you may have while running a penny auction website.
You won't need to install any additional plugins, as all the functionalities are built-in and easily accessible from the WordPress admin panel. They have also nailed the site's design and layout. Everything looks professional.
However, you should note that there aren't a whole lot of customization options.
In Conclusion
So these were our picks for the top WordPress Auction themes. We hope you found this read to be helpful. If you already use one of the themes mentioned in the list, don't forget to write about your experience using it. Your fellow reader will love to learn about your first-hand experience.