SaaS (Software As A Service) is big these days. As most businesses are starting to work with remote teams and the work-from-home culture is growing, the demand for service-related software is also increasing.
As a content marketer or a blogger, you can make a good amount of money by promoting useful Saas Products. In this article, we will look at the top SaaS affiliate programs that you can join to make money online.
Before we start with the affiliate programs, let us understand the basics.
How Can I Make Money Through Affiliate Programs?
If you are aware of what affiliate marketing is, you are probably missing a lot of potential revenue.
It is the process of promoting third-party products around your niche and earn a commission if any of the users take an action (by the product using your link)
When you join any affiliate program, you get a unique link to the product that you can use within your content be it a blog post, YouTube video, or through other channels.
When a user lands on your page or your video page and clicks on the link, they will be redirected to the product home site. When they decide to purchase the product, you get a commission just for directing the user to the product page.
For better conversion, you need to make sure that you only promote related products to your niche and preferably the products that you use or would like to use.
What is SaaS?
SaaS means Software as a service. So these are primarily service providing software that you can subscribe to for a monthly or yearly fee.
For example, software that you can use for accounting or manage all your social media accounts from a single platform. So, these kinds of software platforms are known as SaaS products.
How about managing your entire business from a single dashboard or through a mobile app? SaaS products can make this happen. If you look at the best project management software, you can use such software to manage your remote team (working from different parts of the world), project planning, team communication, and all other daily business tasks from a single dashboard.
So, in simple works the SaaS products makes life easier when it comes to managing businesses.
These are affiliate programs that focus on SaaS products, including software-as-a-service and other services accessed online from an Internet browser or via a mobile device app.
Let's look at the Best SaaS Affiliate Programs.
All of these programs have been checked for legitimacy, and only the best programs are on this list. This list is ranked based on factors like brand reputation, history, and earnings. Check it out now!
Accounting SaaS Affiliate Programs
If you are managing any finance related website, you can promote the best accounting related SaaS products to make money. Here're some of the best accounting related affiliate programs.
01

. FreshBooks Affiliate Program
Started in 2003, FreshBooks is one of the leading cloud accounting platforms, and its affiliate program is managed by the popular affiliate network ShareASale.
The platform allows affiliates to earn $5 for each trial and sign up. If the subscribers shift to a premium account, you can earn a good $200. Every payment in FreshBooks is managed by ShareASale affiliate marketing platform. All the payments are released on a monthly basis.
FreshBooks allows you to customize your invoices and make use of integrated templates.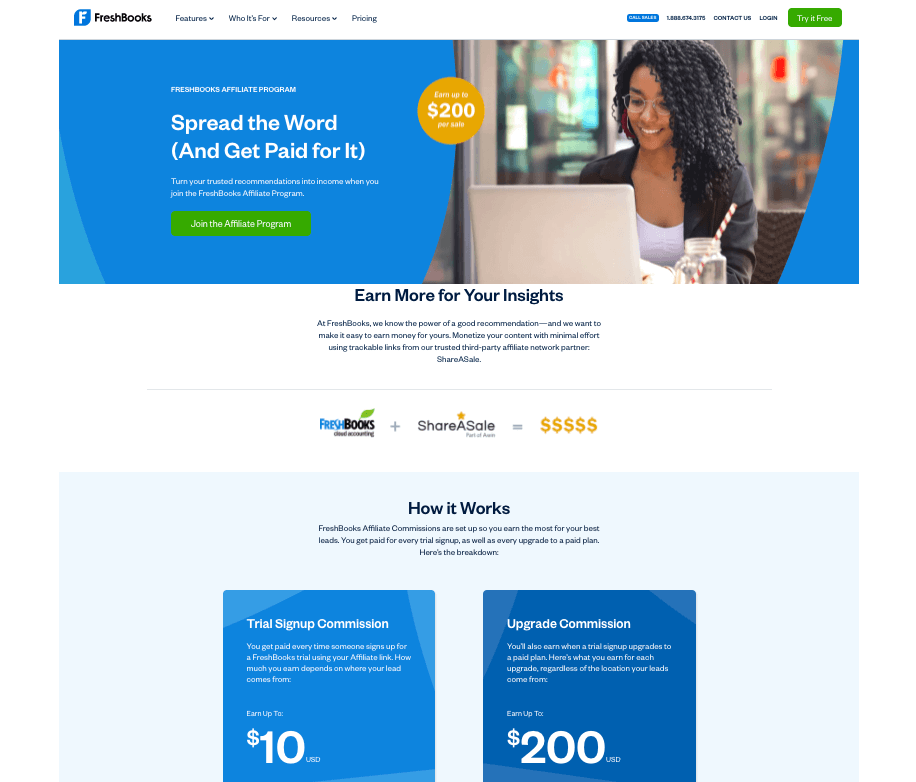 02

. Sage Affiliate Programme
Sage is an all-in-one platform to manage all the financial aspects for your business. You can use it for accounting, finances, payroll, payments, operations and other activities for your business.
Their affiliate program gives you the opportunity to earn a 7% commission for every client you refer. Even if the customer opts for the free trial, you get $5 to your account.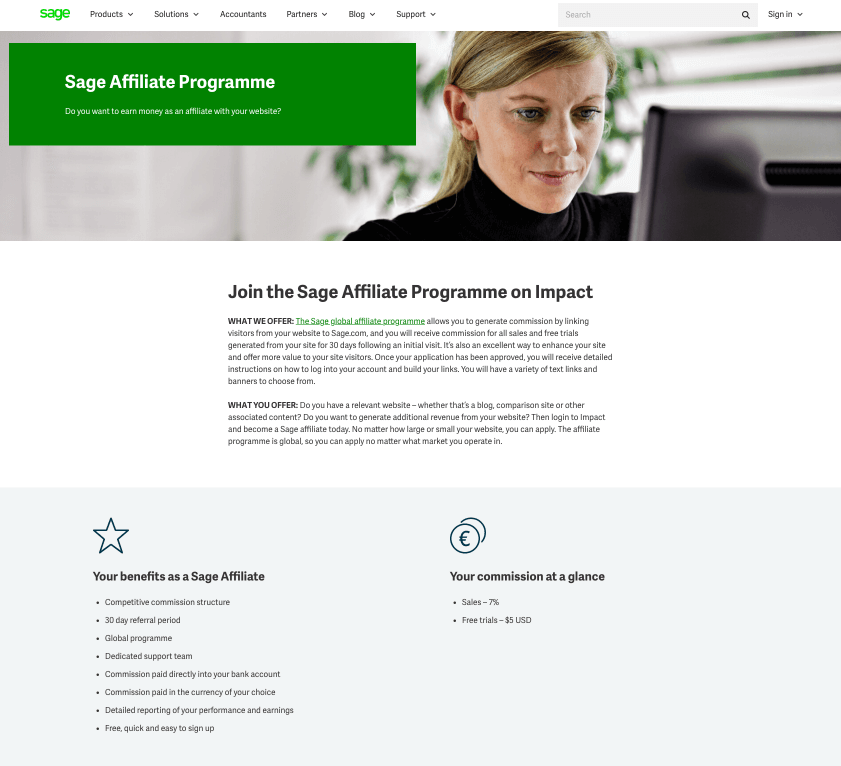 SEO SaaS Affiliate Programs
SEO is one of the most important aspect of any online business. So, almost all online business need good SEO tools. Here're some of the best SEO & marketing related affiliate programs that you can join & promote.
03

. SEMRush Affiliate Program
This is a top-class SEO tool that offers a very popular affiliate program managed by ShareASale. From online advertisers to online agencies, SEMRush is the leading choice for all levels of digital marketers worldwide.
This industry-leading SEO service has been the go-to solution for managing different online marketing tasks, such as SEO optimization, blogging, content optimization, and online marketing agencies.
The tool has been there for over a decade now and has recently funded $40M for its global expansion. The tool has gained a lot of popularity recently over its rivals like Ahref. For affiliates just getting started in the affiliate marketing business, this one is a good pick.
04

. SERPstat
This is a one-stop SEO, PPC, and content marketing tool for professional and high-end SEO experts.
The database has over 100 million keywords and 200 million search suggestions. You also get amazing SERP tools, such as Rank Tracking, SERP Crawling, Competitor Analysis, and Site Audit.
This tool is a great choice for SEO agencies, PPC marketers, bloggers, and search analysts.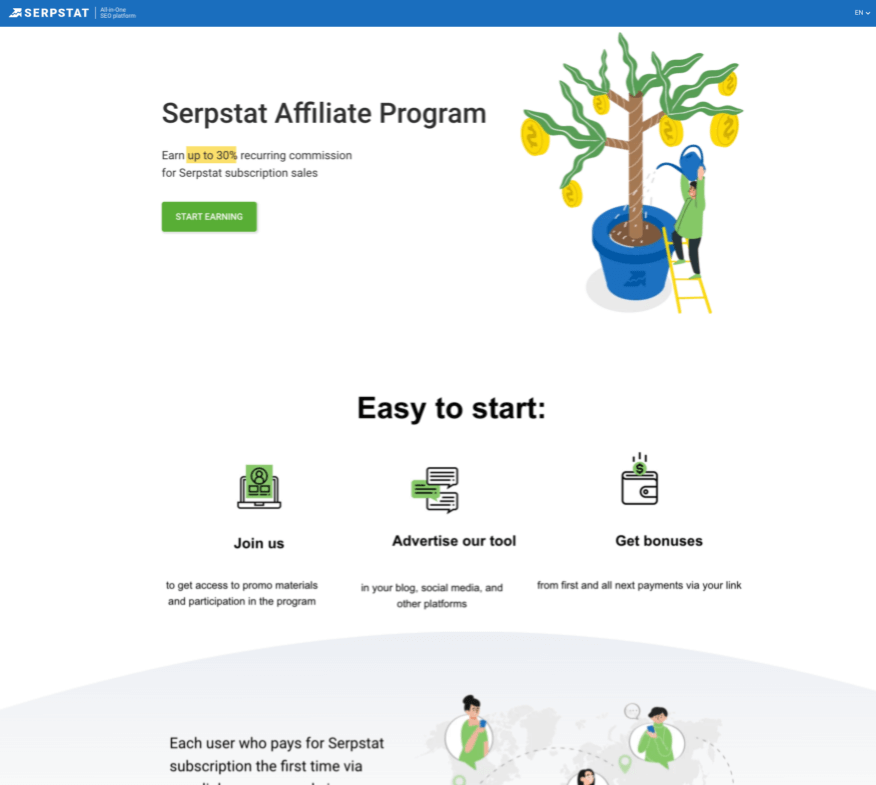 05

. SEO PowerSuite Affiliate Program
SEO PowerSuite offers a bunch of amazing SEO tools to choose from for different online marketing needs. The SEO tool has its affiliate program managed by one of the top affiliate marketing platforms, such as Avangate, which makes everything easy from payment to tracking affiliate campaigns.
You can earn up to $230 per sale and get amazing tools, like marketing resources, an in-house support team for marketing, and accurate reporting. This is also a good SaaS software affiliate program for beginners to get started with passive income.
All the four SEO tools offered by SEO PowerSuite are cross-device compatible, and everything is customizable for higher productivity.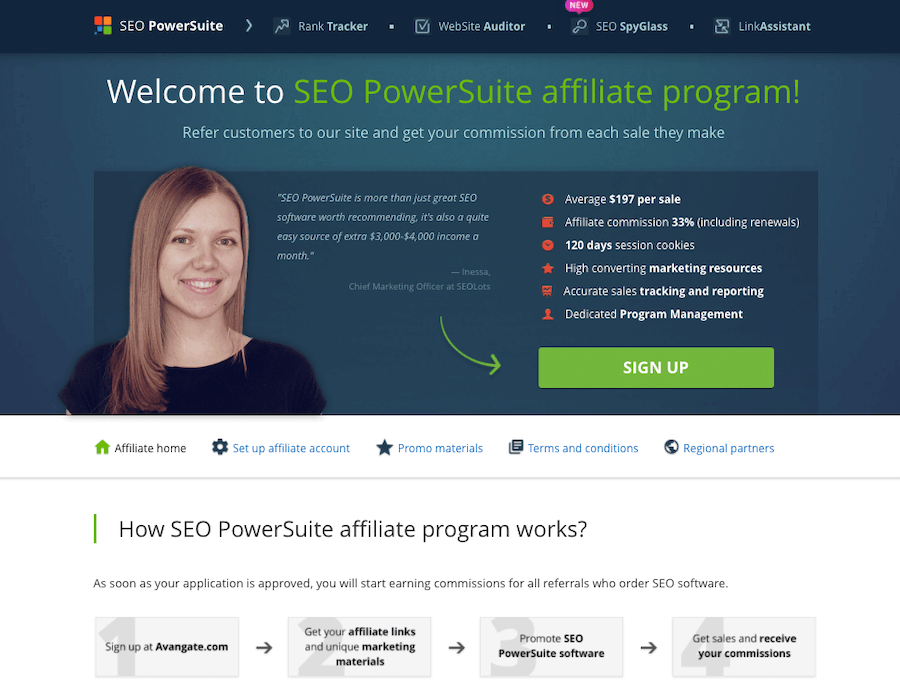 06

. Mangools Affiliate Program
Launched in 2014, Mangools is a remarkable and feature-packed SEO tool. This is a package of tools that incorporates SEO features like SERPWatcher, KWFinder, and SiteProfiler.
This one is also a good tool for finding long-tail keywords and the ones with low SEP difficulty. The tool is widely popular for in-depth URL analyses and takes into notice over 45+ metrics.
With 2.4 billion keywords, 100 million competitors, and 52k locations, Mangools is a good choice.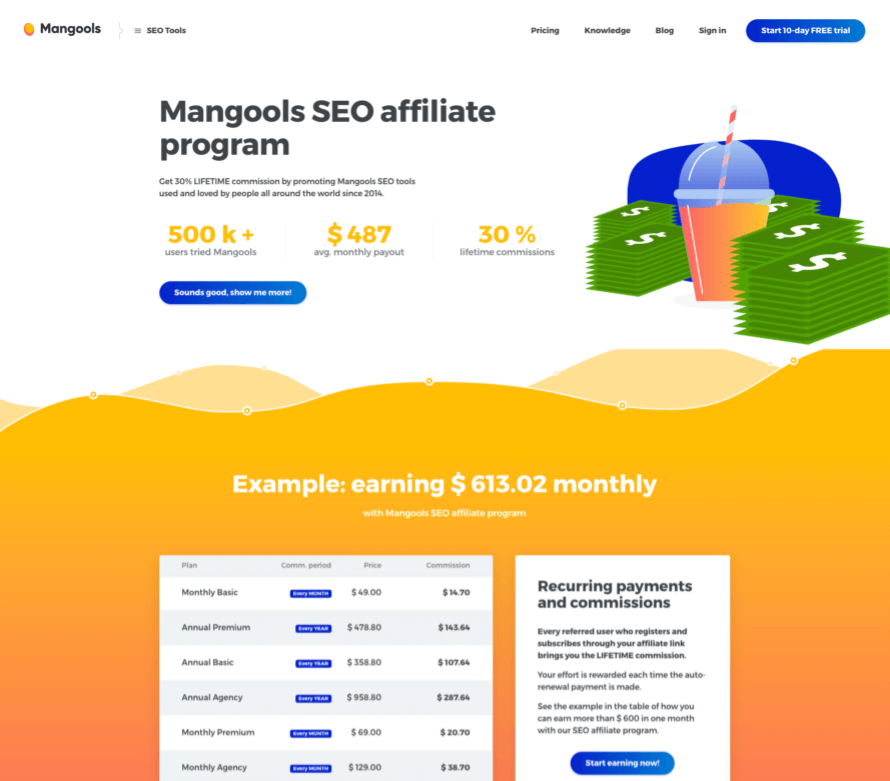 07

. AccuRanker Affiliate Program
AccuRanker gives you in-depth analytics of your page rankings and offers very competitive pricing. The tool integrates features like Google Analytics, Google Search Console, and various SERP features.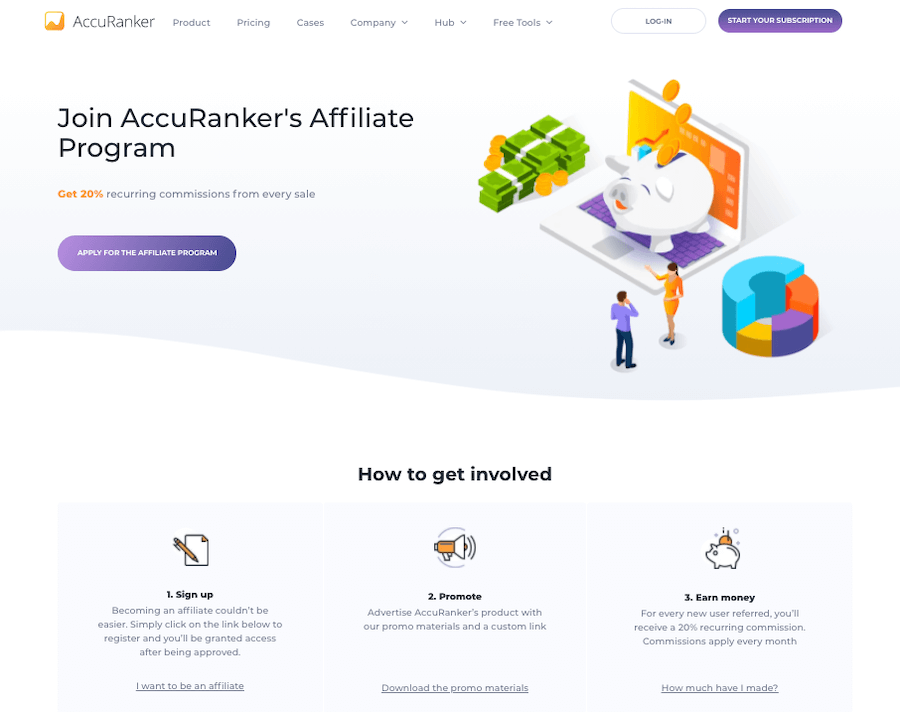 Marketing & CRM SaaS Affiliate Programs
While marketing is a very broad subject that includes a number of different marketing channels, we have tried to list the top marketing & CRM-related affiliate programs that offer a 360-degree solutions to businesses to grow, here're the best affiliate programs that you can join & promote.
08

. HubSpot Affiliate Program
Monetize content and make money with HubSpot. The CRM tool, also an affiliate program, is really popular.
With the integrated social media management tools, the tool even allows you to publish content on various social media platforms. The mobile app has all the must-have features to look out for.
09

. Leadpages
A comprehensive marketing platform, you can use Leadpages to create a conversion-focused website or a landing page. It offers a number of design templates that you can use to create your website.
It also offers you a variety of different tools and features and captures leads and grows your business. Create engaging popups, opt-in bars and other tools to collect leads.
As it is a drag and drop page building platform, you will not need any technical knowledge. If you are good at marketing and creating content, you can take advantage of Leadpages to grow your business.
They have an affiliate program, you can make a 50% commission for each customer you refer. And it is a recurring commission, which means you will get paid 50% of all the bills in a customer's lifetime.
10

. ClickFunnels
This is a complete funnel-building platform with over 100,000 users. It's simple, easy, and offers a one-time commission. This one is a must-have tool for online marketers and entrepreneurs for optimizing their sales and productivity.
11

. Funnel CRM Affiliate Program
This popular CRM tool allows you to manage complex workflows easily. Online marketers and entrepreneurs can build and manage conversion-friendly sales funnels with Funnel CRM.
You can also promote its 30day.com platform and earn an additional $100 in commission.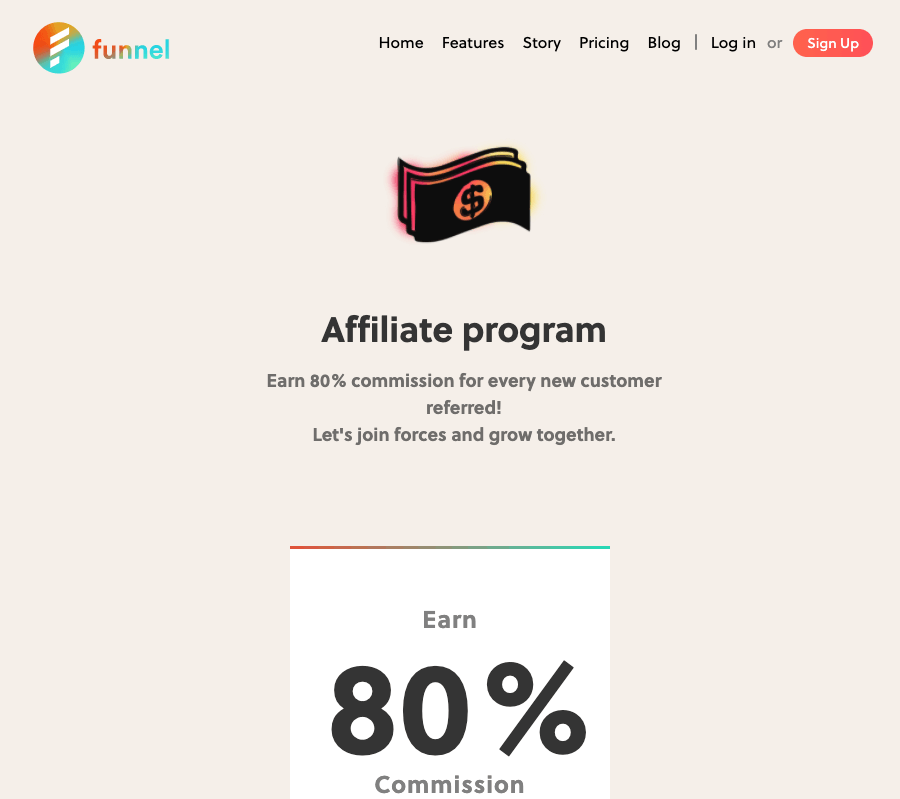 12

. ActiveCampaign Email Marketing Solution
This is considered the best email marketing solution for small- and medium-sized business organizations.
The tool is a big part of the industry and has reached a whopping $100 million annual recurring revenue with over 6000+ active partners.
Another interesting thing to know about ActiveCampaign is that its affiliate partner network has reached a hike of 150% in recent years.
The platform has received a lot of different awards from various organizations around the world. All the payments are done by the PayPal method and have a one-click attribution.
You can also get integrations with a number of important tools to choose from, such as WordPress, Shopify, and Facebook. From geo-based affiliate tracking to click-maps, the ActiveCampaign SaaS affiliate program offers it all.
Founded in 2003, the SaaS program offers a good commission rate and a better recurring commission rate for affiliates.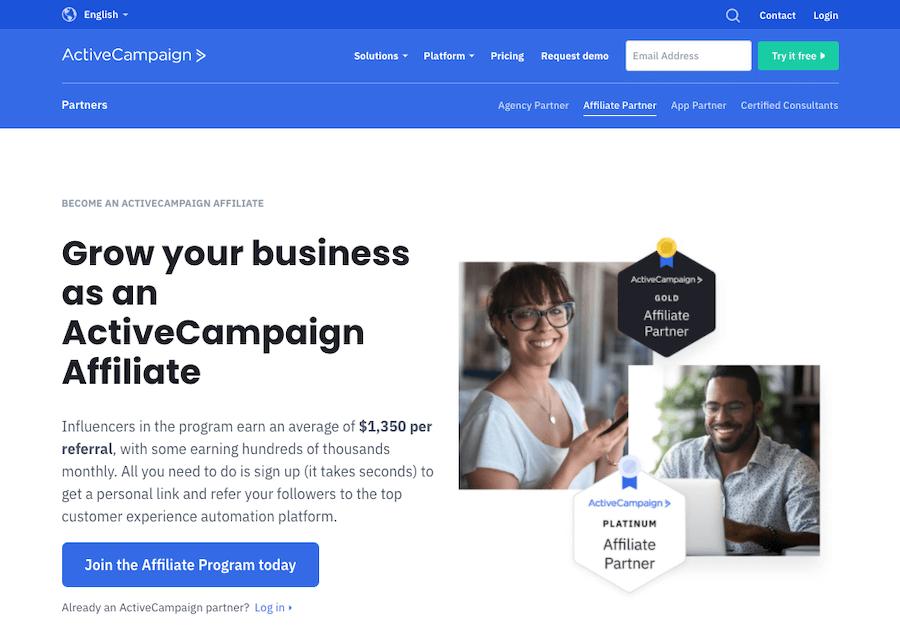 13

. Aweber Affiliate Program
Aweber is a powerful and easy-to-use email marketing tool used by digital marketers. This AI-powered tool is in high demand and is expanding its user base intensively.
The organization has been there in the market since 1998 and has an amazing auto-newsletter feature that helps you in easy earnings with affiliate marketing.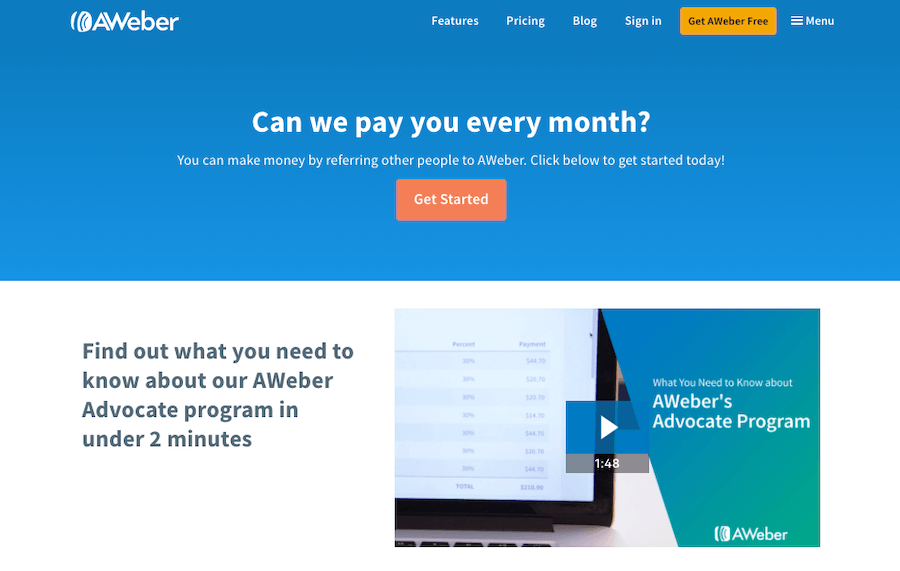 14

. Drip
Drip is a complete email marketing software with the best automation features.
The tool has created a good and reputable name for itself in the eCommerce automation market. The tool integrates platforms like Magento, Shopify, and WooCommerce.
Drip provides some amazing features to collect customer data in real-time and personalize leads for conversion. Drip offers yet another SaaS affiliate program beneficial for beginner affiliates.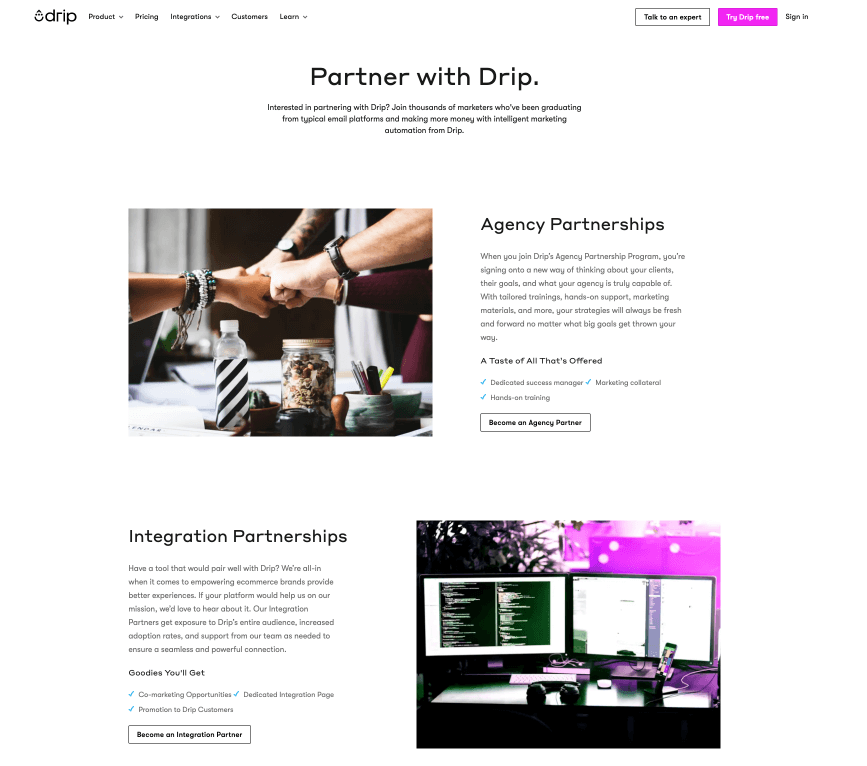 15

. ConvertKit
This is the go-to email marketing tool for bloggers worldwide and is in demand for sure. The tool has a very appealing and demanding UI/UX for sure. The email marketing features are highly dynamic and are a money saver.
16

. Wordable
Any content creator, blog editor, or content manager would love this gem. Have you ever been frustrated copying and pasting content from Google Docs to WordPress? Text formats disappearing, headers not translating, images not showing, incorrect spacing, and you have spent hours reformatting. Luckily, Wordable comes to your rescue.
Wordable is a SaaS tool that helps content creators publish content directly from Google Docs to their CMS (WordPress, HubSpot, Medium, Shopify, BigCommerce, and more). This content management tool allows you to export your content from Google Docs to WordPress quickly and easily. If you're publishing content more than 5x per month, Wordable comes in handy for your content and editorial teams.
Wordable's affiliate program offers partners a recurring 30% commission for every sign-up and plans range up to $1,000 per month for enterprise companies. Their most popular plan starts at $99 per month, which means you get a 30% commission every single month for successful conversions. After the first year, the commission drops to 15% for as long as your referrals stay on Wordable.
Joining is as easy as 1-2-3. You first sign up for the program, then Wordable's team will walk you through the process. Promotional materials and tools are provided as well – this helps you start marketing ASAP. Once your conversions start rolling, automatic payments are set up so cash just comes in your bank.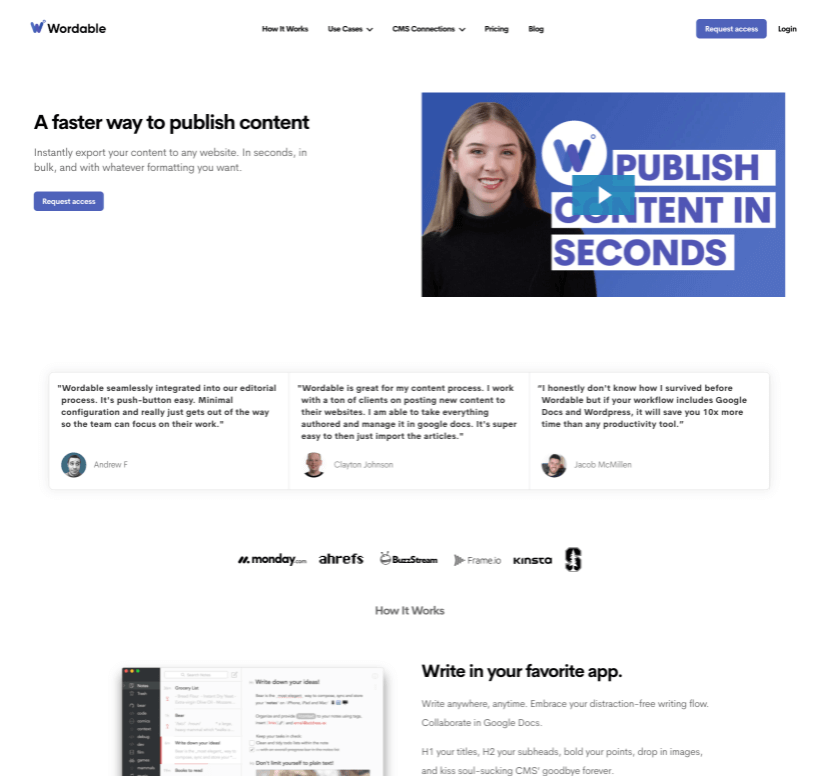 eLearning & Digital Product Selling Affiliate Programs
If you are managing a blog that is focused on educating your audience or you deal with online learning. Here're some of the best affiliate programs related to eLearning and digital product selling related platforms.
16

. Podia Affiliate Program
This all-in-one marketing platform for online course creators is cheap & powerful. This is popular among marketers and online promoters. Founded in 2014, the tool makes it easy for anyone to build their storefront and sell their products online hassle-free.
With Podia you can create a high-converting sales page or a complete website, you can add a live chat widget, start your own affiliate program with podia, sell online courses and a lot more.
If you are into the online business, Podia can be the game-changer with all the different kinds of tools and services it offers.
Also, they have an amazing affiliate program that you can promote. They offer recurring commission which means, you will get a commission every month as long as the customer you referred stays with Podia, making it a great source of passive income.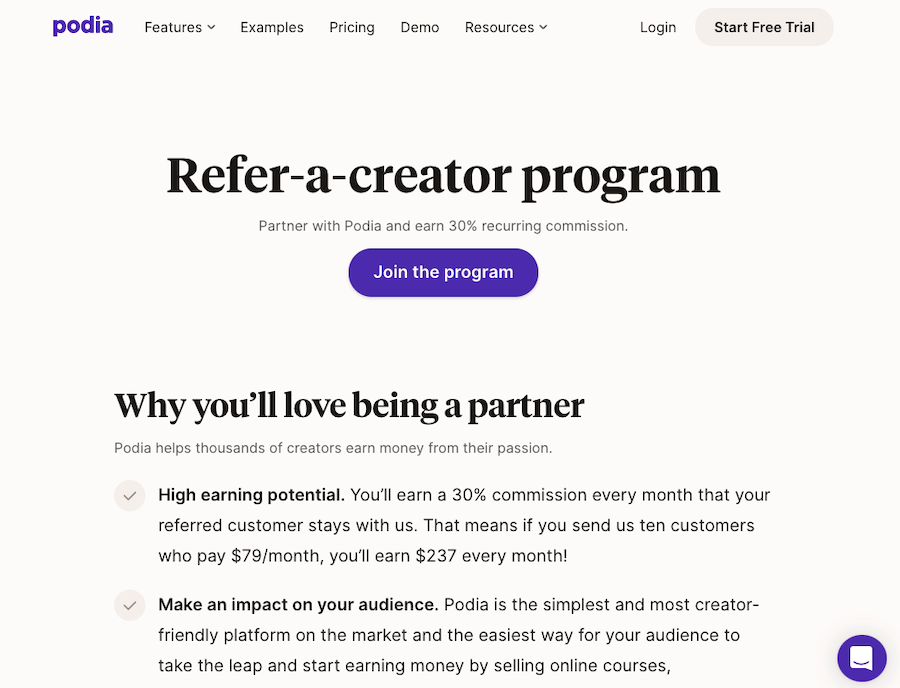 17

. Teachable Affiliate Program
With 100000+ creators, this is a complete course-building platform. The platform offers an optimized sales funnel for different affiliates.
Though there is no drag and drop page builder available in Teachable, you get tools like a power editor and CSS tool to create pages.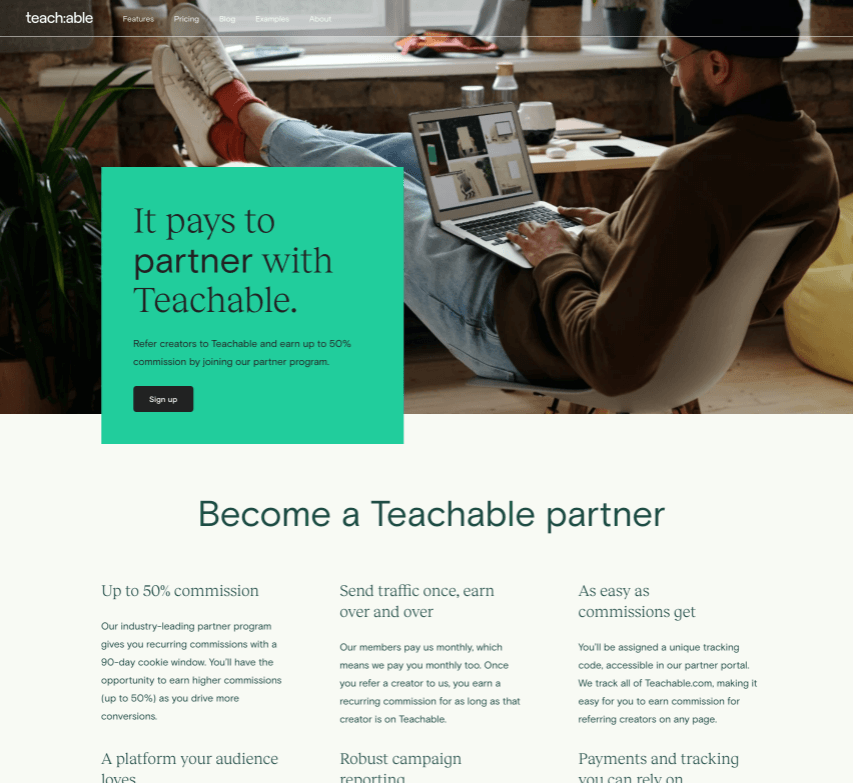 18

. Kajabi
Established in 2010, this popular online business tool has one of the biggest user bases in the business.
With a presence in over 200 countries, the team has reached a whopping $1.5 billion in sales and has helped over 60 million students worldwide.
The tool is high in demand among entrepreneurs, online marketers, course creators, and influencers. The tool has gained a lot of popularity globally, thanks to the amazing automation features offered.
Another amazing feature affiliate gets with Kajabi is that the platform allows you to earn a good $1000 if your referred person stays on Kajabi for 2 years. Isn't that amazing?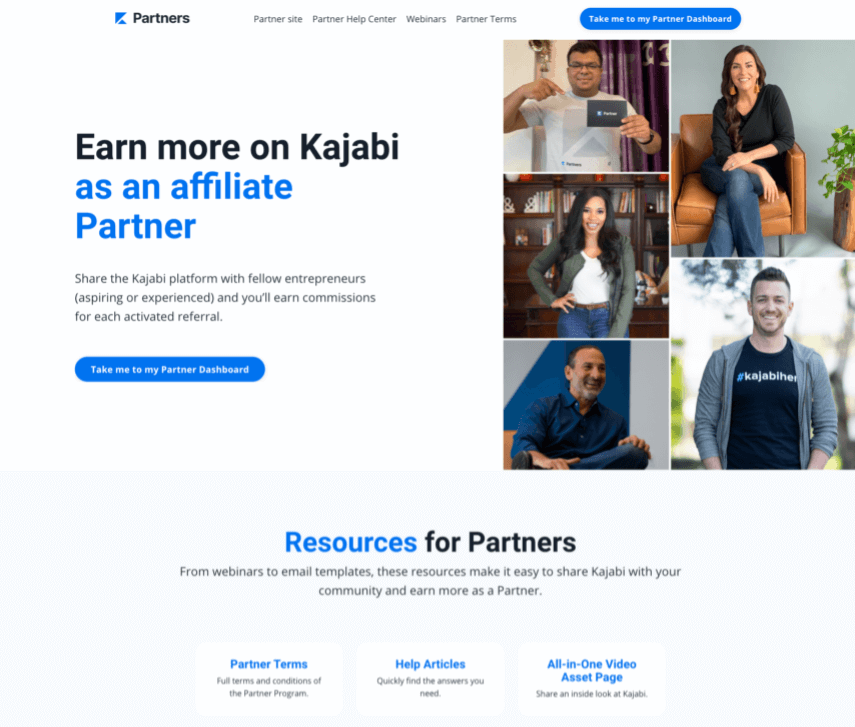 Social Media Management Software Affiliate Programs
Social media is a big part of our life and businesses these days. Any blogger in almost any niche can promote a social media software as it is considered as a general kind of product. Here're a few social media software-related affiliate programs.
19. Sprout Social
Sprout Social is a popular social media management software that you can use to manage all your social media management from a single dashboard and get actionable insight so that you can make a better decision for your business and grow it quickly.
Sprout Social affiliate program offers you $75 for the first month as a customer joins through your link, and you get a 15% recurring commission for the next 6 months.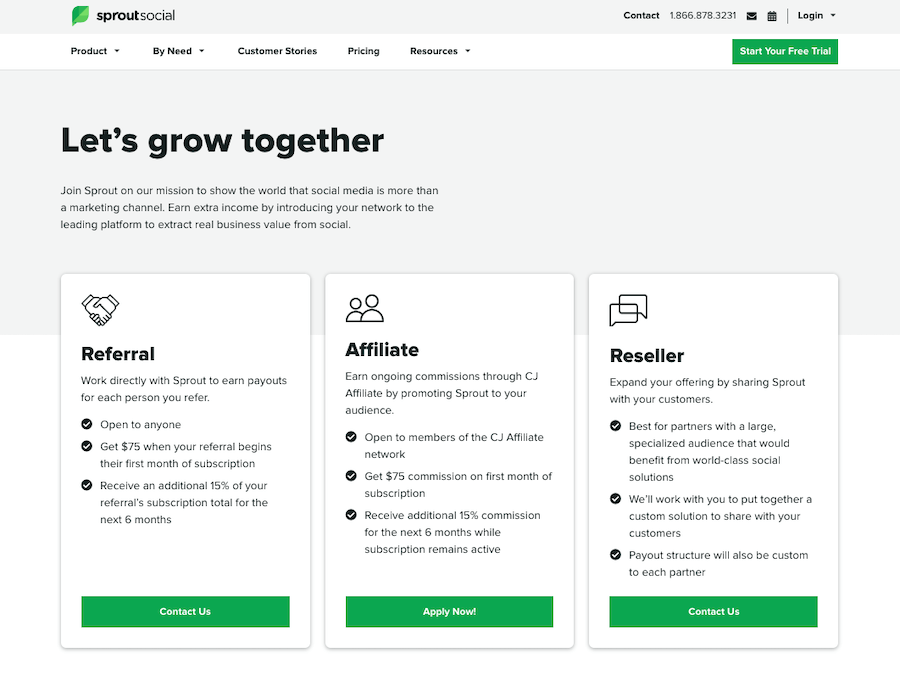 20

. SocialBee Social Media App
This is a premier software in the market of social media management apps. The tool allows you to automate your social media posting needs effortlessly. You get access to payment platforms like Paypal and Stripe.
You can not only automate your social media postings but also do a lot more social media handling activities for higher engagement, such as recycling and curating social media content. The platform also allows you to post and edit social media content in bulk.
The platform has partnered with PartnerStack for easy payment management and has a good 20% to offer for recurring affiliates. SocialBee also offers you a 14-day free trial for new users. Affiliates can promote and make money by targeting different authors, content creators, podcasters, and content developers.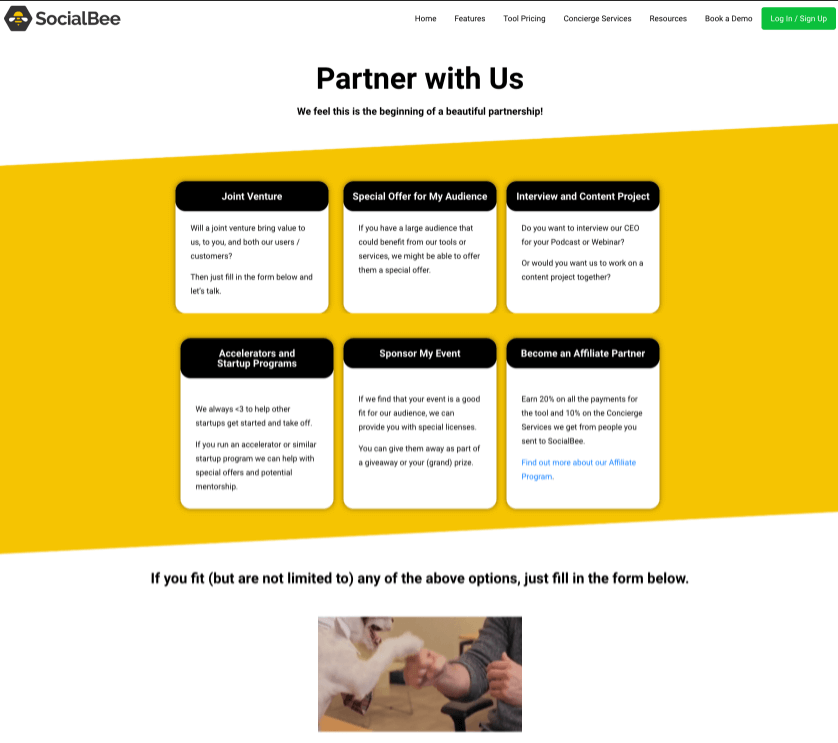 WordPress Software Affiliate Programs
WordPress is the most popular Content Management System that powers over 35% of all websites on the internet. Here're a few popular WordPress products related affiliate programs
21. ElegantThemes
ElegantThemes has been around for years and known for one of the most popular WordPress themes the Divi Theme. If you are aware of WordPress, you probably have come across the Divi Theme
They are also known for the Divi Builder which is a powerful drag and drop website builder for WordPress as well as a few other products. They have one of the best affiliate programs that offer 50% commission. You will earn upto $100+ for every sale.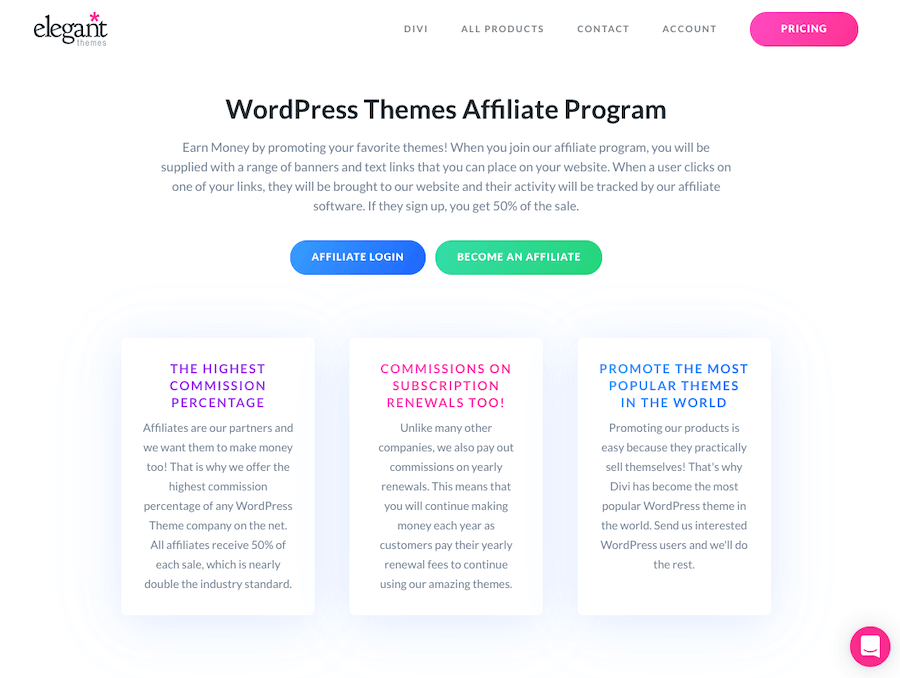 22. Elementor Affiliate Program​​
Elementor is the most popular website builder for WordPress. You can create a complete custom design for your website without writing a single line of code.
This is a drag and drop front-end website builder that comes with tons of ready-to-use templates, popup builder and all the design-related features to help you create a great-looking website.
Their affiliate program gives you the option to earn a 50% commission for each member you refer to the platform.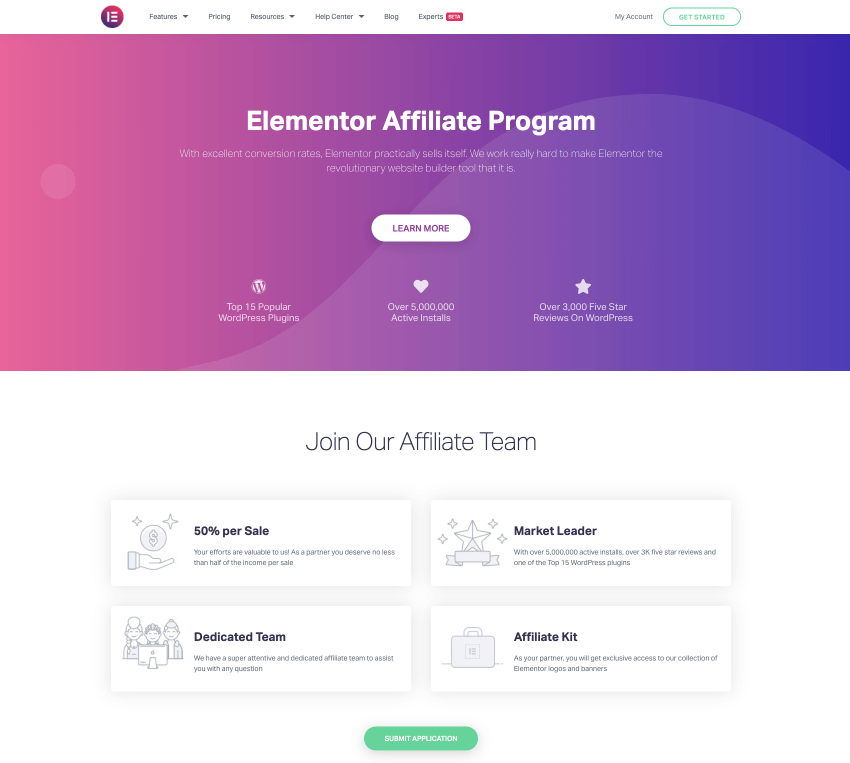 23. MyThemeShop Affiliate Program
MyThemeShop is known for creating SEO-friendly WordPress products. They offer a number of popular themes and plugins to grow WordPress sites.
They have some popular products like the Schema Theme, the popular SEO plugin for WordPress Rank Math are MyThemeShop products.
They have a high converting affiliate program that offers 55% commission and they offer two Tier Lifetime 10% Commission which means, you will make 10% of each sale made by the affiliates that you refer to the platforms.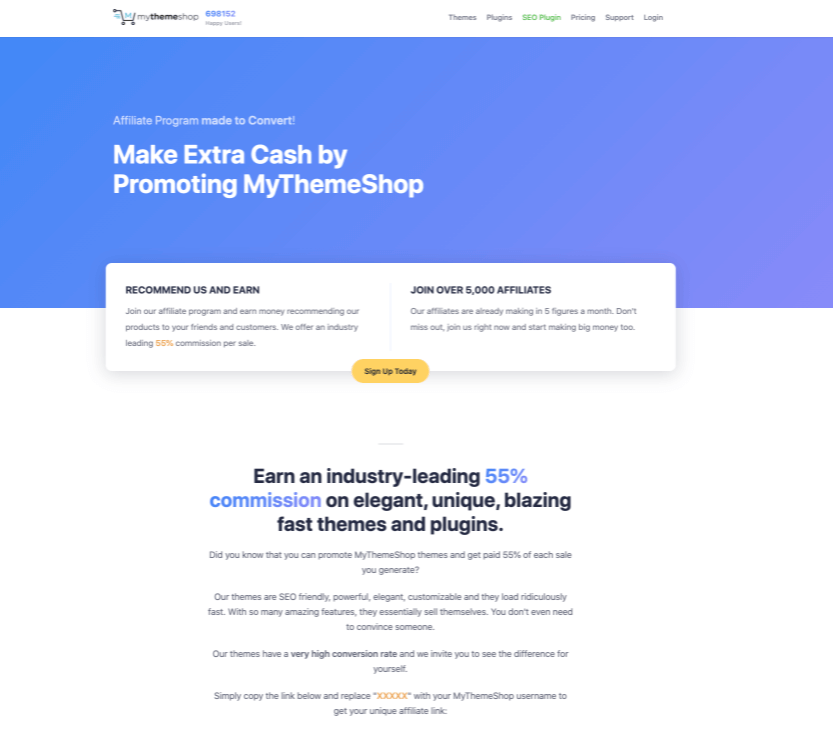 24. ThriveThemes
This is a popular all-in-one WordPress marketing platform that empowers you to build conversion-friendly sales. You can create and manage an easy-to-use sales funnel right inside your WordPress website.
The platform has a huge set of offerings for all kinds of online marketers and entrepreneurs. Affiliates earn a good 35% when they bring a customer for any of the ThriveTheme products and 25% recurring commission.
You get a ThriveTheme Slack communication channel when your user signs up for a VIP membership. You can also get a good amount of affiliate training programs to choose from.
FAQs About SaaS Affiliate Programs
Q1. What is SaaS?
SaaS (Software As A Service) products are the software that are created to offer online services. For example, software to manage products, social media marketing, website building software etc. You can use these software for a monthly or yearly subscription as per the pricing plans offered by each software.
Q2. What is Affiliate Marketing?
Affiliate marketing is the process of promoting third-party products. You can partner with the product companies in your niche and use the affiliate links in your content and you will get a commission if any user makes a purchase using your link.
Q3. How to Make Money With SaaS Affiliate Programs?
You can signup for the SaaS platforms in your niche and start promoting the product within your content.
Q4. How Much Can I Earn From SaaS Affiliate Programs?
The earning will depend on a number of factors such as your niche, the commission percentage of the products you promote, the amount of traffic that your site received as well as the conversion rate.
Q5. How Can I Increase My Earning From SaaS Affiliate Programs?
Make sure to promote the are related to your niche so that they naturally fit into your content. It is always recommended to promote the products that you use or would like to use.
In Conclusion
Here ends our list of the best SaaS affiliate programs. These products are the best in their category and should serve your needs well.
As the demand for SaaS products is only increasing across the globe, investing your efforts and time in a profitable SaaS program would only bring a good passive income online. What SaaS affiliate program are you interested in joining?