Are you looking for the best Pinterest scheduling tools? We will have a look at some of the best Pin scheduling tools in this article that are being used by the top marketers.
When it comes to social media marketing, the very common question that we come across is about automation tools.
We all know that we can get the best results on any social media platform when we are actively involved and create new engaging content regularly. However, it is not humanly possible to be active on all social sites, especially when you don't have a team
Another important aspect of social media marketing is timing. If all your followers are active at around 7 PM in the evening, there is no point in publishing content at 7 in the morning.
So, the automation tools become the life savior for the marketers by making it possible to be active round the clock.
In case, you wish to get your hands on Pinterest and learn the platform for a couple of days without going public, you can make your account private.
Why Should You Focus on Pinterest?
Pinterest receives over 450 million visitors every month who is using the platform actively. That's a huge population that you can leverage to market your business.
Pinterest has one of the most engaging communities of users. Your Pin will have a long shelf life as compared to your Tweet or Facebook post.
It works like a search engine, your content visibility will grow slowly but it will stay for a much longer time.
There are marketers and bloggers who are driving thousands of traffic from Pinterest alone, so don't miss this opportunity.
Top Pinterest Pin Scheduling Tools to Save Your Time and Keep Your Pinterest Page Active
01

. Circleboom
Circleboom is a popular social media management software that makes it simple for the users to manage multiple accounts from a single platform and schedule content to keep the social feeds fresh.
When it comes to Pinterest post scheduling, Circleboom offers an easy and comprehensive solution to automate the process of posting content on Pinterest.
It also allows users to schedule Pins in bulk and it makes sure that you are safe and within the Pinterest regulations.
Circleboom is a complete solution for Pinterest that gives you the option to create, curate, and schedule your posts in advance.
02

. Tailwind
Tailwind is one of the most popular tools for Pinterest to schedule your Pins and grow your profile. Most of the leading Pinterest users are active members of the Tailwind app.
Tailwind will help you get more traffic via Pinterest. It will grow your Pinterest account really fast.
It is super easy to use. You can start with the trial version and later you can go for the full version. If you use this app actively, it will grow your account in a very short time.
The best feature of Tailwind is that you can see if the pin is working or not working. It will tell you everything about your Pinterest pins. This app is great if you want to schedule your Pinterest pins.
It is easy to get started with Tailwind. Create an account using your Pinterest profile, once your account is ready, you will be taken to the backend of the tool where you can schedule your pins
You can go to the Pin scheduler and upload the image that you wish to schedule.
Using The Pin Scheduler
The Tailwind interface is simple and easy to use. You can create your profile and get started. You can create your Pin and schedule it in advance. In fact, you can schedule multiple pins for the entire week or more in advance so that you have plenty of time for other important tasks.
As you start scheduling your pins, the Tailwind system will suggest the best timing that will help you to get the most engagement around your pin. You can select the timing and schedule the pins.
Other than the scheduler, Tailwind offers a great tool called Tailwind Create to help you create beautiful pins without any effort. The pin designs are suggested depending on the latest Pinterest trend to get the most out of each pin.
Tailwind gives you a number of timing options to push your content, all these timings are the most engaging timings throughout the day.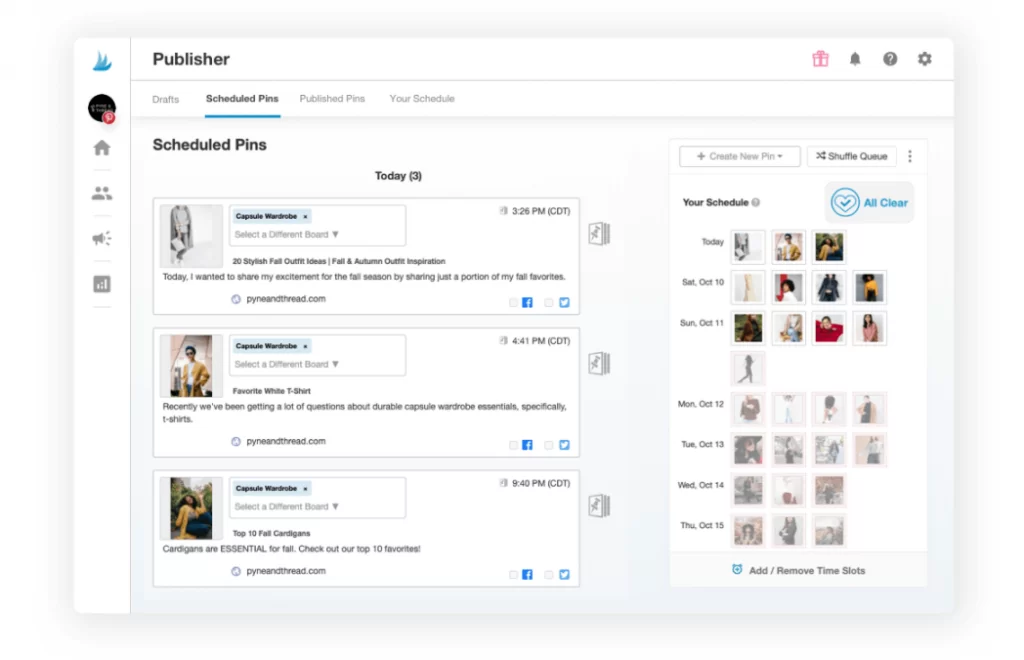 03

. Crowdfire
Another popular social media management software, Crowdfire gives you all the tools and options to grow your social media channels.
Along with detailed analytics and content discovery tools, it offers you a comprehensive publishing tool to make things easier for you.
You can publish content to Facebook, Instagram, LinkedIn, Twitter, and Pinterest. The best part is that each post will be tailored by the tool to make it suitable for different platforms and make it ready to publish.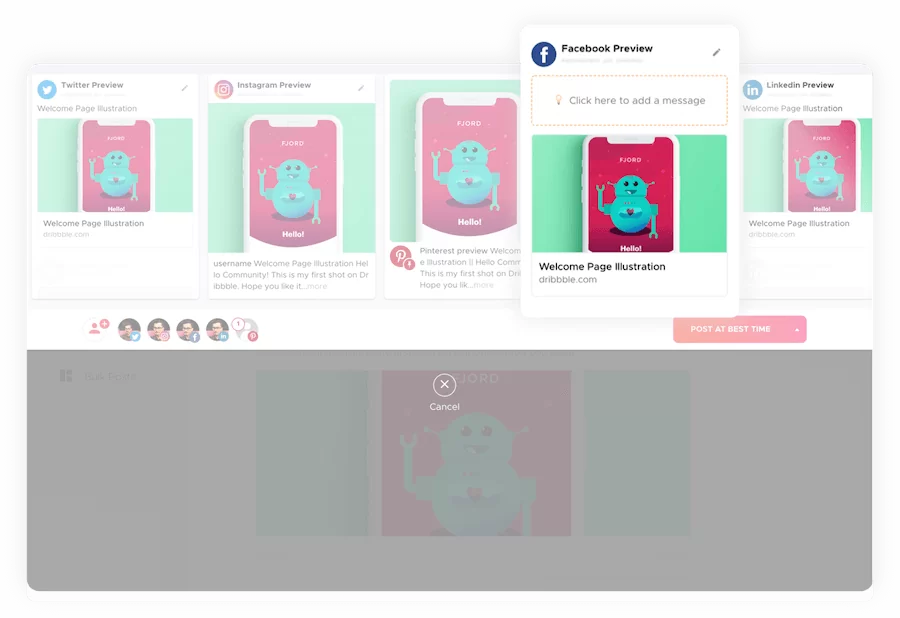 You can schedule your posts in advance for suitable timings so that your account is active with fresh new content every day while you are busy with other activities around your business.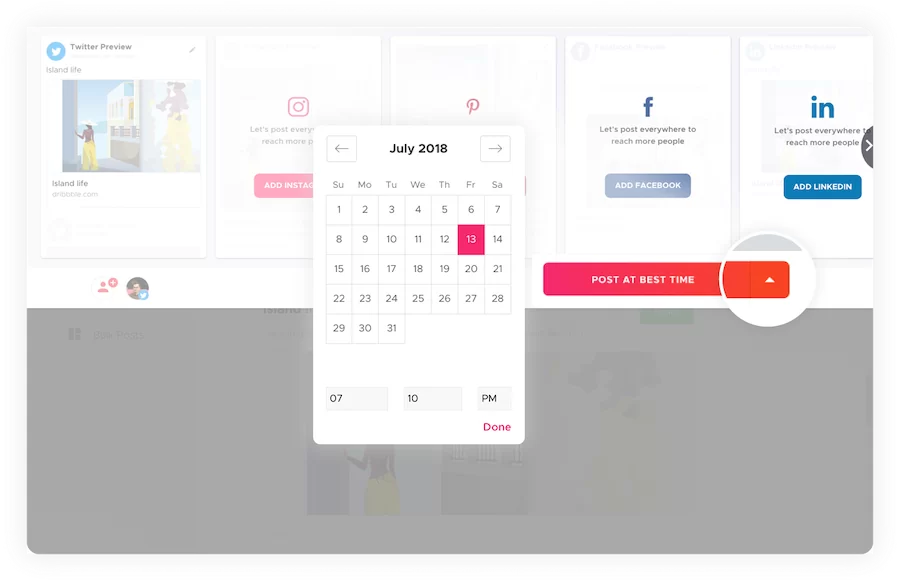 04

. HootSuite
HootSuite is a social media managing application. There is a free version as well as a premium.
This is one of the most popular services for managing social media accounts. Not only Pinterest but HootSuite can manage most of the prominent social media sites whether it is YouTube comments, Twitter, Facebook, Instagram, Reddit, LinkedIn, etc.
You can save your time by scheduling the posts for different social media platforms. The app is very easy to use, so even a complete newbie user can take advantage of it.
This app provides you with just one dashboard and that's it, you can manage everything from one page.
Don't miss our detailed review of HootSuite.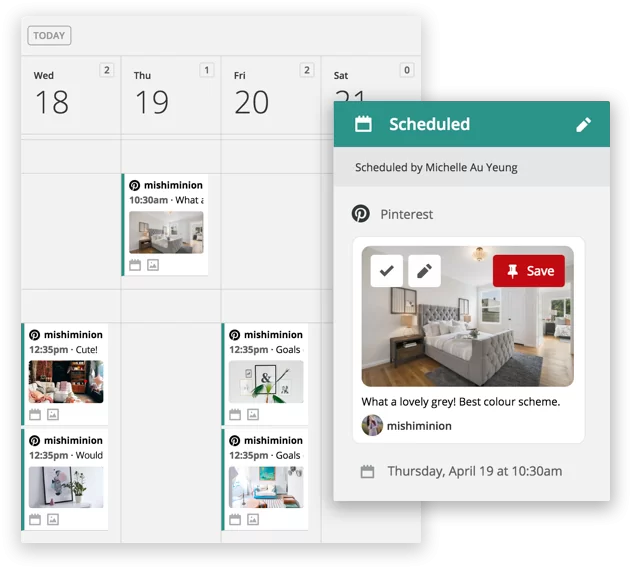 05

. Buffer
Buffer is an integral part of marketers' content publishing process. Each of the different social media management services brings different strengths to the table but Buffer, we think is the ultimate content curation tool now.
This app is great if you want to schedule your Pinterest pins and save your time and keep your page active.
The question you will be thinking about right now is how does this work? The answer is simple.
First, get started with Buffer and join the platform. Sign up for the Buffer if you don't have an account for it before.
If you have an account in Buffer, just log in. You will be carried to a page where you have to put in your social media accounts to start scheduling your content.
To schedule a Pinterest Pin on Buffer, click on the Pinterest account icon, upload your image and select the board where you want to pin the image.
Here is a detailed review of Buffer and the best alternatives.
06

. Viraltag
Viraltag is another popular Pinterest marketing tool. It is perfect for sharing visuals and allows you to connect to multiple social media accounts.
You can basically collaborate with your team, you can recycle evergreen content like the things maybe that you would post in the past and you are able to analyze performance based on the things being shared.
You will get a free demo of this software. This is a really good tool if you are looking for automation of Instagram and Pinterest marketing. It can perfectly recycle your old content to keep them fresh to bring more traffic.
You can schedule stuff, you know ahead of time and again, it works best with Pinterest. If you are looking to schedule your Pinterest pins, Viraltag is a nice option for you.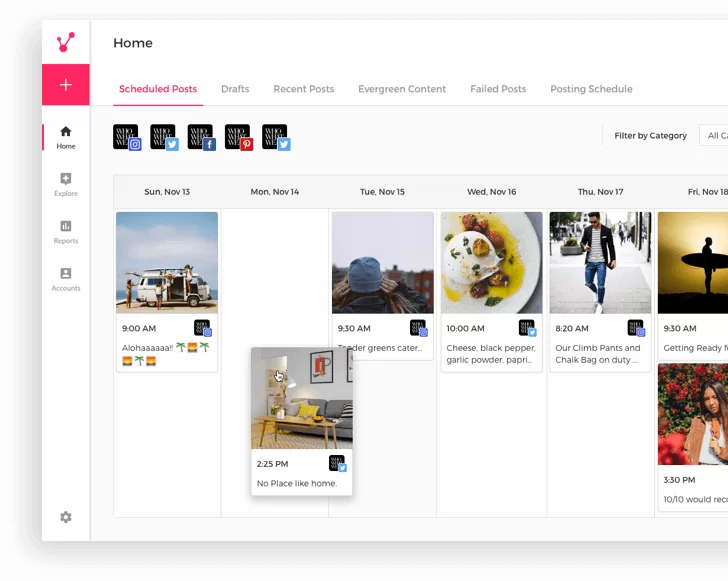 07

. eClincher
Another powerful social media marketing tool, the eClincher tool will help you to drive traffic on autopilot.
All the important features that you find on other apps are put all together in this beautiful tool. What it can do for you is publish posts, engagements, post automation, social inbox, social monitoring, content influencers, and powerful analytics.
It is easy to use and get started. You can 14 days of free trial option without any credit card requirement.
Just click on log in, just put in your email and password, and that's it. You will see everything on your dashboard. And if you are looking for a tool to schedule your Pinterest pins then this tool is best for you.
This tool offers you the smart auto-posting option to maximize the conversion rate. You can automate your engagement with it, you can automate social inbox feeds, a complete overview of your social accounts' analytics, etc.
08

. Social Pilot
Social Pilot is a paid tool. The reason for which it is really good is that you can actually have separate teams, and you can invite your clients to give you access to their social media profiles without having their passwords, which is really cool and really professional.
It has also a nice analytics interface. It puts it out in a really nice report that you can just take a screenshot of it or you can download.
You don't have to fiddle around with the words, docs excel sheets, and all that stuff when you need to report to your clients. This can also schedule Pinterest pins for you.
Other than Pinterest, this tool gives you the option to manage most of the prominent social media accounts.
This tool offers you 14 days free trial period.
09

. Sprout Social
Sprout Social is a service that allows you to schedule your content across your social media, it engages with the messages that you receive across multi-social media accounts such as Facebook, Twitter, Instagram, Pinterest, Reddit, LinkedIn, and Google Plus.
You can also analyze your performance so you can view statistics and stats in trends on your account. This app is absolutely free and easy to use. The best thing about this app is that it is very easy to use.
There are many other apps for managing social media accounts but the reason for which we put Sprout Social is that its interface is much easier than some others in the market.
In this app, you can see everything, like recent followers, recent unfollowers, messages, likes, and comments. You can also set an auto-answer to a specific message or comment. This app is great if you want to schedule your Pinterest pins.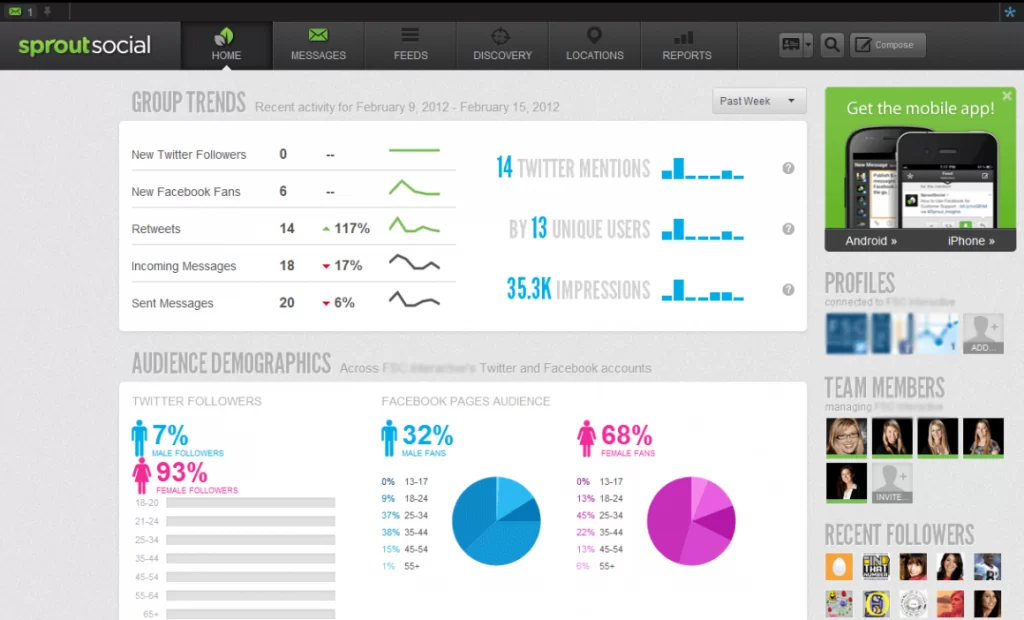 10

. AgoraPulse
Do you want to manage all of your social media network accounts with elegance and like professionals? No problem. Here is AgoraPulse to help you out.
There are a lot of social media managers out there but this one is very elegant. This app is great for managing your three social media things which are managing the conversation, publishing content on social media, and measuring your key metrics.
These are the three aspects that AgoraPulse excels in. The managing conversation is the feature that first drew the people to the AgoraPulse. But the best thing that you can do with this app is to schedule the Pinterest Pins. This app is great if you want to schedule your Pinterest pins.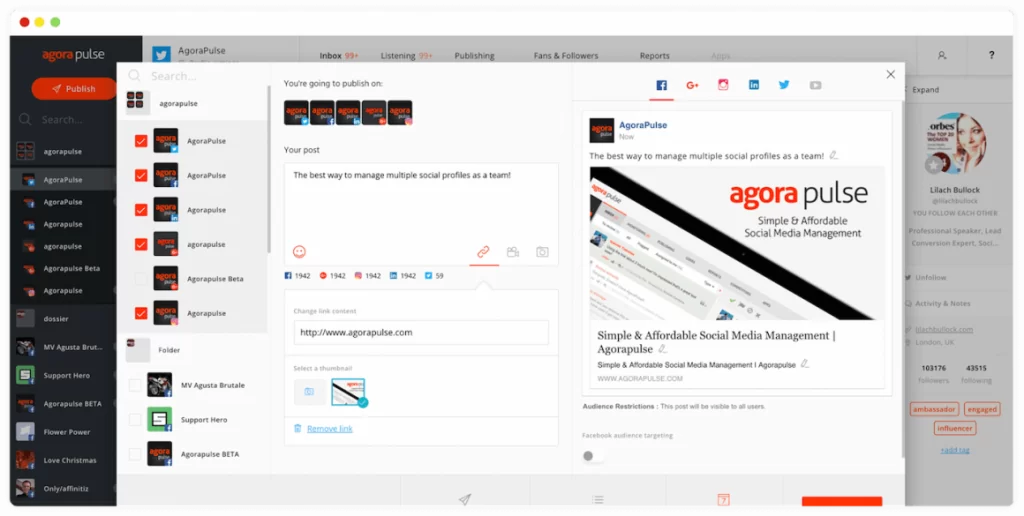 11

. Edgar
You can find this app at meetedgar.com. This is a paid app. But the question which arises is why would someone use Edgar, a premium app over something like Buffer or HootSuite?
Buffer and HootSuite are great at scheduling social media accounts but the point is that Edgar effectively manages old updates. Edgar's focus is on taking a library of social media, scheduling it, and putting it in your social media queue so that you don't have to worry about what is going out and in your current content. This app will support Pinterest & Instagram soon.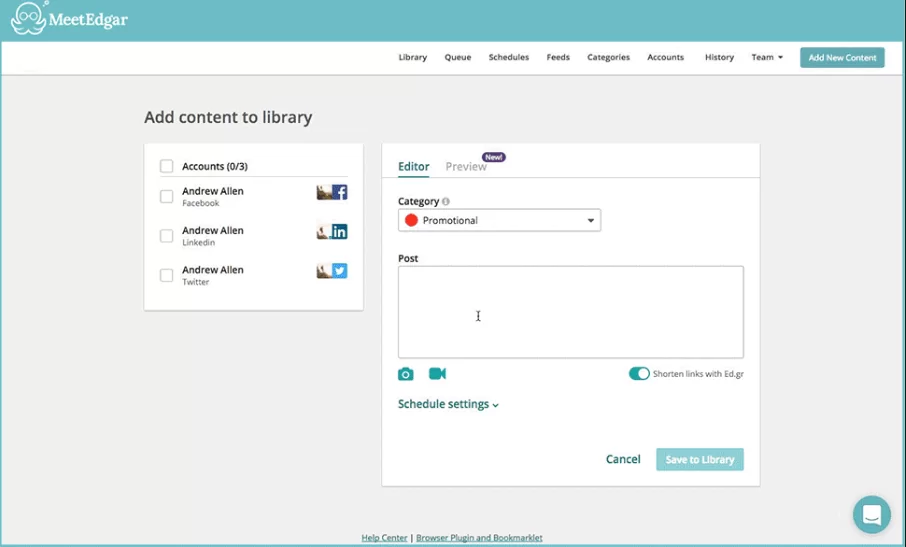 12

. ViralWoot
ViralWoot is another social media management tool that you can use to schedule Pinterest as well as Instagram posts.
So, if you are looking for a single tool that can schedule Instagram posts along with Pinterest, ViralWoot is a good option for you.
You can get started for free and later you can decide on the plan you wish to go for depending on the number of posts you wish to schedule.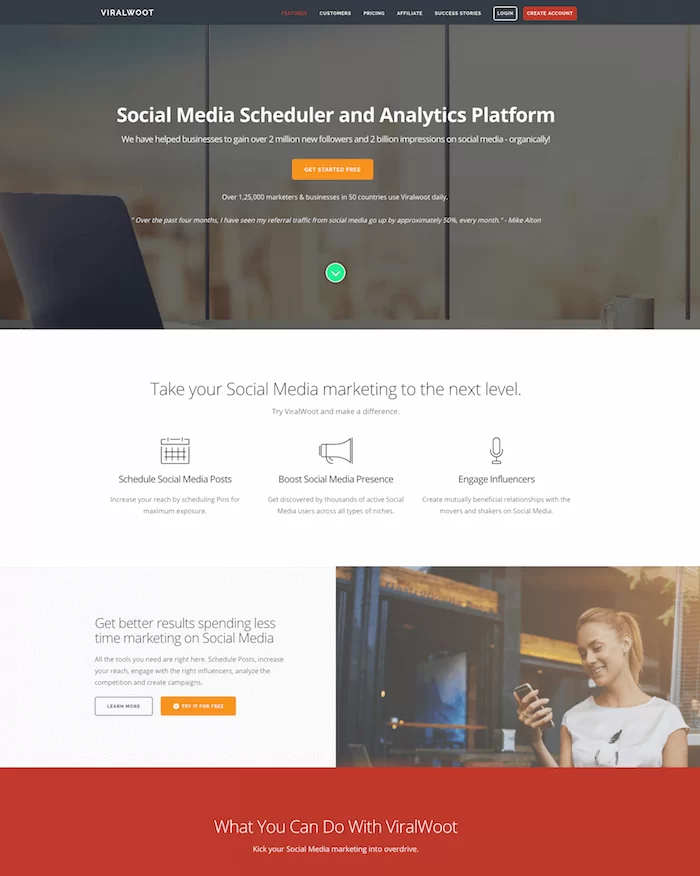 FAQs About Pin Scheduling Tools
Final Word
So these ate the best tools which can do the scheduling for your Pinterest posts.
Hope you liked them and tell us in the comments if we have missed any of the tools. Also by commenting below, tell us your favorite tool. Stay tuned for more related updates.