Searching for the best LinkedIn marketing tools? This article is perfect for you.
LinkedIn is one of the world's leading social networking platforms that is focused on professionals. It can also be considered one of the top lead-generating platforms, with millions of business professionals and individuals using it. 
Although it stands out as the leading platform to get leads, create effective campaigns, drive website traffic, and more, marketing on LinkedIn can be challenging as it differs from other social media platforms.
However, with the right tools, you can make your marketing effective. In this article, we have hand-picked the best LinkedIn marketing tools that will drive website traffic, generate leads, and improve the success of your business.
With that, let's check out our top marketing tools for LinkedIn below.
01

. Circleboom
Circleboom is one of the most comprehensive and popular social media management software that offers a number of tools and features to grow your social media accounts.
When it comes to LinkedIn marketing, you can manage multiple LinkedIn accounts from a single dashboard. You can use this software to plan, create and schedule your posts for your LinkedIn profile.
Along with your personal account, you can manage multiple business pages using the Circleboom dashboard.
While LinkedIn doesn't give you an option to schedule posts in advance, you can use the Circleboom scheduler to schedule your posts for an entire week or month in advance.
It comes with a post-creating solution that will assist you while creating content for your LinkedIn account. You can add text image or videos and schedule them for the best timing to get maximum engagement.
Price: Free plan and the paid plan starts at $15.83/month.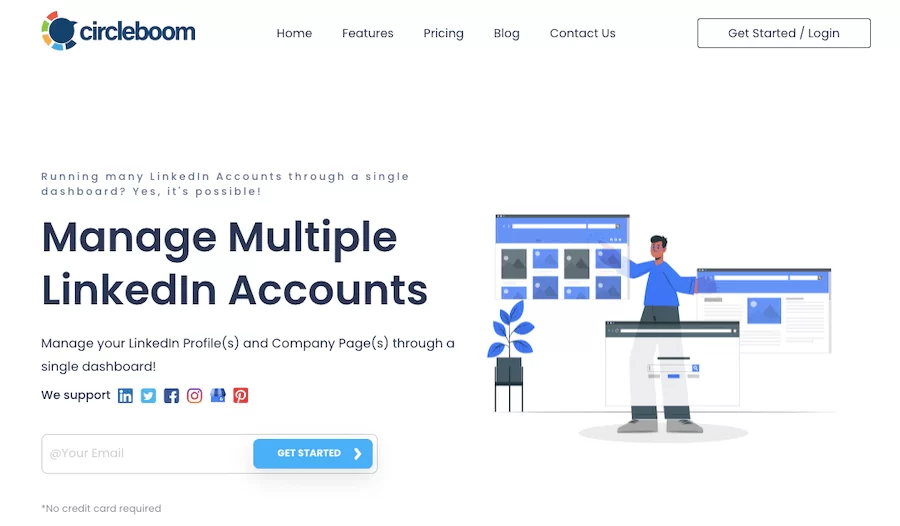 02

. Dux-Soup 
Dux-Soup is one of the best LinkedIn marketing tools that boost lead generation. This automation tool boosts your reach by allowing you to search thousands of LinkedIn profiles within a single click of a button. 
You can set drip email campaigns, and once the responder responds to your email, the campaign stops automatically. Besides, it gives you the flexibility to add your list for setting up a sales campaign.
Since it integrates with popular CRMs, you can download LinkedIn profiles of various companies or professionals and easily upload them to your CRM. Additionally, you can also set up automatic LinkedIn follow-ups.
Price: $11.25/month.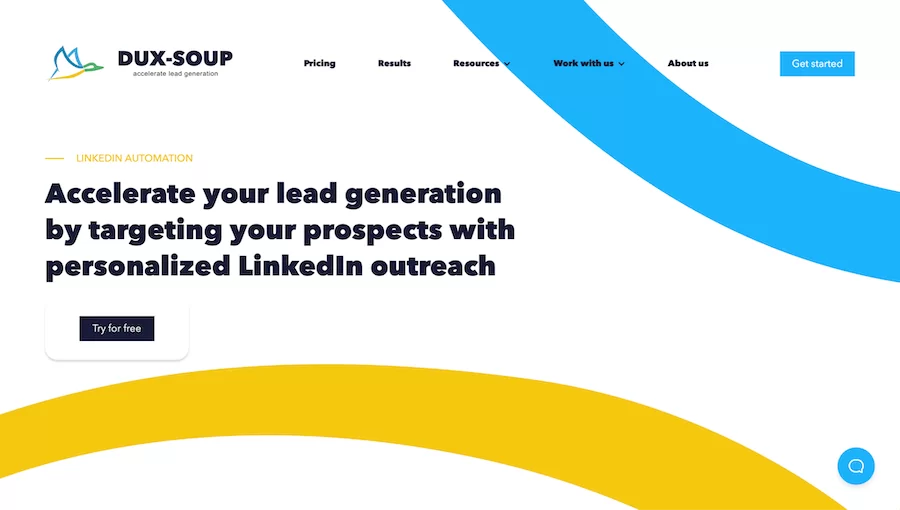 03

. SocialPilot
SocialPilot is one of the top social marketing tools that focus on increasing your engagement and driving your LinkedIn page/account success.
The tool allows you to publish bulk posts, schedule posts, discover relevant content, collaborate with teams, and manage clients, and more to drive maximum engagement to your LinkedIn Campaigns.
In addition, it provides one of the most powerful analytics features that can be converted into PDF and sent to your teams or group members. This analytics gives you a detailed insight into your progress, the best time to post, discovering influencers, top-performing content, and more. 
Price: $25./month.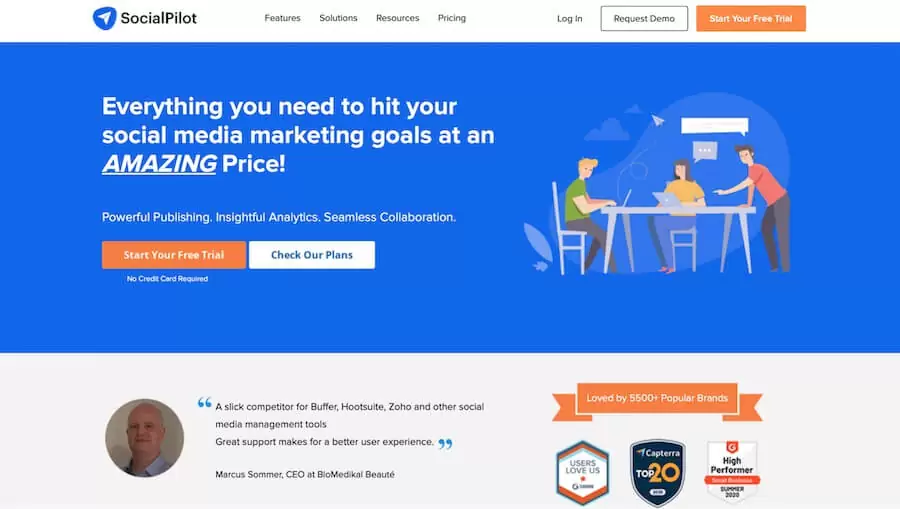 LinkedIn Sales Navigator is LinkedIn's in-built tool that enables you to find relevant leads for your business, get crucial insights on your page, and engage with people.
It comes with an advanced lead search that allows you to search for leads based on different filters such as location, years at position, industry type, the title of the company, and more.
Additionally, through CRM integration, you can save your leads and log sales navigator activity to CRM within a single click. Its powerful interface allows you to give a kick-start to your business irrespective of the size.
Price: $79.99/month.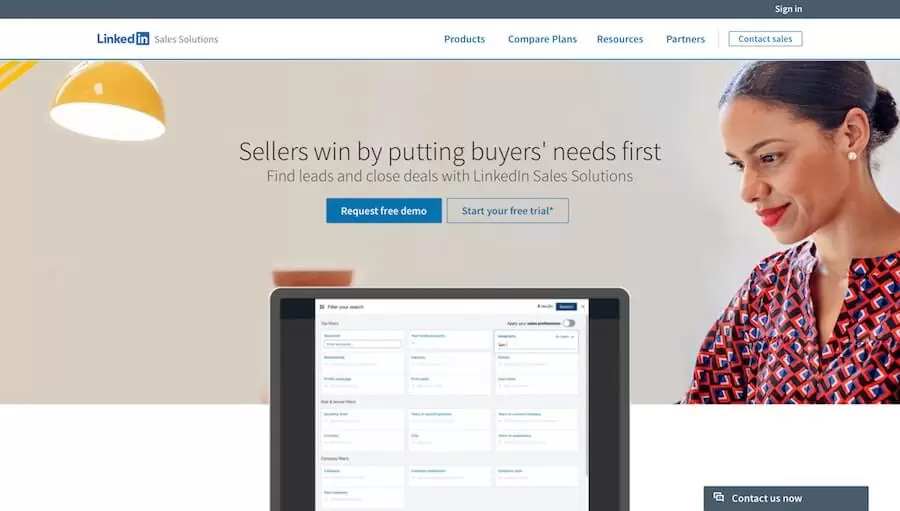 05

. Discoverly
Discoverly is a LinkedIn automation tool that lets you view information from someone's social media channels from their LinkedIn page so that you do not miss out on important information.
Once you start using this tool, you will see a green icon on their LinkedIn profile, giving you their Twitter and Facebook data for forming a deeper connection.
Furthermore, you can get the tool through the Chrome extension only. This helps in understanding your leads correctly.
Price: Free plan is available!
06

. Crystal
Crystal is one of the most extensive and robust personality assessment tools that companies can use for understanding personality differences between you, your customers, and workers to build high-performing teams and effectively train and develop your team.
You can understand the personality of your customers and workers using the person's LinkedIn profile.
Moreover, you get a deeper understanding and insights into each prospect and account for boosting your sales. The tool also helps HR teams throughout every hiring step.
Price: $49/month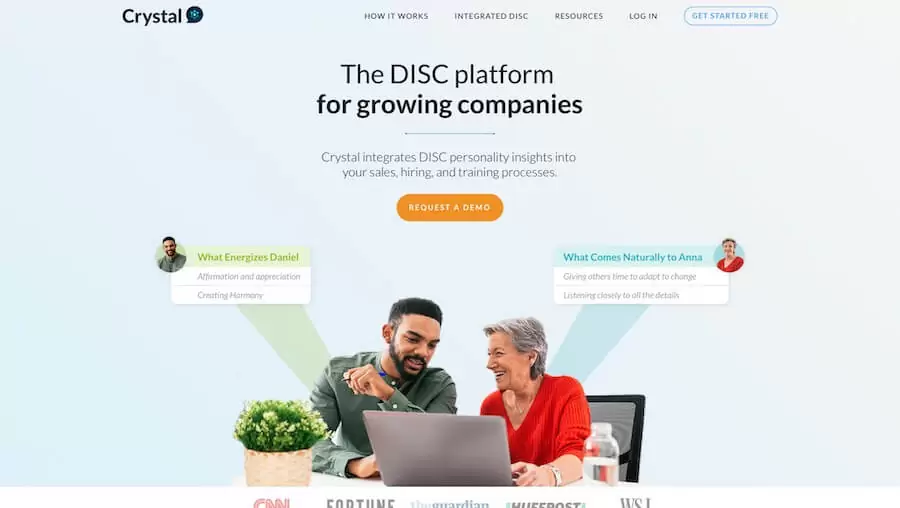 07

. LeadFuze
LeadFuze is one of the top-tier lead-generating tools for LinkedIn that boosts your lead generation from their database of over 20 million professionals and companies across the globe.
You can integrate LeadFuze with popular CRM's and other popular tools to increase your workflow. They have advanced search filters for accurate lead generation.
Additionally, they have AI-powered Fusebot that does all the heavy lifting work and eliminates the need to use additional third-party tools. The best part about the tool is that it gives you direct access to personal emails to contact the leads.
Price: $132.30/month.
08

. LinkedIn Small Business
For small business owners, LinkedIn Small Business is the perfect tool for you. The tool helps small businesses with everything they need to grow their business to find potential clients.
The tool follows a simple three-step approach -establishing your brand presence, connecting with your targeted audience, and engaging with your audience with content marketing.
The LinkedIn team has plenty of resources filled with different strategies, from sponsored ads to text content; you can enjoy excellent features.
Price: Free to access.
09

. LeadGrabber Pro
As the name suggests, LeadGrabber Pro is an advanced B2B prospecting tool that allows you to find business leads on LinkedIn along with their verified contact details.
The contact details are stored in a spreadsheet, and you can directly export this spreadsheet to your CRM. The tool plays a vital role in helping you contact a reliable person for your business.
With LeadGrabber Pro, you can set sales appointments with customers, increase sales conversion rates, and more. The tool is ideal for small to large business owners.
Price: $3,495/year.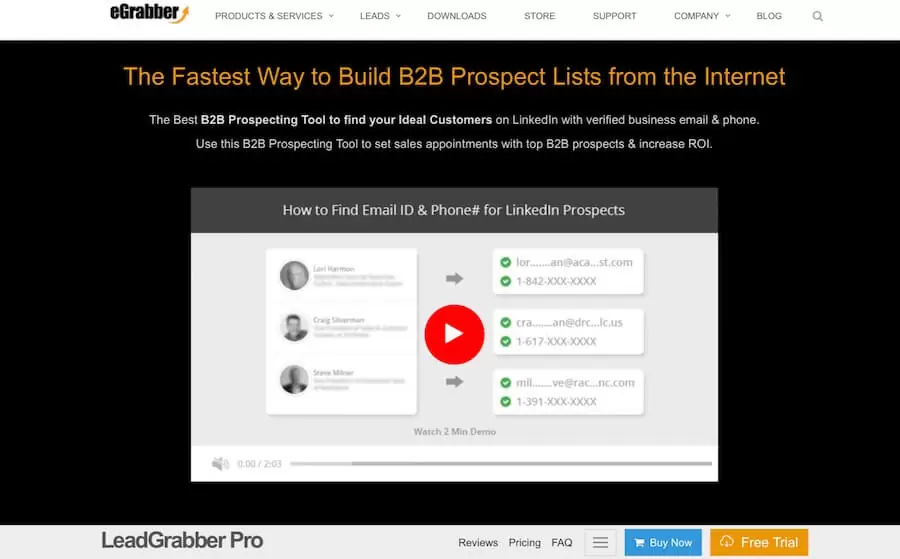 10

. SalesLoft
SalesLoft is one of the best marketing tools that accelerates your sales by helping you generate leads and close them with success.
The tool can track emails, make calls, send messages, and more on your behalf. The interface of the tool is intuitive and easy to use feasible for beginners and professionals.
You can pinpoint what generates the best results using its data analytics and reporting feature. Additionally, it integrates with multiple other platforms to streamline your workflow.
Price: You can request a personal quotation.
11

. LeadFeeder
If you are searching for a traffic tracking tool, LeadFeeder is the perfect tool. The tool allows you to generate leads by seeing which companies are visiting your websites.
For better data gathering, you can integrate it with your favorite CRM, mail marketing tools, and analytical tools.
You can track individuals and companies visiting your profile, what they are interested in, and how they found you. Lastly, you can also view which companies are connected to you on your LinkedIn profile to start a conversion quickly.
Price: Free basic version/$63 per month.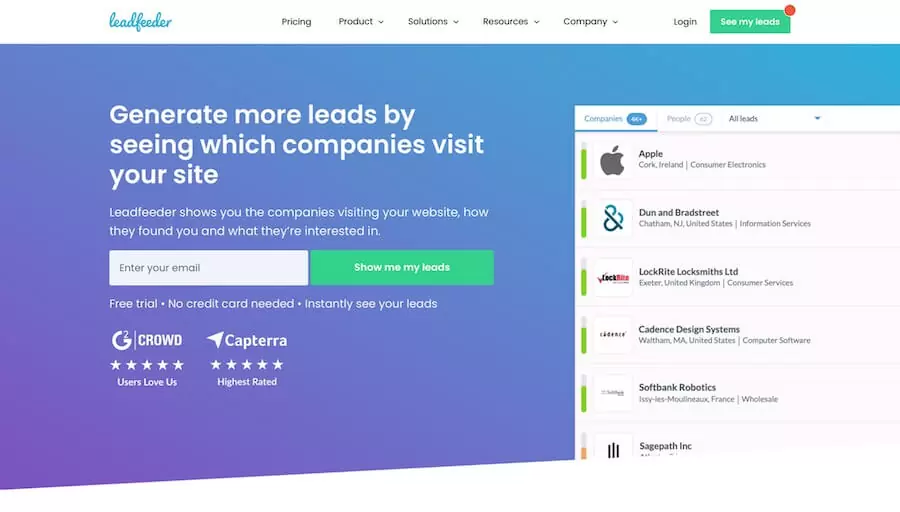 12

. LinkedIn Helper
Last on our list, but not least on the list is LinkedIn Helper. As the name says, LinkedIn Helper is a robust LinkedIn automation and CRM software that helps you in social marketing and selling.
This affordable software is available through the Chrome extension. It provides an autoresponder through which you can set templates and send an automatic response to your contacts.
Besides, you can also export your LinkedIn contacts, manage them, and message team members. There are plenty of features for LinkedIn sales generation.
Price: $15 for one month.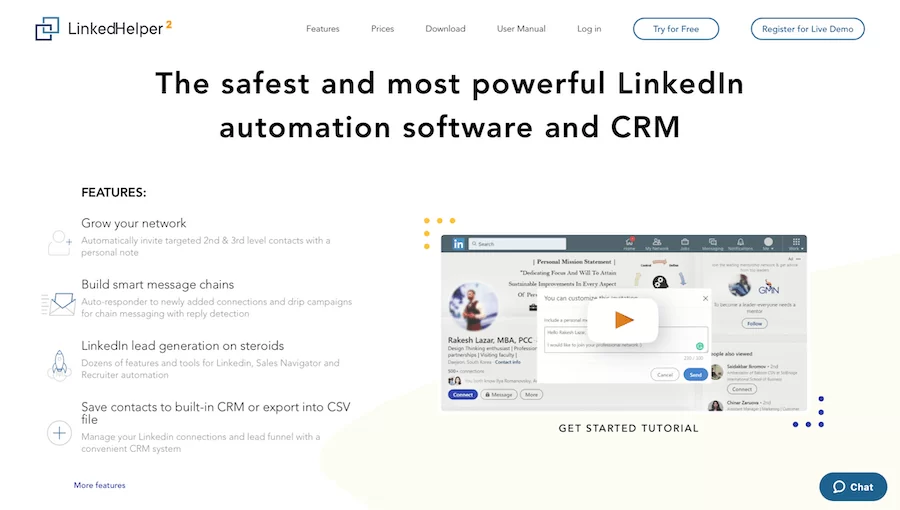 13

. Datanyze
Datanyze is a very handy data collection tool for B2B companies that can pull data in real-time using the Chrome extension from websites, LinkedIn profiles, and other sources to provide you with the most accurate data of any company without leaving your website.
This can be a great software for your business to increase your sales pipeline and overall revenue for your business by providing you with the right contact who can make decisions.
Datanyze has a database of over 63 million direct contacts and over 84 million emails, so it is a nice source for your business to get started.
You can start with the one-month free trial and then upgrade to a paid plan that starts at $39 per month.
Price: $39 for one month.
14

. eLink Pro
Generally, when you visit someone's profile on LinkedIn, they will visit your profile back to check who you are. This is how you make connections on LinkedIn.
If you are a marketer, it is a constant process to get more connections to reach out to as many professionals as possible.
However, there is a limitation on how many profiles you can visit in a day as it takes time. eLink Pro can automate this process and visit as many as 5000 profiles per week.
So, this system brings in the possibility of new connections and prospective paid clients for your business.
Price: $29 for one month.
15

. Nimble
Nimble is a very handy platform to organize your business content and information in the best possible way. It is a CRM that will build itself with rich data of your content so that you can take advantage and grow your business.
It integrates itself perfectly with LinkedIn and a number of other platforms to accumulate and organize your data.
It is an intelligent information center. You can simply hover over any name on the web, and the system will give you actionable information that you can use for your business.
Price: $19 for one month.
FAQs About LinkedIn Marketing Tools
---
Q1. Which is the best LinkedIn marketing tool?
There are hundreds of excellent marketing tools for LinkedIn. Our top tools include Dux-Soup, SocialPilot, LinkedIn Sales Navigator, and Crystal.
Q2. Is LinkedIn good for marketing?
LinkedIn is an excellent platform to boost your sales. The platform is used by millions of companies and professionals, and you can connect with them directly. The platform helps you build your network and boost your business.
Q3. Which is the best LinkedIn marketing tool for free?
Various tools offer a free trial or a free basic version of their tool. You can checkout LeadFeeder for the free basic version of the tool.
Final Thoughts
Undoubtedly, LinkedIn is growing every day and becoming a hotspot for business owners and individuals to boost their businesses, find jobs, and more.
As a business owner, you need to carefully examine the marketing methods that work for LinkedIn or simply pick the right sets of tools from the list mentioned above.
With these tools, you can analyze your content, create an excellent content strategy to get higher engagement, get detailed analytics and reports, and more to give your business a kick-start.
Over to you, which tools are you picking from the list? Let us know in the comments section below.
Handpicked Articles to Read Next: