Quality infographics can be intriguing for how they display extensive amounts of content with distinct visual appeals to them.
If you've read USA Today or other popular sites that publish research and statistics-related content, you've probably seen an infographic before. The brilliant graphics you'll find here will help you with producing an appealing look that adds a special approach that is worth having for your needs.
You can use infographics to simplify the content that you're trying to talk about. Your infographics will help you with showcasing many ideas or concepts that you feel deserve to be shared with the world.
The effort you put into creating infographics can be extensive, so you need to look well at how you're going to create infographics that you will appreciate.
The great news is that there are plenty of quality infographic-creating tools that you can utilize when you're aiming to make the most out of the work you are planning.
Each of these tools is different in many ways, so be sure you look around well at what's available and how you're going to get a quality tool to work for you.
Be advised that some of these tools are better suited for specific display needs. But many of them are good for general use.
Either way, the choices you have here are diverse options that will help you make the most out of your display needs.
01

. Visme
You can start by looking at Visme, a tool that helps you to create distinct design projects. The arrangement of Visme provides various templates and shapes for your use.
You can also import objects and icons on Visme if you wish. Multiple animations can also be produced through Visme if you're interested in a more visual approach to the work you're planning.
02

. Easel.ly
The great part about Easel.ly is that the tool provides a quality display that helps you to visualize information in many forms. The site offers a series of cards that help you to review different templates you can use.
You can use a map-based template, a timeline layout, or many others depending on the particular type of data you want to share with others.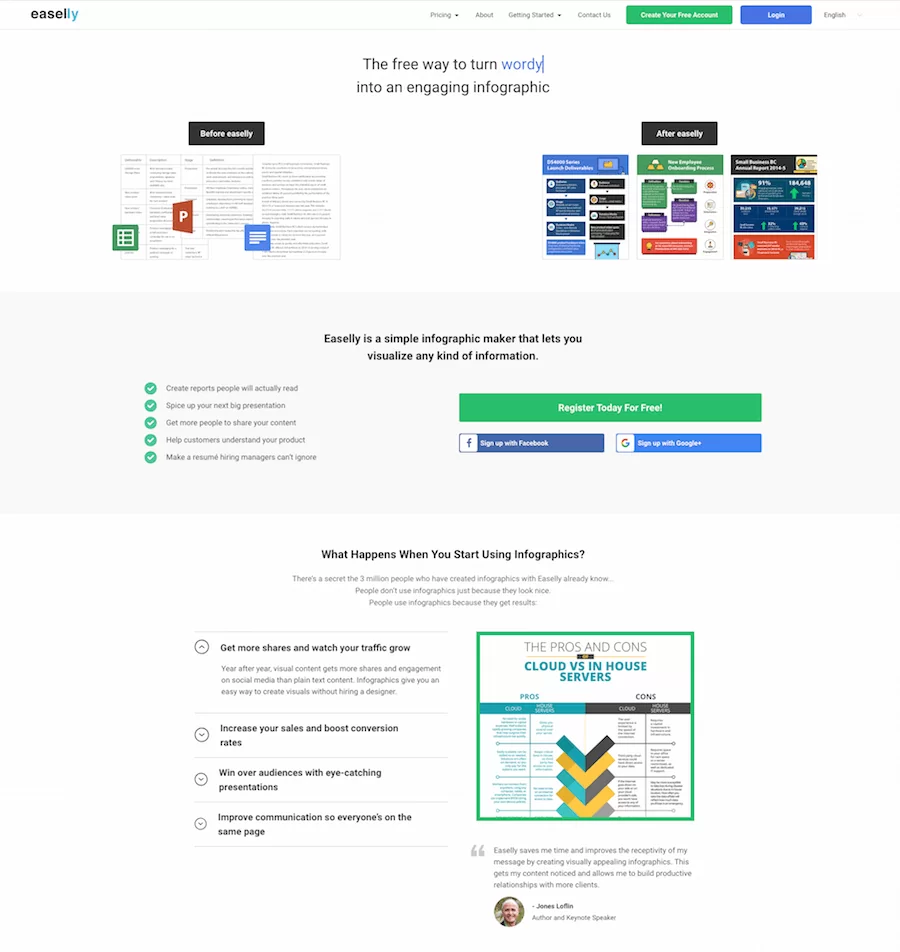 03

. Vizualize.me
The simple arrangement of Vizualize.me is appealing for many users, although the best part of using Vizualize.me is that the tool lets you produce a diverse array of infographics.
You can print download or print-quality infographics that you can download through a PNG file or a PDF. You can also produce bubble charts, timelines, maps, treemaps, and pictograms that highlight any unique image or display feature you want to incorporate in your work.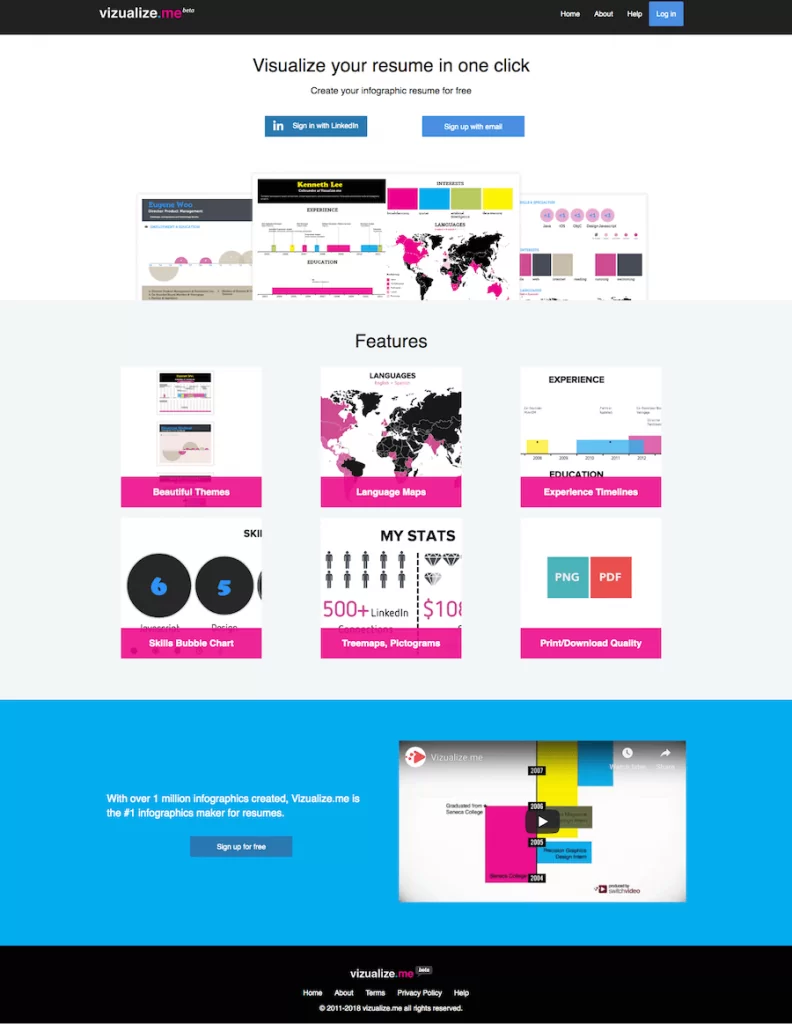 04

. Venngage
Venngage is a helpful tool that uses a modern interface for helping you manage your content. You can use Venngage to create intriguing displays and presentations that add a classy style to your work.
Venngage particularly does well with helps you to post promotional messages and things on social media. The versatile nature of Venngage makes it a necessity for designers to take a closer look at.
05

. Dipity
The next choice to see is a Drupal-powered tool called Dipity. This option focuses more on timelines. You can organize your data by time or event and display it for many to use.
This is great if you want to showcase processes or if you want to talk about any prior events with a historical context or other ideas in the mix.
You can get this tool working in a few moments to help you produce the best displays that you require for professional or casual needs.
06

. Piktochart
Piktochart is another helpful tool that provides you with a useful template creation tool.
There are more than 400 unique templates featured on Piktochart. These templates let you produce appealing displays with unique images, graphs, objects, and other things that you can add as you see fit.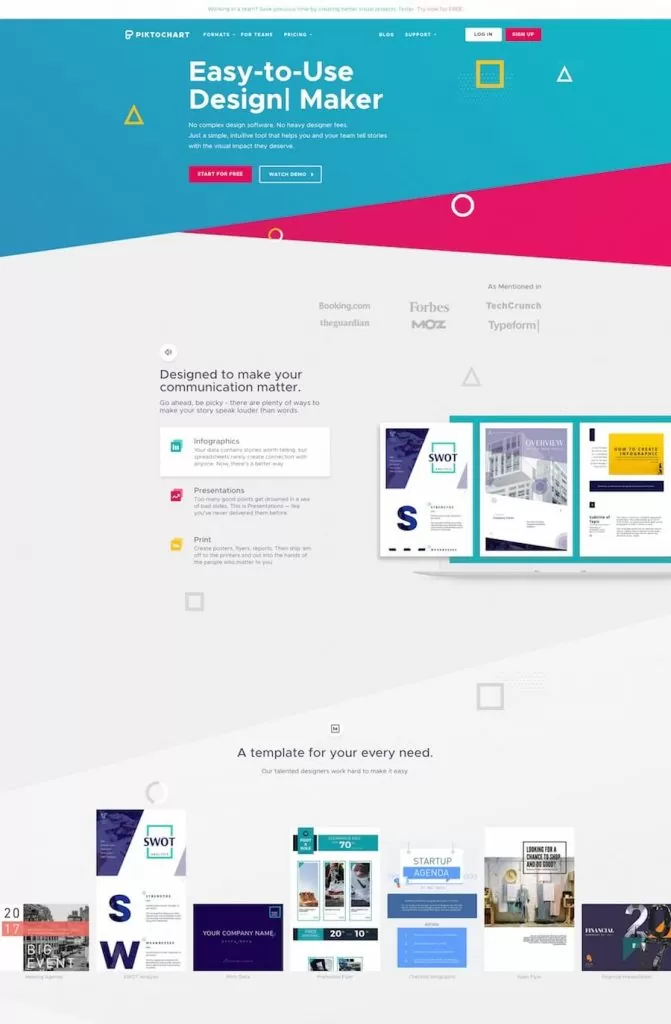 07

. Canva
The unique part of Canva is that you can use this to produce unique designs through your mobile device. This can work for when you're aiming to highlight something interesting while also offering a compact look.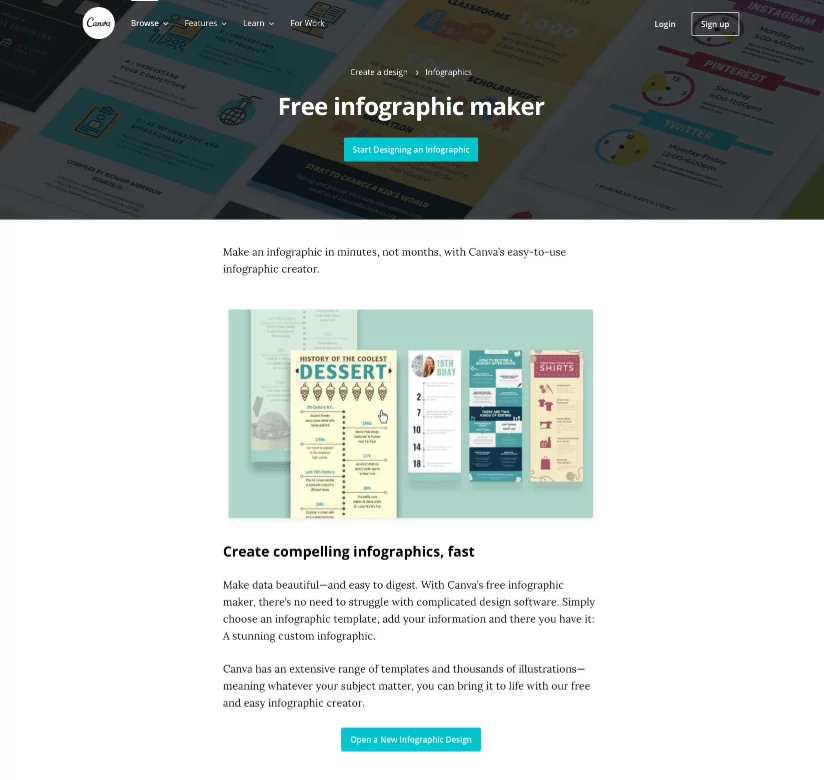 08

. Google Charts
It is no surprise that Google has gotten in on the infographic game, what with Google being involved with just about everything else in the world.
Google Charts provides a helpful design that lets you produce infographics while working with dynamic data setups.
You can use Google Charts with a helpful interface that lets you produce real-time data updates while also offering a customizable body for your convenience.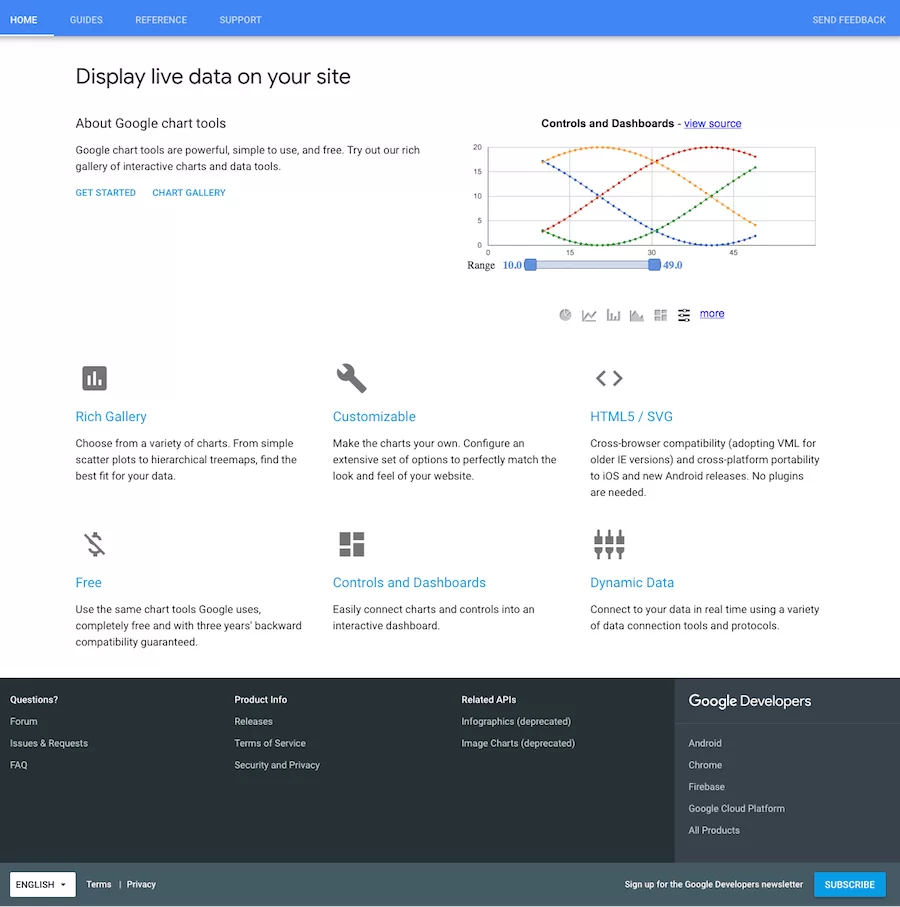 09

. Adobe Spark
Adobe has been making many free products for your creative needs, and Spark is the latest product that the company has to offer. With Adobe Spark, you can produce customized infographics in minutes.
You don't have to be an expert in design either, as Adobe has various tutorials built into Spark to help you identify many solutions for managing your work.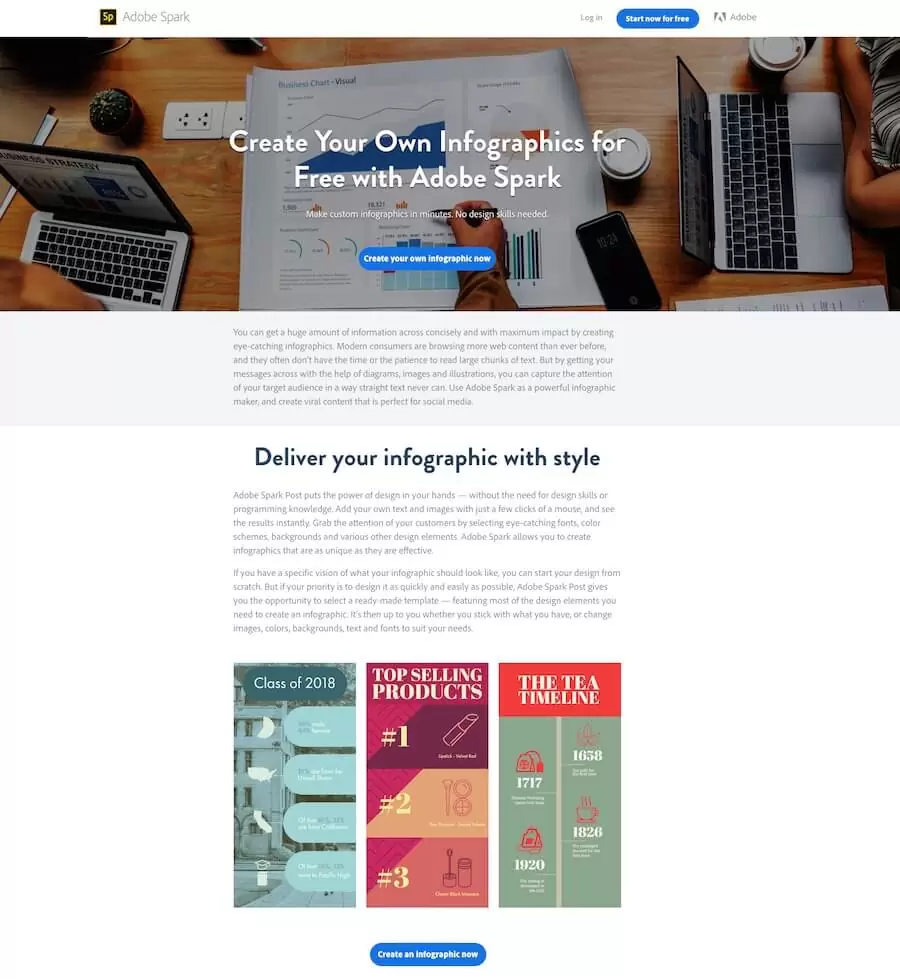 10

. Lucidpress
The helpful design of Lucidpress helps you to produce attractive templates. But the best part of using Lucidpress is that you can get this to work with a cloud-based setup.
You can save your content on the cloud system and edit your infographic from anywhere. This is convenient for when you're trying to adjust your content and you need extra help with keeping your data in check.
Also, the cloud-based setup provides you with the opportunity to handle collaborative actions when producing appealing displays.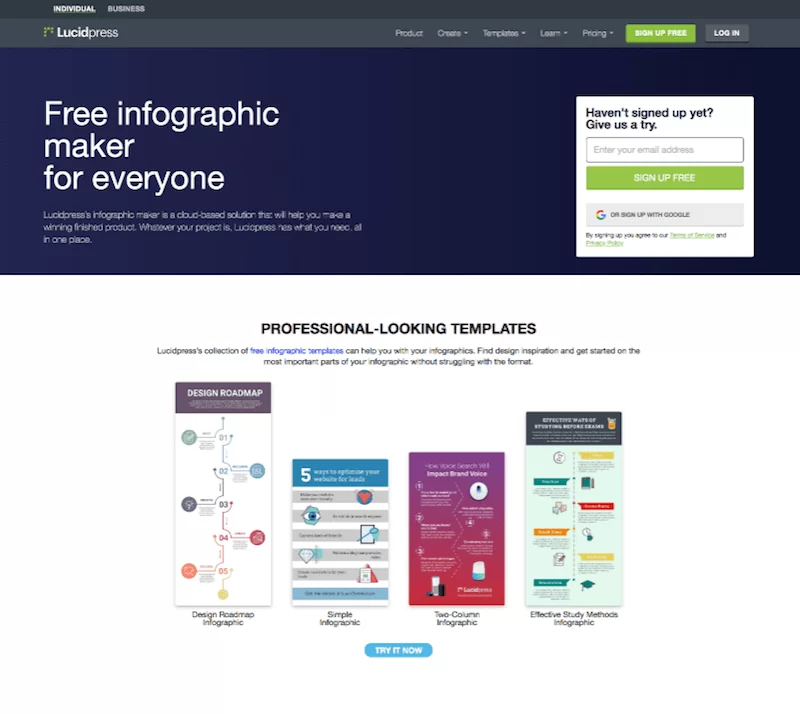 11

. Mind the Graph
The helpful design of Mind the Graph makes it a useful tool for when you need assistance with producing appealing graph displays.
You can work with thousands of scientific illustrations when using Mind the Graph as well. The infographic layouts are also convenient for keeping your displays looking intriguing.
Also, Mind the Graph is useful for research papers, what with it helping to produce professional-grade displays that are ideal for major academic projects that might need a bit of refining and work.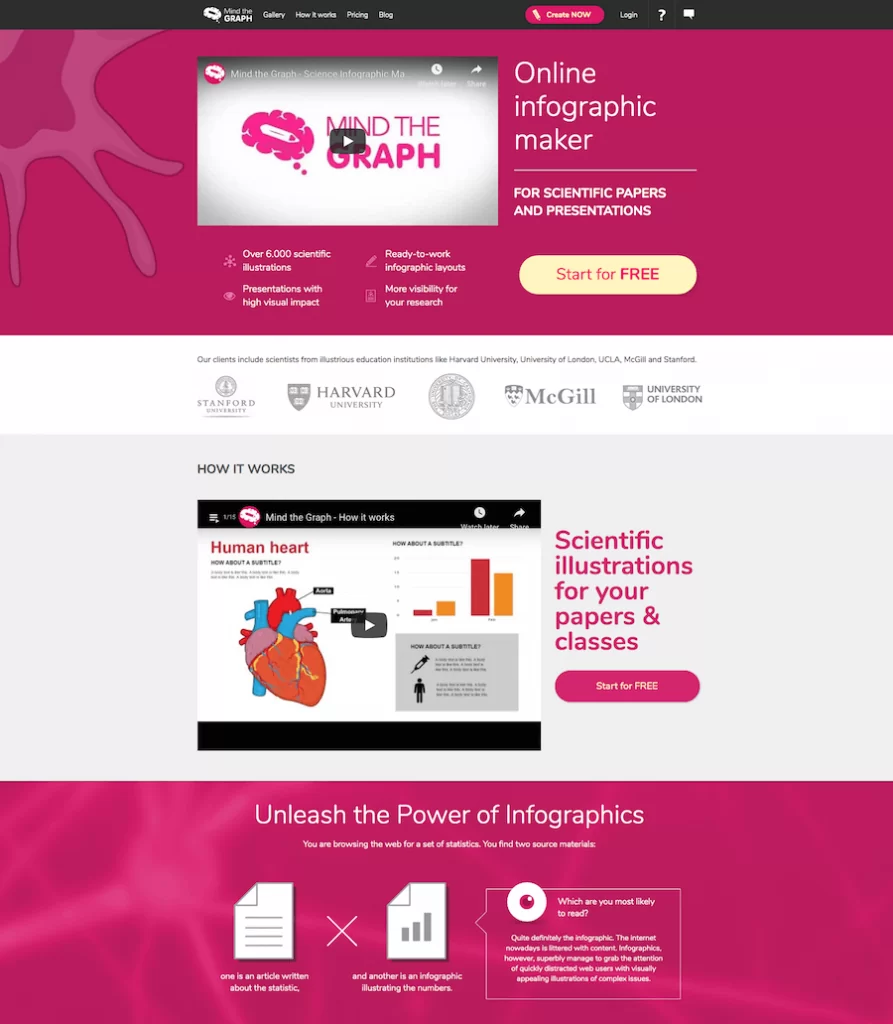 12

. PicMonkey
PicMonkey is a helpful tool for your use that offers many templates that are easy to plan out.
The online design layout that PicMonkey uses is particularly helpful when you need assistance with producing distinct displays. The assorted variety of display functions you can utilize here helps you as well.
PicMonkey works with hundreds of fonts and textures for your convenience. The thousands of graphics available on PicMonkey will also help you with managing your content.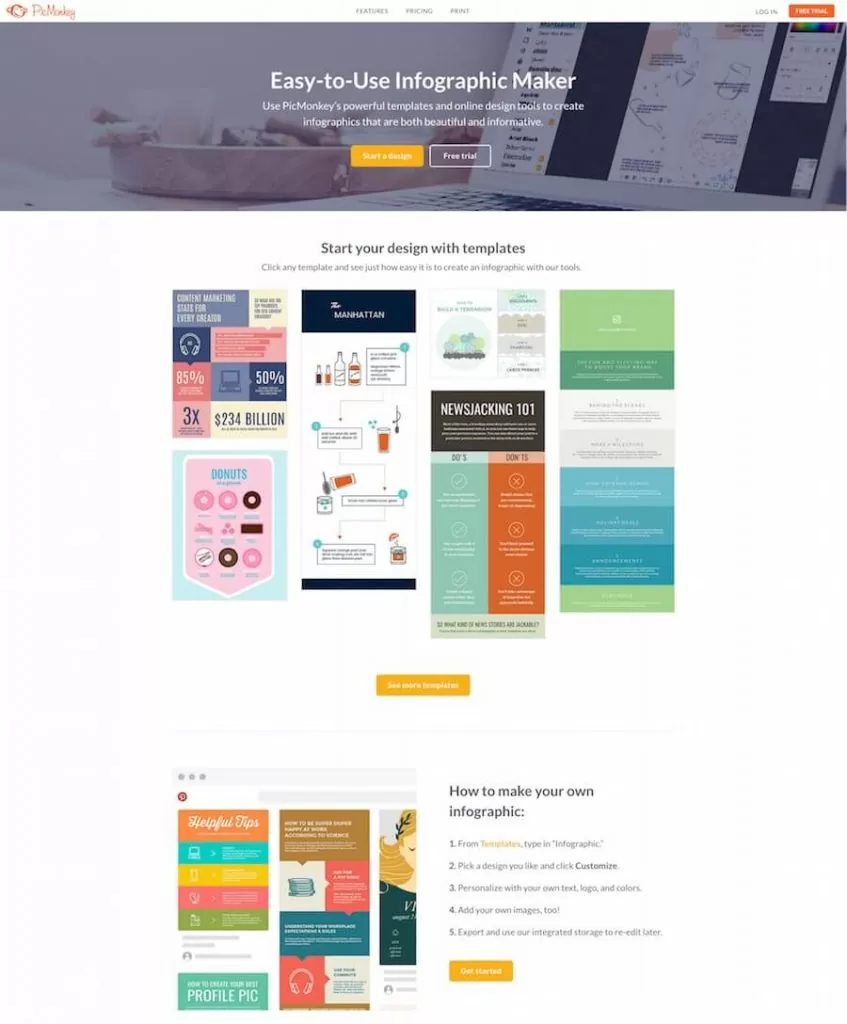 13

. Creately
Creately helps you with producing intriguing diagrams. The site offers support for more than fifty appealing diagrams for your convenience.
You can also use the real-time collaboration feature where you can share your content with other users online.
The universal compatibility of the graphics you produce on Creately helps you to produce more attractive layouts that will work for you.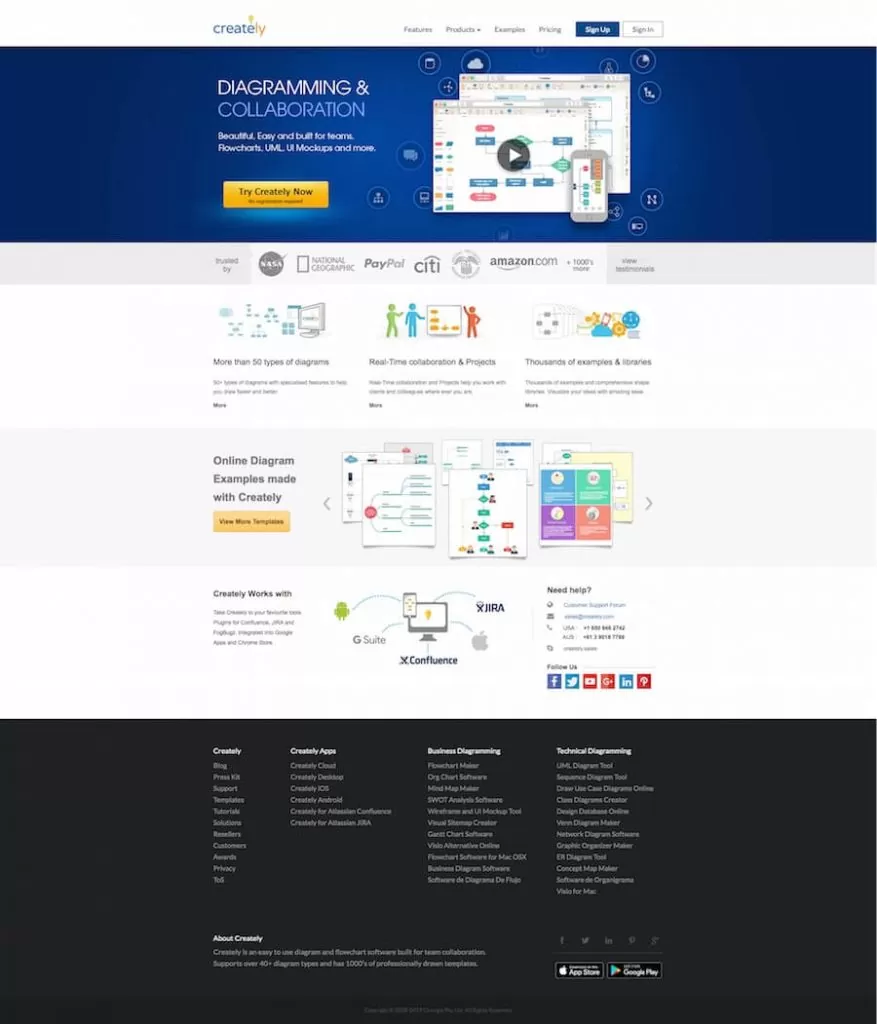 14

. Infogram
Infogram has an attractive look that is appealing for all to see. Infogram helps you to manage data with unique dashboard arrangements and can help you in a few steps.
You only need to choose a template, plan the data, and then publish the content. You can add any kind of word-based feature you want in the Infogram display.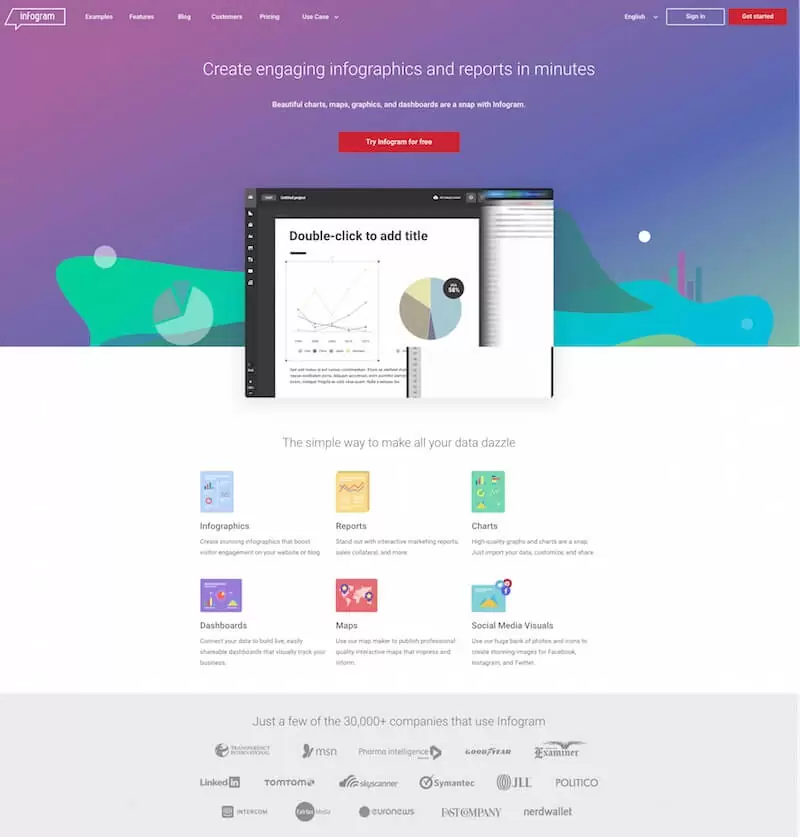 16

. ChartsBin
ChartsBin is designed mainly for professional needs. The detailed displays you can create here will add a better review of the technical data that you want to share with others.
With ChartsBin, you can quickly share things like bar charts, map displays, and detailed reports surrounding different concepts or points of value that you wish to highlight.
You can use ChartsBin for many academic projects or if you're going to produce an appealing professional project, although the things that ChartsBin offers aren't as complicated as you might expect.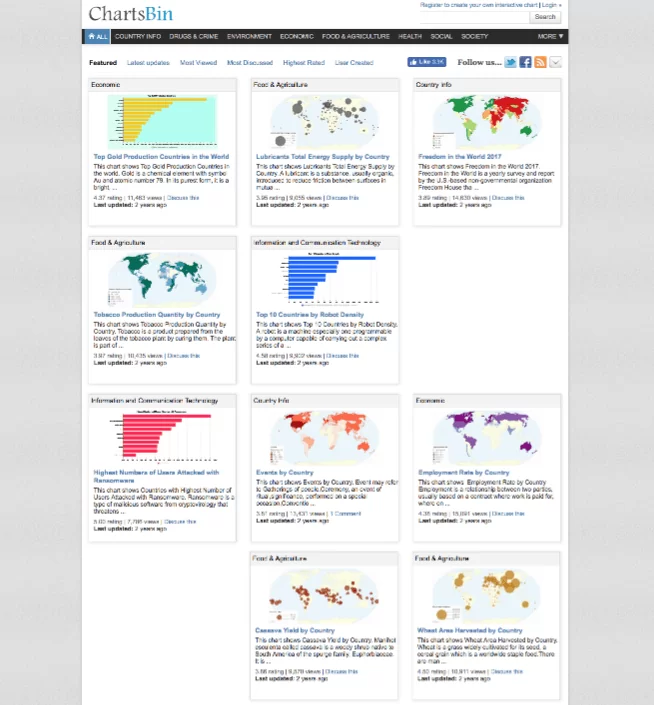 17

. PixTeller
PixTeller is an online design tool that can help you to create stunning designs for your social media posts, ads, as well as infographics.
With PixTeller, you can create professional-looking designs without any prior design experience. Simply choose a template, add your text and images, and download your finished design in minutes. Plus, PixTeller offers a wide range of customization options, so you can create a design that's truly unique.
You can use this software to design your infographic or part of your infographic design that you are designing using any other tool mentioned in this list.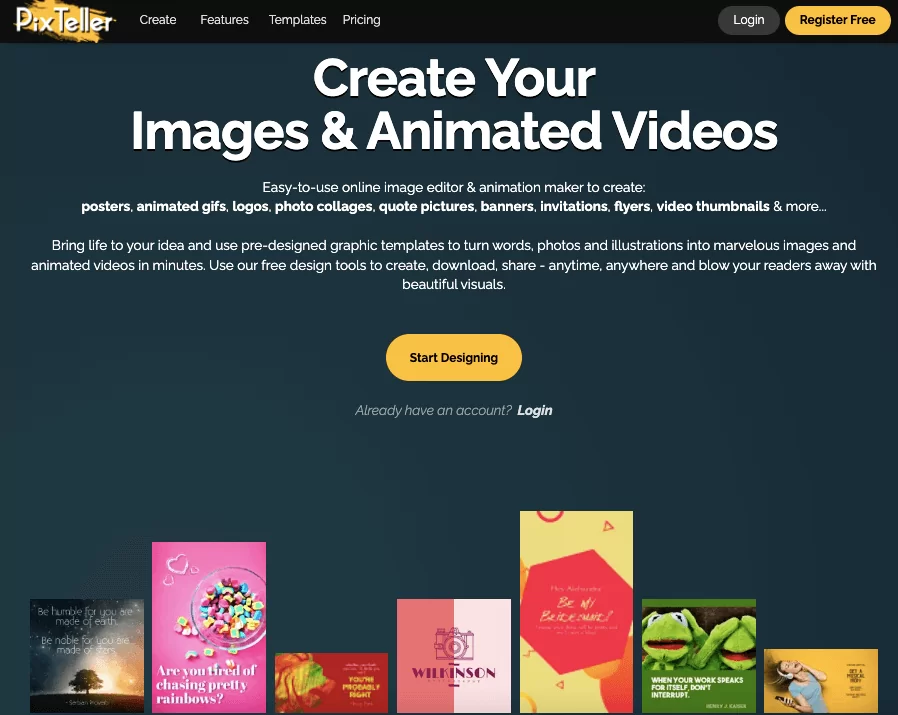 18

. Snappa
Snappa makes infographic creation easy as it has a colorful and fun approach. The best part, Snappa offers stunning ready-to-use templates along with a library of useable images and icons — around 4,004,898 elements.
The design area of Snappa is easy, where you can make all the necessary changes, such as text, headings, icons, removing image background, etc.
You can make tweaks and add elements to an infographic with a single click of a button. On top of that, Snappa also integrates with Buffer to help you share infographics directly to publish your social media handles.
The best part is that Snappa has a free plan that comes with around 6,000 templates and three downloads in a month. Well, if you want paid features, you need to pay like $10/month.
Still, you can create stunning infographics with the free version itself.
19

. Animaker
As the names suggest, Animaker is primarily created to create animated videos. Recently Animaker has launched an animated infographic module, which means you can easily create animated infographics with Animaker.
Animaker comes with library animated icons, images, characters that you can choose as an element of your infographic. What's more, there are many ready-to-use infographic templates available. You can choose any to get started real quick and easy.
Keep one thing in mind: Animaker helps create an animated infographic that means it will take time to create stunning infographics. Overall, with Animaker, you will have a fun and intuitive experience creating infographics. It has free as well as paid plans available.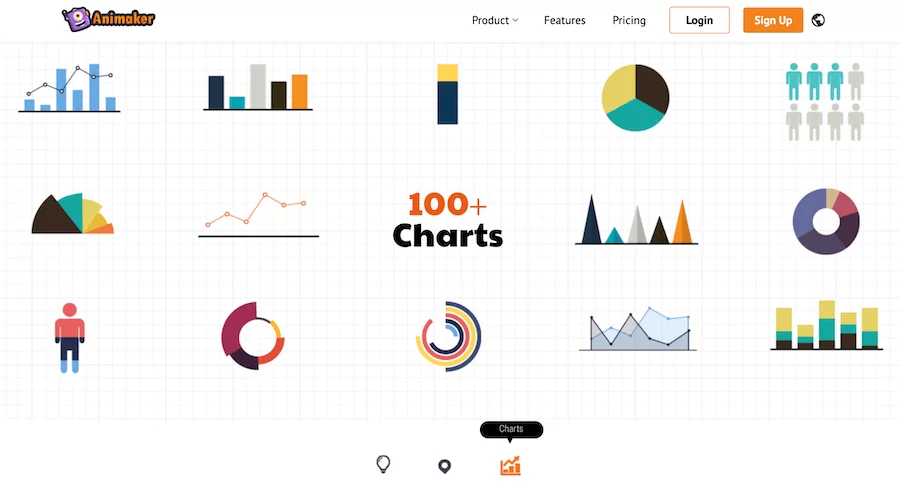 20

. Biteable
Biteable is an online video maker, although it also allows you to create infographic videos. The best part, Biteable has various video templates that you can choose to get started quickly.
The infographic editor of Biteable is intuitive and has a library of templates and infographics elements. From stock images, icons, fonts, Biteable has everything you will need to create engaging infographics.
If you choose to get started with a free plan, you can directly publish infographic to YouTube and Facebook.
However, if you're a paid user, you can easily download the infographic video and upload and share it anywhere you want. It has a free and paid plan starting at $29/month.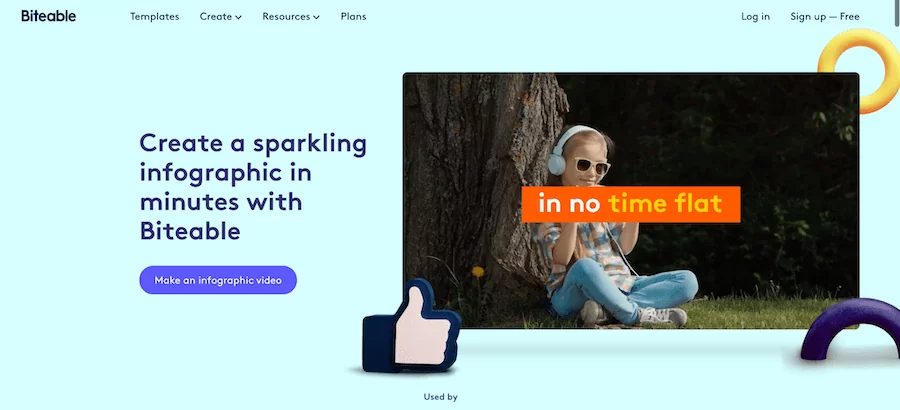 21

. DesignCap
DesignCap is a robust cloud-based graphics designing tool that makes it super easy to create stunning design hassle-free. DesignCap also has an intuitive and powerful free infographic maker.
With the DesignCap infographic maker, you can easily create awesome infographics to visualize your data provide more information in a precise way.
What's more, DesignCap also comes with different ready-to-use templates to get started. To create an infographic, you need to select a template, customize it as per your need, then export and download the infographics.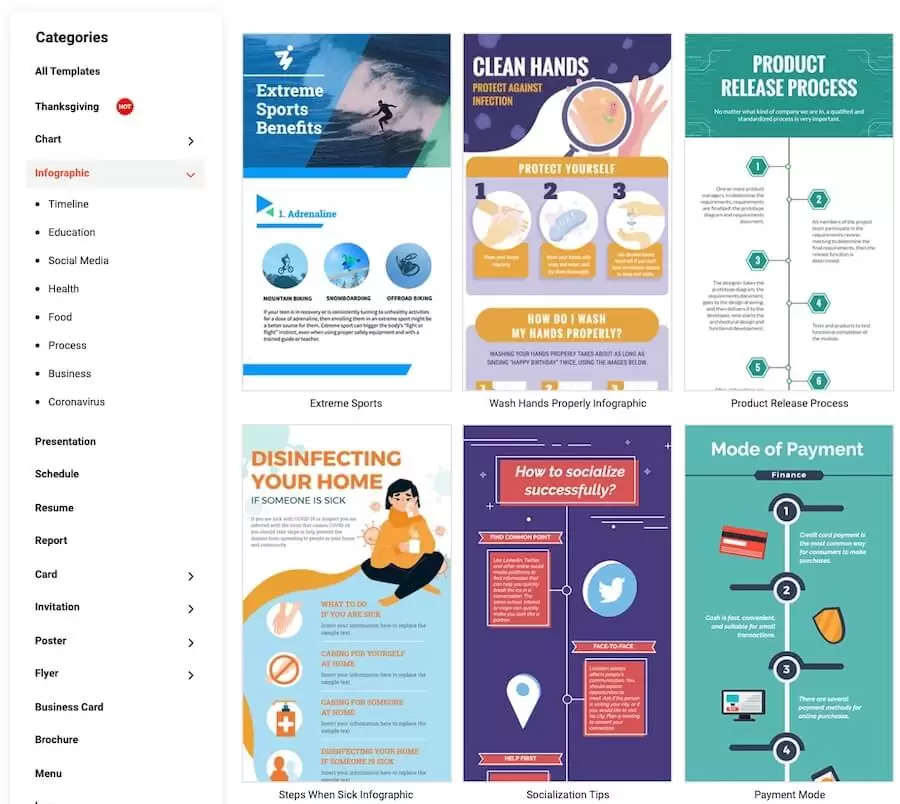 22

. Kartograph
As the name depicts, KartoGraph is a map-based infographic creator. This cloud-hosted infographic tool allows you to make illustrative and interactive maps based infographics.
The best part this tool doesn't need Google Maps or other mapping softwares and services to create interactive map applications and infographics. This tool is created ideally for designers and data journalists.
This tool has JavaScript and Python-based tools that easily create required maps. To simply put, the Python library creates stunning and compacts Maps of SVG, whereas the JS enables you to create interactive maps which are accessible on all browsers.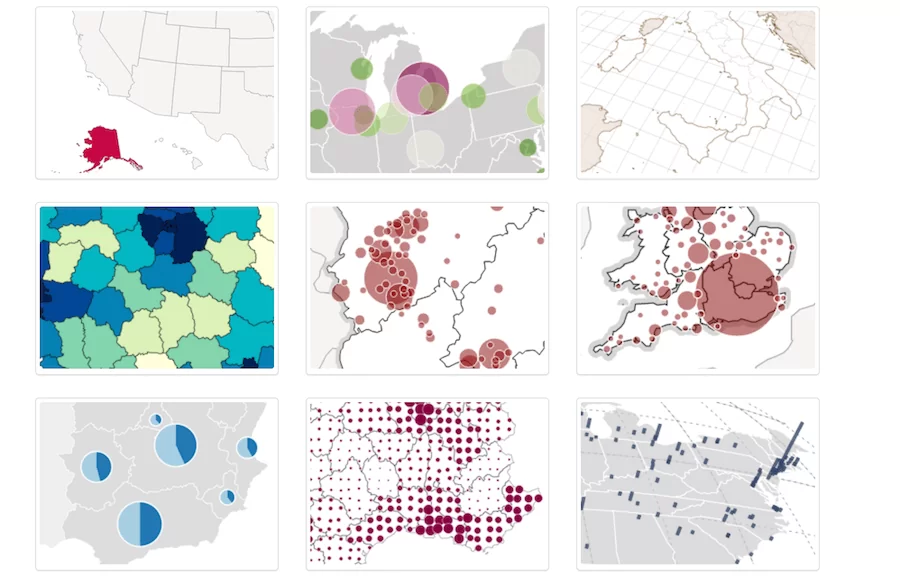 A Quick Note
You should notice that many of these infographic-creating tools are free for you to utilize. Some places will charge you money for access to some features though.
Be sure you review the conditions of using one of these sites to help you with finding a place that will serve you well. You should also look at what functions are available for your use and that you have enough control over what you are getting out of the tool.
You may also find some special trial editions of these tools. Such trials can be helpful for use, but it helps to note how these trials operate and that you've got an idea of what the terms are.
This includes looking at whether you're going to have to sign up for services after a period of time has expired for any purpose.
The good news about working with these infographic sites is that they'll provide you with many ways to make the most out of the images you need to work with.
Be sure to compare these places to see what may work the best for your design needs. You will love the overall project you produce when you get a great infographic produced through one of these systems.
Q1. What is an Infographic?
Infographics are designed to explain anything with graphics to make it easier for the audience to understand. Different types of shapes, text, and graphics are primary parts of any good infographic.
Q2. How to Create a Good Infographic?
There are a number of design tools these days to create a good-looking infographic. Most of the designing tools come with ready templates that you can use to design your infographic. A good infographic is one that is easy to understand, translates the information nicely, and comes with good use of the color combination, shapes and graphics.
Q3. How Can an Infographic Help?
An infographic can be helpful in many ways. If you are adding an infographic to an article, it enhances the overall quality of the article, there are more chances of getting a link back because of the infographic, and there is a chance of ranking improvement as well as user engagement.
Q4. Are These Infographic Creating Tools Free?
Yes, many of these infographic tools that we mentioned in this article offer free plans along with premium plans.