CRM stands for Customer Relationship Management. This is a cross-company business strategy that is designed and executed in a way that puts the customer first. 
One of the most important outputs that CRMs provide is that it gives a complete and holistic view of all your department's outputs towards a particular project or client. 
CRMs not only help you improve you in improving your sales, but also help you in enhancing your customer support system, approach towards feedbacks, and overall marketing strategy. 
Previously CRM used to be a thing of large enterprises and multinational companies. But in recent times, thanks to the cheaper options, now almost every other company is using some kind of CRM software perpetually. 
So now that we know what exactly is a business CRM, now let's take a look at how business CRM software can help.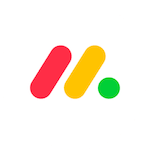 monday.com is a popular team collaboration and project management software that is already being used by over 100k teams. You can manage your business with the remote team by using the monday.com software. Choose from over 200 ready-to-use project templates and get started. Collaborate with your team member from any location. Create a project plan and track it using the attractive visual dashboard. Manage your leads and sales process by using the monday.com CRM with all the important features.
All-in-one solution
Complete project management & CRM solution
Easy drag and drop project planner
Over 200 ready templates
All features for remote team
Offers free plan
Learning curve for newbies
Top features are limited to higher plans
NetSuite CRM gives you the option to manage your prospects, customers, partners, and vendors and give sales, marketing, and support teams from a single dashboard. You can create a lifecycle of your leads and manage them well for better conversion.