If you are looking for the best content idea generators, we have listed some of the best options in this article.
It is not as easy as you think to find quality profitable content ideas on a regular basis. The good news is that there are many content idea generators that you can use online.
This listing of the best content generators will help you find choices that are intriguing and useful for your site demands. You'll have to notice what makes your content useful if you want to make the most out of your work.
These could even work for social media posts if you think about what works for your space and how you're going to interact with others.
Please note: While many of these content idea generators are free to use, some of them will cost extra for your use. You'll have to notice what's available if you want something to work for you while being sensible for your budget.
When you make a Google search for any popular topic, you see the related question that people are asking. Now, these questions can be a great source to find content ideas.
You can list down all the related questions of a topic and create a comprehensive piece of content that answers all those questions. It will have great potential to rank for the related topics.
For example, we just made a search for the term "Keyword Research" and you can see the related questions that people are asking on the topic. As you start clicking on the questions to see the answers, it will start displaying more questions related to the topic.
SEMrush is one of the most popular SEO & marketing toolkits that you can use to grow your business. Read this detailed article about ways to use SEMrush to understand the platform in a better way.
When we look at SEMrush from the point of finding content idea, it can be a great tool that can help you to find competitive and profitable content ideas that you can work on.
If you know about SEMrush, you are probably aware that you can do an in-depth research on any of your competitor site and find out their most traffic driving posts.
So, you can start by doing an analysis of those pages & content ideas. You can use the tool to find how easy to difficult it is to rank for those keywords, how many links you will need to rank those and so on.
You can get all the ideas from A to Z when it comes to finding profitable keywords on SEMrush.
In fact, SEMrush has a complete section of tools that are created to help you find the top topics for your blog posts. Go to the Content marketing Toolkit on the SEMrush platform and start your research.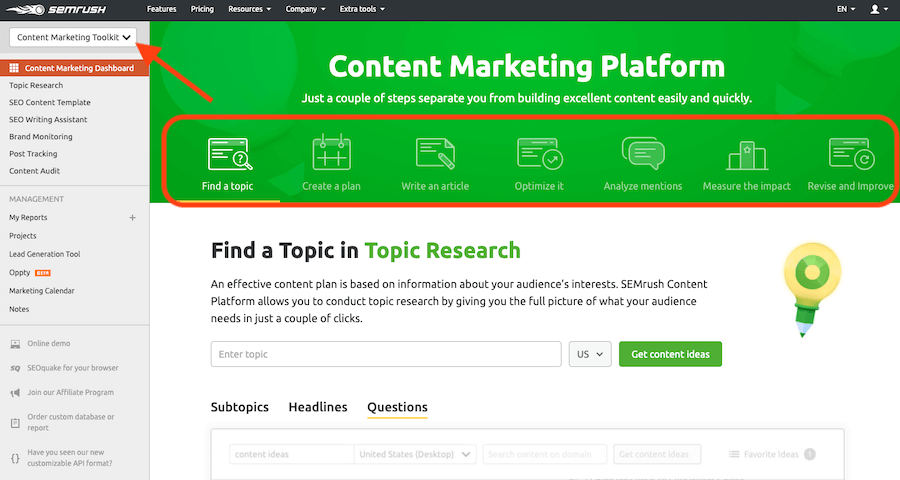 SEMrush SEO Content Template
The SEMrush platform offers you SEO Content Template that you can use to create high-quality content on your site. You can start by making a search with your keyword and the platform will provide you ideas and the sources to acquire links to your new content.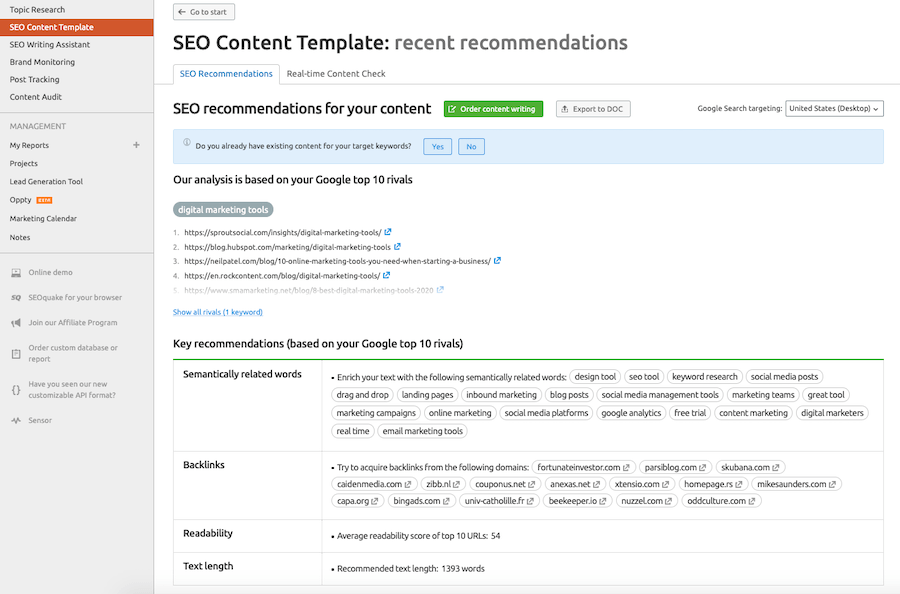 One of the best tools to discover new content ideas, the Answer the Public platform is popular among marketers and bloggers.
The tool is very simple to use. All you need to do is to enter your main keyword that you are planning to target, the tool will instantly give you hundreds of related ideas that you wish to target.
Once you have the ideas, you can plan your content accordingly. It is a recommended practice to use related keywords in a content body to make the search engines understand your content better.
Answer the Public offers you free as well as premium plans to choose from. If content marketing is your main source to drive traffic to your business, I recommend you to go for the premium plan that will surely help you to take your business to the next level.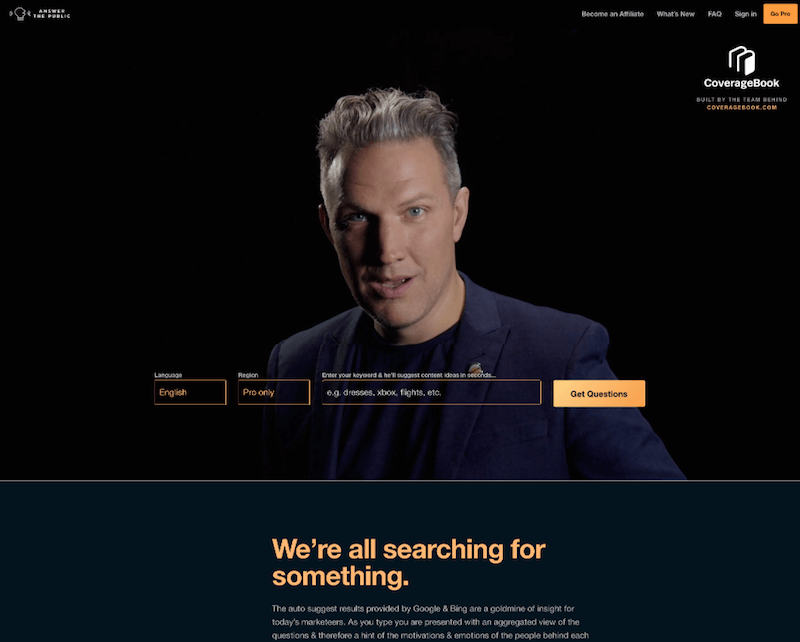 UberSuggest is a great free content idea suggestion tool. You can use this tool unlimited times free of cost.
The tool is simple to use, all you need to do is to write any keyword in the search bar and the tool will offer you a number of related suggestions that you can use to create your content
Another advantage of UberSuggest is that it will show you the URLs that are currently ranked for those keywords along with the number of backlinks and other important details so that you can make a decision accordingly.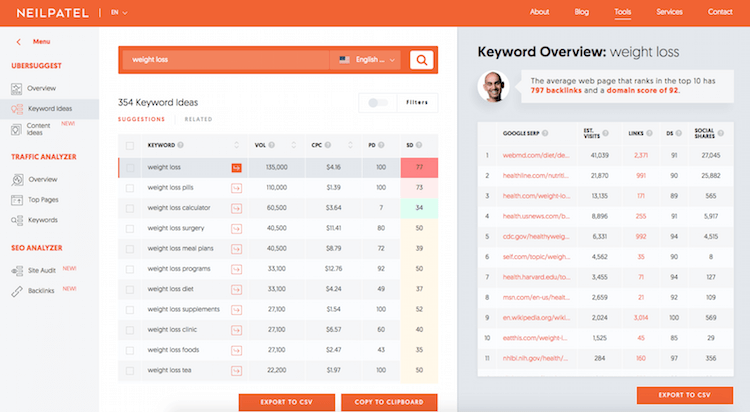 There are often times when the content you use will be based heavily on the particular trends in your field. Alltop helps you take advantage of the trends in question.
You can find new titles and content points based on the trends you are working with. The points used here should help you do more with the data and ideas you wish to utilize, although this works best if you focus on stories in your field.
Alltop lists details on the top stories through various spots. The points you'll find here are valuable for giving your site the detailed information you need.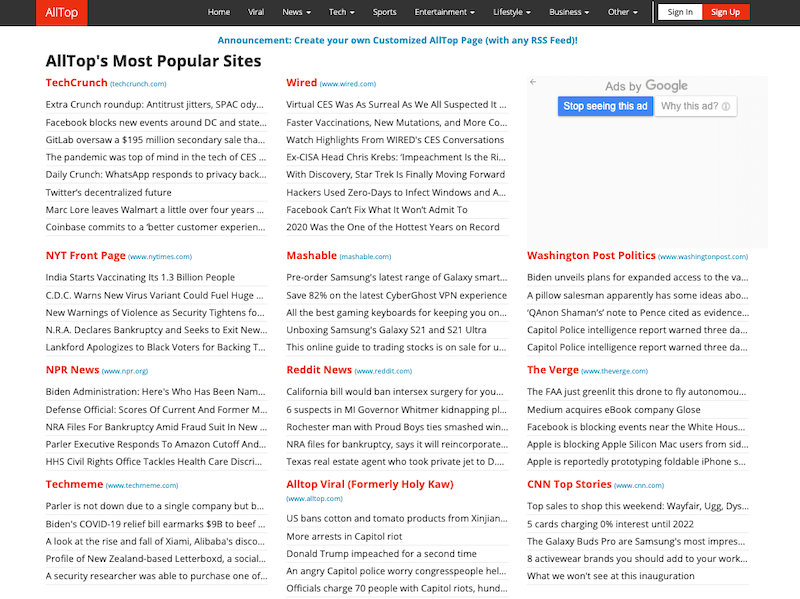 Get information on the most popular topics through BuzzSumo. You can find information on different bits of data surrounding your site and how it is arranged.
You can enter a topic or a domain depending on what you feel is more appropriate for your use. The information you get out of BuzzSumo will give you a smart idea of what people are talking about and what might be more relevant for your site to utilize.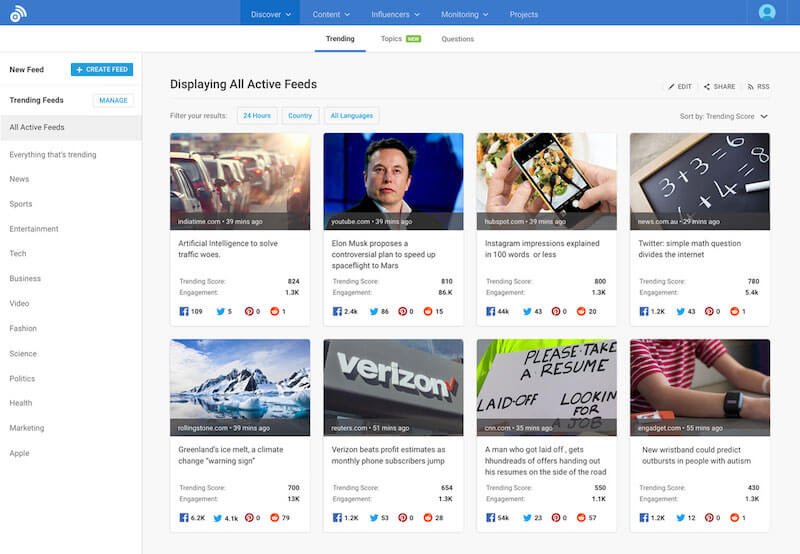 Quora has become a popular social media site in recent times. Quora is useful for when you're trying to get information on things people are thinking about.
You can search for information relating to your field to find out what people are saying there.
The site offers information on everything from the business industry points to detailed technical concepts. Anything you want to manage or utilize is always suitable.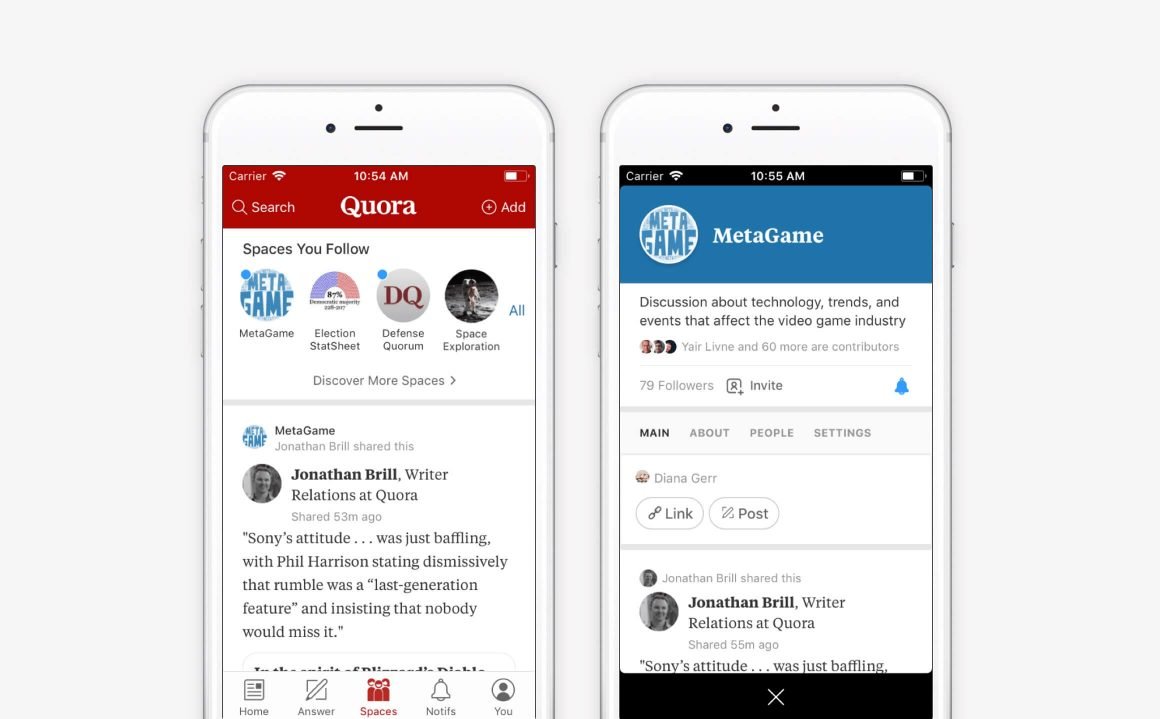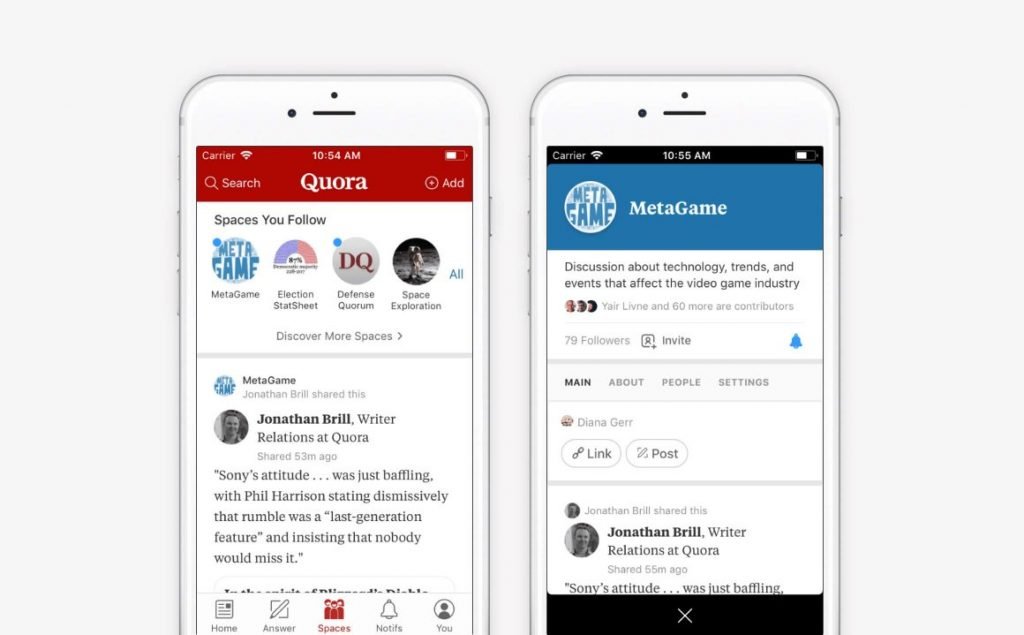 Soovle is ideal for when you're aiming to research keywords and to optimize your content. Soovle combines the top results from Google, Wikipedia, and many other sites.
You can enter in a few keywords and then get ideas through the site over what's open. The goal of Soovle is to help you diversify the results that you come across.
The design of Soovle gives you more control that makes it work for your use and your general programming efforts.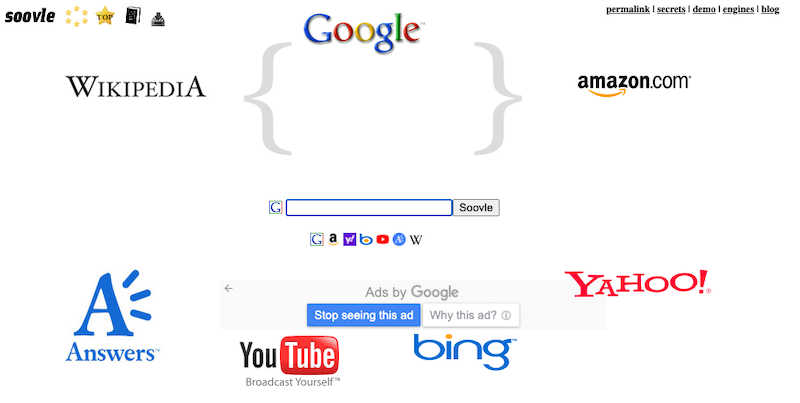 You can get ideas of value through the Portent's Content Idea Generator. Enter in the subject through the generator site and then review the content.
This works best provided you avoid capitalizing anything unless it entails proper nouns. You'll have to use the singular form of your keyword to get accurate ideas.
The generator will list information on all the specifics surrounding your keyword. This includes looking at what you want to discuss and reviewing where the subject will appear.
You can use the results to find details on what makes the topic of value so useful for your needs.
Feedly works well for when you're aiming to find titles for your work, although you would have to subscribe to blogs within your industry.
You can use the subscriptions to keep tabs on what is being produced. The titles that come about will include the keywords you want to utilize. You can make the content work effectively while being simple enough to use.
The best part of using Feedly is that the site gives you good ideas that are consistently updated. You'll get new ideas that come about on occasion.
The ideas are based on the latest things that are posted, although the things that get the most attention within a certain period can make a difference for your work.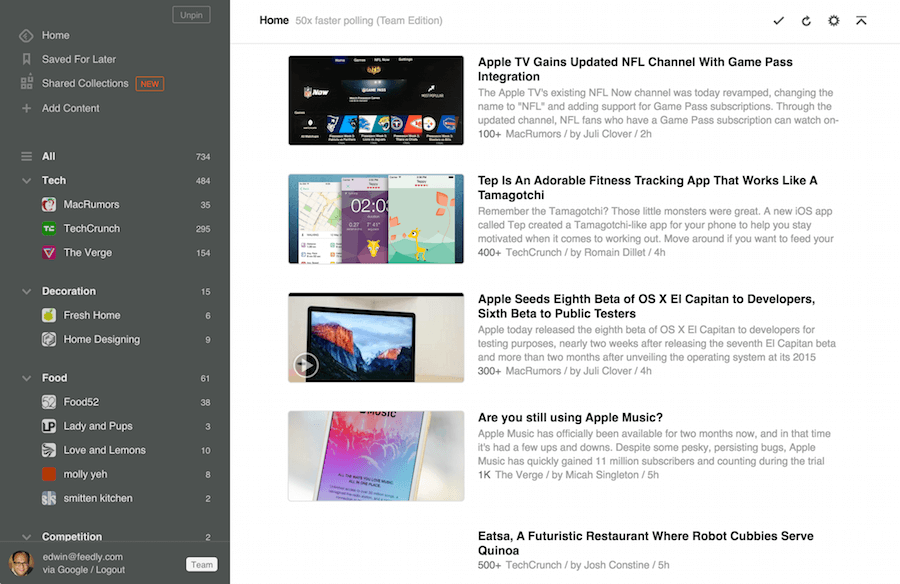 You can also use this blog topic generator from HubSpot to find details on titles of value to you.
These titles may help you with producing useful ideas that you'll enjoy following. Enter a keyword and then review the ideas that come up on the program. The details included here should help you well without being hard to follow.
The topic generator doesn't produce too many complicated things. It simply focuses on what your concept or content of value may be.
You'll find it is not hard to give yourself the support you need for producing an appealing idea for your blog content.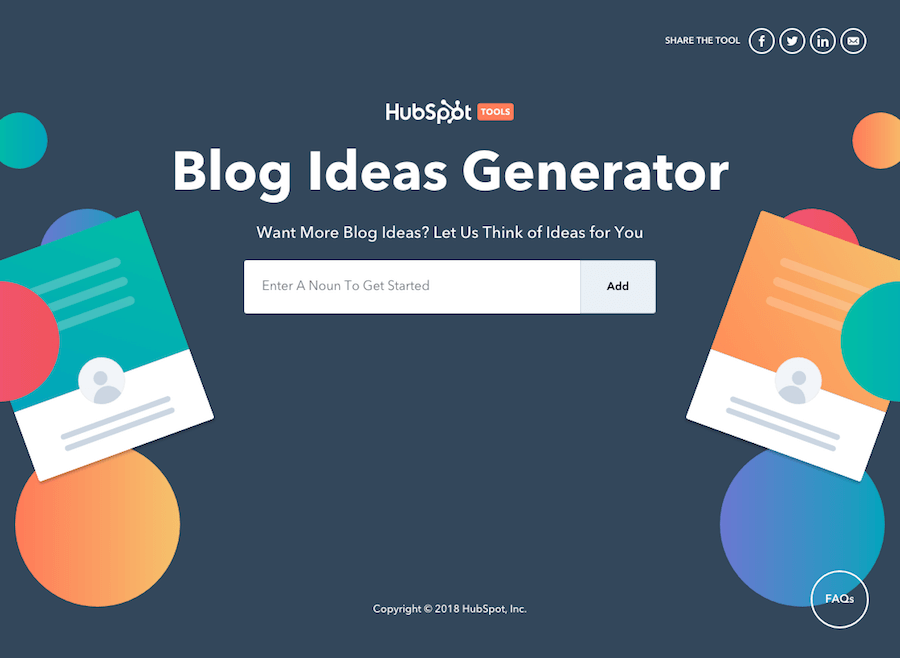 This is another useful option for your needs, although you'll have to spend a little something extra for you to get this to work. Google Consumer Surveys works in that you'll get a question applied on your site.
The people on your page can review the information here and enter in details on the specific things you want to talk about in your work.
Google Consumer Surveys offers a simple approach for helping you get ideas from people who visit your site.
But you must also notice what you will spend on this. You'll have to spend a few cents for every survey that someone fills out.
There might not be any limits as to what you would have to spend, but you could prepare a limit that removes the survey when you reach a specific total.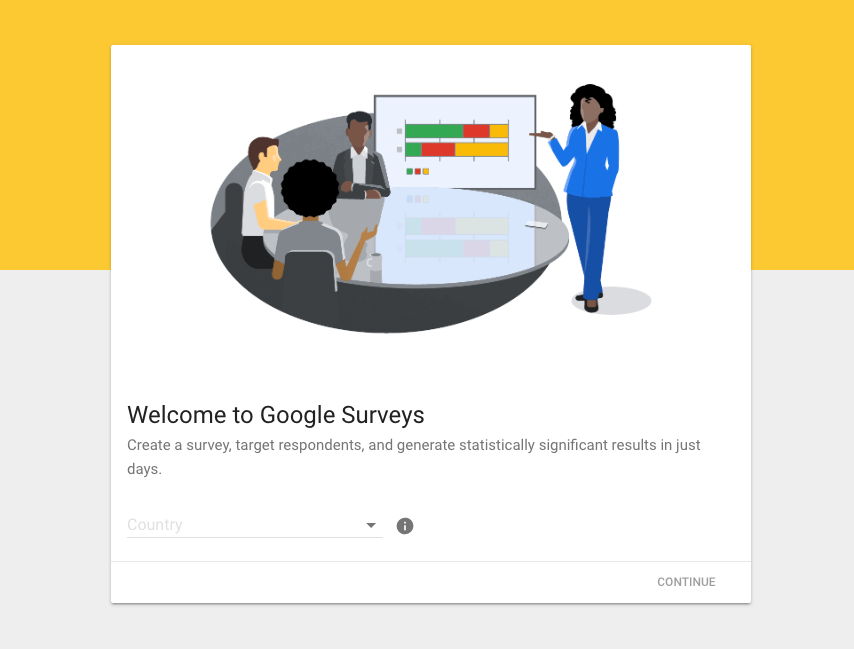 Final Word
The best part of all of these content idea generators is that you have many good options that will be suitable for whatever you desire to work with.
You'll have to look at these ideas well enough to give yourself the control you deserve for your content. Look around to see what works, but be sure you notice what you might have to spend on something.