If you are looking for the best brand monitoring tools, here is a list of top options that will help you to grow your business brand.
Creating a brand takes time. However, brand creation is easy compared to brand maintenance. 
A brand can be compared to a good habit. Good habits are also easier to start, but they are hard to carry on. Similarly, creating a brand is easier, but maintaining it is difficult.
Many people prefer to use social media to promote their brand.
If your product is not on social media, it is nowhere. Because the world has gone digital!
If you want to monitor how your brand is doing, you should consider using brand monitoring tools like these will come in very handy.
The market is flooded with tons of brand monitoring tools, and it might be confusing to choose the best. Therefore, we have curated a list of top best brand monitoring tools. 
Go through the list and use the app that best suits your requirements.
Best Brand Monitoring Tools
It is important to monitor your brand regularly so that you don't miss any opportunity to engage with the users who mention your brand or you get any potential link opportunities.
In this article, we have listed the best brand monitoring tools that will help you to keep track of your brand.
01

. BrandMentions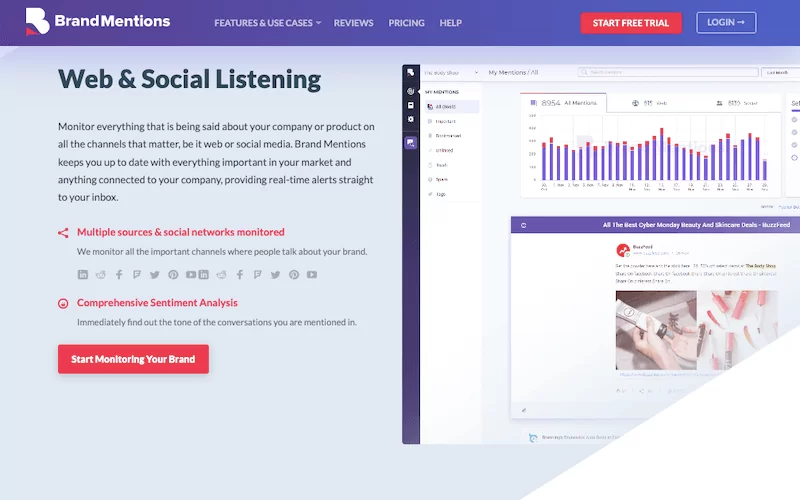 As the name suggests, BrandMentions is a platform that is created to discover new mentions around the web. Be it your personal brand or your business, this platform is very handy to find new mentions so that you can get into a conversation quickly.
This software will keep looking through the entire web to discover the new mentions for your brand so that you never miss any opportunity to promote your brand or a potential client anymore.
It will search through the web as well as the social media platforms to discover the new mentions. You can use this software to find the new mentions for your competitors as well so that you can design your own brand or marketing campaigns better.
You can use this software as a competitor analysis tool as well to do a detailed research on your competitor brands to find their strategies.
Top Features
02

. Hootsuite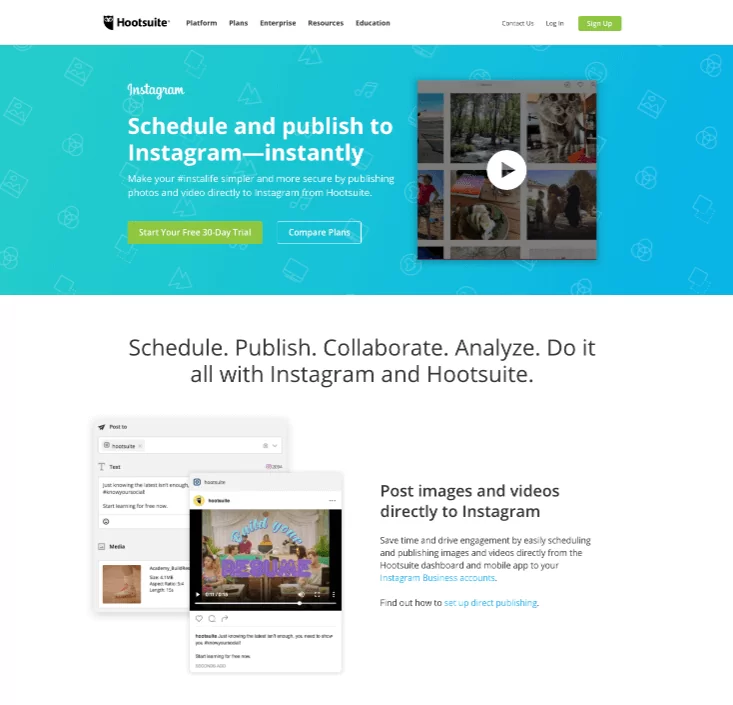 With Hootsuite, you can manage all your social media platforms in one place.
Firstly, more than 800 employees trust Hootsuite in Fortune 1000 companies.
The software allows users to schedule social media posts, and this saves time.
You can manage your social content with ease on Hootsuite. Searching, tagging, and usage stats can easily be carried out here. 
To sum up, Hootsuite brings your data to life with the help of analytics features that displays information like:
You can also keep an eye on different social media streams to know about:
If more than one person is handling the social media platform, the team management facilities available in Hootsuite will prove to be very helpful.
Moreover, one can use Hootsuite for free for 30 days. If you like the analytical feature of the app, you can go for one of the four plans which are available.
Don't miss our detailed review of Hootsuite.
03

. TweetReach
If Twitter is your primary target for creating your brand value, then you can use TweetReach which is exclusively designed to monitor your brand on Twitter.
Firstly, the best part of TweetReach is the report-ready analytics of it. The social media analytics prepared by TweetReach can easily be set up, used, and shared.
Secondly, TweetReach supports real-time monitoring, and therefore, you can be sure that you will receive real-time data always.
Most importantly, TweetReach helps you to increase the engagement rate by:
Thirdly, you can also measure the organic and earned conversations on TweetReach. You can utilize its full potential by using it to:
TweetReach also does proper competitive research. You can monitor your brand via TweetReach by:
TweetReach supports three plans:
04

. BuzzSumo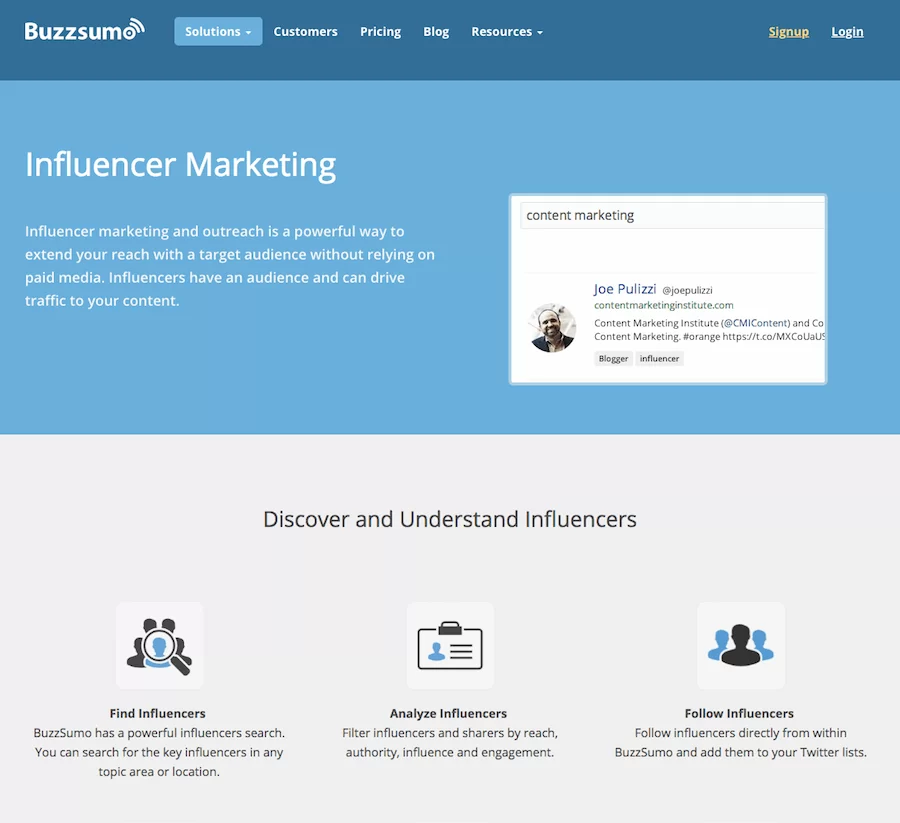 In BuzzSumo, you will find the content that performs the best.
Trusted by brands like HubSpot and BuzzFeed, BuzzSumo speaks for itself, thanks to the popular brands that use it.
There are four primary important components of BuzzSumo, which are:
That is to say, we will particularly focus on the monitoring component of BuzzSumo. This feature supports:
BuzzSumo comes with four plans:
Have a look at our list of best BuzzSumo alternatives.
05

. BoardReader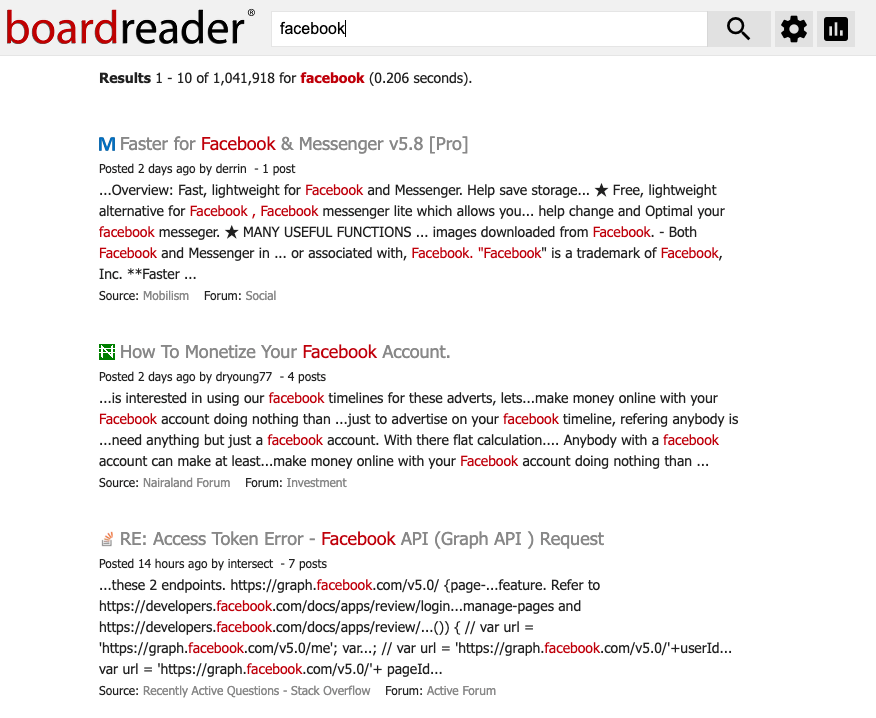 Primarily, while promoting our brand, we often end up including only social media platforms and forget about other messaging boards and forums which are available online.
With BoardReader, you can also track those forums and messaging boards. By doing this, you will get a picture of what other people are talking about your brand.
To sum up, you can also create a charge for the trends that you are looking for and then compare them with each other to find conversations about the brand. 
06

. Sendible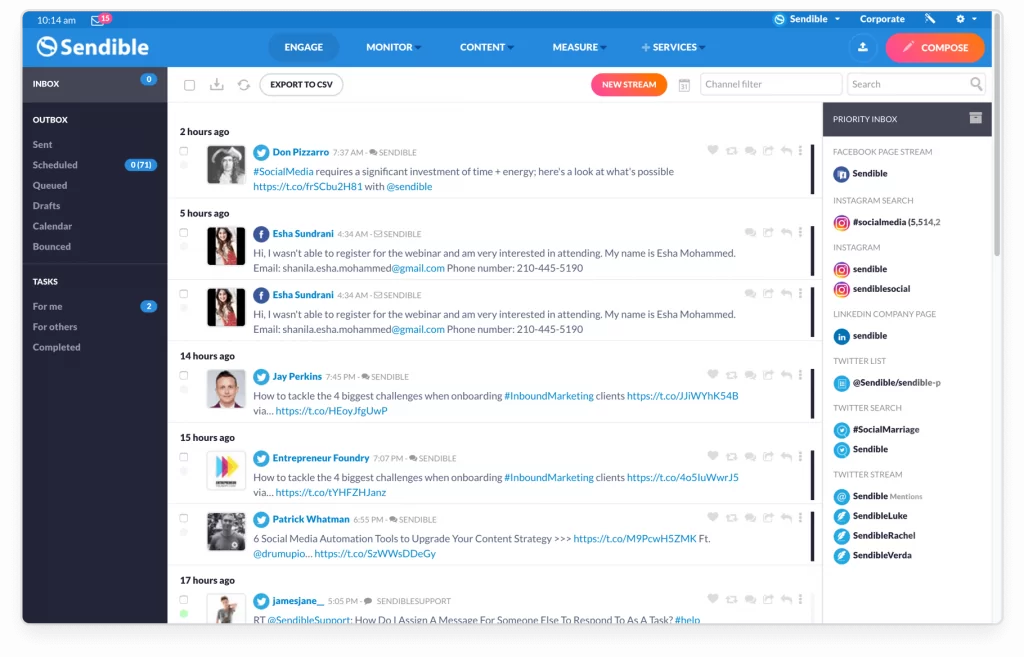 You can manage and amplify multiple brands on social media platforms. In addition to that, you can plan and collaborate all your engagements in Sendible.
Further, Sendible supports beautiful custom reporting. You can check the following information in Sendible:
To sum up, with Sendible, you can effectively manage your social media. Currently, you can use Sendible to monitor Twitter, Facebook, LinkedIn, and Instagram.
The USP of Sendible lies in both lead generation and lead management. The multi-functional dashboard is a cherry on the top. 
Sendible is available in four packages:
Also, read our article about the best Sendible alternatives.
07

. Sprout Social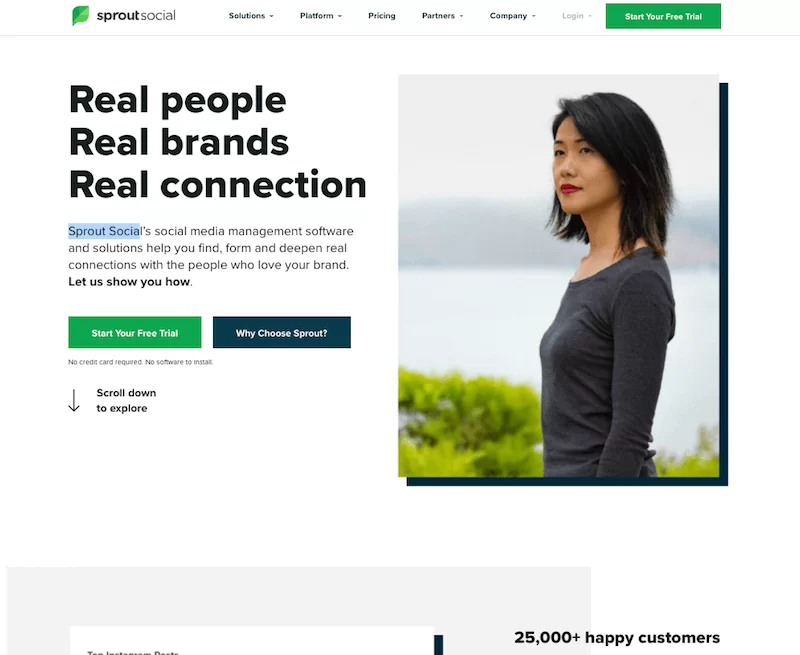 If you want to understand your audience, there is no better brand management tool other than Sprout Social. For instance, you can reach your audience and engage with the community using this tool.
To sum up, Sprout Social is an all-in-one social media management platform that works on building connections.
The tool is primarily concerned with:
With Sprout Social, you can come on board easily. The tool helps you to see actionable insights that can be used for building your brand right away.
You can see the bigger picture with Sprout Social. Its suit is customizable and very user-friendly. Most importantly, if used properly, you can use it to scale your business with stats like:
Furthermore, Sprout Social allows you to monitor your brand on Facebook, Twitter, Instagram, LinkedIn, Pinterest, and Cross-Network. 
08

. eClincher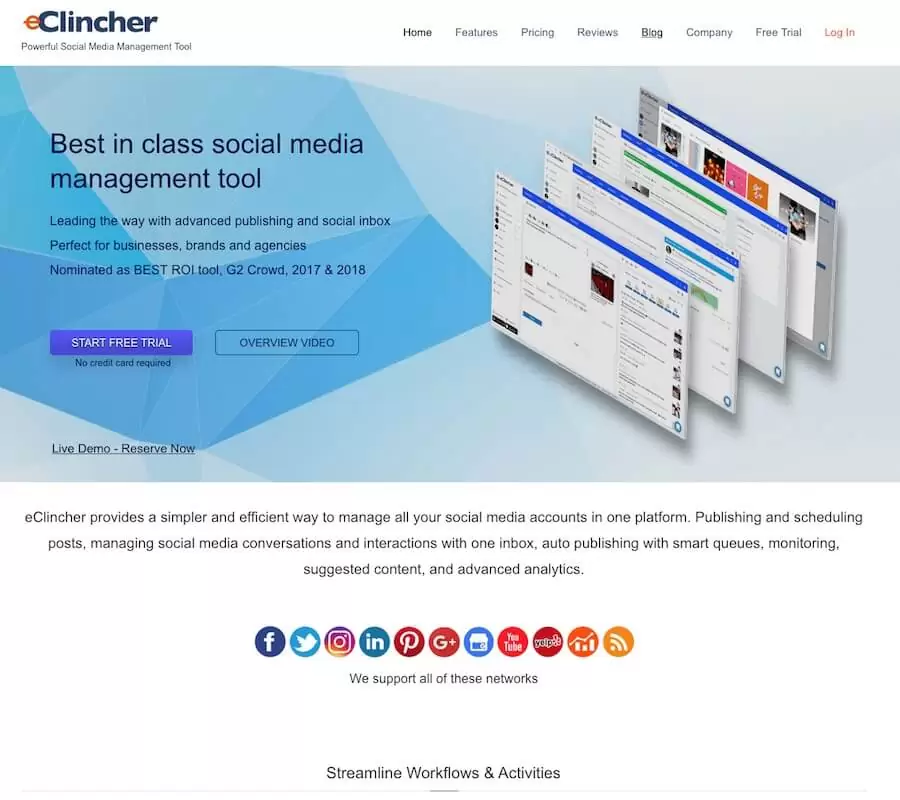 eClincher is the best social management service if you consider your return on investment. It has a simple user-friendly interface.
With eClencher, you can collect both traffic and data at lightning-fast speed. With this tool, you can streamline:
Moreover, You can save tons of hours every week for getting analytical insight when you have eClincher.
Most importantly, eClincher supports live social feeds and allows you to monitor hashtags, keywords, engagements, likes, comments, and follows.
Further, the tool supports advanced analytics and allows users to automatically analyze and track social media. Thanks to the actionable dashboard present in it you can even customize your reports here. 
eClincer supports four packages:
You can start a 14-day free trial. 
09

. SocialPilot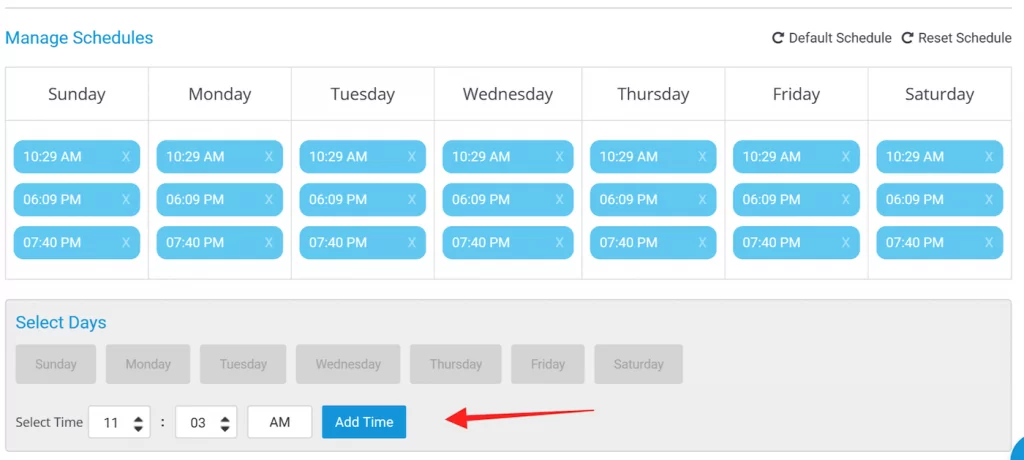 If you are looking for a cost-effective social media marketing tool, then you can surely lay your hands on SocialPilot.
In short, SocialPilot gives the users the freedom to go beyond the traditional social media platforms and allows you to create more engagement. Above all, it also supports effortless social media scheduling.
Further, it provides the users with proper insights on:
The analytical tools available for different social media platforms are different.
For instance, on Facebook you check
On the other hand, on Pinterest, you check account overview, board analysis, engagement overview, pin analysis, and daily pins.
Four different packages of SocialPilot are available:
You can go for a free 14-day trial for the first three packages.
10

. TweetDeck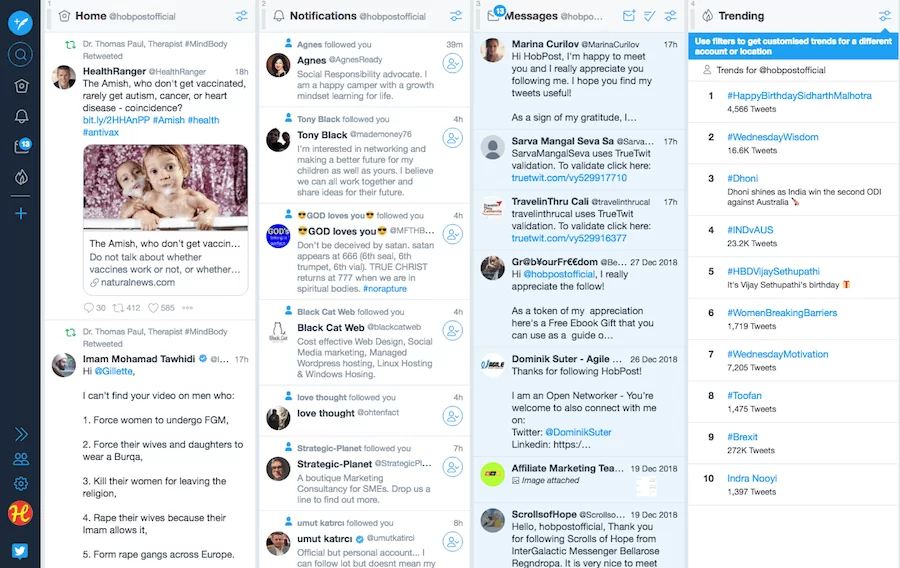 If you are new to brand monitoring and you are particularly interested in monitoring your brand on Twitter, you can use TweetDeck.
In short, TweetDeck will cover all the basic analytic tools for beginners. It can be used for monitoring the messages, interactions. Further, one can also use it for tracking hashtags.
The best part is that it can also be used for scheduling your tweets. 
11

. Mention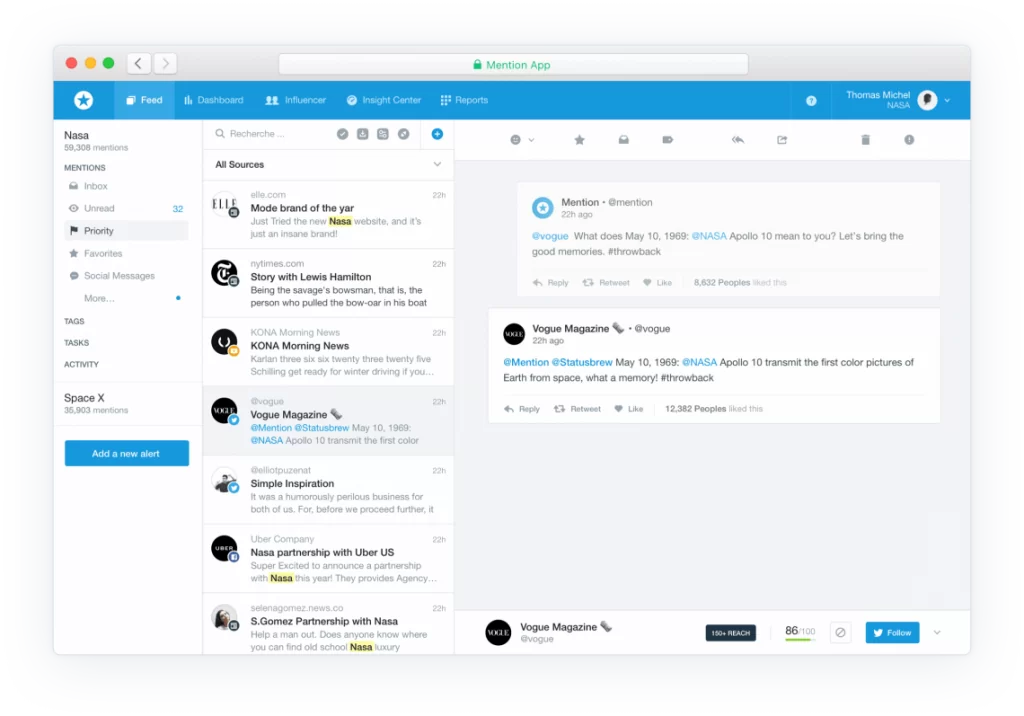 Are you interested in driving the conversation for your brand? If yes, Mention can act as your powerhouse.
With Mention, you can create your brand awareness and monitor your brand on the web. The best part is that you can also use Mention free. But before, I tell you about the free package, let's focus on what you can do with Mention.
Now that you know what you can monitor through Mention, let us talk about its free version. The free version supports one alert, 250 mentions, one social account, and one user. 
If you want to utilize the full potential of Mention, then you can try one of the three premium versions of it, which are jotted below.
12

. Keyhole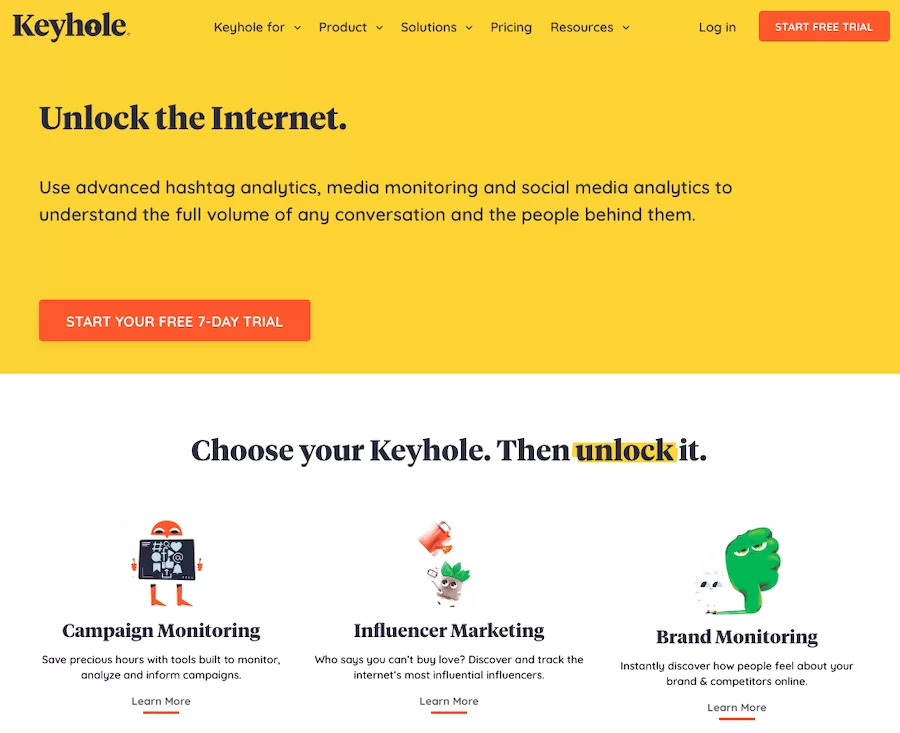 Certainly, Keyhole has simplified the entire process of brand monitoring. It will check all the direct and indirect mentions of your brand on the web for you.
The best part of Keyhole is that it will directly contact you through your inbox when it feels, it is highly necessary. For instance, do you want a complaint from an unhappy customer to go viral?
Well, no, right? Whenever any such instance will come, Keyhole will direct report the matter to you, so that you can handle it quickly.
In short, you can maintain the reputation of your brand with Keyhole.
Most importantly, the customized engagement recommendations by Keyhole allow you to grow engagement on different social media platforms. In short, by doing that, you can convert your brand mentions into lead. 
Keyhole has three packages:
13

. Brand24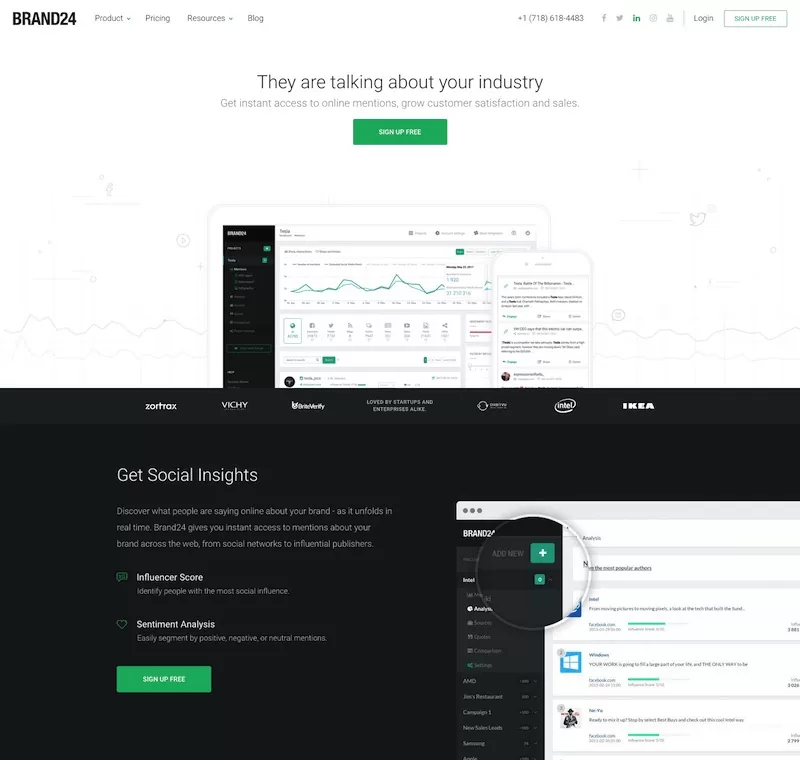 The aim of Brand24 is that you can protect the online reputation of your brand. Firstly, with this tool, you can keep giving a positive response to positive comments. You can also immediately please the dissatisfied customers before their comments run viral.
Secondly, Brand24 is powered by automated sentiment analysis. It automatically detects whether the mention is positive, negative, or neutral.
To sum up, you can also use Brand24 to improve customer satisfaction by
Moreover, if you want to stay ahead in the game of brand monitoring, you can trust Brand24.
Brand24 is available in three packages:
14

. NetBase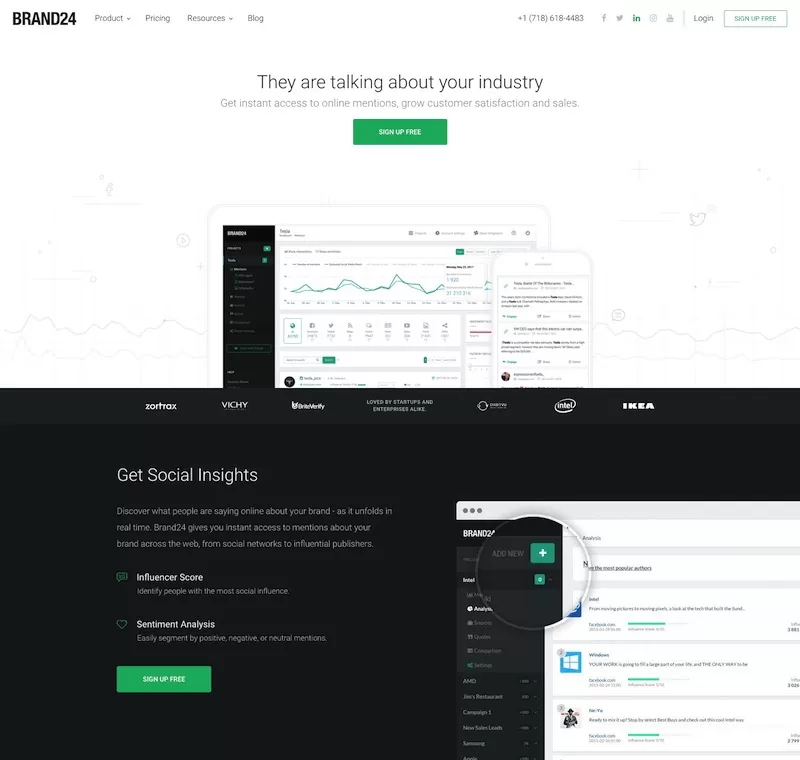 NetBase gives you real-time insights into all the customer conversions. Above all, it is considered the leader in social analytics. 
To sum up, NetBase can give you're a well-drafted report on:
NetBase is powered by next-generation AI and this ensures that it delivers maximum ROI. The app covers real-time customer insights. 
NetBase has three premium versions which are NetBase Starter, NetBase Business, and NetBase Enterprise. However, the price of all three premium versions is not disclosed on the website. 
15

. Digimind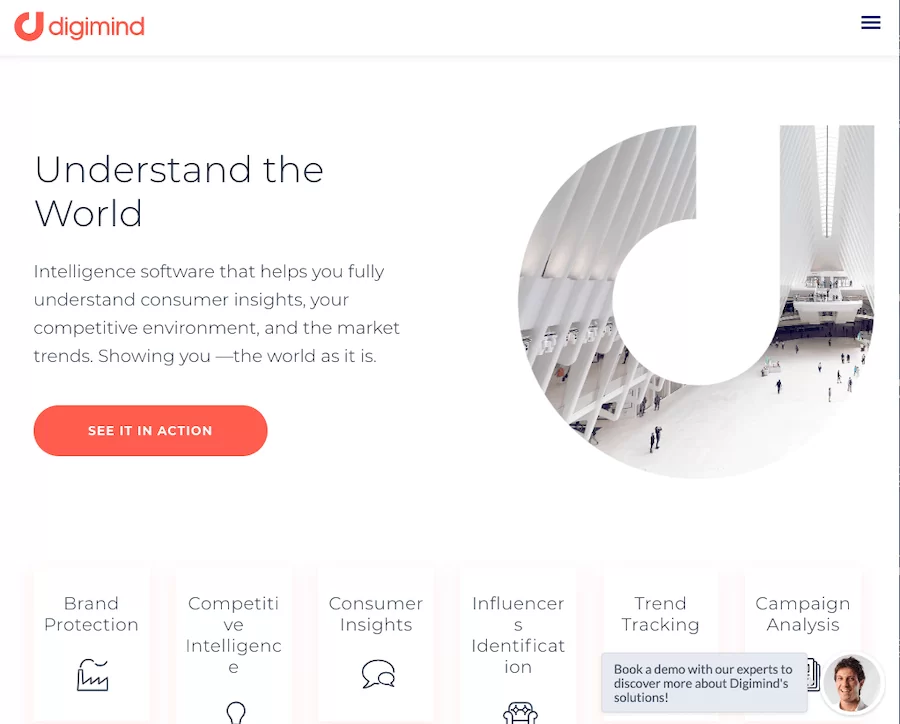 Digimind is another popular brand that allows users to do social media monitoring. With this tool, you engage, listen to your audience, analyze and report.
You can measure the performance of the content that you are publishing with Digimind Social Analytics. 
In short, one can also go beyond the traditional social media platform and look at how well your brand is doing even on Google search. You can follow in real-time how your brand is talking and what the customers are talking about your brand.
To sum up, Digimind allows you to monitor:
In addition to that, you can do real-time analysis, multi-filter analysis, multi-level analysis, and automatic translation and sentiment.
However, the prices of the different plans available are not disclosed on the official website.
16

. Synthesio
Many brands use Synthesio to monitor their online presence. Further, the Synthesio dashboard is sufficient for doing all the social listening. The infrastructure of this tool allows you to completely monitor your brand presence.
To sum up, the infrastructure of Synthesio is explained below:
16

. Awario
Awario is one of the most comprehensive brand monitoring software on this list. It crawls billions of pages every day to find the brand mentions and to report them.
Use your brand name to make a search real-time discussion and engage with your audience to spread the word about your business. Being present among your customers and potential customers to answer their queries is probably the best form of marketing.
You can use Awario to check for brand mentions across all social media platforms as well as other sources to offer you the most comprehensive solution for brand monitoring.
Awario tracks all the important information such as age, location, language so that you can plan your marketing strategy for maximum conversion.
You can also use Awario to find and reach out to key influencers who can help you to promote your brand on different social media platforms.
Monitor Your Brand Online Easily
All the tools which are present in our list are considered the best in the market.
If you are on a budget, I would ask you to check the pricing of different plans of your favorite tool and choose the one that best meets your requirements and budget. 
Do let us know which of the following brand managing tools have you used.