Serpstat is an all-in-one SEO analysis software that offers a number of tools to help you grow your online business organically. You can use this platform to do a detailed analysis of any website.
As you check any keyword the software will track the top 100 keywords in Google and top 50 in Yandex search engine and give you detailed data to analyze. You can create groups and track the position changes for your competitors over a period of time.
To start with, you can use Serpstat for keyword analysis. As you make a search for any keyword on the platform; you will get comprehensive data to analyze and make sure if you wish to go for that keyword or not.
You will get data like search volume, cost-per-click, competition level, or a number of search results. You can use Serpstat to find the most profitable keywords for your blog posts as well as for your PPC campaigns.
You can use the Serpstat software to find the most valuable long tail keywords that can bring additional traffic to your site.
Other than the keyword analysis, the Serpstat software offers you a number of other useful tools such as the Search Analytics tool that can help you to find the direct competitors to your site, and then you can do a detailed analysis of those sites to understand their best practices.
There are a number of other tools that makes Serpstat a comprehensive solution for SEO and marketing requirements.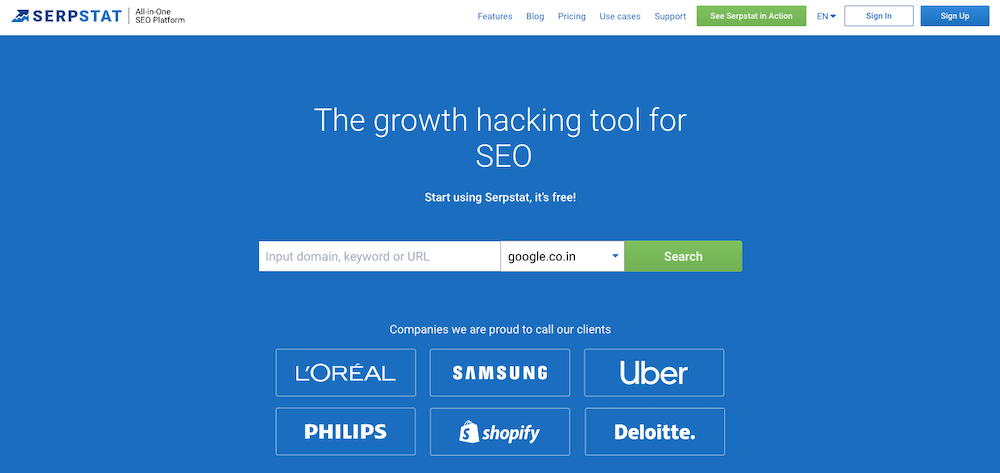 Top Features of Serpstat
While Serpstat is very useful software, you can check the best Serpstat alternatives that you can use for your business. The software like Serpstat listed here offers detailed and in-depth SEO and marketing analysis tools.