Basecamp is one of the popular software to manage a remote team. It offers all the features and options to manage any project from one single dashboard along with your team on the web.
In this article, we will look at the best alternatives to Basecamp that can help businesses to collaborate and work with remote team.
However, before we proceed with the alternatives, let's have a look at what Basecamp has to offer.
Basecamp is a quick and simple software to get started. It offers you a completely free plan with limited features and if you need all the Basecamp features you have to upgrade to the premium plan that comes for $99 per month.
Working with the remote team is the new normal. Most of the business has switched to work from home model and the need of software like Basecamp has increased by multiple folds.
Basecamp is in this niche for more than 15 years. So, you can expect a great service and support from the team.
The software offers very effective to-do list maker to keep all yoru team members in line with the project timing. The tool will keep on sending reminders if there is any backlogs.
It offers you a real-time group chat option so that any member can get their issues sorted instantly by putting a question in the group. It also offers you a secured file sharing option to make it easier for the team to find all the important documents in one place.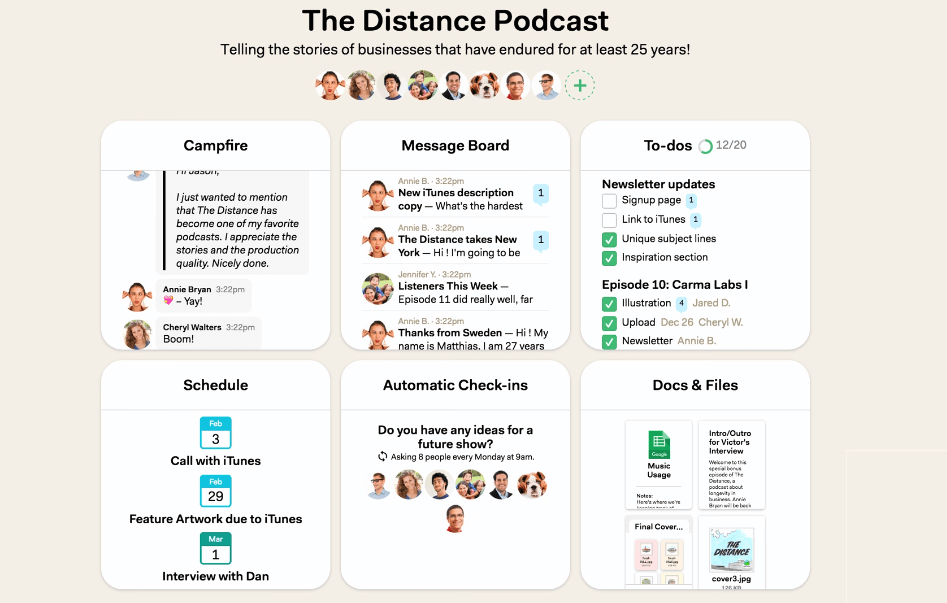 Top Features of Basecamp
Basecamp Pricing
Basecamp offers a completely free plan that supports 3 projects, 20 members, and 1 GB of data storage. This can be a nice option for freelancers who works for clients and there is no big team or multiple projects at the same time.
If you need all the features of Basecamp, you have to go for the premium plan that is priced at $99 per month flat.
You will get a 30 days free trial period to check the software before you go for the paid plan.
The premium Basecamp plan will offer you the following.